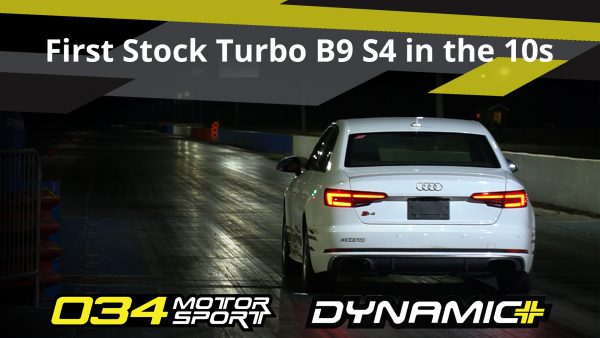 034Motorsport B9 S4 First to 10 Second Stock Turbo ¼ Mile!
034Motorsport Dynamic+ Tuning for the EA839 3.0T Engine in the S4, S5, & SQ5 delivers the best experience of smooth drivability, perfect function, reliability, and added functionality and features beyond what the factory programming can provide. 034Motorsport's Hardware and Software engineers are dedicated to pushing the envelope of what's possible on the B9 platform, and have done just that with every Hardware and Software product we sell.
In an effort to show that 034Motorsport Dynamic+ Tuning is capable of immense performance and reliability, we put rubber to the road (and track) to show what our tuning can do!
The Dragy Times:
Before heading out to the drag strip, we ran some tests on a private closed course using Dragy (accurate to .02 seconds % .02 MPH, GPS Verified)
In 1325ft DA and 68*F Weather, we broke the 10-second threshold with a 10.96 @ 124.76 MPH run! As the weather began to improve, we bested that time with an incredibly rapid 10.84 @ 126.06MPH, solidifying the World's Quickest and Fastest Stock Turbo B9 S4 ¼ Mile Record.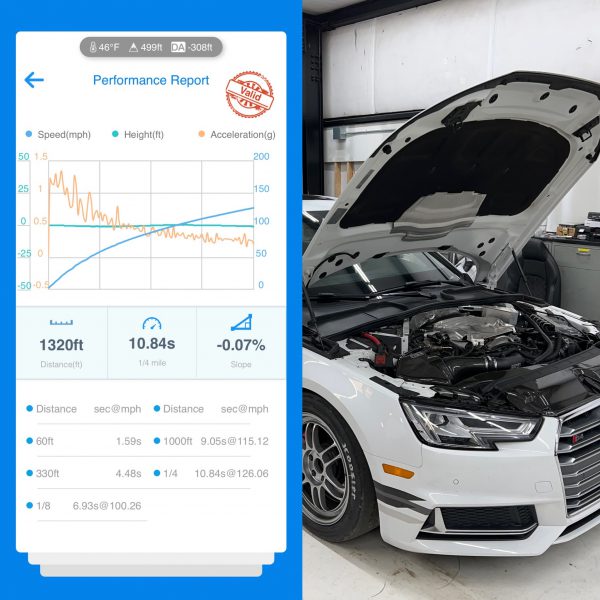 Time: 10.84 @ 126.06 MPH
Density Altitude: -308ft
Ambient Air Temperature: 46*F
Modifications:
034Motorsport Dynamic+ Stage 2 E85 R2.0
034Motorsport Dynamic+ Stage 2 TCU Tune (Coming Soon)
034Motorsport X34 Carbon Fiber Intake + Prototype Inlet
034Motorsport Stainless Steel Racing Cat
Wagner Competition Intercooler
034Motorsport Dynamic+ Lowering Springs
034Motorsport Subframe Insert Kit
034Motorsport Differential Insert Kit
034Motorsport Transmission Insert
034Motorsport Street Density Transmission Mount
034Motorsport Dynamic+ Sway Bar Package
034Motorsport Track Spec Control Arms
Hoosier DR2 Radials on Enkei RPF1s
220lbs of Weight Reduction
This Incredible achievement marks the beginning of true enhancement and development in the B9 3.0T platform that we look forward to continuing. 034Motorsport is no stranger to developing world-class products and tuning for various Volkswagen and Audi vehicles. Our journey into the B9 platform started with our B9 Audi A4, and then B9 Audi S4 when it was released. These vehicles led us to develop our holistic product line on the B9 platform. This product line includes various chassis products such as our Billet Transmission Insert and Billet Differential Mount Inserts, as well as our Dynamic+ Lowering Springs and X34 Carbon Fiber Intake Systems.

The 034Motorsport Dynamic+ Tuning Suite for the B9 3.0T EA839 Engine was developed entirely in-house at 034Motorsport by our world-class calibrators with a combined 100+ years of experience. When developing our tuning for the EA839, we implemented key safety features to keep your engine running optimally and safely in virtually any condition - just like the OEM calibration. These were then verified by us on track through multiple high-temperature track events with our vehicles. This keeps the engine in your car happy and safe, providing consistent and repeatable power. Our Dynamic+ Tuning safely supports Stage 1 (Stock Hardware), Stage 2 (Upgraded Catalyst System), and we are actively developing a tune for the TTE710 and Pure750 hybrid turbos.

034Motorsport is proud to serve its customers and actively takes feedback to improve upon and add additional features to our tuning which does not currently exist on the market.
REVISITING AT THE DRAG STRIP
While Dragy is GPS verified and widely accepted as an accurate way to record ¼ mile times, we still prefer to back up any time at a timed drag strip. While the weather did not favor us with as nice Density Altitude as prior runs on Dragy, we easily and repeatedly laid down deep 10.9 second times using the same setup as above.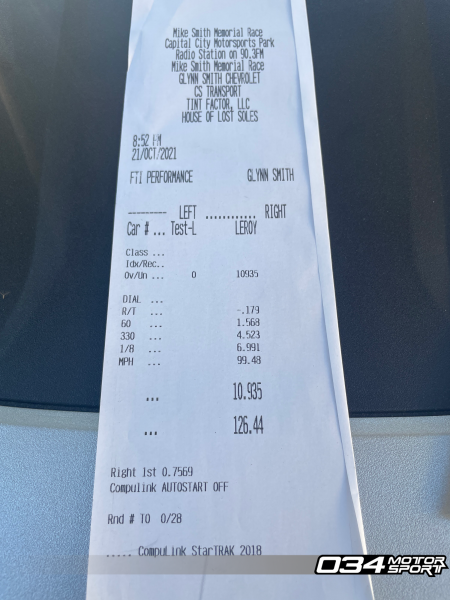 Time: 10.935 @ 126.44 MPH
Density Altitude: 1481ft
Ambient Air Temperature: 67*F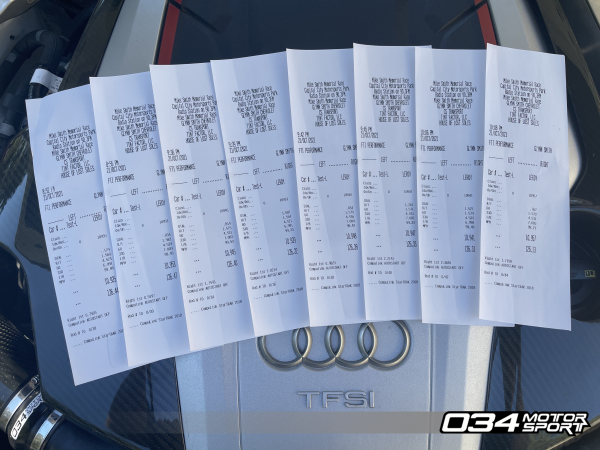 Consistency
With Dynamic+ software, we aim to provide consistent and repeatable performance for your B9 3.0T equipped car. With 8 consecutive 10 second ¼ mile passes, all above 126mph and within .02 seconds of each other, our B9 S4 demonstrates exactly that. All 034Motorsport ECU and TCU software are designed to perform consistently and safely in all uses. Whether you're on a road course, drag strip, road trip, or are simply commuting day to day in hot and cold weather, Dynamic+ tuning maximizes all available safety features found in the MG1 ECU to ensure that your car is running at its best, every time
Weight Reduction:
When preparing for these Dragy and Drag Strip runs, we did a simple weight reduction to our B9 S4. All of the weight reduction took us a total of 2 hours to complete (those rear seatbacks stumped us for a bit!) and netted around 220lbs of reduction.
Changes:
Passenger Seat & Back Seats Removed
Lightweight Driver Seat Installed
Lightweight Battery Installed
Catback Exhaust removed, Turndowns Installed
Lightweight Wheels & Radial Tires Installed

17x8.5 ET45 Enkei RPF1, 245/40/17 Hoosier DR2
More Details
For more detailed conversation surrounding these runs, check out the clip out from our Live Stream where our CEO Javad Shadzi and Director of Engineering Nate Stuart discussed them in further detail.
What about Full Weight?
With the release of revision R2.0, our calibration team released new performance enhancements, optimizing and improving shifting strategies along with increases in launch control torque, making AMAX shifts even faster! In our Development 2017 B9 Audi S4, we managed a solid 11.24 @ 121.67mph with the following modifications: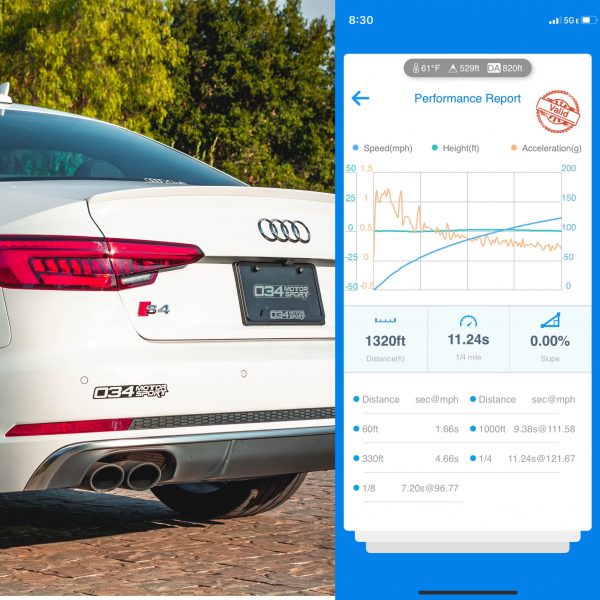 Modifications:
034 Stage 2 E85 ECU
034 TCU Tune (Public R1.0)
034 X34 Intake + Inlet
034 Catted Downpipe
Wagner Intercooler
265/35/19 Michelin PS4S Tires
Full weight!
Questions about any 034Motorsport Software or Hardware products? Don't hesitate to reach out to our team at contact@034motorsport.com!