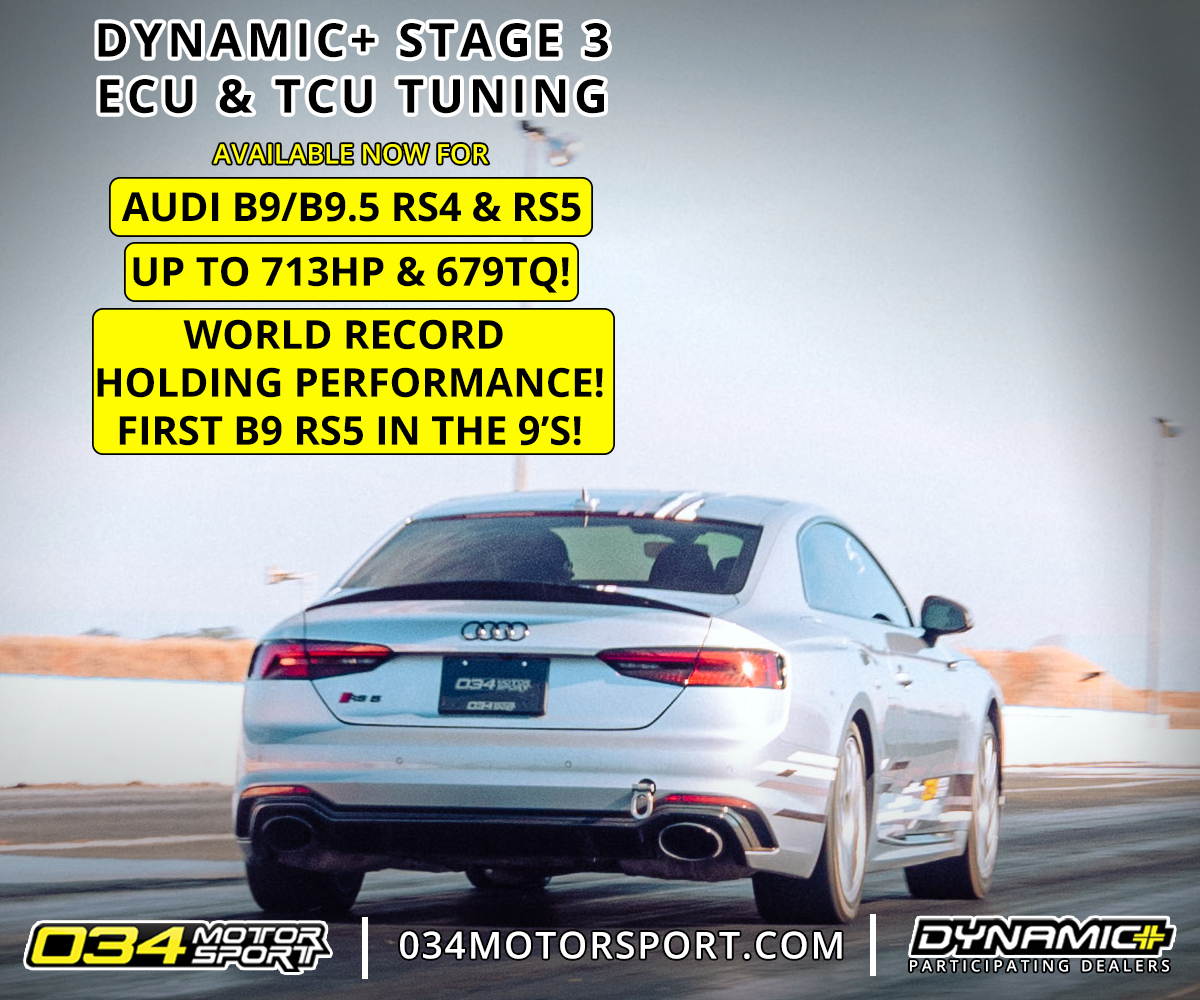 Dynamic+ Stage 3 Tuning for TTE720 Equipped B9/B9.5 Audi RS4/RS5 is Now Available from 034Motorsport!
034Motorsport is proud to formally announce Stage 3 Dynamic+ Performance Software for the Audi B9 RS4 & RS5 equipped with the EA839 2.9TT TFSI engine and TTE720 Turbochargers! Generate up to 713 Horsepower and 679 FT-LB of torque with just an ECU and TCU flash and accompanying hardware!
Dynamic+ Stage 3 Tuning will allow you to give those unsuspecting tuned Mustangs, Supras, or supercars a run for their money, ending a nice view of their headlights in your rearview mirror.
See the product page for a full, in-depth breakdown of the key optimizations and features that the 034Motorsport Calibration team implemented in this full tuning bundle: https://www.034motorsport.com/034mot...ng-bundle.html
Stock: 441 HP / 467 TQ
Stage 1/1+ 91: 484 HP / 501 TQ
Stage 1/1+ 93: 514 HP / 537 TQ
Stage 1 E85: 532 HP / 548 TQ
Stage 1+ E85: 566 HP / 610 TQ
Stage 3 91: 536 HP / 546 TQ
Stage 3 93: 590 HP / 596 TQ
Stage 3 E85 Pump: 680 HP / 665 TQ
Stage 3 E60-E70: 713 HP / 679 TQ
034Motorsport B9 Audi RS4 & RS5 EA839 2.9TT Dynamic+ Performance Software was developed entirely in-house on 034Motorsport's Development B9 RS5. The calibrations were then refined on multiple enthusiast-owned beta tester cars around North America.
Included at no extra cost is the Stage 1 Dynamic+ Performance TCU Software for the B9/B9.5 Audi RS4 & RS5 equipped with the AL552 8-Speed ZF8 transmission to further enhance the shifting and acceleration of your ZF8 Equipped 2.9TT! Flashed directly through your vehicle's OBD-II port, 034Motorsport's proprietary calibrations for the AL552 TCU safely and effectively raise the torque limits of the ZF8, allowing your car to make use of Stage 1/1+ or Stage 3 Performance Software. Note: While Stage 1 TCU is required for Stage 3 TTE720 Tuning, it is not optimized for shift points. We would highly recommend upgrading to the Stage 3 TCU tune with upgraded turbochargers.
034Motorsport Engineers develop special in-house tools that allow us to access the firmware and maps inside the factory ECU, this level of engineering is required to prevent workarounds and bandaids that many aftermarket companies resort to. 034Motorsport engineers and optimizes the ECU calibrations just like Audi engineers would, but accessing the source of how the ECU controls the engine and making changes at the base level.
This is the ONLY way 034Motorsport can ensure our calibrations meet our high standards for ultimate power with smooth drivability, perfect function, reliability and added functions and features even beyond what the factory programming can provide.
NOTE: The E85 calibration is not a flex-fuel style tune. The tune will work with E85 directly from the pump, both summer and winter blends (ethanol content can vary from E60-E85). This tune requires only E85 be pumped into the fuel tank. Gasoline blends and race fuel mixtures should not be used, and engine damage could occur if the incorrect fuel or octane is used. We strongly recommend an ethanol content gauge be used so that you can monitor the actual ethanol content at the pump you are using.
When switching fuels, it takes about 20-30 minutes of normal driving for the new tank of fuel to fully circulate through the system when filled at E. Please minimize load (don't floor it!) until you have driven the car for at least 30 minutes. Ethanol content analyzers installed close to the fuel rail will also help you see when the ethanol has fully run through the system.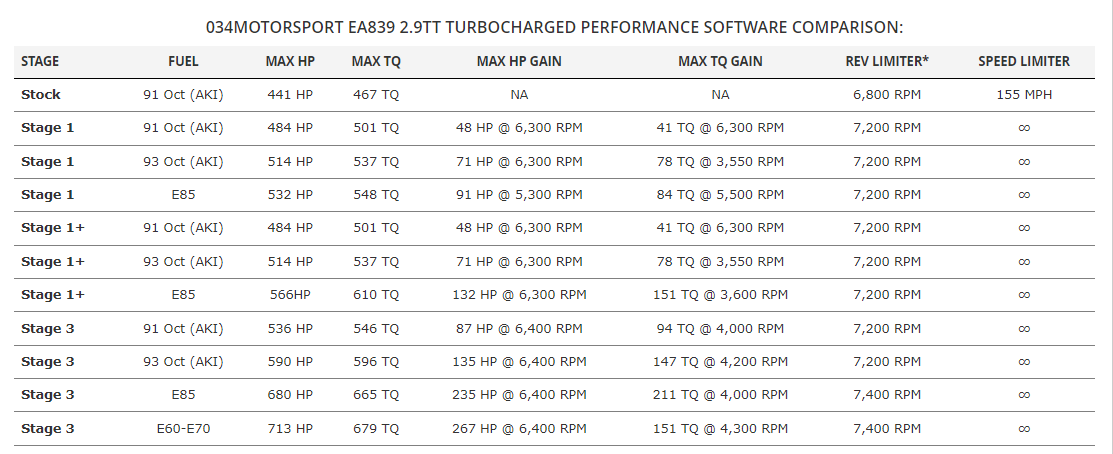 ***All octane ratings are in US standard AKI (RON+MON). Some ROW countries such as the UK use a RON octane rating that differs from US Octane ratings. Please email tuning@034motorsport.com to ensure you are running the correct octane file for your area. Running the incorrect octane file for your fuel can result in irreversible damage.
034Motorsport Stage 3 Performance Software for the EA839 2.9TT equipped with TTE720 Hybrid Turbochargers (running pump gas or ethanol) is engineered to safely increase the horsepower and torque beyond the stock turbocharger. Significant time was spent refining and safely optimizing the TTE720 Hybrid Turbocharger calibrations to ensure unrivaled drivability and uncompromised reliability. While many tuners can achieve great power figures that look impressive on a dyno sheet or a webpage, the key to a truly substantive and transformative software upgrade lies in the strategies employed to make power efficiently and safely.
In addition to power improvements, 034Motorsport's engineers spent a significant amount of time refining the throttle mapping in both Dynamic and Comfort modes to provide improved throttle response and allow for more precise throttle modulation with the addition of a hybrid turbocharger.
034Motorsport EA839 3.0T Performance Software is flashed via the factory OBD-II port, and does not require any physical modification of the factory ECU. Stage 3 is available in 91 Octane, 93 Octane, E60-E70, and E85 Pump files. ALL FILES ARE US (MON+RON) RATING, ROW OCTANE RATINGS MAY DIFFER.
UPGRADED HIGH PRESSURE FUEL PUMP OPTIMIZATION:
Dynamic+ Stage 1+ and Stage 3 Software are designed to be utilized with the 034Motorsport High Pressure Fuel Pump Piston Upgrade that offers a 37% larger diameter piston over the factory.
The 034Motorsport Stage 3 TTE720 E60-E70 file can accommodate an ethanol content range of E60-E70. This file is designated for use when seeking the highest power output possible. This ethanol content allows your Audi to safely generate maximum power from the TTE720 turbochargers by maximizing the octane level and knock-reduction efficiency of ethanol, without overloading the fuel system with extra fuel capacity that the current fuel system cannot sustain.
The Stage 3 E85 Pump file is recommended to have an ethanol content of E60-E85 and is designed to provide the most power possible with higher ethanol contents. This file is suited for those looking to daily drive their vehicle and run E85 from the pump safely without the hassles of mixing.
PERFORMANCE TCU STAGE 3 SOFTWARE:
The 034Motorsport Stage 3 Transmission Performance Tuning Software for the AL552 is designed to further improve the drivability and acceleration performance of your Stage 3 Dynamic+ Tuned Audi B9/B9.5 RS4 or RS5. Dynamic+ Stage 3 TCU Software is designed to be used with Dynamic+ Stage 3 ECU Software. 034Motorsport Stage 3 TCU Tuning further optimizes shift points under partial and full throttle to keep the TTE720 Turbochargers in their peak power band, and raises the redline to 7,200 for maximum performance with the larger turbocharger!
Hardware Requirements: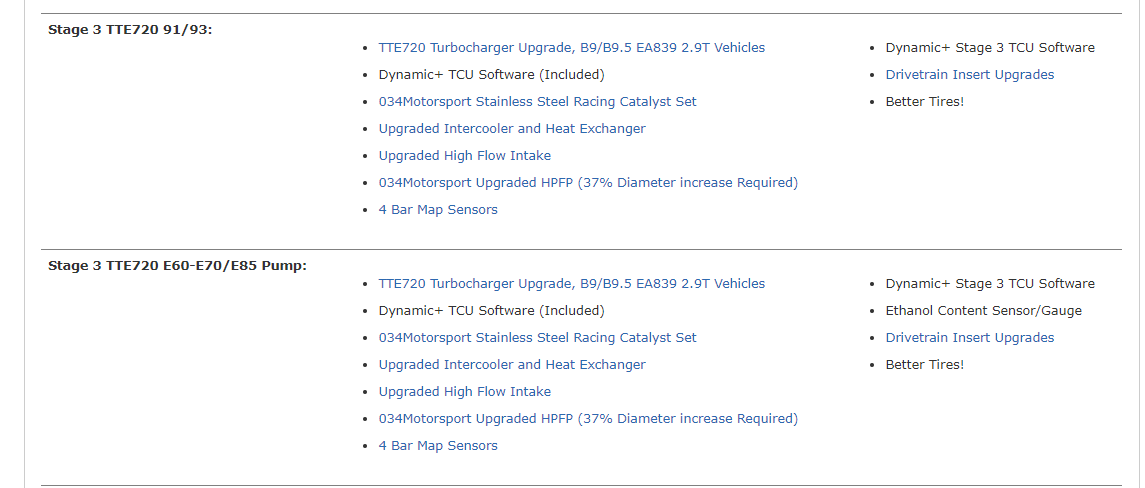 Dyno Charts: (More can be found on our product page!)
EMISSIONS DISCLAIMER:
This product is sold for racing use as well as use on vehicles not registered for on highway use.
By purchasing this product, you understand that this product is sold for racing use as well as used on vehicles not registered for on highway use, and that it is not legal for use on highway or street vehicles.