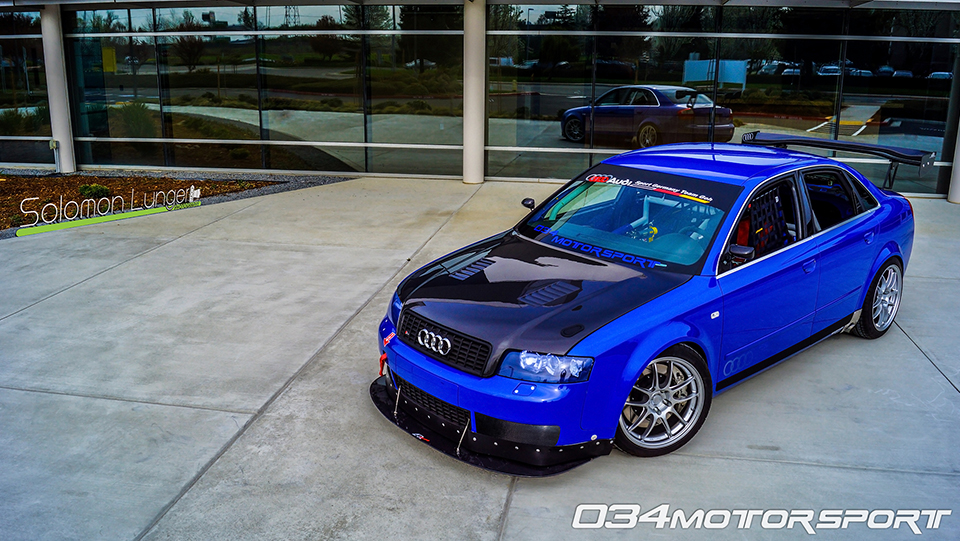 At 034Motorsport, we love being able to contribute to projects that are meant to be driven, and driven hard. Built with the intent of being a dedicated track car, Justin's B6 Audi S4 4.2L Race Car is no exception. With a completely gutted interior, spherical suspension components, Ohlins dampers, Alcon calipers, and R-compound tires, this car will provide an unforgettable driving experience. As if that weren't enough, Justin already has plans for a fully-built engine and even more power.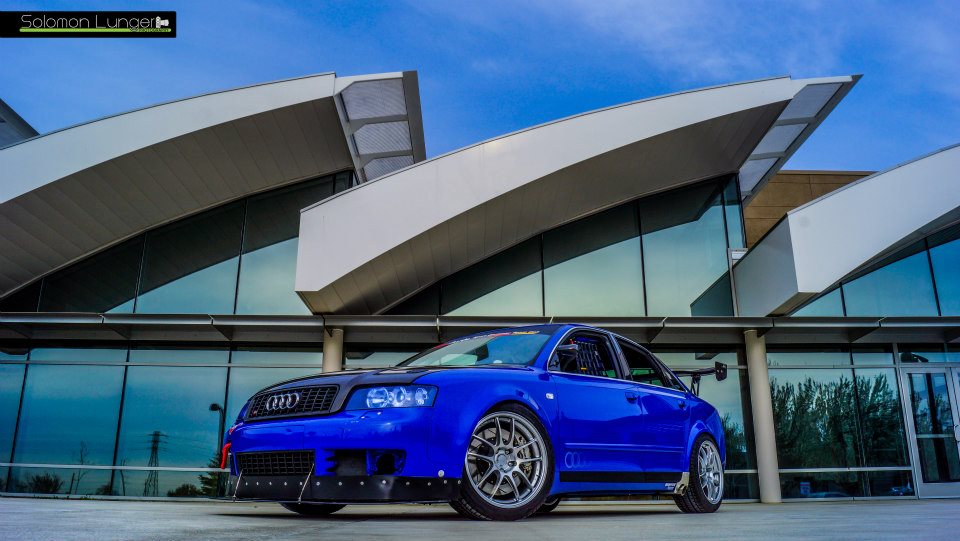 From Justin:
"This has been a project in the making for a long time. I purchased my S4 back in 2009 with the intent of one day making it a track car. The S4 has always been my favorite car, and I realize there are cheaper and more 'track suited' cars out there, but I'm not into the cookie cutter cars. I wanted something I could really be proud of. I wanted a challenge. What better way to do that than make a luxury sport sedan into a full track bred beast.
The car will be used to time trials and track days on road courses, and the occasional show. The Northern CA Racing Club hosts a lot of great events at Laguna Seca, Thunderhill, and Buttonwillow."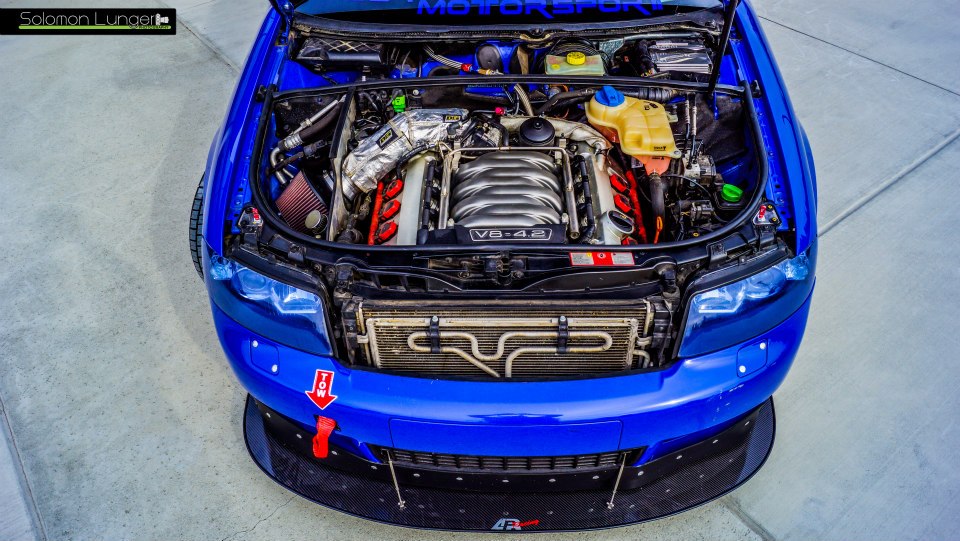 Engine/Intake/Exhaust:
Full Engine Build Coming Soon!
4.2L 40V Audi V8
Custom Catless Downpipes (2.5")
X-Pipe (2.5")
Custom Side Exit Full Race Exhaust System (2.5")
Canton Racing Accusump, 3 Quart System
Stratmosphere Intake with Heat Shielding
Fueling/Tuning:
JHM Tuning
High Performance Fuel Pump
Custom Fuel System with ATL Rear Cell 12 Gallon Tank
Stock Fuel Tanks Gutted for Exhaust System Install
Optima Yellow Top - Relocated to Rear
Transmission/Drivetrain:
Quattro All-Wheel Drive with 6-Speed Manual Transmission
Torsen 4:1 Center Differential Upgrade
JHM Short Throw Shifter
Chassis/Suspension:
Evil Genius Custom Built Full Roll Cage
PSi Raceline Twin-Tube Coilovers with Ohlins TTX Dampers/Eibach ERS Springs 800/1800
Apikol Rear Differential Mount, Red
Brakes:
STaSIS Alcon Mono4 355 Big Brake Kit (Front)
Cobalt XR2 Track Pads (Front)
Slotted Rear Rotors
Wheels/Tires:
Enkei PF01 Wheels - 18x9 ET30
Toyo R888 Tires - 255/35/18
Exterior:
EuroGEAR Carbon Vented Hood w/AeroCatch Pins
APR GTC-300 Carbon Wing
APR Custom Carbon Splitter
Custom 3" Brake Vents
GT3 Carbon Side Mirrors (With Curved Glass)
Interior:
Gutted Interior
Status Ring GT Blue Suede Carbon Racing Seat
Sparco 383 Competition Suede Steering Wheel
Sparco Quick Release Steering Hub
Sparco Floor Plate
Sparco Aluminum Pedals
Custom Race Gauge/Switch Panel
AEM Digital Gauges - A/F Ratio, Fuel Pressure, Oil Pressure, Oil Temp, Water Temp,
Trans Temp, Voltage
ATL Fuel Gauge
Auto Meter Pro-Shift Light
Safety/Miscellaneous:
6-Point Status Harnesses, Red
Scroth Window Net
Scroth Right Side Net
Safecraft Fire Suppression System - 5 Pound Lever Release
HANS 20-Degree Neck Restraint (QuickClip with Gel)
Sparco M-5 Driving Suit
Sparco Slalom SL-3 Shoes
Sparco Tide H-9 Gloves
Justin's B6 Audi S4 4.2L Race Car Build
Justin's B6 Audi S4 4.2L Race Car Build