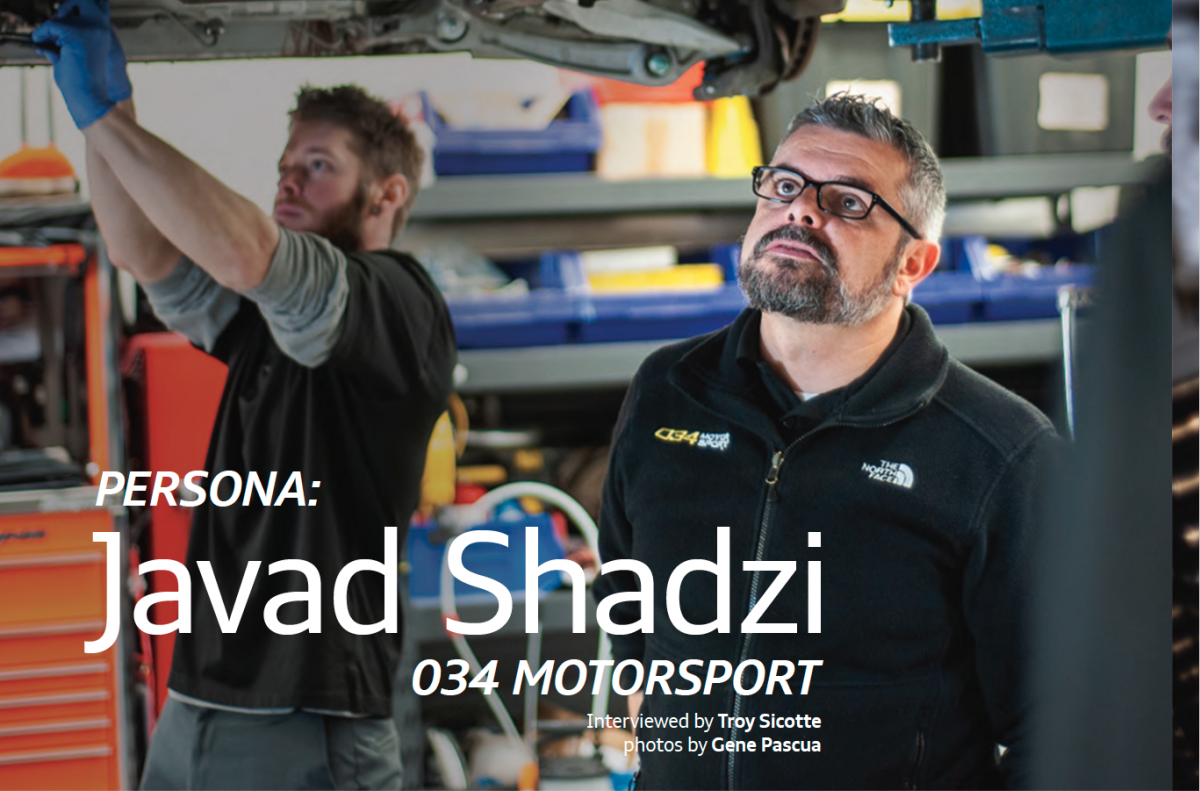 For this first in a series of interviews with significant players in the Audi enthusiast world, we turn to 034Motorsport in Fremont, CA. His firm was a key partner in development of our Project TT RS. Though that series has come to an end in these pages, the car itself is still in their fast hands as they continue to use it for development of what they like to call "go fast parts." More importantly, 034Motorsport's founder and CEO is a serious enthusiast and talented business man who's definitely worth getting to know.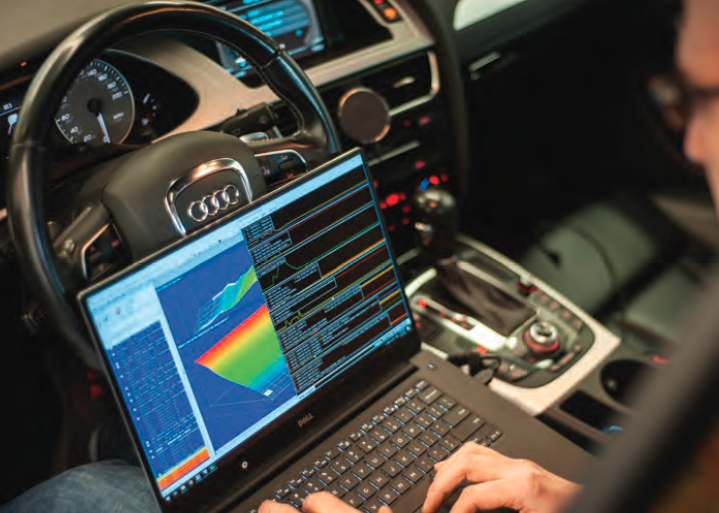 Shadzi notes that 034Motorsport grew out of a passion and obsession that he had not only with cars but with Audi specifically. When he moved to California in 1992 from the Midwest his senior year of high school, he had never really heard of Audi. A friend introduced him to a Coupe GT and Shadzi instantly fell in love with the character and charisma that Audi had. That was just an intro as he learned about quattro, turbo, and the innovative way Audi figured out how to make a car 4-wheel drive and keep it driving like a car. Shadzi was sold and so began a long journey.
What took him from enthusiast to obsession was the infamous-to-Audi-fans ESPN documentary "Unfair Advantage." Shadzi explained, "By the time the documentary was over, the trajectory of my life had changed... I could sense it and every cell in my body tingled at the incredible way Audi was able to use turbocharging and quattro to redefine what going fast meant! This ultimately led me to a hobby-obsession, and the work I did to modify and tune my own cars turned into a full-time job by 2004 doing performance products and tuning for Audi 5-cylinders initially then later evolving as the Audi cars did." The most knowledgeable of Audi fans will also take note that Shadzi named the company after two iconic Audi nomenclatures. "034" are the first three digits of the early Audi 5-cylinder powertrains, from oil pumps to intake manifolds and engine blocks. "Motorsport" is purposely not with an "s" at the end as homage to the "Audi Sport" brand."
quattro: What was your first major product offering?
Javad Shadzi: In the late 90's, turbo motor swaps from the big-chassis Audi 5000 Turbo became quite popular going into small chassis cars like the 4000 and 80, 90, and Coupe. This allowed a 115HP Audi 4000 to jump to 165HP and as much as 200HP with a simple "chip" mod. That made a slow car quite fun especially in that era where the B5 S4 had 250HP. Of course, once you have 200HP, you want 250HP, then you want 300HP! At those power levels, the factory CIS (Continuous Injection System) engine management system was limited above the 250HP level. Right around that time I became very envious of those with Hondas and Ford Mustangs who had EFI systems on their turbo motors. They could easily retune the ECU with a bigger MAF and bigger EFI injectors and really make as much power as they wanted. Around 1988, I became obsessed with being able to put EFI on an Audi 5-cylinder to have the ease and capability to simply tune the ECU for whatever hardware the motor had, and whatever power the motor and turbo system were capable of. The CIS was a holdover from the 80's and by 1998 every factory car was EFI. The issue was that aftermarket EFI systems couldn't properly run a 5-cylinder due to the odd number of cylinders. I thought that this posed not only a challenge, but an opportunity! I sought to develop a solution which ultimately led to the 034EFI programmable EFI system and the beginning of 034Motorsport.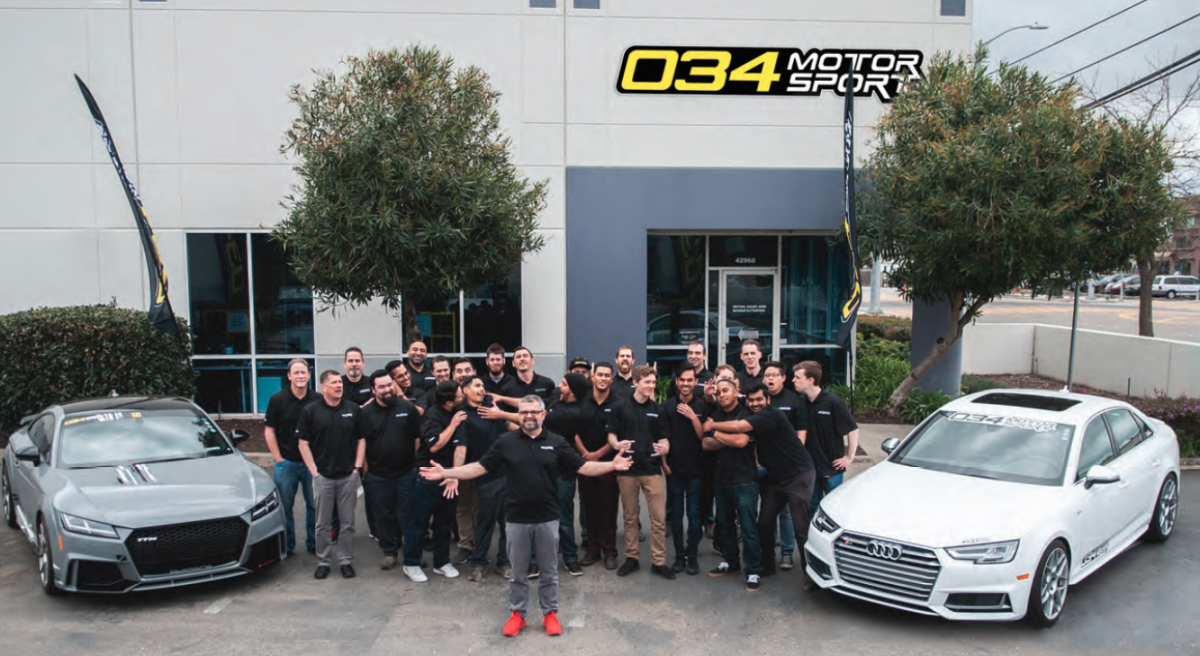 quattro: Why did you choose to focus your business on Audi?
Javad Shadzi: Specifically, what got me was quattro. I had driven and tuned front-wheel and rear-wheel drive cars, and wheel spin and traction were always huge issues. The fact that I could take a 130-hp Audi 80 quattro, turbocharge it to 600-700 horsepower and barely feel any wheel spin from a launch was incredible. One of the toughest things to make the car do, hook up, Audi had already figured out. Also, in the early 2000s, there were nearly no real hardcore Audi tuners. It seemed like a huge opportunity and market to pursue, and a great opportunity to fill a real need for the neglected Audi owners.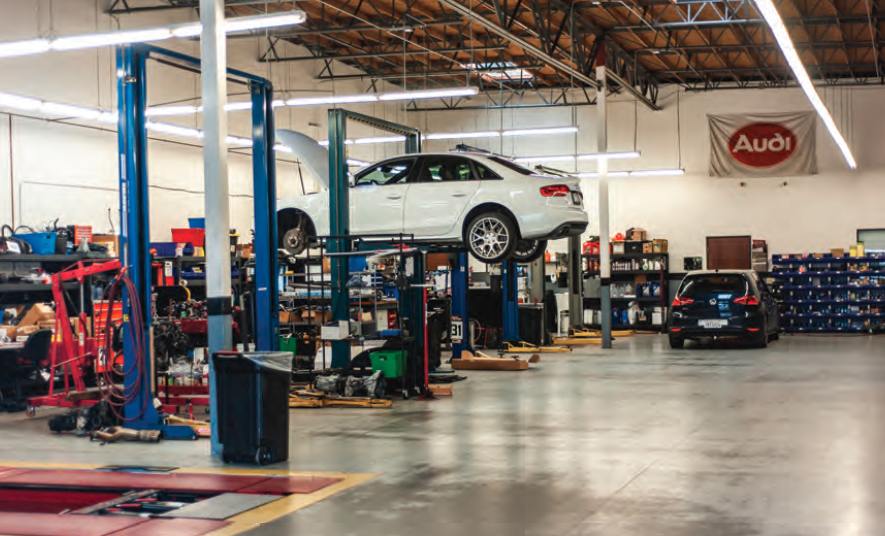 quattro: Tell us about your company structure.
Javad Shadzi: 034Motorsport has about 30 employees at any given time. We do retail direct to consumer ecommerce business. We have a thriving global wholesale distributor network that re-sells our products and supports them. We also have an on-site Service Facility here in Fremont, CA, that performs dealership style service and maintenance, as well as performance and tuning modifications with four full time technicians. The Service Department adds a layer of substance that many tuning companies don't have. We have our hands on the cars, so we know them inside and out. This familiarity and expertise enables our engineering and tuning efforts in a meaningful way.
quattro: How do you approach being an employer and how do you find the right people?
Javad Shadzi: Finding the right people is one of the most challenging parts of business. A company like 034Motorsport needs staff that are skilled in the job duties they are entrusted, but it is also a huge asset to be an enthusiast that drives much higher levels of engagement and meaning in the work.
I strive to make 034Motorsport a great place to work and we have clearly defined values that all staff are evaluated on. This means that 034 is a respectful, safe place to do one's best work in a culture that rewards excellence and great work. We have rigorous hiring practices that we use to find the most qualified candidates, we use a lot of professional assessments to evaluate candidates as well as a thorough interview process.
quattro: What were some early challenges as you tried to get off the ground?
Javad Shadzi: By far the hardest part is cash flow. Early on in a business that is organic - you are doing everything. I literally worked 18-hour days initially, then took a chance on my first employee to help me do more of what I was good at. Years later, I had 30 people and was in a position of overseeing the work, but not having to do it. Another issue is getting the word out there that you and your products exist.
quattro: How did you overcome those challenges?
Javad Shadzi: The challenge is to overcome by taking risks and leaping at opportunities. Slowly progress is made, and revenue grows as long as you're doing things right. Getting the word out there required doing exciting things to get noticed such as building an 800-hp Audi 80 turbo quattro, racing it at Bonneville,going to the Eurotuner Grand Prix, building other exciting cars, going out and proving to the world that they worked and that we knew what we were doing.
quattro: What would you have done differently?
Javad Shadzi: Tough to say. In a sense, everything happened how it was supposed to; however, I would have focused more on the numbers and finances initially. We had rapid growth, but it was chaotic at times and the business tended to get away from us. Being more measured would have made things go more smoothly in the first 5-10 years of business.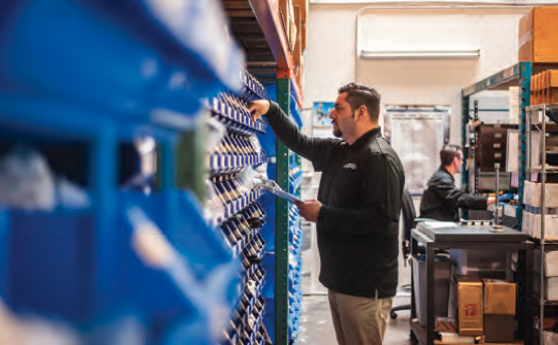 quattro: How do you approach competition in the marketplace?
Javad Shadzi: Once you prove to the market that something is possible, it inspires many people to also want to do something that works, and the competition comes. Overall, we strive to maintain positive and constructive relationships with every company in the industry even when we are fierce competitors. That's not always possible but it's always our desire. The Audi aftermarket is quite small, and we are all a group of people who have so much more in common than not. We all share a passion and it's more fun when we do it for each other's benefit, not harm.
quattro: Outside of other Volkswagen Auto Group marques, what would you like to work on?
Javad Shadzi: I'm a huge fan of anything Porsche, especially the 911 Turbo, however it's tough to look outside what pays the bills and creates the opportunity, and for that reason we are very focused on Audi (and VW) specifically.
quattro: What keeps you sane when things are insane?
Javad Shadzi: I have a sign on my dresser that I look at every morning that says, "Never forget the reason you started." That keeps me focused on the big picture and that this day, this challenge will pass as long as we're continually moving towards the goal.
quattro: Do you think forums are dead and what do you think of Facebook groups?
Javad Shadzi: Forums are not dead. Places like Audizine.com are still active but the bulk of enthusiasts have moved to Facebook Groups. The added engagement is great, but the less structured format means trolls can run much more rampant than they did on the forums and that makes it tough to deal with. A troll would be someone who simply posts to hurt and destroy with their words, not someone who is looking for a solution but someone who tears down every chance they get. Ultimately that type of negativity really hurts the community as a whole and for many makes it an unpleasant place to be.
quattro: How do you support Audi Club North America and engage its members?
Javad Shadzi: We support our local Golden Gate chapter as a Platinum sponsor. This means we donate products and services to the events to be auctioned off to help raise funds for events. We also bring staff and techs to the paddock to support members and their vehicles during the event. We host two big events at our facility called Winterfest and Summerfest that have 200-400 cars showing up. I actually cook for all attendees. We're talking gallons of homemade chili in the winter and over one hundred pounds of beef in the summer.
quattro: If you were to change anything about ACNA, what would you change?
Javad Shadzi: As someone who has been a member since the mid-90s, I just wish more Audi owners knew about the club and participated in the great track day events. They are so accessible to anyone that owns an Audi but when I ask Audi owners, they rarely know about the club.
quattro: What are you currently driving and what do you love about it?
Javad Shadzi: I have the good fortune of having a stable of incredible, 034-tuned Audis to drive. Cars include a 2018 TT RS, 2018 B9 S4, and 2017 B9 A4. They all do something well and something not so well; they all have their place as a chosen speed weapon (laughs).
quattro: Who do you look up to in the industry?
Javad Shadzi: I have a great respect for some of the guys and tuners who really inspired me when I was just a kid. Ned Ritchie came out with ECU modifications to take the Audi 5000 Turbo from 160-hp to over 200. That was revolutionary and really inspired a lot of people to want to go fast. Darrell Vittone, the founder of Techtonics Tuning, always inspired me with a highly functional and no-frills product line of quality parts that did what they said they'd do. The Bennett brothers, Andrew and Ken of 2Bennett Audimotive, really inspired me early on with crazy turbo swaps into small chassis cars. It was something I had always dreamed of doing and then seeing them doing them, and eventually building my own really set me on my way to starting 034Motorsport.
quattro: Electrification, e-tron, and autonomous driving; will your company adapt?
Javad Shadzi: We are watching electrification carefully. It's still pretty early and it will pose some challenges. We have looked at the e-Golf and though many of our chassis products work on that car, most of the owners are not performance minded at all. Really, the cuture of electrification will have more to do with customer motivations than anything else; for the time being people that like to go fast seem to also like hearing that gas engine roar.
quattro: If you were to give advice to anyone wanting to start his or her own business, what would it be?
Javad Shadzi: Seriously think about it because it's not for everyone, and even for those that have done it well for decades, it can be very challenging. Though in business one can be very successful, one also must accept incredible liability. As an employee, you can be fired from your job but as a business owner, you can lose everything if you don't make the right decisions. Owning my own business has been the most difficult and most rewarding thing I have ever done. I'd just say before one jumps in, speak to a few people who have done it and go from there.
quattro: What's next for you and your business?
Javad Shadzi: 034Motorsport has evolved greatly since I started it in 2004. In addition to always striving to be the best company we can be, we've had to adapt to countless changes in the economy, in Audi/VW product, to new generations of customers, and in completely different cars and technologies. We will continue to adapt, improve, and look for ways that we can best meet the performance needs of future vehicle owners.