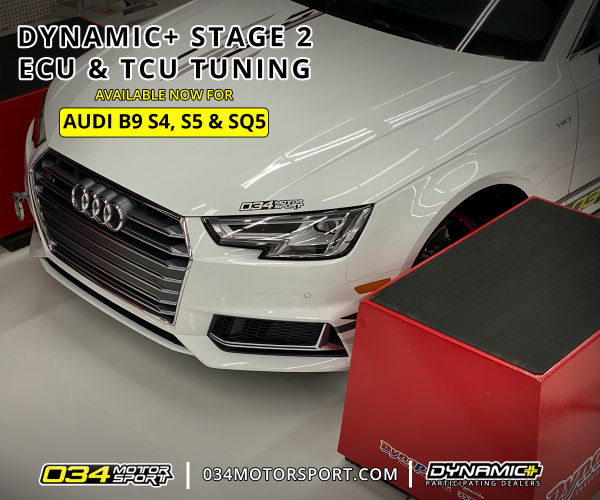 034Motorsport is proud to formally announce Dynamic+ Performance Stage 2 Software for the Audi B9 Audi S4, S5, & SQ5 equipped with the EA839 3.0T TFSI engine and AL552 ZF8 transmission! Make up to 510 Horsepower and 616 FT-LB of Torque with just an ECU and TCU flash! 034Motorsport Dynamic+ tunes are flashed directly through the factory OBD-II port using the 034Motorsport Dynamic+ End User Flashing Kit, and offer dramatic increases in horsepower and torque throughout the powerband.

Included at no extra cost is the Dynamic+ Performance TCU Software for B9 Audi S4, S5, or SQ5 models equipped with the AL552 8-Speed ZF8 transmission! Flashed directly through your vehicle's OBD-II port, 034Motorsport's proprietary calibrations for the AL552 TCU safely and effectively raise the torque limits of the ZF8, allowing your car to make use of Stage 1 or Stage 2 Performance Software. 

See the product page for a full, In-depth breakdown on the key optimizations that the 034Motorsport Calibration team implemented in this full tuning bundle.

Performance:
Stock: 350 HP / 391 TQ 
Stage 2 91: 454 HP / 542 TQ
Stage 2 93: 476 HP / 576 TQ
Stage 2 E85: 510 HP / 616 TQ
ECU Flash Features:
Increased horsepower and torque through powerband
Improved power delivery, acceleration, and driving characteristics
Refined throttle mapping for improved throttle response and precision.
True Launch Control Added
Modified Thermal Management Safety Strategies
Fuel System Optimization for Ethanol
Accurate Boost and Torque Reporting for Safety Features
Optimizations around Volumetric Efficiencies of the EA839 3.0T
Speed limiter removed for higher top speed.
Flashed directly via the factory OBD-II port.
TCU Flash Features:
Torque Safety Protocols Recalibrated for Higher Output
End User Flashing Kit Features:
Flash Dynamic+ ECU and TCU Performance Software yourself.
Flash Dynamic+ updates & revisions at your convenience.
Upgrade to higher stages on your own.
Flash back to stock whenever you choose.
034Motorsport B9 Audi S4/S5/SQ5 EA839 3.0T Dynamic+ Performance Software Bundle
Stage 1 ECU + TCU: $850
Stage 2 ECU + TCU: $950
Upgrade Stage 1 -> Stage 2: $100
READY TO UPGRADE YOUR TUNE?
Upgrading your existing 034Motorsport Dynamic+ tune to a higher stage is easy. Simply choose the upgrade you want from the Tuning Software drop-down list below. The price of the upgrade will be shown once your selection is made. After your purchase, install any additional required hardware, download your new tune, and flash your ECU using the Dynamic+ End User Flashing Kit.
What makes Dynamic+ different?
While many tuners can achieve great power figures that look impressive on a dyno sheet or a webpage, the key to a truly substantive and transformative software upgrade lies in the strategies employed to make power efficiently and safely. 034Motorsport Dynamic+ Software strives to retain and implement as many OEM safety protocols, and holistically recalibrate the entirety of the ECU and TCU to create what we call the Dynamic+ experience.
034Motorsport engineers develop special in-house tools that allow us to access the firmware and maps inside the factory ECU, this level of engineering is required to prevent workarounds and bandaids that many aftermarket companies resort to. 034Motorsport engineers and optimizes the ECU calibrations just like Audi engineers would, but accessing the source of how the ECU controls the engine and making changes at the base level.
This is the ONLY way 034Motorsport can ensure our calibrations meet our high standards for ultimate power with smooth drivability, perfect function, reliability, and added functions and features even beyond what the factory programming can provide.
Learn more about the Dynamic+ Differences found in the EA839 ECU and TCU tuning on our website