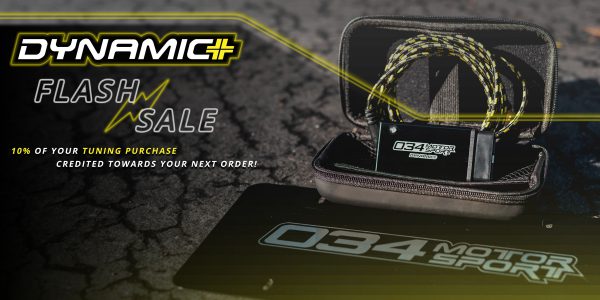 The Dynamic+ Flash Rebate Sale is Active from 12/22/21 - 1/2/22
The
034Motorsport Dynamic+
Flash Rebate Sale will be active from Wednesday, December 22nd, to Sunday, January 2nd. During this sale if you purchase 034Motorsport Dynamic+ Tuning for your vehicle, you will receive 10% of the tune price in store credit in your 034Motorsport.com website account.
Can I Flash at a Local Dynamic+ Dealer?
Yes!
If you flash at your local Dynamic+ Dealer, send us a copy or picture of your invoice and we will apply the rebate in the form of store credit to your 034Motorsport.com account! Invoices can be sent to 
Contact@034Motorsport.com!