This Record has been reset! View the new World Record:
https://store.034motorsport.com/blog/034motorsport-tuned-b8-5-s5-claims-first-9-second-pass-quarter-mile-record-9-977-137-5mph/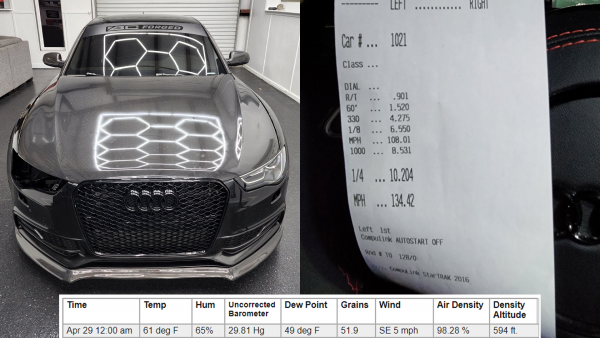 B8.5 S5 Tuned by 034Motorsport sets World Record in the Quarter Mile: 10.204@134.42MPH
We at 034Motorsport want to extend a huge congratulations to our customer Nate Prater in Georgia at Carolina Dragway for setting the fastest 1/4 mile time ever run for the B8/8.5 3.0T platform, with a 10.204 @ 134.42. Drag racing is a cornerstone of 034's beginning, and we love to see our customers hit the track and show what they can do with the power of Dynamic+ tuning, pushing the envelope of the platform!
Modifications:
034Motorsport Dynamic+ Stage 2+ ECU on E40
034Motorsport Dynamic+ Stage 1 TCU
034Motorsport SüperDüper Insuction Bundle (Port Matched to Blower)
S4Matty Ported Blower
Upgraded Testpipes
AWE Touring Exhaust
Upgraded High Pressure Fuel Pump
Upgraded Low Pressure Fuel Pump
200mm Crank/57mm Supercharger Pulleys
Upgraded Belt Tensioner
1000cc Water Methanol Injection
Upgraded Heat Exchanger & Reservoir Tank + CWA100
034Motorsport 2-Piece Floating Brake Rotors
034Motorsport Engine Mounts, Control Arms, Boost Tap, Bleeder Screws
KW V2 Coilovers
Upgraded Lightweight Battery
17" Wheels + Hoosier DR2's
Removed Seats, Door Cards, Spare Tire, Rear Muffler, Kirkey Driver Seat
Track Conditions:
Density Altitude: 594ft
Track Elevation: 288.7ft
Temperature: 61 Degrees F
Humidity: 65%
Barometer: 29.81 Hg
Air Density: 98.28%

Questions about how 034Motorsport Tuning and Hardware can have your car running the same times? Email contact@034motorsport.com and our team will be happy to assist!