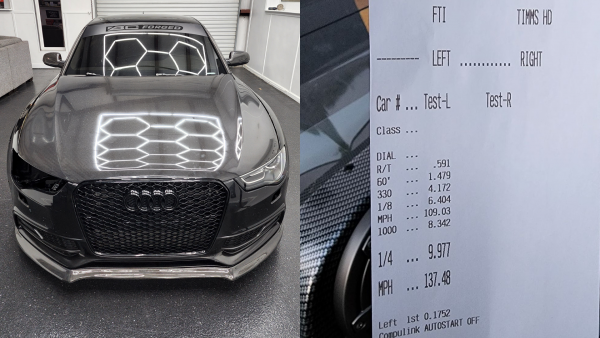 B8.5 S5 Tuned by 034Motorsport Claims First 9-Second Pass & World Record in the Quarter Mile: 9.977 at 137.5MPH
We at 034Motorsport want to extend a huge congratulations to our customer Nate Prater in Georgia at Carolina Dragway for setting the fastest 1/4 mile time ever run for the B8/8.5 3.0T platform, with a 9.977 at 137.5MPH. This time was then backed up by four 10.0-10.1 second passes to show the consistent performance of Dynamic+ Tuning! Drag racing is a cornerstone of 034's beginning, and we love to see our customers hit the track and show what they can do with the power of Dynamic+ tuning, pushing the envelope of the platform!
With the use of 034Motorsport's Advanced Launch Control, Nate was able to dial in his launch to ~1800RPM, allowing him to cut a consistent and low 60ft of 1.4 on four of his runs.
Modifications:
034Motorsport Dynamic+ Stage 2+ ECU (OTS E40 + WMI)
034Motorsport Dynamic+ Stage 1 TCU
034Motorsport SüperDüper Insuction Bundle (Port Matched to Blower)
S4Matty Ported Blower
Upgraded Testpipes
50 Shot Wet Nitrous

034Motorsport does not tune for or recommend the use of nitrous on our files. Use of nitrous is at your own risk.

AWE Touring Exhaust
Upgraded High Pressure Fuel Pump
Upgraded Low Pressure Fuel Pump
200mm Crank/57mm Supercharger Pulleys
Upgraded Belt Tensioner
1000cc Water Methanol Injection
Upgraded Heat Exchanger & Reservoir Tank + CWA100
034Motorsport 2-Piece Floating Brake Rotors
034Motorsport Engine Mounts, Control Arms, Boost Tap, Bleeder Screws
KW V2 Coilovers
Upgraded Lightweight Battery
17" Wheels + Hoosier DR2's
Removed Seats, Door Cards, Spare Tire, Rear Muffler, Kirkey Driver Seat
Track Conditions:
Density Altitude: 1676.87ft
Track Elevation: 288.7ft
Temperature: 75.61 Degrees F
Humidity: 44%
Barometer: 29.73 Hg
Air Density: 95%


Questions about how 034Motorsport Tuning and Hardware can have your car running the same times? Email contact@034motorsport.com and our team will be happy to assist!