This Record has been reset! View the new World Record:
https://store.034motorsport.com/blog/034motorsport-tuned-b8-5-s5-claims-first-9-second-pass-quarter-mile-record-9-977-137-5mph/
B8 S4 Tuned by 034Motorsport sets World Record for ET and Trap Speed: 10.2@135MPH
We at 034Motorsport want to extend a huge congratulations to our customer Matt Tremblay over in Toronto for setting the fastest 1/4 mile time and trap speed ever run for the B8/8.5 S4 platform, with a blisteringly quick 10.216 @ 134.97. These runs were backed up with a 10.255 @ 134.50 and 10.233 @ 135.01. Drag racing is a cornerstone of 034's beginning, and it's great to see our customers enjoying it too!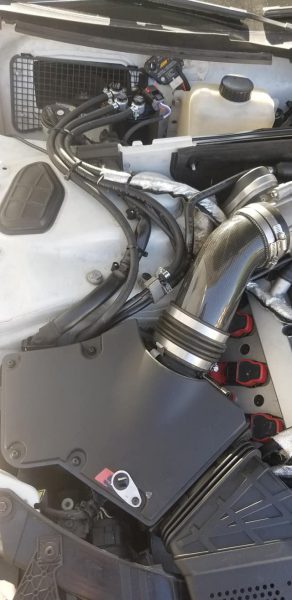 To help cut down on weight, Matt was able to test and retrofit our Billet Surge Tank built for the DAZA 2.5t platform. It proved to help Matt run as he was able to run with a 1/4 tank of fuel versus a 3/4 tank without any hard fuel cuts.
With the use of 034Motorsport's Advanced Launch Control, Matt was able to dial in his launch RPM, allowing him to cut a consistent and low 60ft of 1.45 on all three runs.



Modifications:
034Motorsport E40 80mm Throttle Body File
034Motorsport DL501 TCU Tune with Advanced Launch Control
Ki 194/cts 57mm pulleys
New Merc Racing larger hx for s4/s5
Aem meth kit 1000cc nozzle
Can auto performance testpipes
Intergraded engineering hpfp
S4matty ported charger
Ported APR Ultracharger
Stock modded intake box
Stock dp's and cat back
034Motorsport Engine Mounts, Tranny Mount, Diff inserts, Subframe inserts
034Motorsport Development Fuel Surge Tank
Kw h.a.s coilovers
Seats out, door cards out, door speakers out
Front seat belts out, aluminum race seat in.
5lb lightweight battery
E50 fuel with pump 94
Stock lpfp
17x8 fast fc04 wheels 17lbs
245/45/17 Hoosier dr2's

Track Conditions:
DA: 132ft
Track Elevation: 106 feet above sea level
Air Temperature: 15 degrees c
Barometric Pressure: 30.28 inches Hg
Relative Humidity: 46%
Videos:

Questions about how 034Motorsport Tuning and Hardware can have your car running the same times? Email contact@034motorsport.com and our team will be happy to assist!