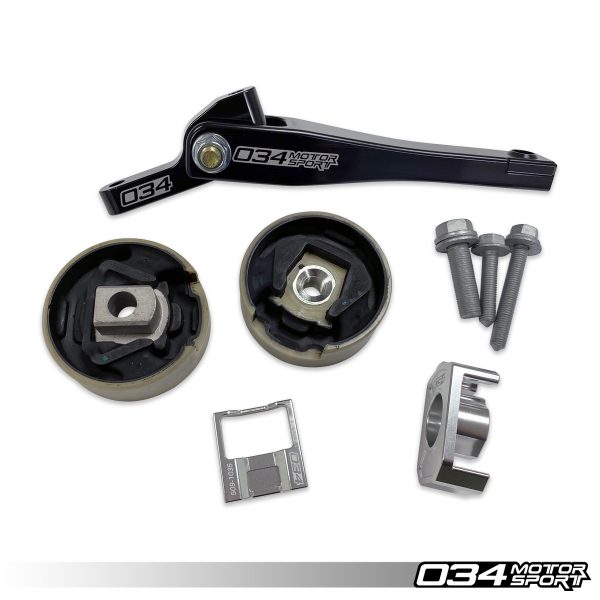 The 034Motorsport Billet Spherical Dogbone Mount Performance Packs include 034Motorsport performance products associated with the dogbone mount in one comprehensive and convenient package. There are two variations for each application; with and without Density Line Dogbone Mount Pucks. These variations were created because dogbone mount puck installation is very involved, and some customers may want a bundle without the effort those parts require to install. Aside from the dogbone mount pucks, each kit includes the Billet Spherical Dogbone Mount, Upper Dogbone Mount Insert, Lower Dogbone Mount Insert, and all new hardware.
Billet Spherical Dogbone Mount Features:
Bolt-In Performance Upgrade for Factory Dogbone Mount
Reduced Drivetrain Slop & Engine Movement Under Load
More Direct Power Transfer & Improved Shifting Feel
Increased Strength & Improved Durability vs. Factory Part
T6-6061 Billet Aluminum Body
303 Stainless Steel Spacers
Genuine Aurora Spherical Bearing
Rebuildable Design
New Factory Stretch Bolts Included
Billet Upper Dogbone Mount Insert Features:
T6-6061 Billet Aluminum Construction
Clear Anodized Finish for Durability
Prevents Lower Insert From Bending
Prevents Billet Dogbone Arm From Bending
Engineered to Fill Upper Void In Factory Transmission Mount
Drastically Reduces Transmission Movement During Shifting & Deceleration
Improves Shifting Feel, Resulting in Crisper Shifts
Virtually No Additional NVH Transfer Inside Cabin
Easy, Straightforward Installation Takes Minutes!
Billet Aluminum Lower Dogbone Mount Insert Features:
T6-6061 Billet Aluminum Construction
Clear Anodized Finish for Durability
Engineered to Fill Lower Void In Factory Transmission Mount
Drastically Reduces Transmission Movement During Shifting & Deceleration
Improves Shifting Feel, Resulting in Crisper Shifts
Virtually No Additional NVH Transfer Inside Cabin
Easy, Straightforward Installation Takes Minutes!
Lifetime Warranty for Original Purchaser
Street Density Dogbone Mount Puck Features:
Complete Drop-In Replacement of Factory Mounts
Manufactured from 65 Durometer Rubber
Upgraded Steel Thread Insert in Upper Mount Replacing Factory Aluminum Which is Prone to Stripping
Reduced Drivetrain Movement
Decreased Engine Movement Under Load
More Direct Power Transfer
Improved Shifting Feel