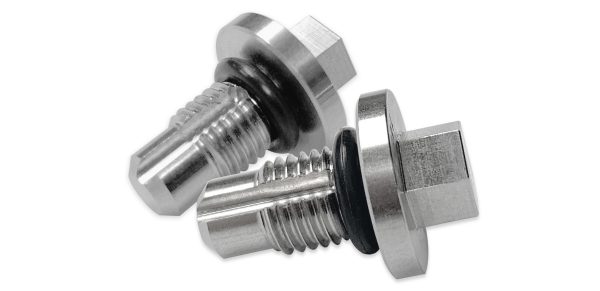 Replace those failure prone, plastic 3.0 TFSI supercharger bleeder screws with the 034Motorsport 3.0 TFSI Supercharger Bleeder Screw Kit for Aud B8/B8.5/C7/D4 S4/S5/Q5/SQ5/A6/A7/A8 vehicles. The OEM bleeder screws are not designed for multiple use and the soft plastic can easily be damaged to the point where they can no longer be loosened or tightened. These CNC machined billet 304 stainless steel bleeder screws are tough enough for a lifetime of modifications to your 3.0 TFSI supercharged engine.
034Motorsport replaced the Phillips head design with a positive 8mm hex head, eliminating the possibility of stripping out the head of the bleeder screw. The use of stainless steel instead of failure prone plastic will ensure you never snap the head off a supercharger bleeder screw again. A high-temperature o-ring ensures a consistent seal regardless of the number of times it is used.
Install a set of 034Motorsport 3.0 TFSI Supercharger Bleeder Screws to get some peace of mind and never worry about a bleeder screw failure again!
FEATURES:
CNC Machined from Billet 304 Stainless Steel
7mm Hex Head Replaces Easily Damaged OEM Phillips Head Design
High-Strength, Corrossion Resistant Stainless Steel Eliminates the Common Failure of the Plastic OEM Screws
Easy to Install
Sold in Pairs
FITMENT:
2010 - 2017 Audi S4 3.0 TFSI (B8/B8.5)
2013 - 2017 Audi S5 3.0 TFSI (B8.5)
2010 - 2017 Audi Q5/SQ5 3.0 TFSI (B8/B8.5)
2012 - 2017 Audi A6 3.0 TFSI (C7)
2012 - 2017 Audi A7 3.0 TFSI (C7)
2011 - Present Audi A8 3.0 TFSI (D4)