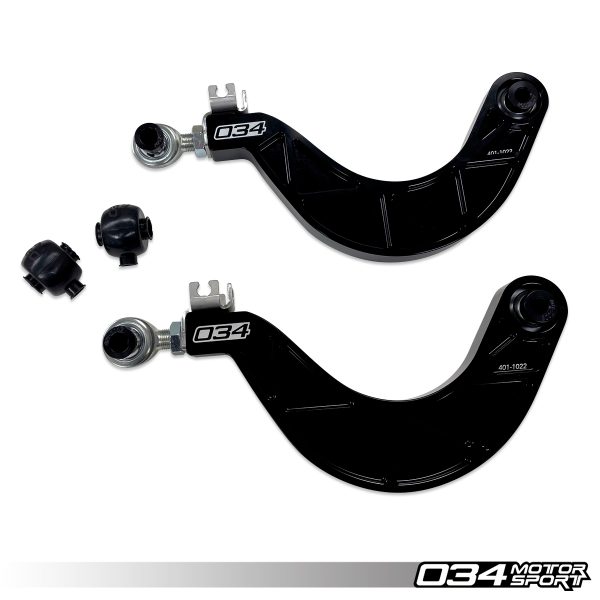 Product Description:
We are proud to offer 034Motorsport Rear Adjustable Upper Control Arms for MkV/MkVI/MkVII Volkswagen and 8J/8P/8V Audi applications! Dialing in your alignment has never been easier! Constructed from billet aluminum, the arms are much more durable compared to the factory stamped steel arms. They are a direct replacement for the stock stamped steel and rubber arms, and allow for approximately 5 degrees of camber adjustment, on top of what the stock eccentric bolt allows.
Compared to our Density Line Rear Adjustable Upper Control Arms, these Control Arms utilize an Aurora Spherical Bearing rather than our 90 Durometer Bushing to ensure that there is no chance for deflection - ensuring that proper suspension geometry is maintained under all conditions.
Features:
Billet Aluminum Construction - Anodized Black
Genuine Aurora Spherical Bearings
Fully Spherical Design for Zero Deflection or Alignment Change
Approximately 5 Degrees of Camber Adjustment (-2.4 Degrees or +2.6 Degrees)
Adjustable in 1/36" Increments. Each 1/36" Corresponds to ~0.18 Degrees.
Dust Boots Now Included!
Functions:
Eliminates Bushing Deflection
Improved Alignment Adjustability
What's Included:
034Motorsport Motorsport Rear Upper Adjustable Control Arm Pair
Anti-Seize
Two Dust Boots
Fitment:
2005 - 2013 Audi A3/S3/RS3 (8P)
2015 - Present Audi A3/S3/RS3 (8V)
2007 - 2013 Audi TT/TTS/TTRS (8J)
2015 - Present Audi TT/TTS/TTRS (8S)
2007 - 2009 Volkswagen Eos (MkV)
2010 - 2013 Volkswagen Eos (MkVI)
2006 - 2009 Volkswagen Jetta/GTI/GLI/Rabbit/R32 (MkV)
2010 - 2014 Volkswagen Golf/GTI/Rabbit/R (MkVI)
2015 - Present Volkswagen Golf/GTI/R (MkVII)
2006 - 2013 Volkswagen Passat
2008 - 2013 Volkswagen Tiguan
2010 - 2015 Volkswagen Jetta/GLI (MkVI) *Independent Rear Suspension (IRS) Models Only*