034Motorsport set out to prove that Dynamic+ Tuning Software for the B9 RS4 & RS5 offers the best experience in terms of drivability and refinement, power delivery, and features. In this, we set our car up to take the 1/4 stock turbo record using our B9 RS5 Coupe.
Modifications:
034Motorsport Dynamic+ Stage 1+ E85 ECU Tune
034Motorsport Dynamic+ Stage 2 TCU Tune
Full Factory Exhaust System (Catalysts + Catback)
034Motorsport X34 Carbon Fiber Intake System (Stock Inlets)
034Motorsport Billet Transmission Insert
034Motorsport Street Density Transmission Mount
034Motorsport Billet Differential Insert
034Motorsport Billet Subframe Insert
034Motorsport Front & Rear Sway Bar Kit
Wagner Competition Intercooler & Heat Exchanger
034Motorsport ZTF-R01 Forged 19x9.3 ET35 Wheels with 265/35/19 Michelin Cup2
High Pressure Fuel Pump Upgrade
150Lbs Weight Reduction - Spare Tire & Tools Removed, Passenger & Back Seats Removed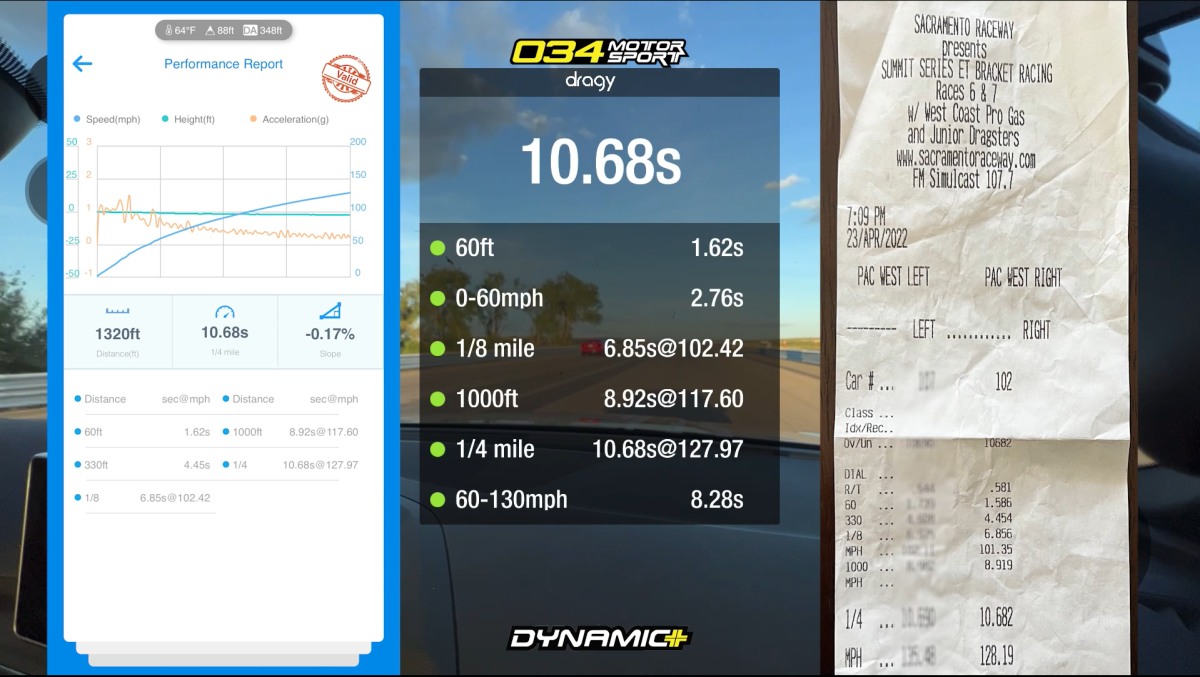 On the same night that we set the Stock Turbo 1/4 mile time record with the 034Motorsport RS5 running Dynamic+ Stage 1+ E85, we also managed to break through the 130mph trap speed barrier (something we rarely see with Full-Frame RS5s at this point).
It is continually astounding to see how high-performing these stock turbos are with simple fueling and intake/cooling modifications and high quality software, all while on completely stock catalysts/exhaust systems.