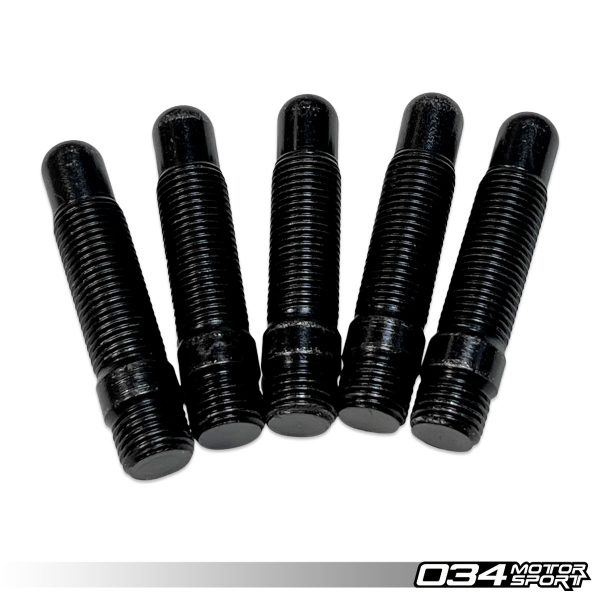 Check out the nose stud kits here!
The 034Motorsport Bullet Nose Stud Kit is designed to make wheel changes easier than ever. The Bullet Nose design allows your wheels and nuts to self-align, making installation faster, and easier. The Bullet Nose Stud Kit is available for all vehicles using the M14x1.5 thread pitch, perfect for most Volkswagens and Audis. Manufactured from Grade 10.9 Chromoly Steel, the 034Motorsport Bullet Nose Stud Kit is less prone to corrosion and can withstand intense heat from braking on the track.
Having wheel studs as opposed to factory wheel bolts makes for a much easier wheel installation; no more trying to balance your wheels on the hub, hoping they don't fall or misalign when trying to thread in the wheel bolts.
FEATURES:
Large Shoulder Provides Extra Strength and is Properly Sized for VAG Brake Rotor Hats
Bullet Nose for Fast Nut Alignment and Installation
Chromoly Steel, Grade 10.9
Heavy Duty Black Zinc Coating
Wheel Installation is Much Easier vs. OE Wheel Bolts (Self-Aligning!)
Motorsport Quality and Appearance
BULLET NOSE STUD SIZE SPECIFICATIONS:
M14x1.5mm Threads
8mm of Unthreaded Shoulder for Brake Rotor
Hub Thread Length - 10mm
55MM BULLET NOSE STUD SPECIFICATIONS:
10mm Maximum Spacer Size
Nut Thread Length (to Hub Face) - 45mm
Hub Face to Stud Nose - 60mm
65MM BULLET NOSE STUD SPECIFICATIONS:
15mm Maximum Spacer Size
Nut Thread Length (to Hub Face) - 55mm
Hub Face to Stud Nose - 70mm
75MM BULLET NOSE STUD SPECIFICATIONS:
20mm Maximum Spacer Size
Nut Thread Length (to Hub Face) - 65mm
Hub Face to Stud Nose - 80mm