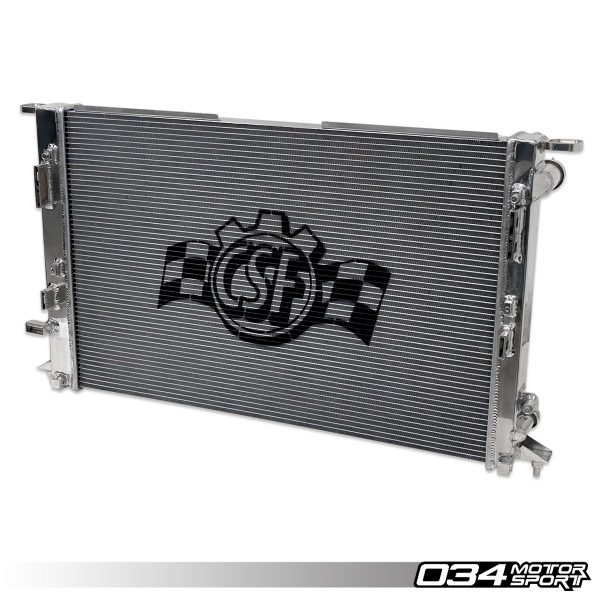 PRODUCT DESCRIPTION:
CSF's High-Performance 2-Row Radiator is complete with precise CNC machined fittings and brackets to allow ease of installation in the complex plastic housing system. It also includes an OEM-style wire harness bracket system to secure the harness that runs across the top of the radiator.
In addition to CSF's high-performance radiator core design, CSF has added an upgraded plate-type transmission oil cooler to the left side tank for improved transmission cooling in vehicles with automatic transmissions (comes pre-plugged for use in manual transmission vehicles).
FEATURES:
2-Row 42mm High-Performance Core Featuring CSF's B-Tube Technology
Core Features Ultra-Efficient 6.5mm Tall Fins with a Multi-Louvered Design for Maximum Surface Area Contact
100% All-Aluminum TIG-Welded Construction
CNC Machined Mounting Brackets and OEM Style "Quick Connect" Inlet/Outlet
Integrated High-Performance Transmission Oil Cooler for Both Automatic and Manual Transmissions
Integrated OEM Style Wire Harness Brackets
True "Drop-in Fit" Requires No Modifications to Install
Individually Leak and Pressure Tested
1 Hour "Mirror Finish" Hand Polish
2 Year Limited Warranty
OEM PART INTERCHANGE:
Automatic: 8K0-121-251-AL
Manual: 8K0-121-251-H