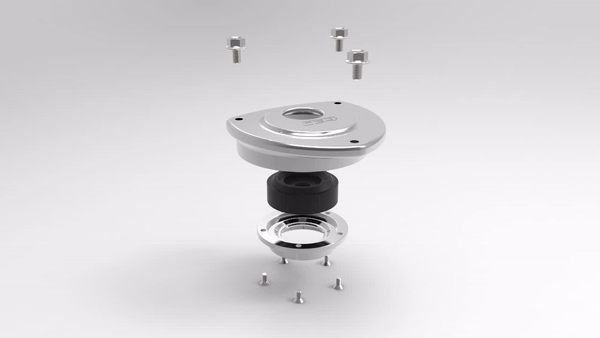 More Camber. More Grip. Uncompromised Handling Performance.
034Motorsport's Dynamic+ Camber Mounts are engineered to significantly improve handling performance for MkVII Volkswagen Golf/GTI/Golf R & 8V/8S Audi A3/S3/RS3, TT/TTS/TTRS models. Designed as a true drop-in upgrade, the Dynamic+ Camber Mount Pair provides an additional 1.4 degrees of negative camber at each of the front wheels to improve both turn in and cornering grip. Most importantly, Dynamic+ Camber Mounts provide a fixed camber increase without the cost, noise, and complexity of adjustable camber plates.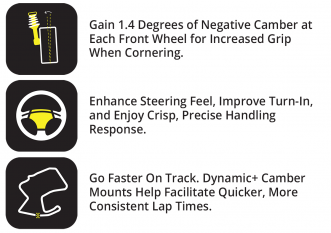 Dynamic+ Camber Mounts are the ideal solution for enthusiasts in search of enhanced handling performance, confidence-inspiring grip, and precise steering response. Equally well-suited for the street and track, Dynamic+ Camber Mounts deliver a perfect balance of performance, durability, and comfort.
Dynamic+ Camber Mount Benefits
Revamped Suspension Geometry for Performance Driving
Additional 1.4 Degrees of Negative Camber at Each Front Wheel (Compared to Factory Strut Mounts)
Significantly Enhanced Grip When Cornering
Improved Steering Feel & Handling Response
Reduced Strut Mount Deflection to Maintain Proper Strut Alignment Under Cornering Load
Significantly Reduced NVH (Noise, Vibration, Harshness) Increase Compared to Spherical Camber Plates
Billet Aluminum Construction with Replaceable Density Line Rubber Inner Pucks
Fitment
2015 - Present Audi A3 / S3 / RS3 (8V)
2014 - Present Audi TT / TTS / TTRS (8S)
2015 - Present Volkswagen Golf / GTI / R (MkVII)