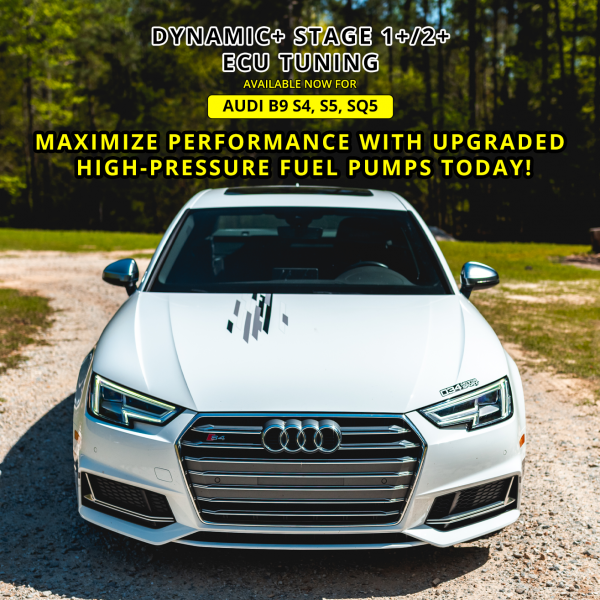 034Motorsport is proud to formally announce Stage 1+ and Stage 2+ Dynamic+ ECU Performance Software for the Audi B9/B9.5 S4, S5, & SQ5 equipped with the EA839 3.0T TFSI engine and AL552 ZF8 transmission.
Check out our new software here!
034Motorsport Stage 1+ and Stage 2+ Dynamic+ Tuning for EA839 with Upgraded High Pressure Fuel Pump is available to improve the acceleration performance and power output of your B9/B9.5 S4, S5, or SQ5. Note: Files for B9.5 are actively being uploaded and will be live for flashing beginning the week of 9/19/22.
By increasing the fuel flow with an upgraded high pressure fuel pump, 034Motorsport Calibrators are able to increase mid-range torque - allowing for a more broad powerband! This increase in the mid-range powerband allows for increased fun when cruising around the city and improved 1/4 mile times!
Stage 1+ and Stage 2+ Performance Software for the EA839 3.0T increases performance over Stage 1/2 running E85. If you are traveling somewhere without E85, 034Motorsport also offers 91 & 93 octane files to be used with an upgraded HPFP. This allows you to travel cross country without worry of having to plan for E85 stations or carrying gas jugs. Stage 1+ files do not increase performance figures on pump gas over the factory HPFP.
See the product page for a full, in-depth breakdown of the key optimizations that the 034Motorsport Calibration team implemented in this full tuning bundle.
Performance:
Stage 1+ E85: Approximate gain of 15HP and 25TQ from 2700-4800RPM over Stage 1 E85
Stage 2+ E85: Approximate gain of 13HP and 20TQ from 2700-4800RPM over Stage 2 E85
Note: Performance is not affected on pump gas files.
ECU Flash Features:
Increased Horsepower & Torque Throughout the Powerband
Improved Power Delivery, Acceleration, and Driving Characteristics
Refined Throttle Mapping for Enhanced Throttle Response & Precision
Modified Thermal Management Safety Strategies
Fuel System Optimization for Ethanol With Upgraded High Pressure Fuel Pump
Accurate Boost and Torque Reporting for Safety Features
Optimizations around Volumetric Efficiencies of the EA839 3.0T
Speed Limiter Removed for Increased Top Speed
Flashed Directly Via the Factory OBD-II Port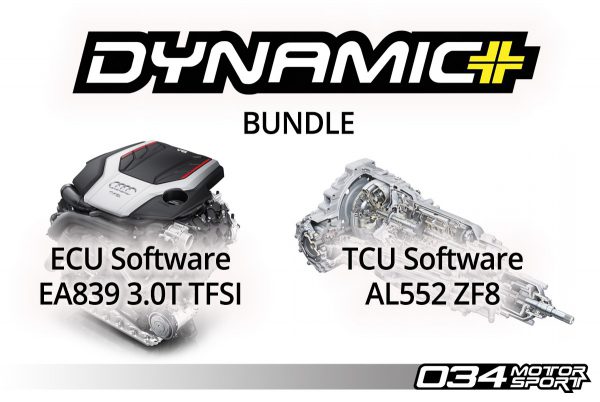 What Makes Dynamic+ Different?
While many tuners can achieve great power figures that look impressive on a dyno sheet or a webpage, the key to a truly substantive and transformative software upgrade lies in the strategies employed to make power efficiently and safely. 034Motorsport Dynamic+ Software strives to retain as many OEM safety protocols as possible, and holistically recalibrate the entirety of the ECU and TCU to create what we call the Dynamic+ experience.
034Motorsport engineers develop special in-house tools that allow us to access the firmware and maps inside the factory ECU. This level of engineering is required to prevent workarounds and bandaids that many aftermarket companies resort to. 034Motorsport optimizes the ECU calibrations just like Audi engineers would, accessing the source of how the ECU controls the engine and making changes at the base level.
This is the only way 034Motorsport can ensure our calibrations meet our industry-leading standards for delivering ultimate power with unrivaled drivability, uncompromised reliability, and enhanced features and functionality beyond what is provided in the factory calibration.
Learn more about the Dynamic+ differences found in the EA839 ECU and TCU tuning on our website.
EMISSIONS DISCLAIMER
This product is sold for racing use as well as use on vehicles not registered for on highway use.
By purchasing this product, you understand that this product is sold for racing use as well as used on vehicles not registered for on highway use, and that it is not legal for use on highway or street vehicles.