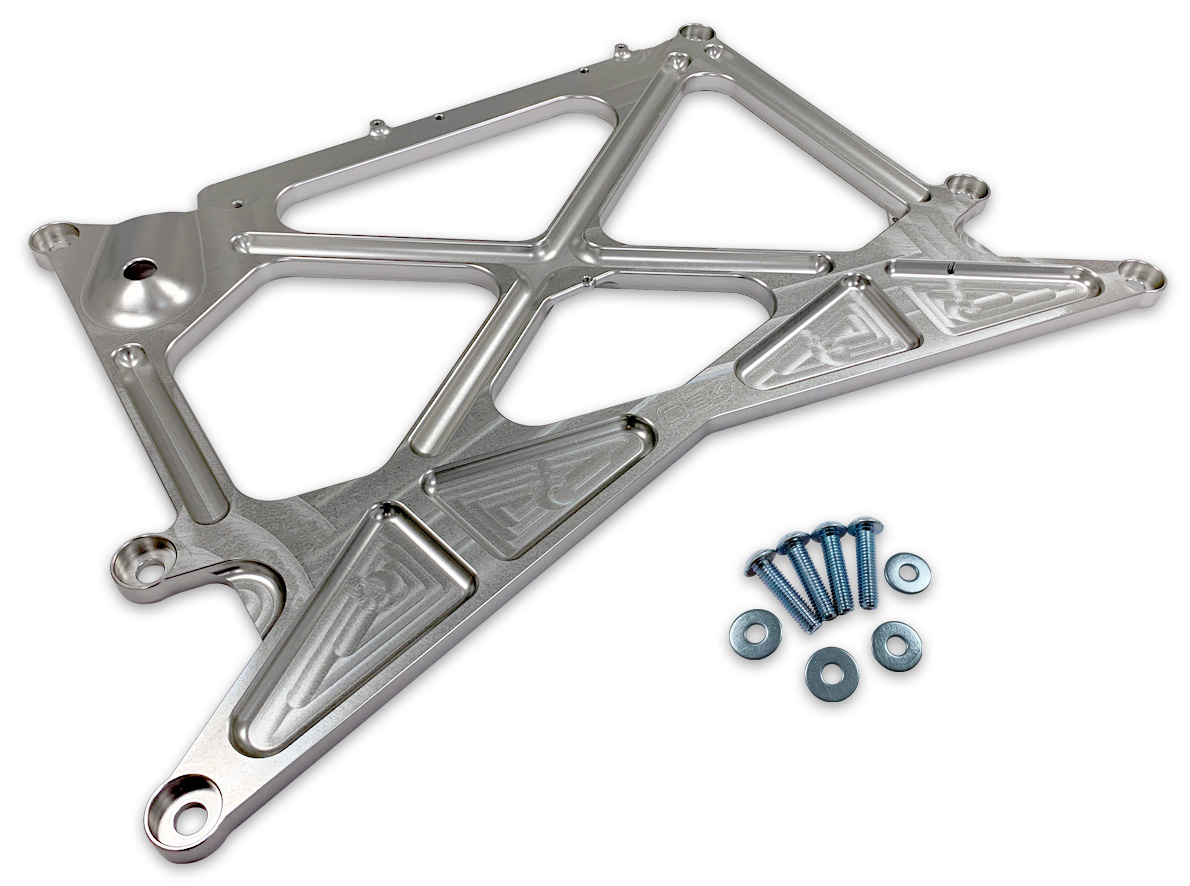 034Motorsport is proud to offer our Billet Aluminum X-Brace Chassis Reinforcement Upgrade for RHD (right-hand drive) B8.5 Audi A4/S4/RS4, A5/S5/RS5, and Q5/SQ5 models! The factory Audi front subframe brace is manufactured from multiple pieces of stamped steel and allows for performance-hindering chassis flex under load. This torsional flex can result in improper suspension geometry and alignment when cornering and leads to vague steering feel and lack of steering precision.
The 034Motorsport X-Brace is a one-piece billet aluminum lower subframe brace which replaces the factory front subframe brace to increase torsional rigidity, resulting in improved steering feel and handling performance. Machined in-house from a single piece of 1.25" (3.175 cm) thick T6-6061 billet aluminum, the 034Motorsport X-Brace is engineered to outperform the stock welded, stamped steel part and ensure that suspension geometry is not compromised by chassis flex under hard cornering. Weighing in at 9.1 pounds versus 8.5 pounds for the factory stamped steel part, the X-Brace adds significant strength and rigidity with a negligible effect on weight.
This chassis brace upgrade was thoroughly tested by 034Motorsport dealers and independent Audi enthusiasts before release. Installation is very simple, can be performed in minutes, and is completely reversible.
FEATURES:
Manufactured from 1.25" Thick T6-6061 Billet Aluminum
CNC-Machined In-House at 034Motorsport
Clear Anodized Finish for Durability
Engineered to Replace Multi-Piece Factory Front Subframe Brace
Drastically Reduces Chassis Flex When Cornering
Enhances Handling Dynamics and Performance
Improves Steering Feel, Consistency, and Precision
Will Not Cause Additional NVH Transfer Inside Cabin
Easy, Straightforward Installation!

WHAT'S INCLUDED:

034Motorsport Billet Aluminum X-Brace Chassis Reinforcement (Fits RHD B8.5 Audi A4/S4/RS4, A5/S5/RS5, Q5/SQ5)
M5 Undercarriage Tray Mounting Screws (Set of 4)
15mm Undercarriage Tray Mounting Washers (Set of 4)