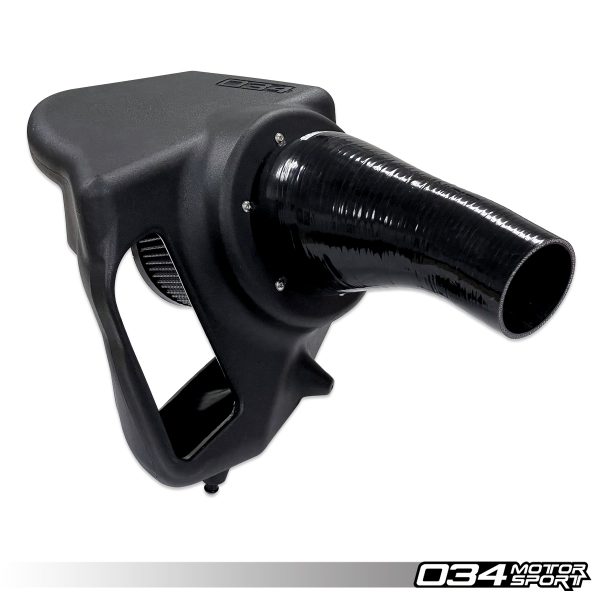 Product Description:
034Motorsport has developed this comprehensive performance intake solution for the turbocharged 3.0 TFSI engine found in the latest generation B9 Audi S4/S5. Subsequently, the P34 Cold Air Intake System offers discerning enthusiasts measurable increases in horsepower and torque, sporty induction and turbocharger sounds, and a functional airbox and inlet hose design.
Throughout the development process, multiple designs were modeled, prototyped, and tested - all to ensure that the P34 Cold Air Intake System delivers measurable performance benefits and superb fitment. The result is a partially-enclosed airbox which uses the factory fresh air inlet duct and heat shield, while housing a massive 5" inlet conical air filter, and a matching CFD-optimized filter tube.
P34 COLD AIR INTAKE SYSTEM FEATURES:
Developed In-House by 034Motorsport's Engineering Team
Dyno-Proven Horsepower & Torque Gains
Increased Airflow to Turbocharger Inlet
Enhanced Engine & Induction Sounds
Improved Throttle Response
Superb Fit & Finish to Match Factory Engine Bay
Stealthy OEM+ Design Utilizes Factory Inlet & Heat Shield
Massive 5" Inlet Conical Air Filter
CNC-Machined Billet Aluminum Velocity Stack
Large-Diameter CFD-Optimized Turbo Inlet Hose
Securely Installs Using Factory Mounting Grommets
Simple, Straightforward Installation Instructions
PEAK HORSEPOWER & TORQUE
Stock Intake: 401 Horsepower / 424 Foot-Pounds of Torque

P34 Intake: 412 Horsepower / 425 Foot-Pounds of Torque
PEAK GAINS IN HORSEPOWER & TORQUE
Peak Horsepower Gain: 19 HP @ 4,950 RPM

Peak Torque Gain: 20 FT-LBS @ 4,950 RPM
PRESSURE DROP REDUCTION
Stock Intake: Peak Pressure Drop of 2.22 PSI at 6,500 RPM

P34 Intake: Peak Pressure Drop of 1.64 PSI at 6,500 RPM
What's Included:
OEM Quality Plastic Airbox

5" Inlet Conical Air Filter

CNC-Machined Billet Aluminum Velocity Stack

Reinforced CFD-Optimized Silicone Turbo Inlet Hose

CNC-Machined Billet Aluminum Mounting Buttons to Reutilize OE Rubber Mounts

Misc. Hardware
APPLICATION GUIDE:
2017 - Present Audi S4 (B9) 3.0 TFSI
2018 - Present Audi S5 (B9) 3.0 TFSI