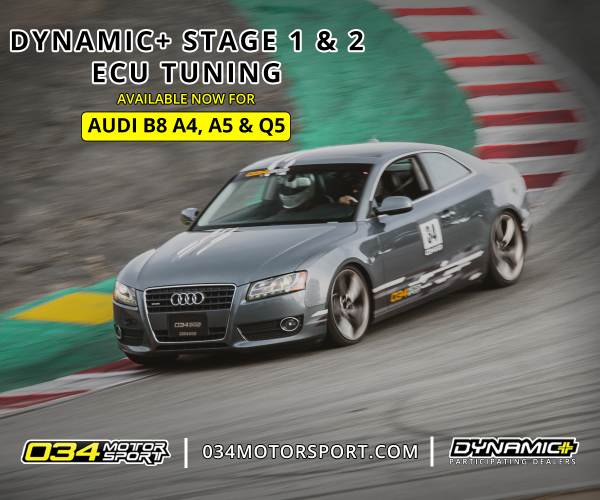 034Motorsport B8 Audi A4/A5 & Q5 2.0 TFSI (EA888 Gen 2) Stage 2 Performance Software Now Available!
Product Description:
The 034Motorsport Dynamic+  Tuning Software for Audi B8 A4/A5/Q5 (Not B8.5) equipped with the EA888 Gen 2 2.0T inline four engine is designed to transform the driving experience of your vehicle! Flashed directly through your vehicle's OBD-II port, 034Motorsport's proprietary calibrations for the ECU safely and effectively increase the power output of the turbocharged inline four in a refined manner. The result is a significant improvement in acceleration and throttle response, without any sacrifice in driveability or reliability.
034Motorsport Audi B8 A4/A5/Q5 EA888 Gen 2 2.0T Dynamic+ Performance Software was developed entirely in-house on 034Motorsport's Development B8 A5. The calibrations were then refined on multiple enthusiast-owned beta tester cars around North America.
034Motorsport engineers develop special inhouse tools that allow us to access the firmware and maps inside the factory ECU, this level of engineering is required to prevent work-arounds and bandaids that many aftermarket companies resort to. 034Motorsport engineers and optimizes the ECU calibrations just like Audi engineers would, but accessing the source of how the ECU controls the engine and making changes at the base level.
This is the ONLY way 034Motorsport can ensure our calibrations meet our high standards for ultimate power with smooth drivability, perfect function, reliability and added functions and features even beyond what the factory programming can provide.
NOTE: The E85 calibration is not a flex-fuel style tune. The tune will work with E85 directly from the pump, both summer and winter blends (ethanol content can vary from E60-E85). This tune requires only E85 be pumped into the fuel tank. Gasoline blends and race fuel mixtures should not be used, and engine damage could occur if the incorrect fuel or octane is used. We strongly recommend an ethanol content gauge be used so that you can monitor the actual ethanol content at the pump you are using.
When switching fuels, it takes about 20-30 minutes of normal driving for the new tank of fuel to fully circulate through the system when filled at E. Please minimize load (don't floor it!) until you have driven the car for at least 30 minutes. Ethanol content analyzers installed close to the fuel rail will also help you see when the ethanol has fully run through the system.

| STAGE | FUEL | MAX HP | MAX TQ | MAX HP GAIN | MAX TQ GAIN | REV LIMITER* | SPEED LIMITER |
| --- | --- | --- | --- | --- | --- | --- | --- |
| Stock | 91 Oct (AKI) | 213 HP | 259 TQ | NA | NA | 6,800 RPM | 127 MPH |
| Stage 1 | 91 Oct (AKI) | 252 HP | 291 TQ | 41 HP @ 6,400 RPM | 41 TQ @ 2,800 RPM | 6,800 RPM | ∞ |
| Stage 1 | 93 Oct (AKI) | 270 HP | 310 TQ | 60 HP @ 5,100 RPM | 61 TQ @ 3,200 RPM | 6,800 RPM | ∞ |
| Stage 1 | E85 (AKI) | 281 HP | 349 TQ | 72 HP @ 5,400 RPM | 100 TQ @ 3,200 RPM | 6,800 RPM | ∞ |
| Stage 2 | 91 Oct (AKI) | 277 HP | 298 TQ | 72 HP @ 6,400 RPM | 59 TQ @ 6,400 RPM | 6,800 RPM | ∞ |
| Stage 2 | 93 Oct (AKI) | 293 HP | 325 TQ | 86 HP @ 6,400 RPM | 76 TQ @ 5,600 RPM | 6,800 RPM | ∞ |
| Stage 2 | E85 (AKI) | 301 HP | 361 TQ | 92 HP @ 6,200 RPM | 113 TQ @ 3,200 RPM | 6,800 RPM | ∞ |
***All octane ratings are in US standard AKI (RON+MON). Some ROW countries such as the UK use a RON octane rating that differs from US Octane ratings. Please email tuning@034motorsport.com to ensure you are running the correct octane file for your area. Running the incorrect octane file for your fuel can result in irreversible damage.

Dynamic+ Tuning Features for the Audi B8 A4, A5, & Q5
Increased Horsepower and Torque Through the Powerband
Improved Power Delivery, Acceleration, and Driving Characteristics
Refined Throttle Mapping for Improved Throttle Response and Precision.
Modified Thermal Management Safety Strategies
Fuel System Optimization for Ethanol
Left Foot Braking Enabled
Track-Tested Calibrations Ensure Consistent Power Delivery
Speed Limiter Removed for Higher Top Speed.
Flashed Directly via the Factory OBD-II Port.
THERMAL MANAGEMENT SAFETY STRATEGIES
With increased power, comes increased heat. With increased heat, comes the need for additional management. For charge air temperature, 034Motorsport has implemented key safety features to keep your engine running optimally and safely in virtually any condition - just like the OEM calibration. Substantial effort was spent on balancing the trade off of charge temp for power, and improving the compressor efficiency so that it doesn't generate too much charge temp.
Charge Air Temp: When the charge temp exceeds 80*C there is a reduction in power output. When the charge temp exceeds 85*C there is a more significant reduction in power output. This charge temp limitation is there to prevent knock events from excessive charge temps, which can severely damage a motor. With these safety measures in place, you can confidently drive your car, from the top of Pikes Peak to Death Valley, knowing the factory ECU has optimal performance and safety covered.
FUEL SYSTEM OPTIMIZATION
While E85 provides substantial increases in power, it requires about 30% more fuel than standard pump gasoline per ignition cycle. Utilizing a variety of fuel stratified injection strategies, 034Motorsport calibrators have further optimized the factory fueling system to be able to adequately support full E85 on factory hardware for Stage 1 and Stage 2 tunes.
034MOTORSPORT B8 AUDI A4/A5/Q5 EA888 GEN 2 2.0T STAGE DESCRIPTIONS
STAGE 1
034Motorsport Stage 1 Performance Software for the EA888 Gen 2 2.0T engine running pump gas or ethanol is engineered to safely increase the horsepower and torque with no additional hardware required.
In addition to power improvements, 034Motorsport's engineers spent a significant amount of time refining the throttle mapping in order to provide improved throttle response and allow for more precise throttle modulation and further control of the vehicle when driving on track. Due to the limitations of the stock turbocharger on the EA888 Gen 2, the rev limiter was not adjusted.
034Motorsport EA888 Gen 2 2.0T Performance Software is flashed via the factory OBD-II port, and does not require any physical modification of the factory ECU. Stage 1 is available in 91 Octane, 93 Octane, and E85. ALL FILES ARE US (MON+RON) RATING, ROW OCTANE RATINGS MAY DIFFER. IF YOU ARE A UK/ROW CUSTOMER, PLEASE EMAIL TUNING@034MOTORSPORT.COM FOR ASSISTANCE ON FUEL MAP SELECTION.
STAGE 2
034Motorsport Stage 2 Performance Software for the EA888 Gen 2 2.0T engine is engineered to further increase horsepower and torque output over Stage 1 levels with the addition of an Upgraded Intake System, an Upgraded Intercooler, and an Upgraded High Flow Catted Downpipe. As with all 034Motorsport calibrations, the proprietary safety calibrations yield additional power from the 2.0T engine without increased risk to the factory Engine, Transmission, and Drivetrain. The resulting gains over stage 1 with this added hardware make for an even more profound transformation over Stock or Stage 1!

034MOTORSPORT B8 AUDI A4/A5/Q5 EA888 GEN 2 2.0T PERFORMANCE SOFTWARE HARDWARE REQUIREMENTS:
STAGE
REQUIRED MODIFICATIONS
RECOMMENDED MODIFICATIONS
Stage 1 91
Stage 1 93
Stage 1 E85

Intake
Ethanol Content Analyzer

Stage 2 91

Intake (Coming Soon)
ZF8 Tuning (Coming Soon)

Stage 2 93

Intake (Coming Soon)
ZF8 Tuning (Coming Soon)

Stage 2 E85

Intake (Coming Soon)
ZF8 Tuning (Coming Soon)
Ethanol Content Analyzer
034MOTORSPORT DYNAMIC+ END USER FLASHING KIT
034Motorsport's Dynamic+ End User Flashing Kit allows customers to install their 034Motorsport Dynamic+ Performance Software themselves. In addition, End User Flashing allows Dynamic+ Performance Software customers to receive and install software updates and revisions, flash back to stock, or upgrade to the next stage of performance software for their vehicle.
Requirements for End User Flashing:

Windows 10 Laptop with Available USB Port
Power Supply for Laptop
Secure Wired (Or Very Stable WiFi) High-Speed Internet Connection
Battery Charger, 20AMP minimum (CTEK Brand recommended)
Available Electrical Outlets
034Motorsport End User Flashing Kit Contents:
034Motorsport OBD-II Adapter
USB-A to USB-B Cable
Carrying Case
User Credentials (Provided Via Email)
EMISSIONS DISCLAIMER
This product is sold for racing use as well as use on vehicles not registered for on highway use.
By purchasing this product, you understand that this product is sold for racing use as well as used on vehicles not registered for on highway use, and that it is not legal for use on highway or street vehicles.