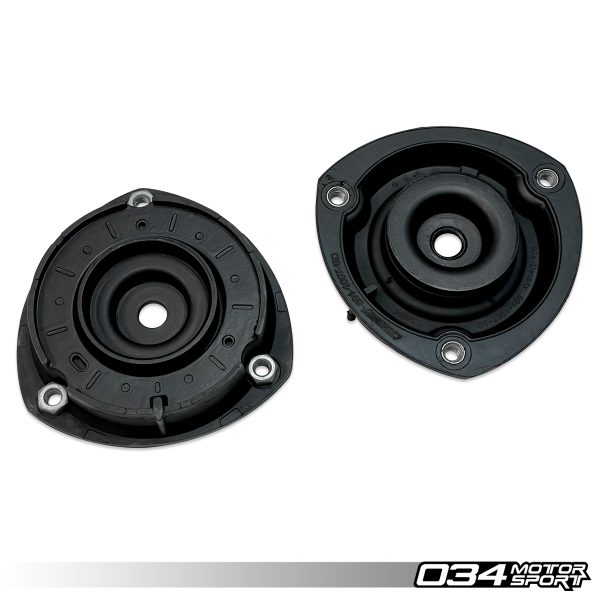 Product Description:
The 034Motorsport Street Density Strut Mount & Bearing Bundle includes a pair of 70 durometer Street Density Strut Mounts and replacement Strut Mount Bearings. This bundle contains the necessary pieces when replacing noisy and worn parts or when upgrading your front suspension.
The factory front strut bearings see a lot of load from the suspension, and can wear and become noisy over time. This bundle of mounts will also eliminate the annoying "squeaking" sound often caused by the stock strut mounts when paired with coilover suspensions. Street Density Strut Mounts will only cause a minimal increase in noise, vibration, and harshness (NVH) inside of the cabin. These mounts are a completely re-engineered performance solution, not just inserts for use with the factory mounts.
The Street Density Strut Mount is manufactured from 70 durometer rubber, which is approximately 50% stiffer than stock. The rubber is also fully vulcanized to the center cups to increase the lifespan and performance of the mounts significantly.
The steel strut mount bodies have also been redesigned to cope with the added stresses of spirited driving.
Features:
Manufactured from 70 Durometer Rubber
Rubber Fully Vulcanized to Center Cups
Eliminates "Squeaking" Sound Caused by Factory Strut Mounts
Reduced Strut Mount Deflection
Maintain Proper Suspension Geometry Under Load
Improved Steering Feel & Handling
Complete Drop-In Replacement of Factory Strut Mounts
Priced as a Complete Set - Two of Each - at a Discounted Price Compared to Buying Individually
What's Included:
2x Street Density Strut Mount
2x Factory Replacement Strut Bearing
2x Hardened Steel Washer
OE Part Interchange:
5Q0 412 331 D* - Strut Mount
5Q0 412 249 E* - Strut Bearing
*And Any Subsequent Supersessions