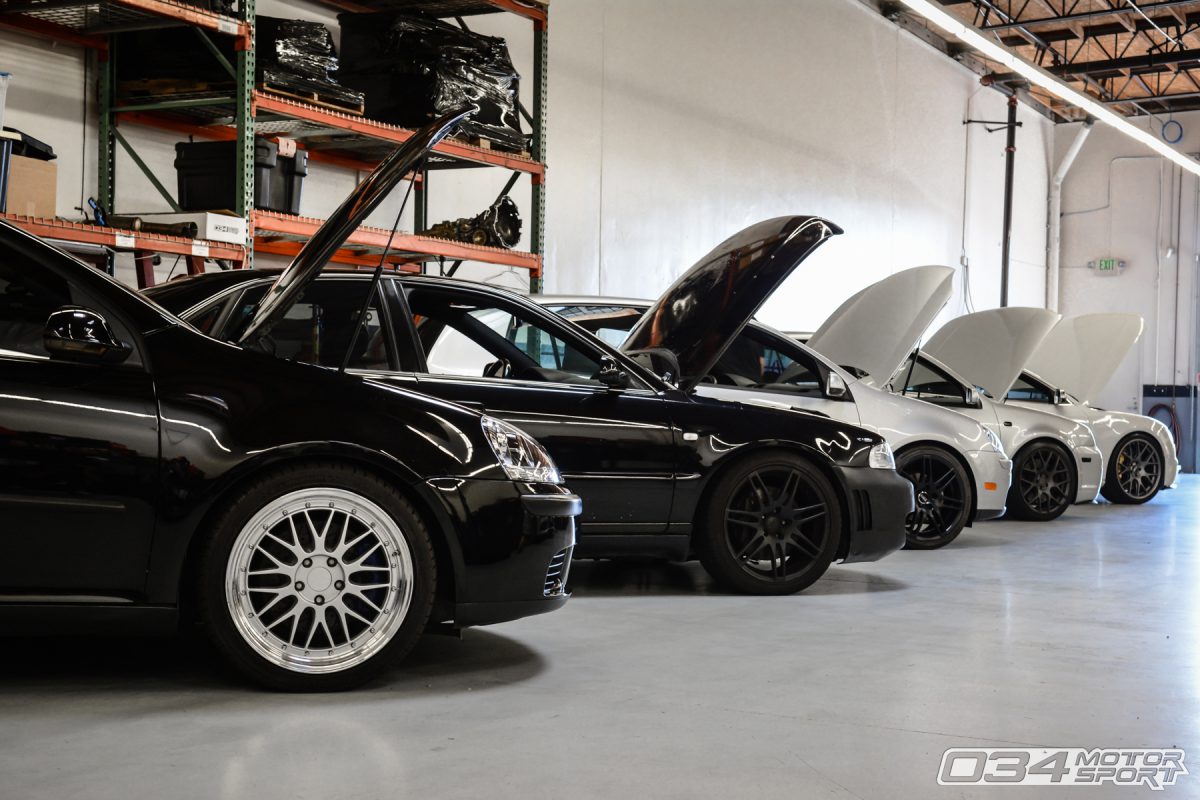 This July marked the 8th Annual Summerfest at 034Motorsport's performance facility in Fremont, CA. Hosted in conjunction with NorCal Audi Club, this year's attendance was at an all time high bringing in a wide variety of Audis and Volkswagens from around the greater Bay Area. Activities included a constant stream of dyno runs all day long, facility tours for a look behind the scenes, and free burgers and dogs barbecued on-site by the President of 034Motorsport himself.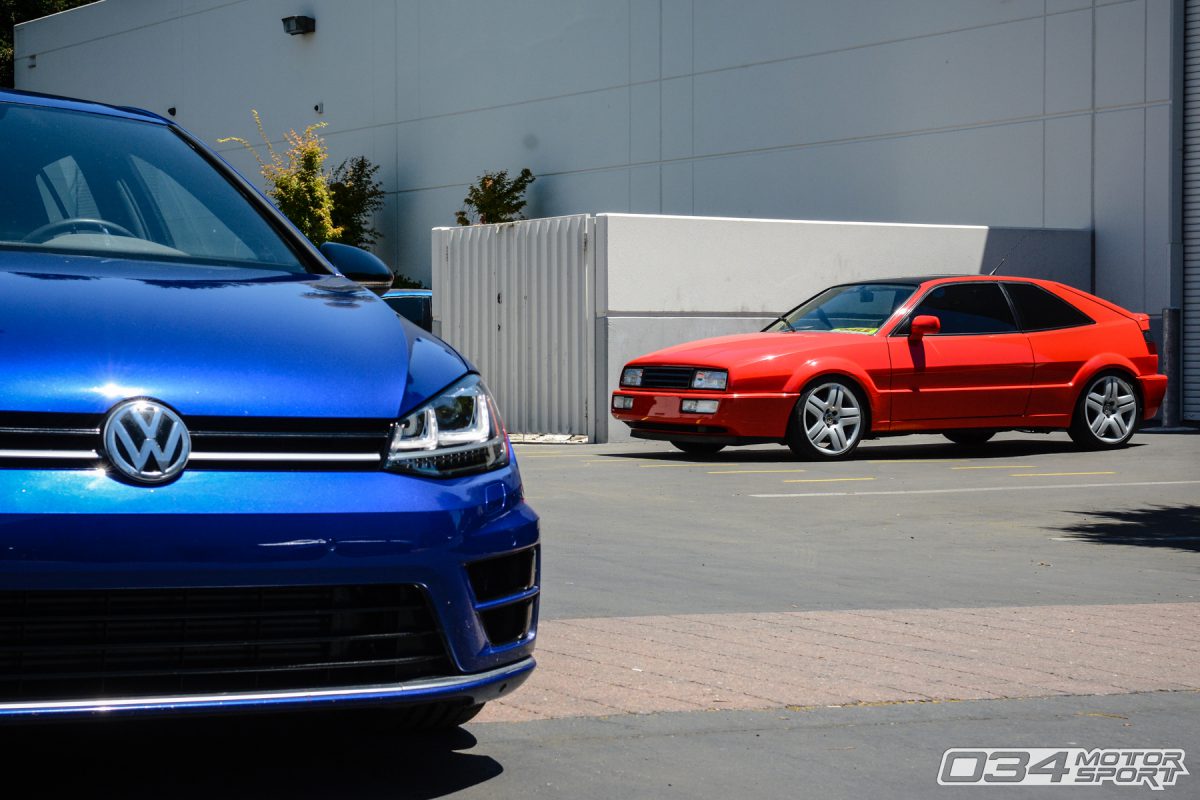 The selection of attendee's cars this year included a range from vintage air-cooled Beetles to brand new Audi R8 supercars, and everything in between. If you're a gearhead, there was undoubtedly a car present to pique your interest.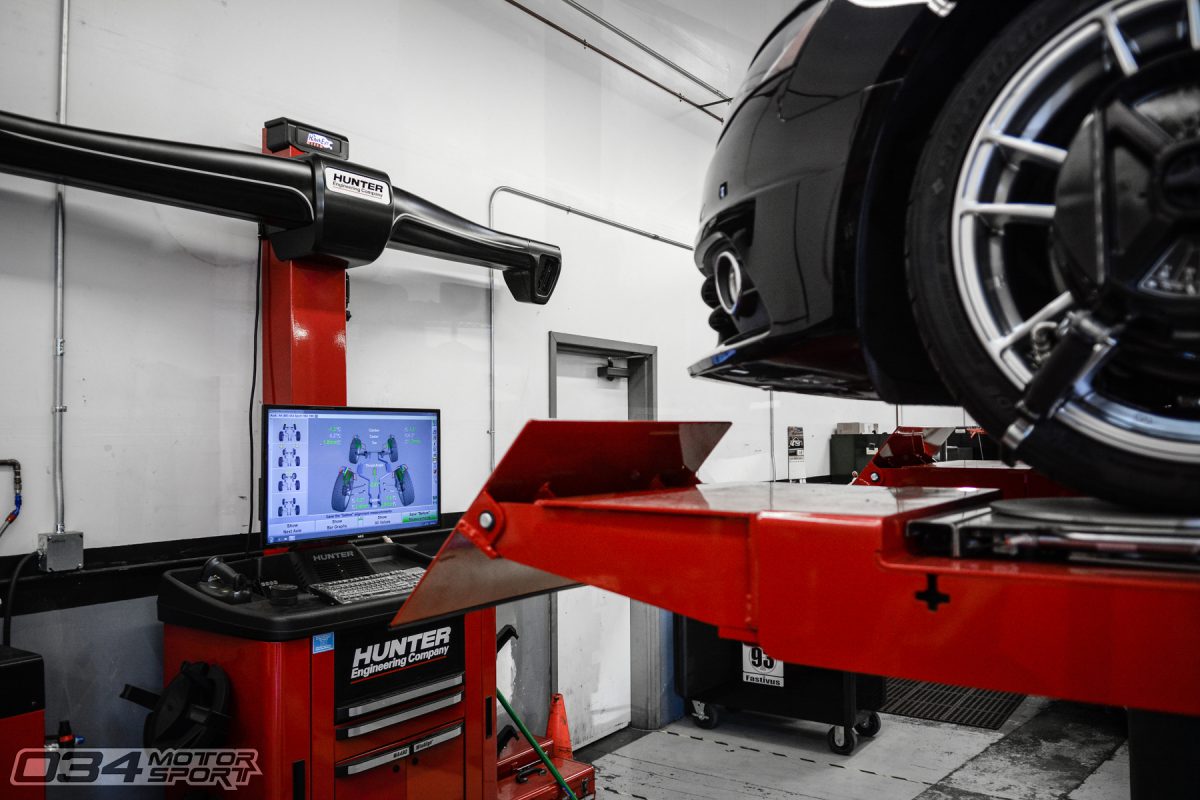 Nate's B8 Audi S4 was displayed on the new, in-ground Hunter alignment rack in the 034Motorsport Service Department featuring an array of B8 products including our Adjustable Solid Rear Sway Bar, Spherical Rear Sway Bar End Links, Rear Differential Carrier Mount Inserts, Rear Differential Mount Inserts, Transmission Mount Insert, and Billet Aluminum X-Brace. Those who looked closely may have also spied some new products in development on his car!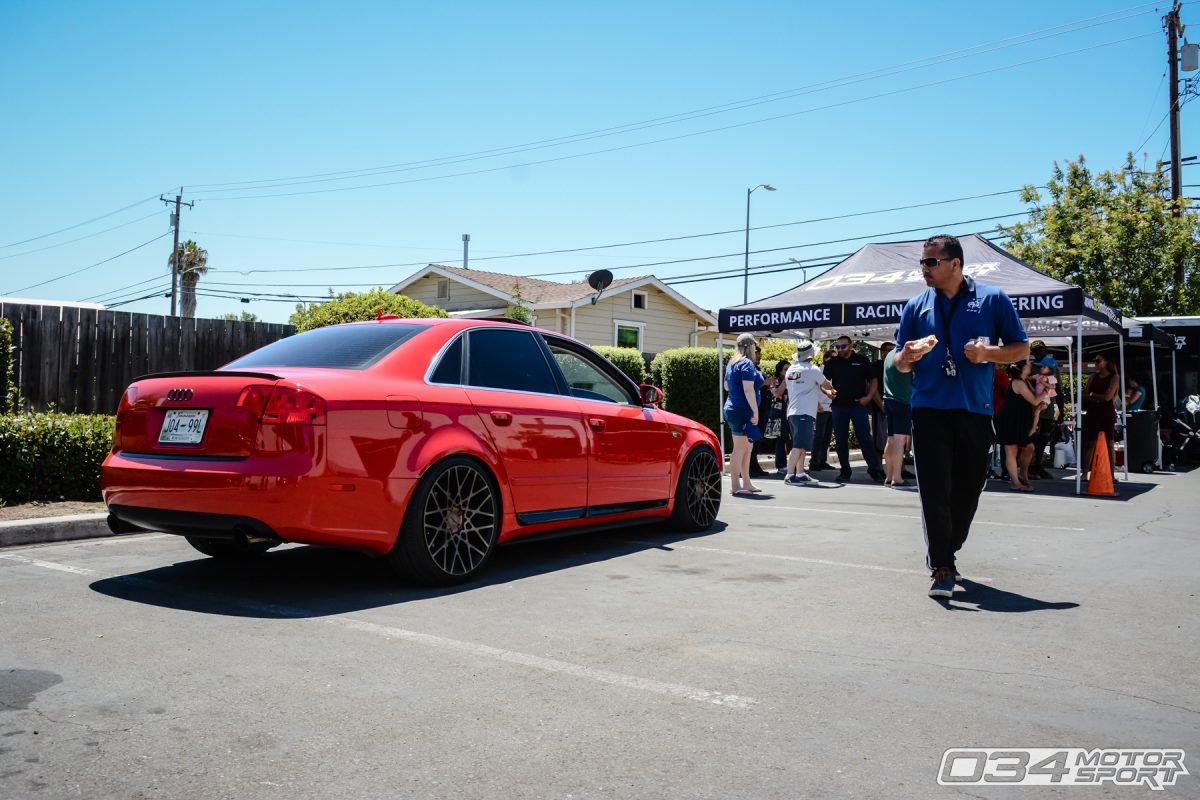 While the dyno runs started early and continued all day, the barbecues weren't too far behind. As soon as the charcoal-burning smell began filling the air, people were quick to follow their noses toward the free hamburgers, hot dogs, and ice-cold beverages.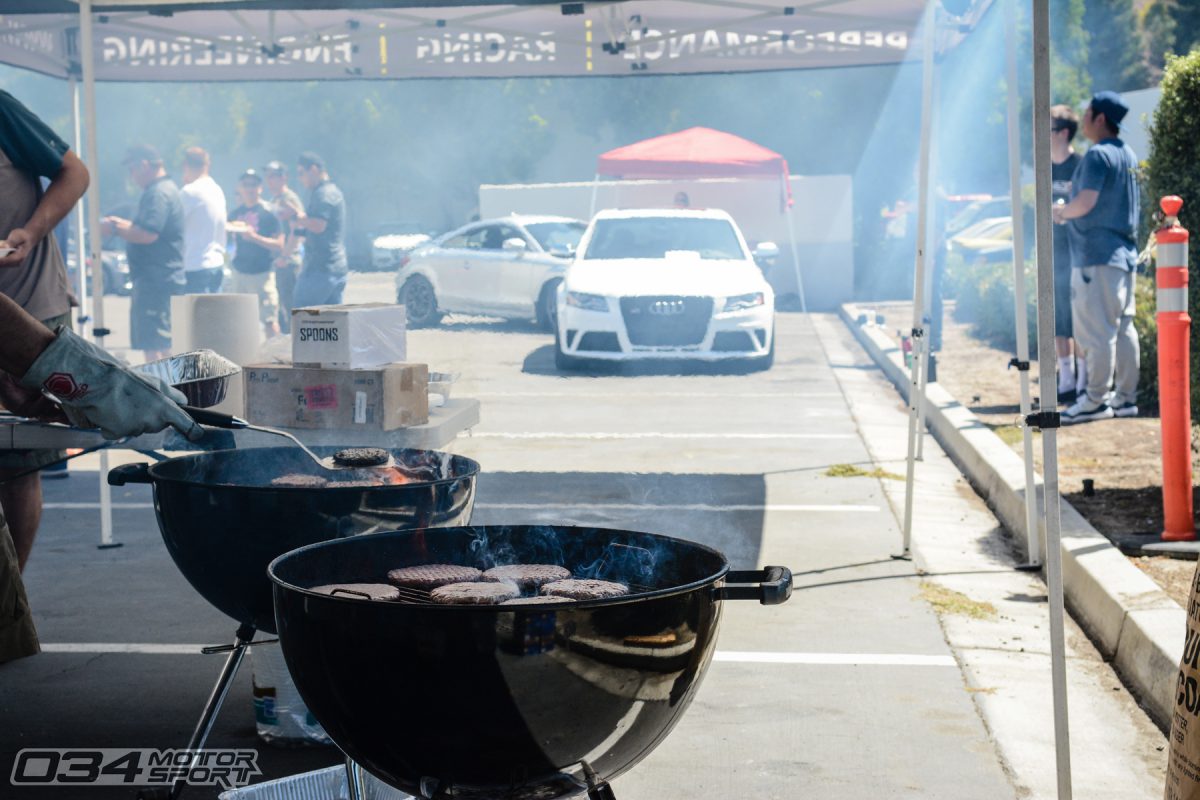 Perhaps it's no secret anymore, but the President and Founder of 034Motorsport, Javad Shadzi, is quite the barbecue aficionado too. He was generous enough to brave the heat and smoke of two Weber grills most of the day to ensure that every attendee left full and satisfied.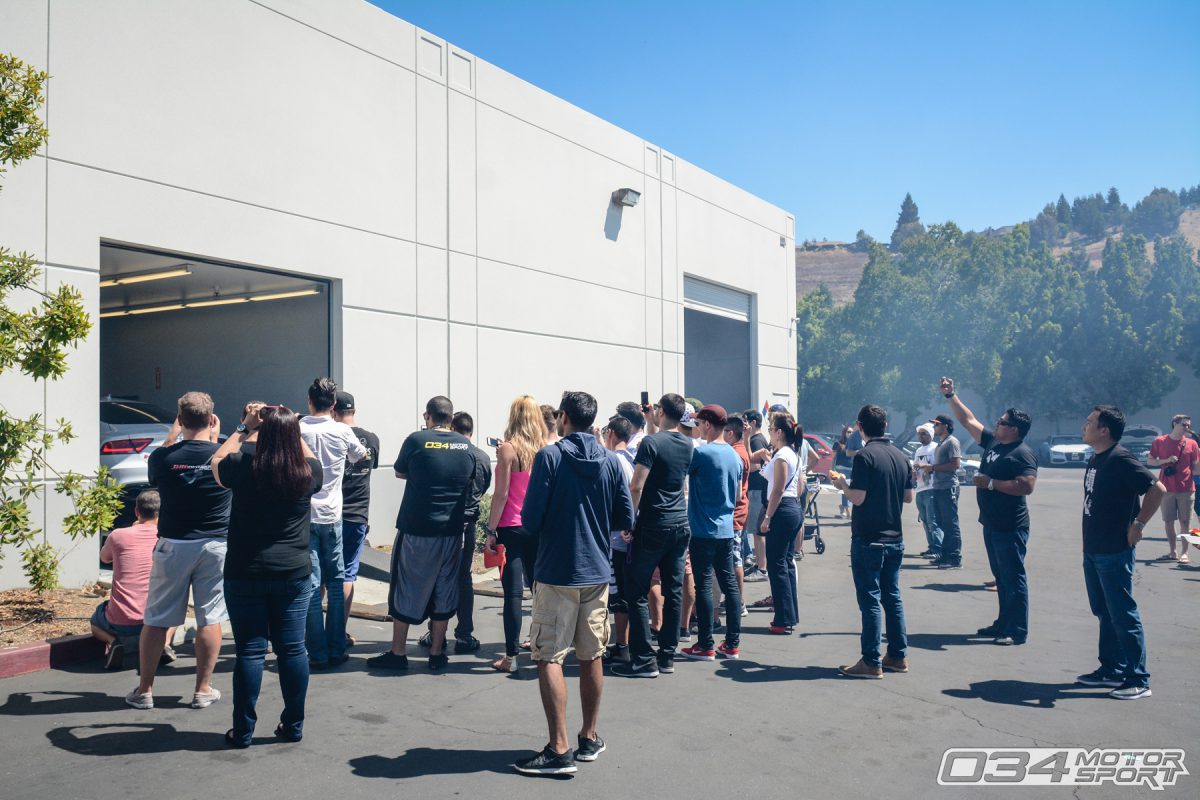 Songpol's C7 Audi RS7 was definitely one of the crowd favorites on the dyno that day. His tuned 4.0T managed to put down 491 WHP and 467 WTQ on our in-house Mustang AWD Dyno, while creating a beautiful yet guttural roar at the same time.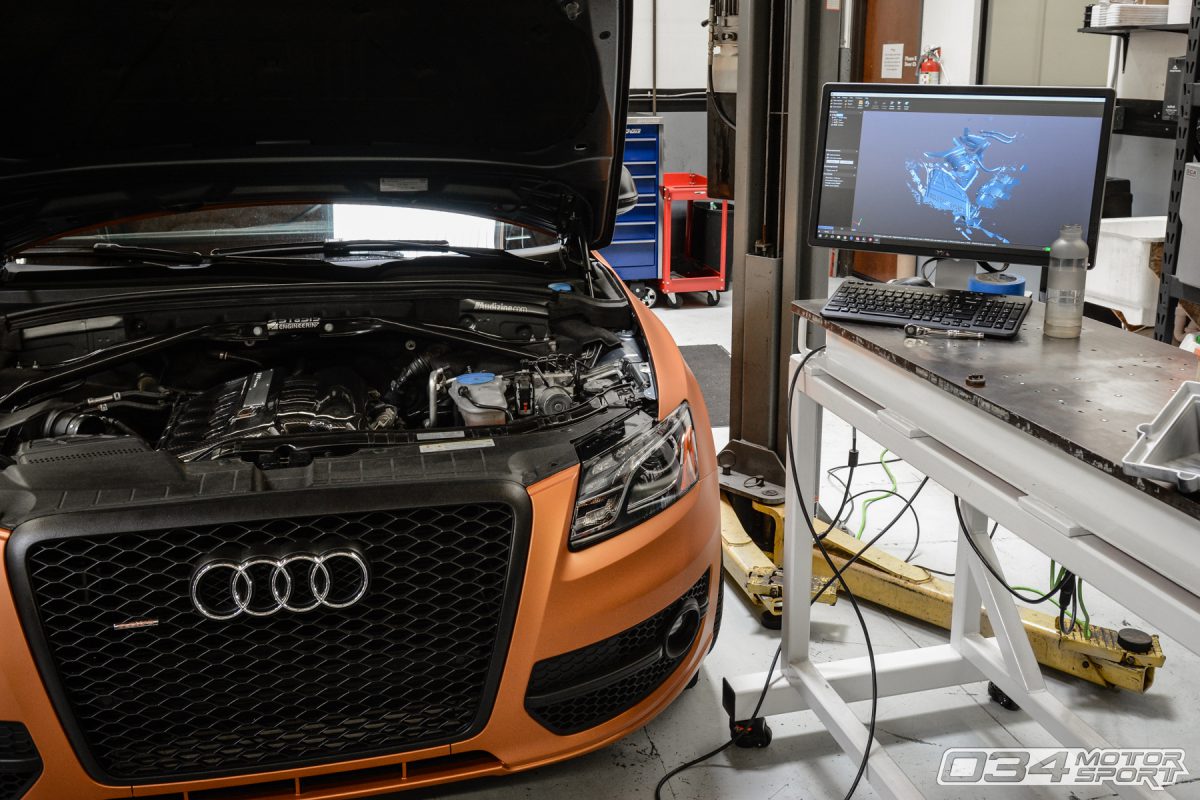 Our Engineering Department displayed their 3D scanning abilities featuring the intake on Max's B8 Q5 2.0T. Alongside the display were some 3D-printed prototype parts from the past, including the first MQB X34 Intake made in-house.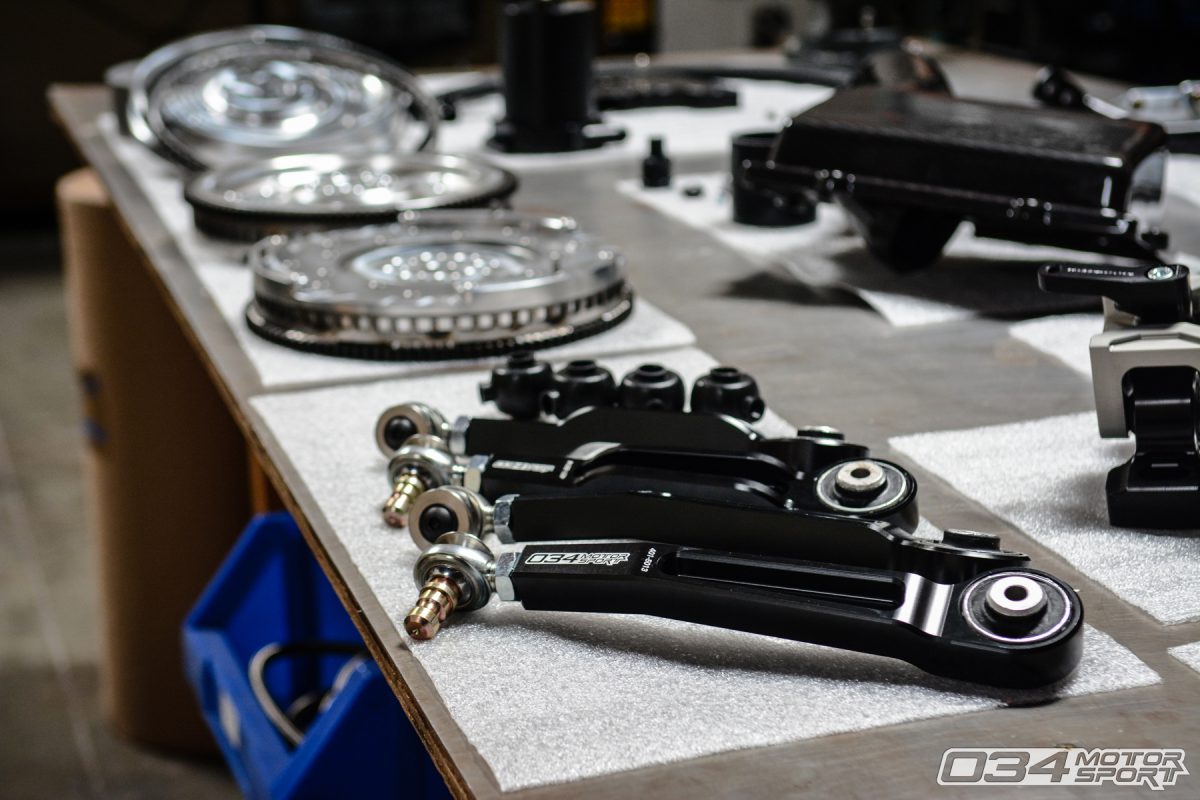 Facility tours were provided to guests, allowing a special look into where our products are proudly machined, assembled, packaged, and shipped worldwide. Some of the components on display included B5/B6/B7 Upper Adjustable Control Arms, B5 S4 2.7T Lighweight Aluminum Flywheel, B8 2.0 TFSI Billet Catch Can Kit, X34 Carbon Fiber MQB Cold Air Intake, MkV/MkVI Billet Aluminum Dogbone Mount Insert, and 8J Audi TTRS Motorsport Motor Mounts.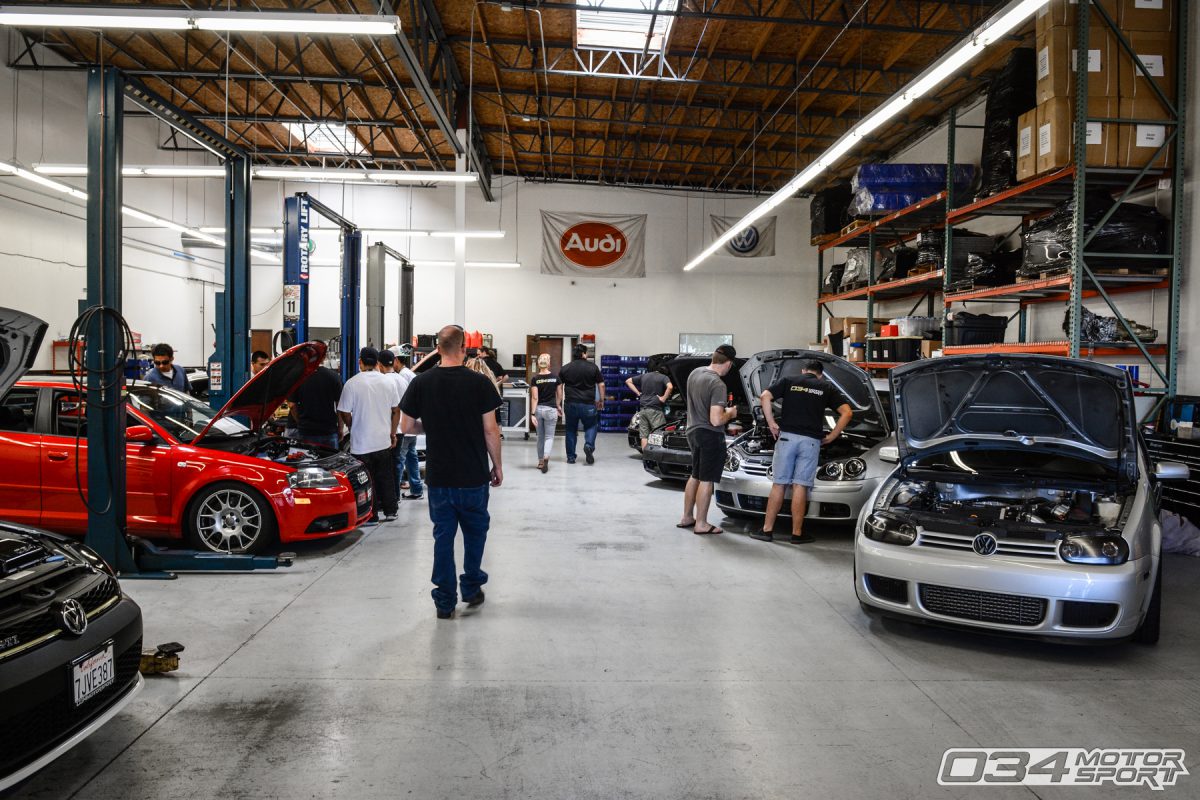 The Service Department was bustling all day as guests looked over many different engine bays on display. Nate's A3 3.2L VR6T powerhouse seemed to fit in around the 07K Turbo Rabbit and 3.0L B5 S4 with Tial 605R turbos.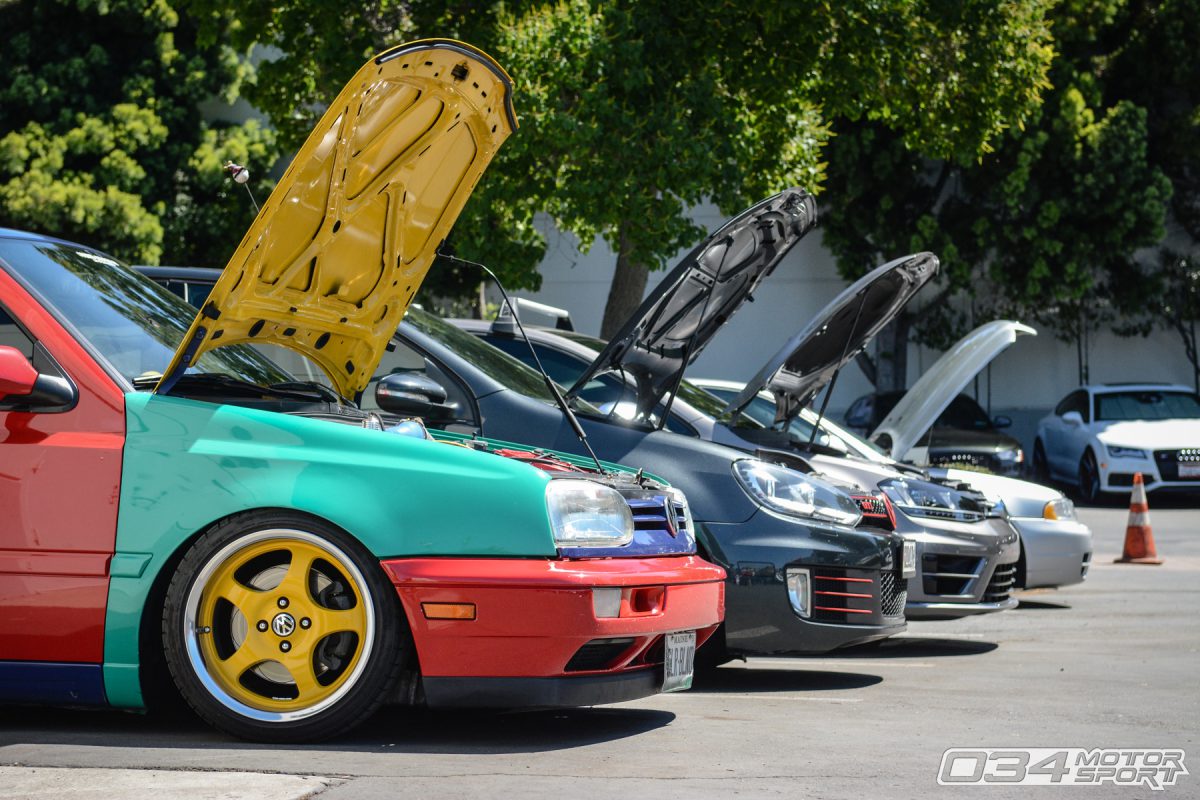 Even a real Harlequin made an appearance, sporting a not-so-factory turbocharged VR6 under its hood!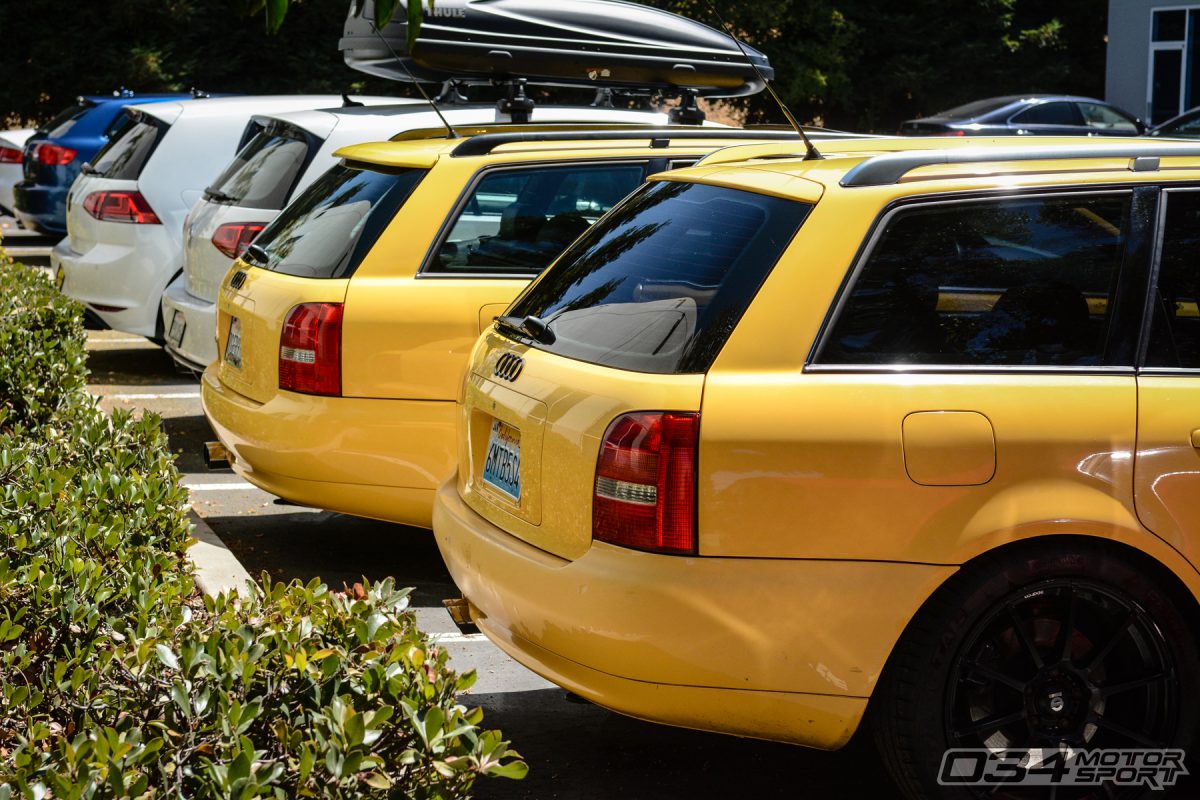 A couple Imola Yellow B5 S4 Avants reunited in the parking lot as well, bringing together rare Audis and Volkswagens from around the region.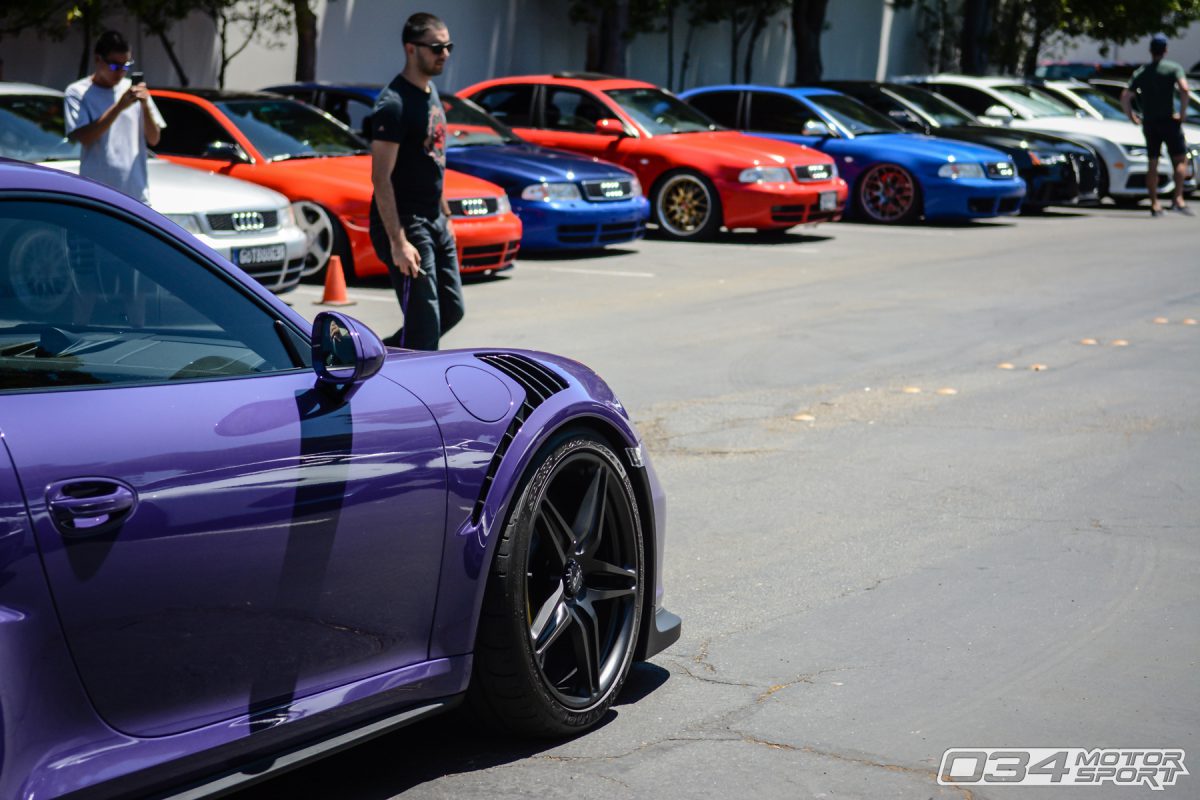 Hundreds of local Audi and Volkswagen enthusiasts gathered to share their passion for German cars and revel in the camaraderie. More BBQ was consumed than thought possible. More cars were strapped to the Mustang dyno in search of finding the highest number possible. Overall, Summerfest 2016 was a great success, and it wouldn't have been possible without such awesome attendees. We would like to thank you, (yes, you), for your continuous support of 034Motorsport and making our events so special. We hope to see you out at local events and get-togethers in the future!


Summerfest 2016 | 034Motorsport Open House, Dyno Day, BBQ, & Norcal Audi Club Meet Photo Gallery