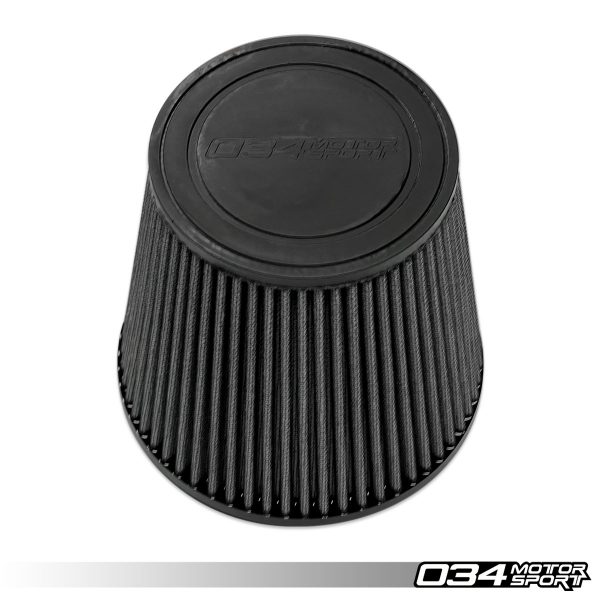 Check out the SüperDüper Filter!
Looking to SüperDüper your S34 Intake? The SüperDüper Air Filter is the same air filter found on the B8/B8.5 S4/S5 SüperDüper Insuction Bundle 034-108-1904 and is a replacement filter upgrade for our popular S34 Intake System for the 3.0T Supercharged equipped B8/B8.5 Audi S4/S5, Audi Q5, and SQ5. This high-flow, double-layered cotton filter features a 4in inlet and is a direct replacement and upgrade over the standard filter included with the S34 Intake
This Air Filter can be cleaned and reused with the 034Motorsport Air Filter Cleaning Kit to ensure maximum flow and filtration.
Features:
Double-Layered Cotton
1292CFM of airflow @ 28in H20
Superior Filtration Over Factory Paper Filter
Largest Filter Surface Area Possible without Shrouding
Maximum Flow Possible for a 4" Filter
Traps Particles as Small as 5 Microns
Increased Induction Noises
Can Be Cleaned and Reused (034Motorsport Air Filter Cleaning Kit)
Why Should I Upgrade My Filter?
The 034Motorsport SüperDüper Air Filter offers more airflow and superior filter media surface area over the standard S34 Intake Air Filter. Being as large as it is, this filter supplies the maximum amount of airflow possible through a 4-inch tube, offering no compromises in performance and filtration!
Check out this clip from our Live Q&A where our CEO Javad Shadzi and Director of Engineering Nate Stuart go into further detail on the benefits of the SüperDüper Air Filter!