034Motorsport is excited to bring you WinterFest 2018! Join us at our Fremont, CA Performance Facility for another great meet with food, cars, and fun! This event is hosted by 034Motorsport and open to all local Audi and Volkswagen enthusiasts, groups, and clubs.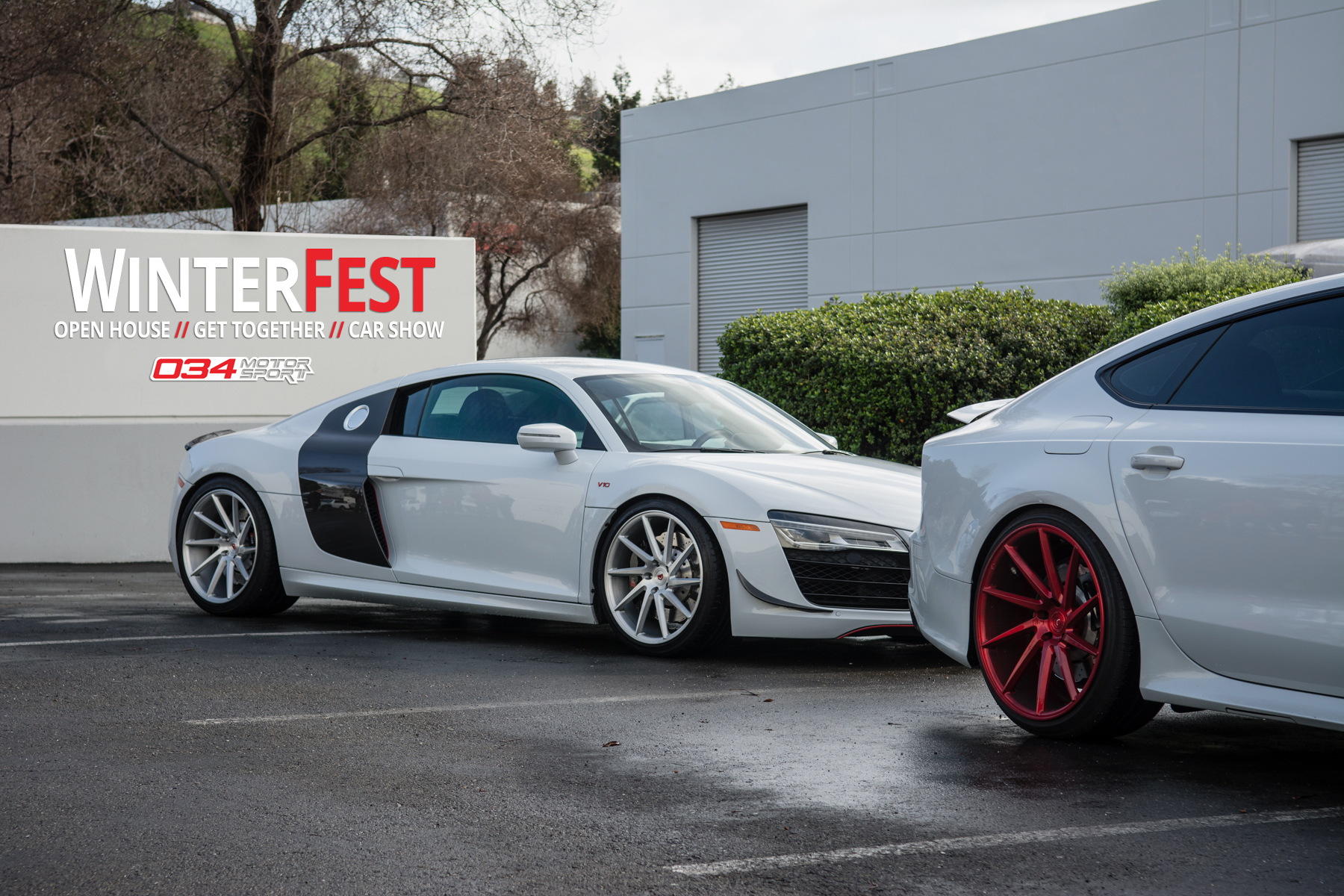 We'll be hosting the 5th Annual WinterFest Get Together, Car Show, and Open House on Saturday, January 27th! We'll have all of the attractions you're used to, as well as a few extras.
Free to Attend - RSVP on Facebook!
Cars & Enthusiasts - Bring your stock or modified Audi or Volkswagen, meet fellow enthusiasts, see their cars, and get an in-depth look at some of 034Motorsport's race cars and projects.
Car Show - This year will be 034Motorsport's first-ever WinterFest Car Show. The show is limited to 30 Audi and Volkswagen vehicles in total, with 5 awards available:
Best Audi
Best Volkswagen
Best Engine Bay
Best Stance
People's Choice
Want to show your car? Register here!
We're also searching for four volunteer judges.
Exhibition Dynos - We'll be running 034Motorsport Development Vehicles on our Mustang AWD Dynamometer all day! Catch the following 034Motorsport Development Vehicles on the dyno:
2018 Audi TT RS
2018 Audi S4
2016 Audi S3
2012 Audi S4
and more!
Discounted Products - We will be offering 10% off all 034Motorsport-branded products and merchandise at the event.
Discounted Tunes - Receive $100 off 034Motorsport Performance ECU Software and 034Motorsport Performance DSG Software at WinterFest!
Free Raffle - Everyone who attends can enter their name (once, only once) (no, really, you can't enter your dog or cat, we'll notice) in our free raffle, featuring items from 034Motorsport.
Open House - We will be giving tours of the 034Motorsport Facility, including our Manufacturing Department and Service Department. This is your chance to see how our parts are made, and get a behind-the-scenes look at what goes on here at 034. 🙂
Free Tri-Tip Chili – 034Motorsport's Founder & President, Javad Shadzi, will be preparing delicious Tri-Tip Chili for attendees! We'll do our best not to run out of food, but make sure to come early just in case.
See Pictures from Last Year's Winterfest!