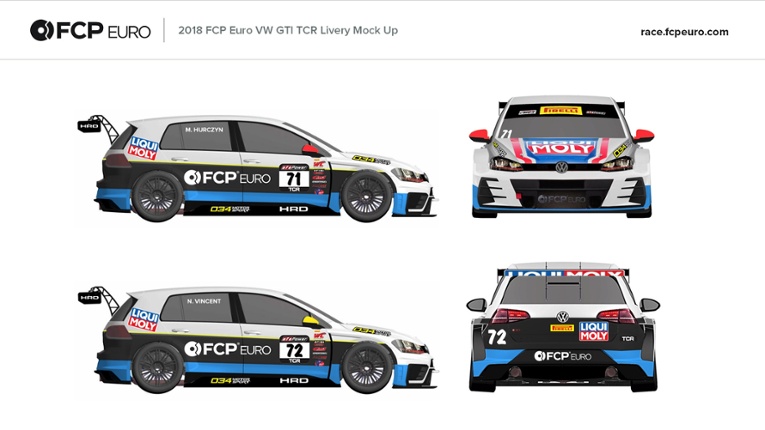 Fremont, CA / January 22, 2018
034Motorsport is proud to announce a partnership with FCP Euro with their entry into the 2018 Pirelli World Challenge season. Team FCP Euro will be fielding two Volkswagen GTI TCRs with the help of partners LIQUI MOLY, 034Motorsport, and Heinlein Racing Development.
Javad Shadzi, 034Motorsport Founder/CEO: "Racing is in 034Motorsport's DNA, and has served as the ultimate proving ground for our line of substantive performance hardware and software upgrades for Audi/Volkswagen since we got started in 2005. This exciting partnership will enhance both the 034Motorsport and FCP-Euro brands on a global stage."
Partnering with FCP Euro in the Volkswagen GTI TCRs will elevate 034Motorsport's experience with the current-generation GTI, and bring the 034Motorsport name to Volkswagen enthusiasts and motorsport fans around the world. We hope to build upon 034Motorsport's prior racing successes while connecting with fans who share our passion for competition and innovation.
About 034Motorsport
Since 2005, 034Motorsport has become known for bringing substantive motorsport-quality performance upgrades and tuning solutions to Audi and Volkswagen vehicles. Through competition and innovation, the company has developed a loyal following among enthusiasts. Founder Javad Shadzi states, "We pride ourselves on developing the finest track-proven and street-friendly performance upgrades for Audi and Volkswagen enthusiasts and are thrilled to partner with FCP-Euro in campaigning the GTI TCRs." FCP Euro's Nate Vincent continues, "If you are going to partner with a company that knows VW's, there's no one better than 034Motorsport. They will elevate our catalog, our on-track expertise, and our VW fan base."
About FCP Euro
After a successful year sponsoring Rooster Hall Racing's BMW M235iR in the TC class with 2017 Rookie of the Year Anthony Magagnoli at the wheel, FCP Euro is looking to continue that success by campaigning their new Volkswagen GTI TCRs. Piloting the cars will be FCP Euro's own Michael Hurczyn, Marketing & Brand Director, and Nate Vincent, Director of Motorsport.
FCP Euro is an online retailer of Genuine, OE, and OEM auto parts for European cars, specializing in Volkswagen, Audi, BMW, Volvo, Mercedes, and Porsche parts.  "We have been selling European auto parts online since 2001, and we are honored to put our FCP Euro brand on two TCRs in front of so many enthusiasts on a national stage," said FCP Euro President and Founder, Nick Bauer.
"Running a successful race team is not dissimilar to running a successful business - it takes great people and also great partners," said Scott Drozd, CEO of FCP Euro. "We are honored to partner with LIQUI MOLY, 034Motorsport, and Heinlein Racing Development for the upcoming seasons. These partnerships will allow FCP Euro to not only grow as a business but also reach new heights on the track."
About LIQUI MOLY
With over 800 employees, LIQUI MOLY is a globally recognized manufacturer of high-performance lubricants, motor oils, additives, vehicle repair products, chemical repair tools, service products, glues, and sealants. "For LIQUI MOLY, enthusiasm is the driving force behind all our thoughts and actions," stated David Bibb of LIQUI MOLY, "We're no stranger to TCR competition, we've campaigned several GTI TCR's out of Germany with LIQUI MOLY Team Engstler to great success."
About Heinlein Racing Development
FCP Euro has also partnered with Heinlein Racing Development to handle the race logistics, prep and trackside support for the season. HRD is a New Jersey-based road racing prep shop led by Tivadar Heinlein, awarded the "Zimmermann Cup" in 2005 and part of the 2006 GT Championship Winning program with Groom Racing. HRD will bring a history of competitive engineering and racing development techniques to support the FCP Euro team throughout the year.
About the Volkswagen GTI TCR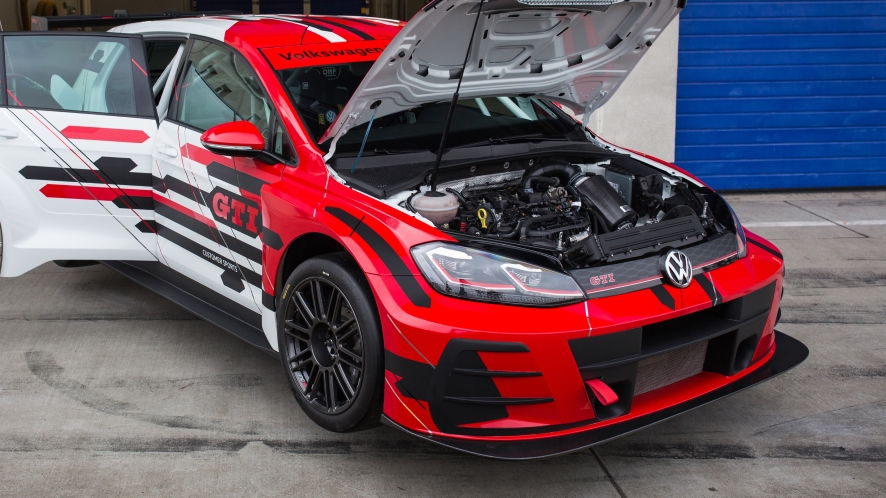 The GTI for Customer Sports.
To transport the GTI genes to the racetrack, Volkswagen Motorsport developed the Golf GTI TCR at its headquarters in Hannover in 2015. During the test and development, Volkswagen worked closely with the racing department at Seat, in order to leverage synergies in assembly and to call on the wealth of experience gained with the Seat Leon Cup Racer. As with the Volkswagen Group's production cars, the MQB platform also provides many synergies for racing cars, thus reducing the cost of assembling and running the TCR touring car – one of the defining goals during development.
Under the bonnet, the Golf GTI TCR houses the familiar two-­litre turbo engine with direct fuel injection from the Golf GTI, the latest racing version of which can generate up to 350 hp (257 kW) and boasts about 420 Nm of torque. Visually, the Golf GTI TCR differs through its 18-inch rims and a chassis that is roughly 15 centimetres wider than the production golf. An adjustable, aluminium rear wing – standard for all TCR cars – ensures optimal handling. The modifications for the racetrack also include an aerodynamic front splitter. Among the features guaranteeing the driver maximum safety are racing seats with head protectors, a racing safety cell, and an FIA-approved safety tank.
Technical Data
Engine
Type: Straight-four engine with turbocharger and intercooling, transversally mounted in front of the front axle
Capacity: 1,984 cc
Output: 257 kW (350 hp) at 6,200 rpm
Bore/Stroke: 82.5 mm / 92.8 mm
Engine Control Unit: Continental SIMOS
Power Transmission
Gearbox: Six-speed sequential racing gearbox, shift paddles on steering wheel
Gearbox Final Drive: Front-wheel drive with multi-plate differential
Clutch: Multi-disk sintered clutch
Chassis
Front Axle: McPherson struts
Rear Axle: Multilink axle, height, track and camber of chassis can be adjusted
Steering: Rack-and-pinion steering with modified software and hardware
Braking System:

Front disc brakes with all-around inside ventilation (Ø 378 mm) with six piston aluminum brake calipers
Rear solid brake disks (Ø 272 mm) with two piston aluminum brake calipers

Wheels/Tires: 10 x 18 inch
Chassis/Body
Design: Strengthened production steel body (in accordance with FIA regulations)
Dimensions
Length/Width/Height: 4,597 mm / 1,950 mm / 1,368 mm
Wheelbase: 2,665 mm
Minimum Weight: 1,285 kg (including driver)
Performance
Acceleration: 0–100 km/h in approximately 5.2 seconds
Top Speed: Approximately 258 km/h