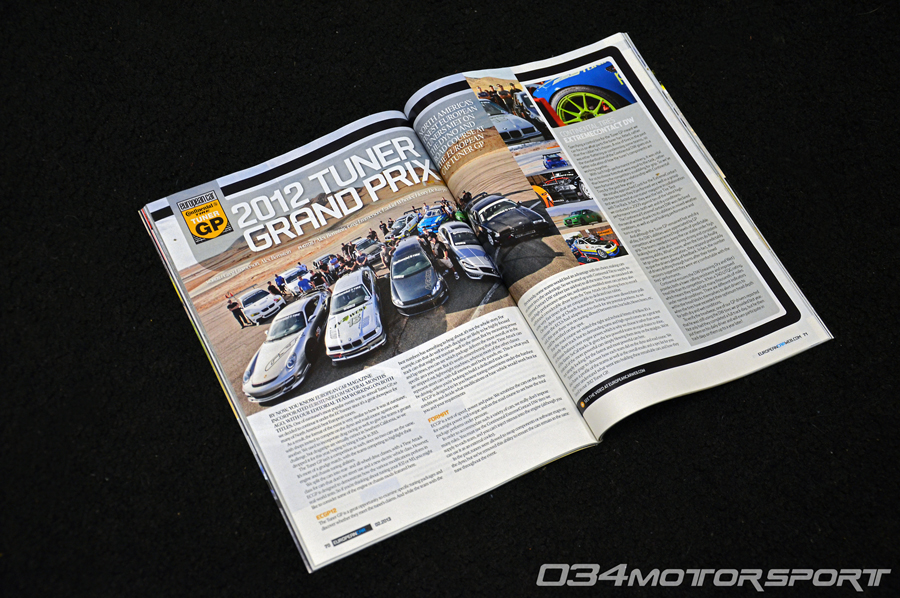 034Motorsport Wins 2012 European Car Magazine Tuner Grand Prix!
034Motorsport is all about making your Audi go fast. When it comes to their own cars, they're no different. Some would say they're lunatics.Naturally, when 034Motorsport was invited to return to European Car Magazine's Tuner Grand Prix to show just how fast they can make a German grocery-getter, they jumped at the opportunity.
Having campaigned a number of cars in the event (formerly known as the Eurotuner Grand Prix) over the years, including their I5 20VT Audi 80TQ, I5 20VT Audi Coupe Quattro, Time Attack Audi A4, and the insanely impractical GTI-RS, 034Motorsport was excited to be back. The question they had to ask was, "What do we bring this year?"
The GP is a rather peculiar event, in that it normally features a dyno competition, drag race, and road course - all of which are done on street tires. This year, the drag race portion of the event was gone, which made the decision somewhat easier. The 034Motorsport GTI-RS had won the event last year, but came in second to Berk Technology on the road course, where the competition from purpose-built time attack cars was getting tougher and tougher.
034Motorsport came back to win on the road course, so they brought their own purpose-built car.
Many of you are familiar with their Time Attack Audi A4, which 034Motorsport has campaigned in various races, magazine competitions, and time attack series since 2007. It started its life with 034Motorsport as the development mule for their longitudinal VR6 swap program, something which was initially a quirky one-off idea, but went on to power some of the quickest and fastest Audi race cars in North America.
Since the car's initial 12V VR6T build, it has evolved a number of times, with the addition of a custom widebody, a transition to a 24V VR6T, the addition of more aerodynamics, and finally a return to a more traditional 1.8T powerplant.
Why the 1.8T?
"This is the question we get asked most often once people realize that the car no longer has the VR6T powerplant that it debuted with many years ago. The longitudinal VR6T swap was something that we pioneered because we like doing things a bit different around here, and because it was a great way to be competitive in the Eurotuner GP's dyno competition and drag race."
In fact, the Time Attack A4 swept the event in 2009 with the 24V VR6T.
Spoiler Alert: The 034Motorsport Time Attack A4 hasn't been powered by a VR6T in over 3 years!
"While we loved the sound of the VR6T, and the added displacement was nice, the engine sat too far forward and was just too heavy for the car to remain competitive in time attack circuits. By swapping in the 1.8T, we were able to remove 125 pounds of ballast from the back of the car, and bring down the total weight by over 300 pounds."
The result was a much faster car, shaving seconds off of its previous lap times. At the 2010 GTGP, the car ran a 1:31.221 around Laguna Seca. It was a formidable contender in Global Time Attack, and a promising qualifier at the 2012 Pikes Peak International Hill Climb.
Preparation
The decision to return to the Tuner GP in the Time Attack A4 came shortly after 034Motorsport had suffered a mechanical failure at the Pikes Peak International Hill Climb. With a freshly-built motor, the team installed a larger Precision 6262 Turbocharger, featuring Precision's latest Competition Engineered Aerodynamics. After remapping the car's 034EFI Stage IIc Standalone Engine Management, the results were astonishing. The 1.8T powerplant had picked up over 100 horsepower at the wheels without sacrificing any spool. On 034Motorsport's Land and Sea chassis dyno, this equated to 630 WHP.
Some suspension improvements were made to the car as well, in the form of PSi Raceline Suspension, featuring Ohlins TTX36 Dampers. Finally, the 17x9.5 Enkei RPF1 Wheels were wrapped in the mandatory Continental ExtremeContact DW Tires in 285/40/17.
With minimal time to test the new setup, 034Motorsport headed to Church Automotive Testing in Wilmington, CA to kick off the competition.
Day 1 - Dyno Competition


034Motorsport was one of the first teams to arrive to Church Automotive Testing, and began to unload the Time Attack A4 as others showed up. The Time Attack A4 put down 595.9 horsepower on the facility's Dynapack hub dyno, which was somewhat disappointing to the 034Motorsport team. The car was suffering from a high-RPM misfire that was later diagnosed to be caused by a faulty injector connector. Unfortunately, the team had to settle for the 595.9 horsepower pull, and wait for the other teams to see how they would place.
The Bluewater Performance Volkswagen Rabbit ended up making a frightening close 594.4 horsepower before suffering an engine failure, leaving 034Motorsport clinging to first place. However, the LTMW BMW 335i, which was having issues on the dyno earlier in the day, returned and cranked out 597 horsepower, besting the 034Motorsport Time Attack A4.
Day 2 - Road Course


Finally, the time had come for the 034Motorsport team to show what they were capable of at the Streets of Willow Springs. 034Motorsport driver and employee, Christian Miller, expected stiff competition from the Berk Technology BMW 135i.
During the practice sessions, all three Time Attack teams were methodically logging data and perfecting their vehicle's setup, making tire pressure, aerodynamic, and suspension adjustments as deemed necessary. 034Motorsport, Berk Techology, and Platte Forme AG were besting one another during the first practice laps, and when Platte Forme AG's car mysteriously "forgot" its transponder during the last practice session, it was anyone's guess as to who was putting down the fastest times.
034Motorsport was one of the first Time Attack cars to run in the timed sessions, and Christian Miller set the pace at a blistering 1:22.386 around the Streets of Willow. Berk Technology ran a best time of 1:23.893, improving upon their time last year, but falling short of 034Motorsport. Finally, the Platte Forme AG E46 BMW M3  ran a surprisingly fast 1:23.119, claiming second place on the road course, and marking a huge improvement over their performance last year.
"We're very happy with the Time Attack A4's performance, and Christian's driving." said 034Motorsport owner Javad Shadzi, "The team has worked very hard to get the car set up properly for this track. What a lot of people don't realize about this car is that it's the only one out here without ABS (Anti-Lock Braking System) and Traction Control. Realistically, those improvements would be worth a second - or potentially more - around this track. Especially on street tires, the car is very difficult to drive fast due to its weight, high horsepower, and lack of driver aids."
Driver Christian Miller added, "The car is just fantastic. Taking an older Audi chassis with a four-cylinder engine, and getting it to this level of performace is awesome. Lapping 4.5 seconds faster than a supercharged E92 BMW M3 and modified Porsche 997 Turbo is a real testament to how far we [034Motorsport] have developed the B5 chassis."
Conclusion


The European Car Magazine Tuner GP is a fantastic event to showcase the tuning abilities of various companies in the European automotive aftermarket scene, and 034Motorsport had a dominating performance this year. With a 12 year old chassis and the smallest displacement engine at the competition, they stayed at the top of the chart on the dyno shootout, and obliterated the competition on the road course.
034Motorsport is already planning for next year's Tuner Grand Prix, and looking forward to seeing what the competition dishes up.
2012 European Car Magazine Dyno Shootout
| | | | | |
| --- | --- | --- | --- | --- |
| Team | Car | Class | HP | TQ |
| LTMotorwerks | '09 BMW 335i | RWD | 597 | 550 |
| 034Motorsport | '01 Audi A4 | T/A | 595.9 | 501.2 |
| Bluewater Performance | '07 Volkswagen Rabbit | AWD | 594.4 | 553.7 |
| European Auto Source | '11 BMW M3 | RWD | 574.2 | 383.2 |
| GSR Autosport | '11 Mercedes CLS63 AMG | RWD | 551.7 | 816.3 |
| GSR Autosport | '08 Porsche 911 Turbo | AWD | 493.1 | 552.7 |
| Eurocode Tuning | '12 Audi S4 | AWD | 492.2 | 476.8 |
| Platte Forme AG | '01 BMW M3 | T/A | 473 | 324.5 |
| LTMotorwerks | '95 BMW M3 | RWD | 420.2 | 335.8 |
| Berk Technology | '08 BMW 135i | T/A | 402 | 419.2 |
| HPA Motorsports | '12 Volkswagen Golf R | AWD | 392.3 | 349.8 |
| Euro Sport Accessories | '04 Volkswagen R32 | AWD | 386.5 | 378.5 |
| EV West | '95 BMW M3 | EV | 382.6 | 840.6 |
2012 European Car Magazine Road Course Competition
| | | | |
| --- | --- | --- | --- |
| Team | Car | Class | Lap Time |
| 034Motorsport | '01 Audi A4 | T/A | 1:22.386 |
| Platte Forme AG | '01 BMW M3 | T/A | 1:23.119 |
| Berk Technology | '08 BMW 135i | T/A | 1:23.893 |
| European Auto Source | '11 BMW M3 | RWD | 1:26.811 |
| GSR Autosport | '08 Porsche 911 Turbo | AWD | 1:26.855 |
| Eurocode Tuning | '12 Audi S4 | AWD | 1:27.095 |
| LT Motorwerks | '95 BMW M3 | RWD | 1:28.327 |
| LT Motorwerks | '09 BMW 335i | RWD | 1:28.748 |
| GSR Autosport | '11 Mercedes CLS63 AMG | RWD | 1:28.801 |
| Euro Sport Accessories | '04 Volkswagen R32 | AWD | 1:28.959 |
| HPA Motorsports | '12 Volkswagen Golf R | AWD | 1:32.035 |
| EV West | '95 BMW M3 | RWD | 1:32.581 |
| Bluewater Performance | '07 Volkswagen Rabbit | AWD | DNS |
034Motorsport B5 Audi A4 Time Attack Car - Technical Specifications
Vehicle:

2001 Audi A4 1.8T Quattro

Engine Block:

Modified TDI Tall-Deck (236mm) 06A Engine Block
Forged 92.8mm Stroke Audi/Volkswagen 2.0T FSI Crankshaft
Forged 159/21 Connecting Rods with ARP Rod Bolts
034Motorsport Custom Dry Sump Oil System

Cylinder Head & Valvetrain:

Audi AEB "Large Port" 1.8T Cylinder Head

Turbocharger, Intake, Exhaust:

Precision 6262 CEA Turbocharger

Ceramic Ball Bearing
V-Band Inlet/Outlet .64 A/R Turbine Housing
4" Inlet / 2.5" Outlet "SP" Compressor Housing

034Motorsport Custom Tubular Exhaust Manifold
034Motorsport Oil & Water Line Kit
034Motorsport Custom 3.5" Side Exit Exhaust
034Motorsport Custom Intake Manifold
034Motorsport Custom 4" Intake with Heat Shielding
Mitsubishi Evolution 8 Front Mount Intercooler
AEM Water Spray for Intercooler

Engine Management, Electronics, Fueling, Ignition:

ATL Fuel Cell
034Motorsport Surge Tank
-6AN Fuel Lines
034EFI High Output DIS Coils

Drivetrain:

B5 Audi S4 "01E" 6-Speed Manual Transmission with 1-2 Dog Gears
3-6 Close Ratio Gear Set with WPC Low Friction Treatment
034Motorsport Clutch Type Rear Differential

Suspension & Steering:

034Motorsport Custom Blade-Type Rear Sway Bar
Factory B5 Audi A4 Front Sway Bar
Electric Power Steering Conversion

Brakes:

Alcon Mono 4 Front Brake Calipers
Alcon Floating 330mm Front Brake Discs
300mm Vented Rear Brake Discs
Stainless Steel Braided Brake Lines
AP Racing Pedal Box
B5 Audi RS4 Aluminum Front Wheel Bearing Carrier

Wheels & Tires:

17x9.5 Enkei RPF1 Wheels
Continental ExtremeContact DW 285/40/17 Tires

Chassis, Safety, Aerodynamics:

Custom Widebody
Complete 12 Point Roll Cage
Carbon Fiber Front Hood & Sunroof Delete Panel
AFFF Fire Suppression System
034Motorsport Custom Carbon Fiber Splitter
APR Rear Wing
2012 European Car Magazine Tuner Grand Prix - Pictures

034Motorsport Wins 2012 European Car Magazine Tuner Grand Prix!