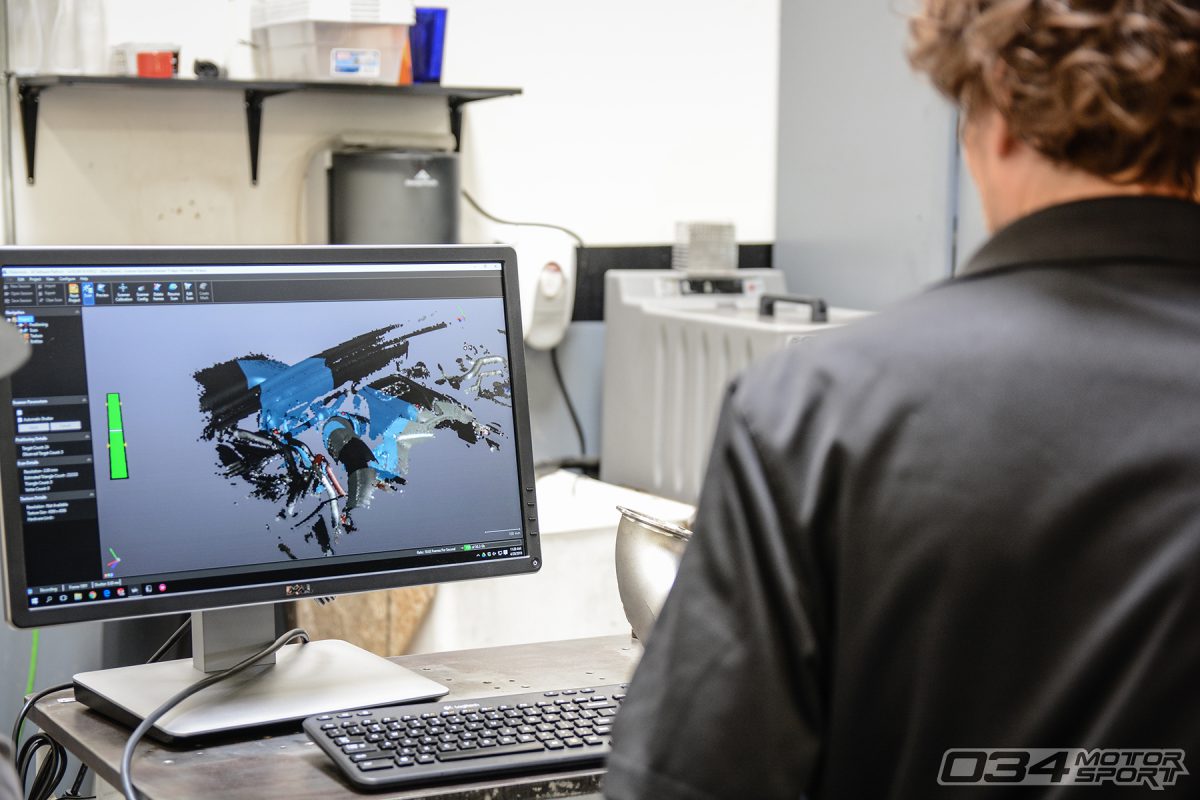 Looking back over the past 12 months, 2016 proved to be a year of firsts for 034Motorsport. We were able to expand our product lines to the popular Audi/Volkswagen MQB platform and bring 15 new items to fruition. Some of these include our introduction into the performance spring marketplace with the release of 034Motorsport Dynamic+ Lowering Springs for 8V Audi A3/S3 Quattro, and our first line of carbon fiber cosmetic enhancements such as the Carbon Fiber Battery Cover and Carbon Fiber Fuse Box Cover.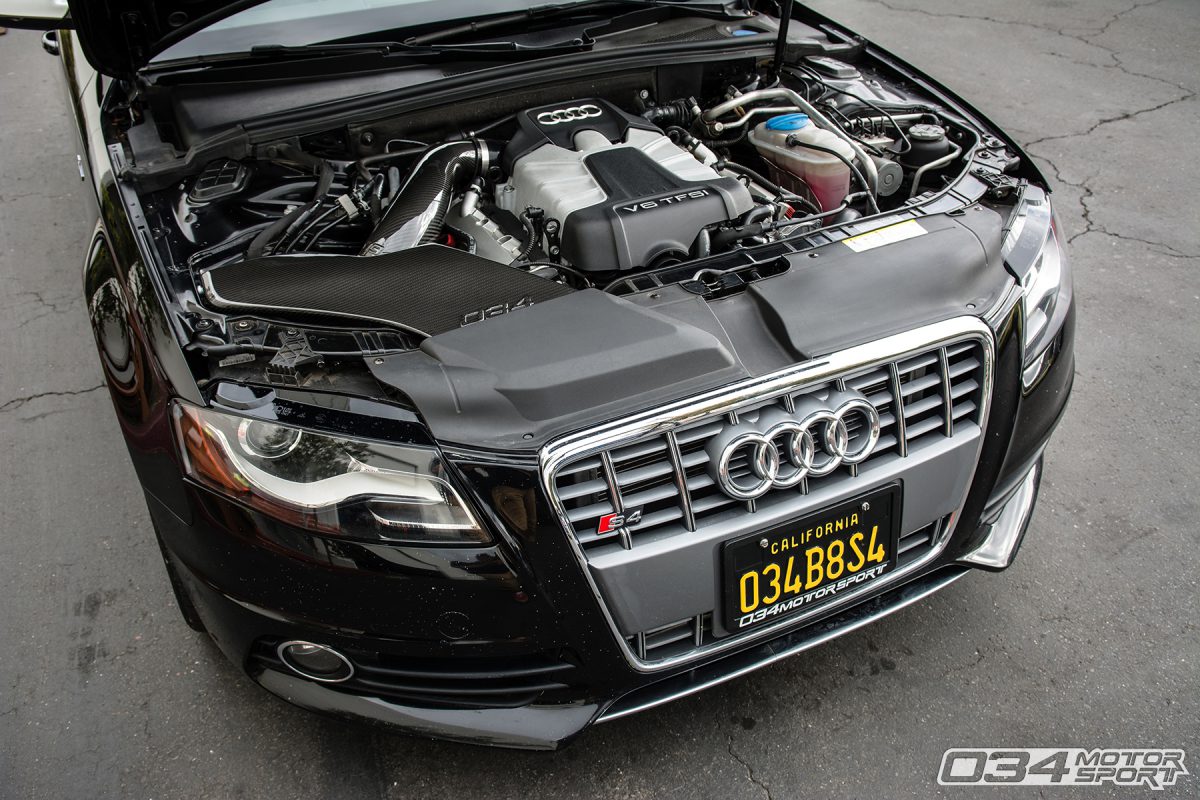 Additionally, we demonstrated some of the best power gains seen from a Stage 1 tune for the B8/B8.5 Audi S4 & S5 3.0T and complementary DSG software to match. Keen on staying ahead of the curve, we also acquired a brand new B9 Audi A4 test mule to begin development on Audi's newest best-selling sedan. To that extent, we have already released our B9 Transmission Mount Insert yielding the same improvements and positive feedback as its predecessor for the B8/B8.5. We're proud of every product released last year, and want to look back on a selection of Go Fast Parts that made it to the top of our Staff's "List of Favorites From 2016."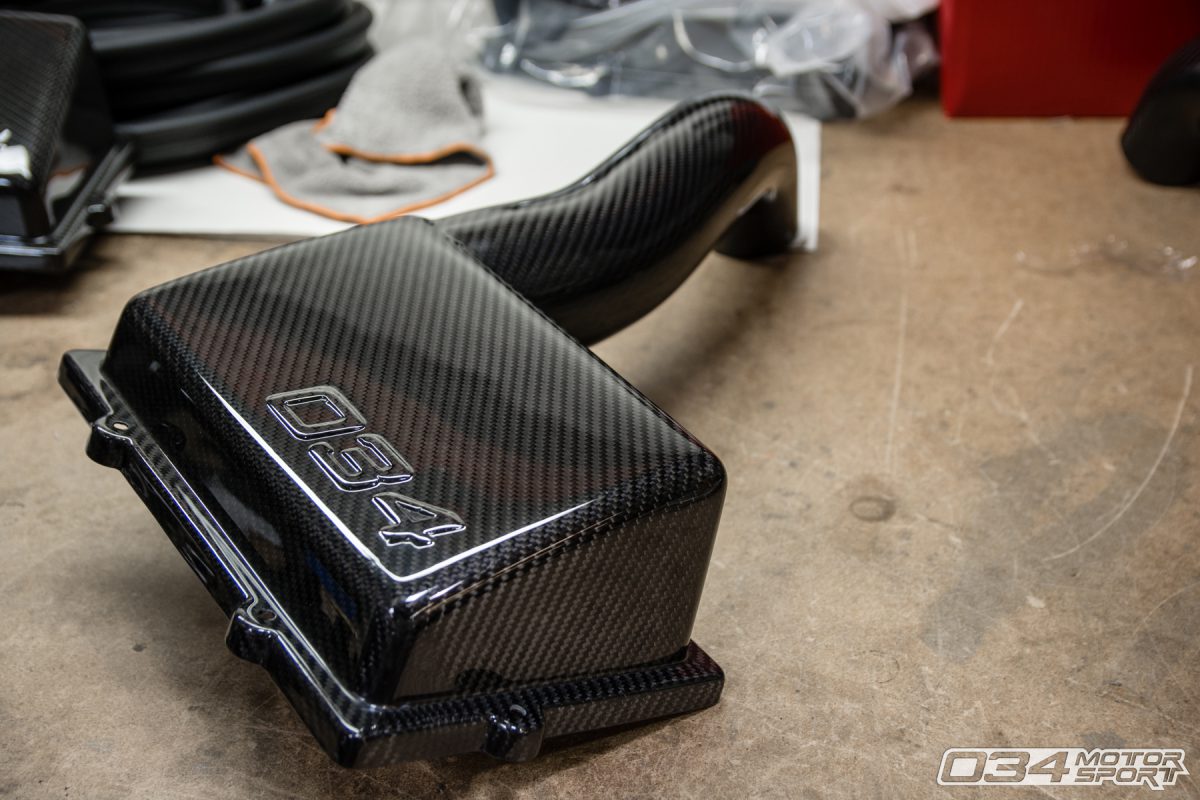 The Carbon Fiber X34 Intake System for 1.8T and 2.0T Gen 3 MQB cars was certainly not the first aftermarket option available. Rather than deliver a subpar product first, we took our time developing an intake to be the best possible option for MQB owners. 034Motorsport's engineering department thoroughly analyzed the factory airbox and determined which components restricted airflow to the turbocharger inlet. Multiple iterations were prototyped and thoroughly tested to ensure flow was maximized from the factory inlet to the turbocharger. The result was a true, one-piece performance intake replacement with real power gains to be had. This meant each customer would receive the intake looking and performing as we intended, without any additional pieces to buy. It also ensured an easy installation with simple tools. The result? OEM+ fit and finish with the power to back it up. Our MkVII Volkswagen GTI with a stage 1 tune gained 31 WHP and 27 WTQ and stock 8V Audi S3 picked up 24 WHP and 20 WTQ respectively!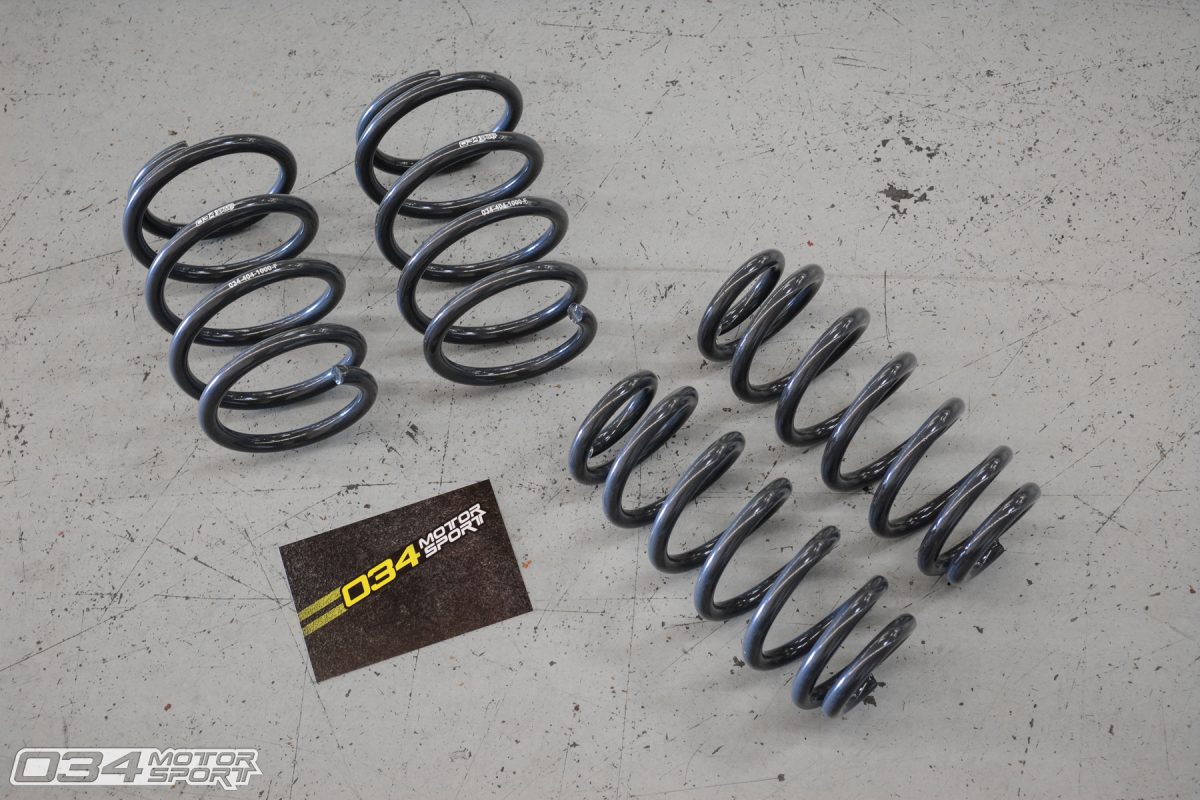 Once the 8V A3/S3 chassis was released, we knew it would be the perfect platform to create a no-compromise lowering spring solution for vehicles equipped with Audi Magentic Ride. Built to our specifications, the front spring rate is 310 lbs/in of linear compression while the rear is slightly stiffer at 400 lbs/in. The result is our Dynamic+ Lowering Springs offering improved handling performance and precise vehicle control while maintaining OEM+ comfort levels. As for the looks, we decided on an equal 0.75" drop to improve the aesthetics of the car while still maintaining a functional ride height. Each set of Dynamic+ Lowering Springs is tested to 034Motorsport's exacting specifications to ensure they deliver unmatched performance for the discerning enthusiast.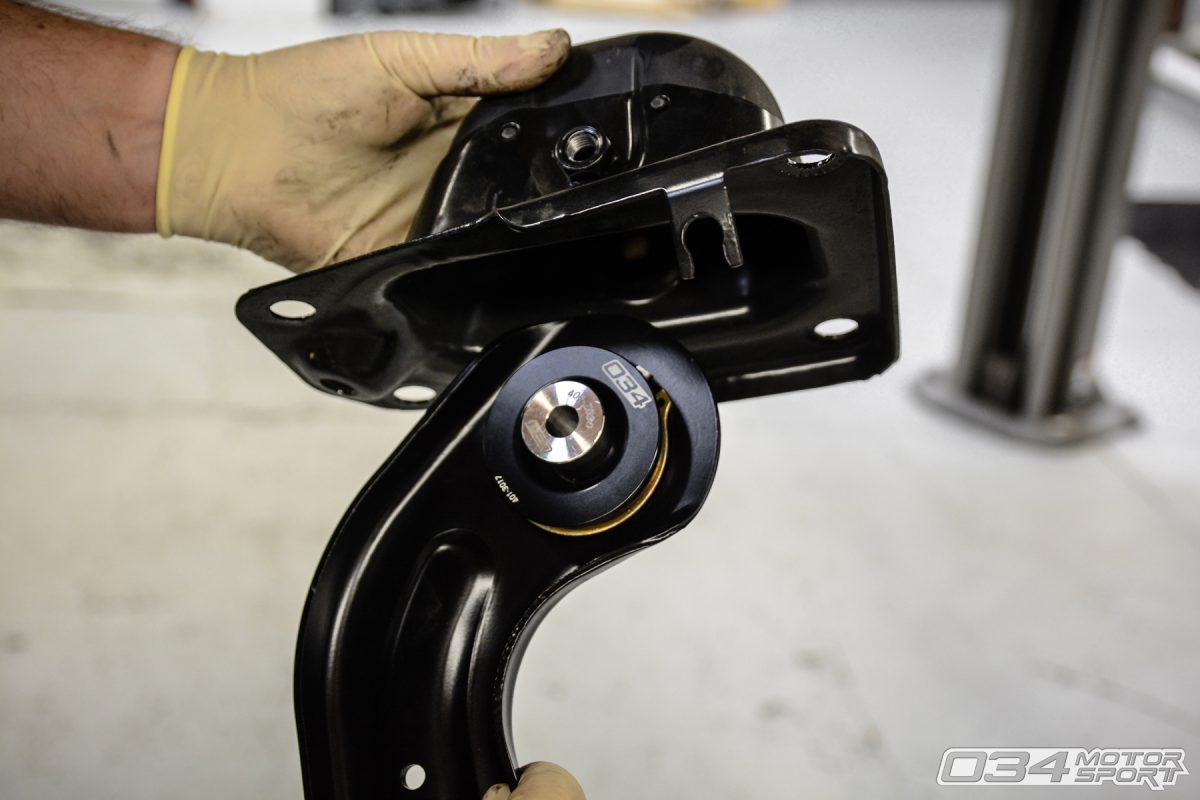 Gone are the days of pressing out rubber bushings and installing bearing holders! 034Motorsport has offered Spherical Trailing Arm Upgrades for years now, providing improved handling characteristics, steering precision, and confidence-inspiring road feel. Unsatisfied with the effort required to install the spherical bearing holders however, we went back to the drawing board and decided to make the product a complete bolt-in solution. We designed manufactured new steel trailing arms to precisely hold the high-performance spherical bearing assemblies. Now we are able to assemble everything in-house, making our re-designed Spherical Trailing Arm Kits a simple bolt-in upgrade with simple tools. Comprised of Aurora spherical bearings, billet aluminum bearing holders, and stainless steel spacers, these arms eliminate deflection under load to ensure precise handling on any road surface. Don't believe us? See our comparison between factory rubber bushings and 034Motorsport Spherical Arms below.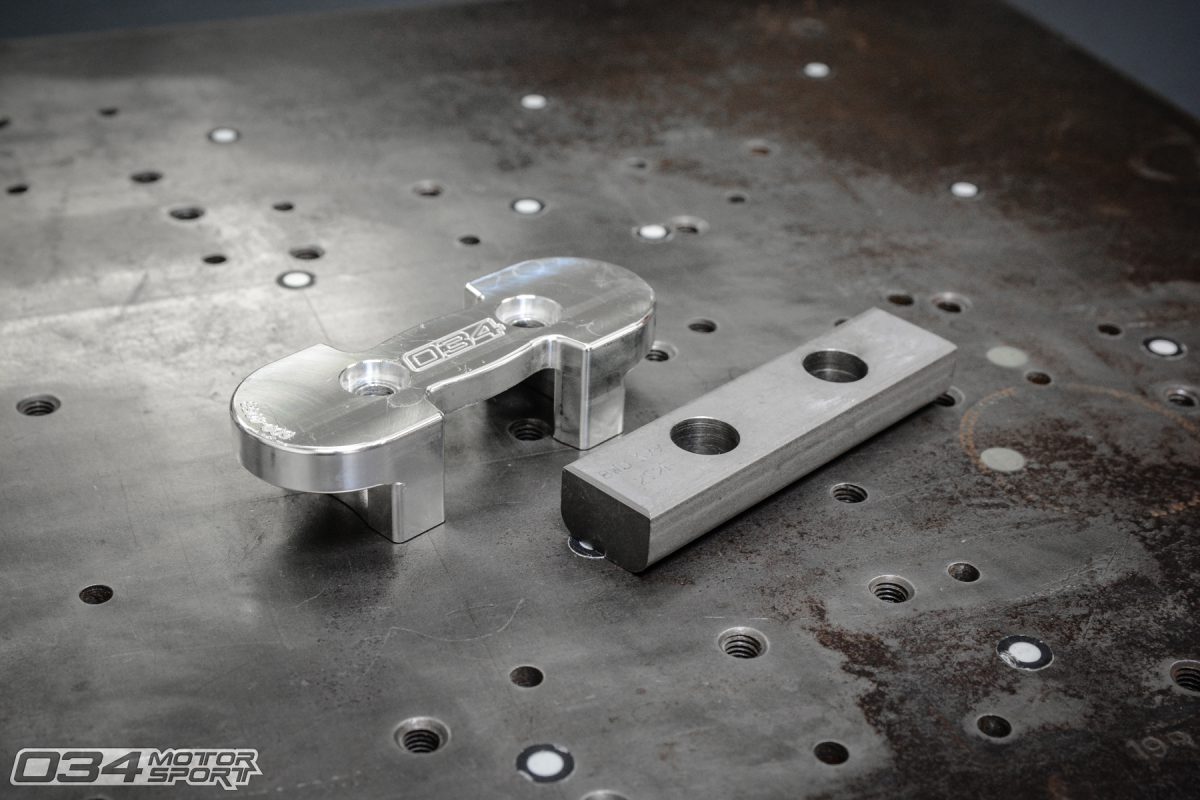 This product was a no-brainer to our 034Motorsport team. The widespread love for the B8 transmission mount insert made it a logical first product for our B9 A4 test mule. Once we identified the need to further lock down the transmission, we set out to create an insert and fill the void in the new factory rubber bushing. The ease of install and significant reduction in drivetrain slop make this a popular upgrade among the Audi community. We're particularly proud of this product as it represents an evolution of our billet aluminum inserts, and continues to be one of the best cost-effective upgrades to any modern Audi driver. Get an inside look on our development of the new B9 Audi Transmission Mount Insert below.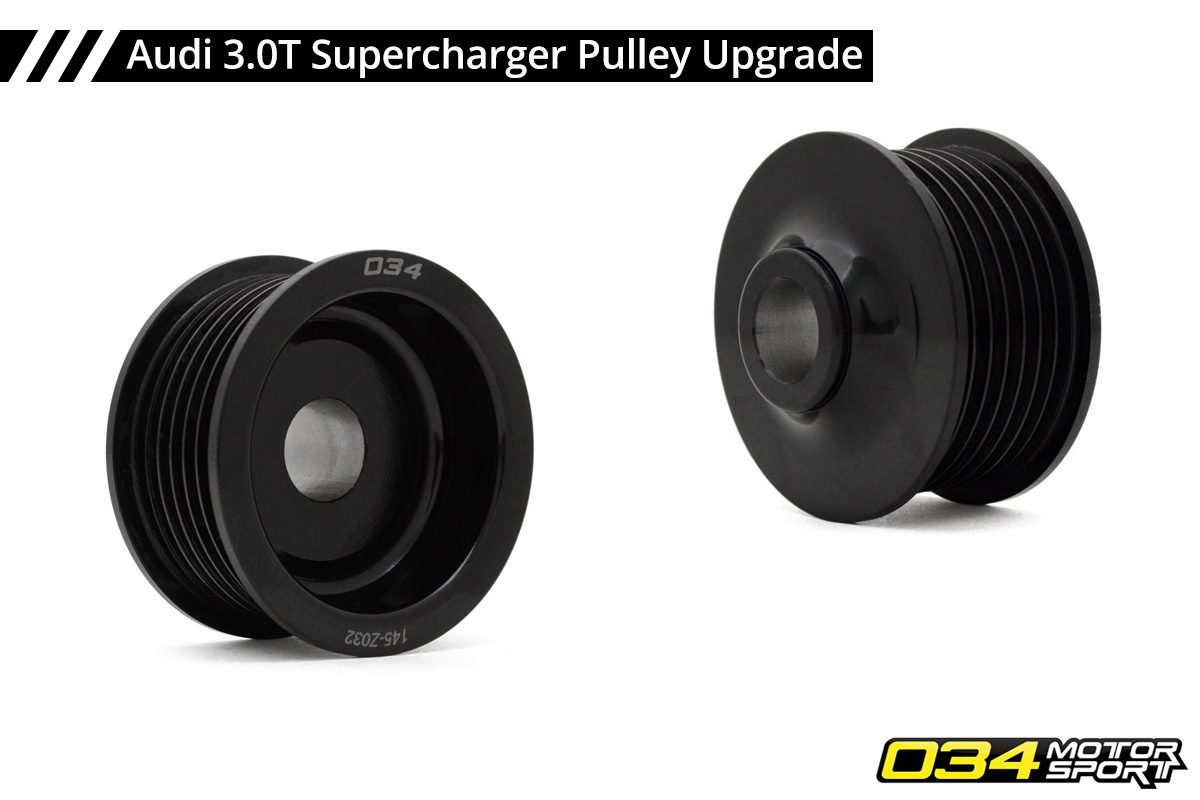 As we strive to offer the most comprehensive tuning options, the 3.0T Supercharger Pulley Upgrade was a requisite product for 034Motorsport to squeeze the most from Audi's potent supercharged V6 motor. Both our Stage 1 and Stage 2 software features an increased redline of 7,200 RPM with a refined throttle response in either Dynamic or Comfort mode. The goal was to increase power through the entire RPM range while improving upon the factory throttle modulation. Furthermore, the pulley upgrade allows for increased boost pressure from the factory Eaton TVS 1320 supercharger while staying within its maximum recommended speed for longevity. Peak gains 104 HP and 77 FT-LBS of torque can be expected from any 3.0T equipped Audi S4 or S5 running our Supercharger Pulley and Stage 2 Software on 91 octane fuel. We're proud of the usable power gains and refined driving characteristics we've safely unlocked from this supercharged engine and believe it's a must-have for any 3.0T owner.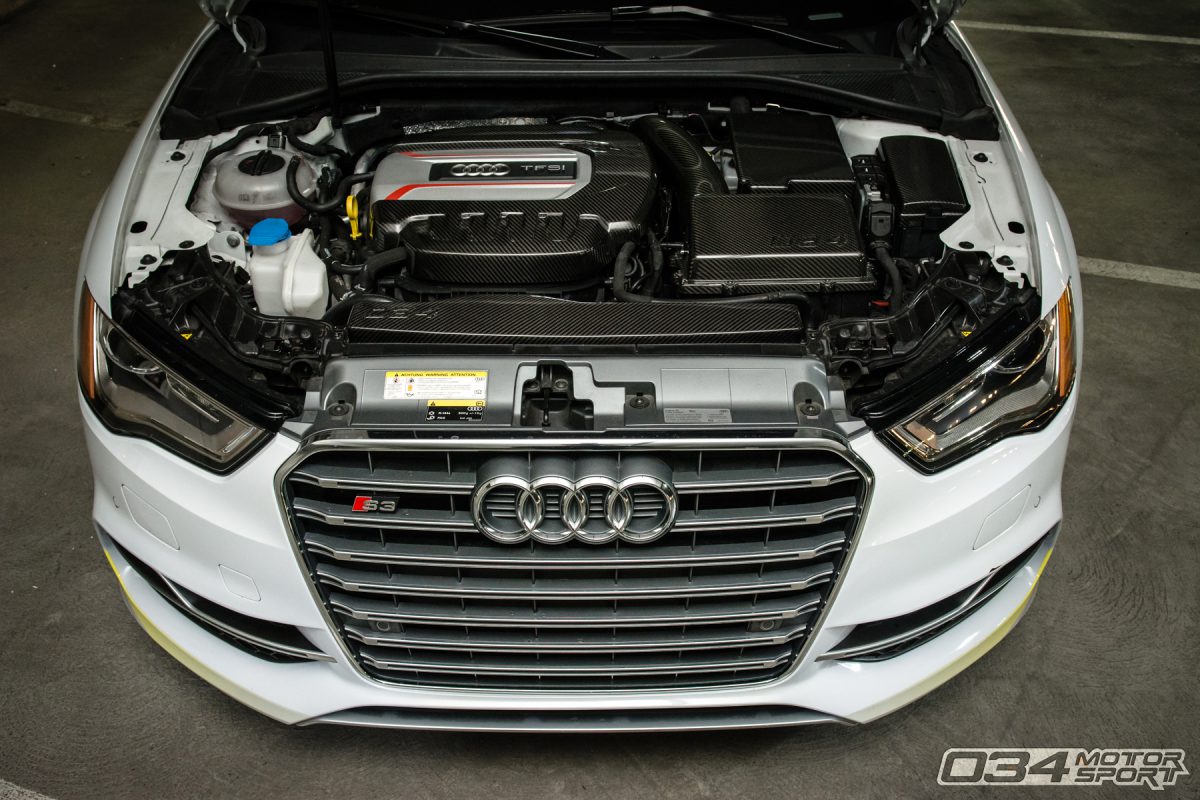 Yet another first for 034Motorsport in 2016! While developing the MQB X34 Cold Air Intake System, we quickly noticed the engine bay was lacking in aesthetics. After some discussion, we determined which complementary carbon fiber products could aid in bringing new life to the drab factory plastics and awful blankets under the hood. 034Motorsport's latest release of the Carbon Fiber MQB Battery Cover, Carbon Fiber Fuse Box Cover, and S3/TTS Carbon Fiber Engine Cover work together to provide a visually stunning engine bay. No longer will you be embarrassed to pop your hood! With the carbon fiber covers installed, we now find a quick peek in the engine bay to be a calming practice after a long spirited drive.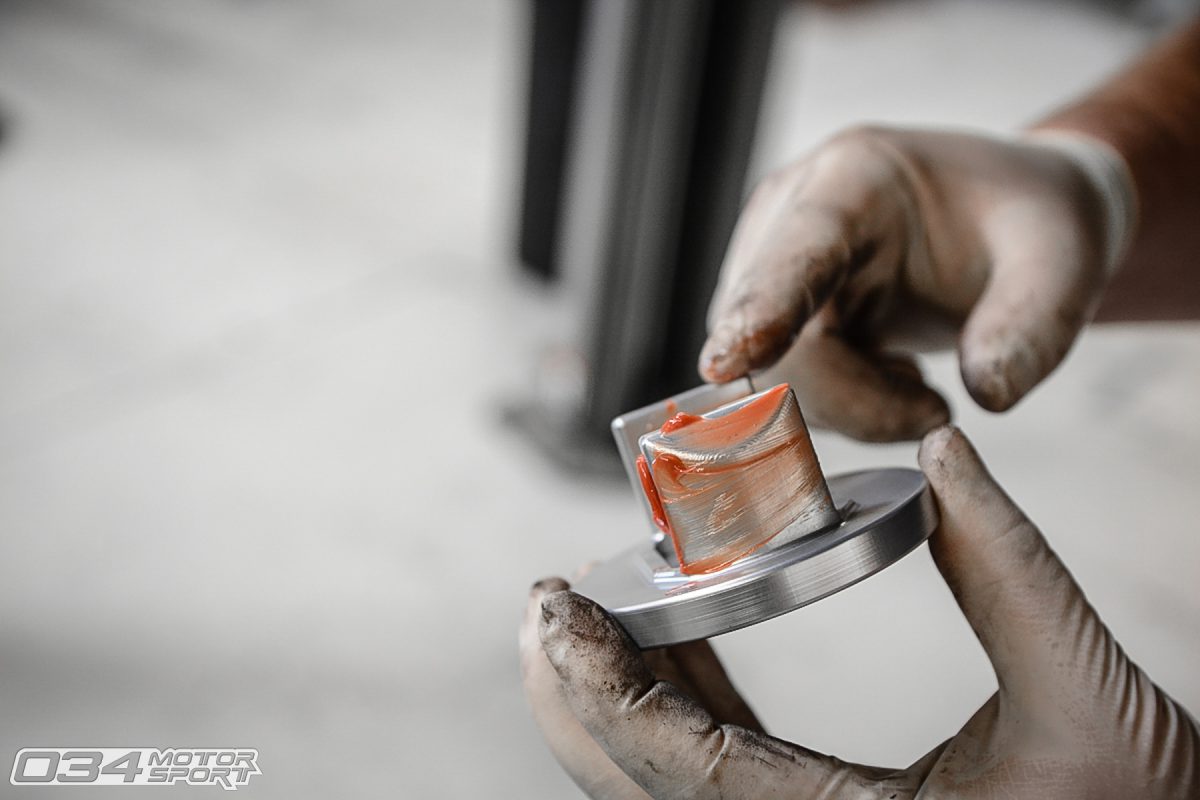 The evolution of 034Motorsport's popular billet aluminum inserts continued through 2016 as we released a selection of Rear Subframe Mount Inserts for various Volkswagen and Audi chassis. These mount inserts comprehensively lock down the drivetrain without introducing significant NVH into the cabin. By filling the voids in the factory mounts, these rear subframe inserts eliminate slop associated with rubber bushings and offer a more refined driving experience. The CNC-machined billet aluminum inserts are virtually indestructible, and work to create a consistent handling car in any condition. Confidence inspiring performance with lifetime durability!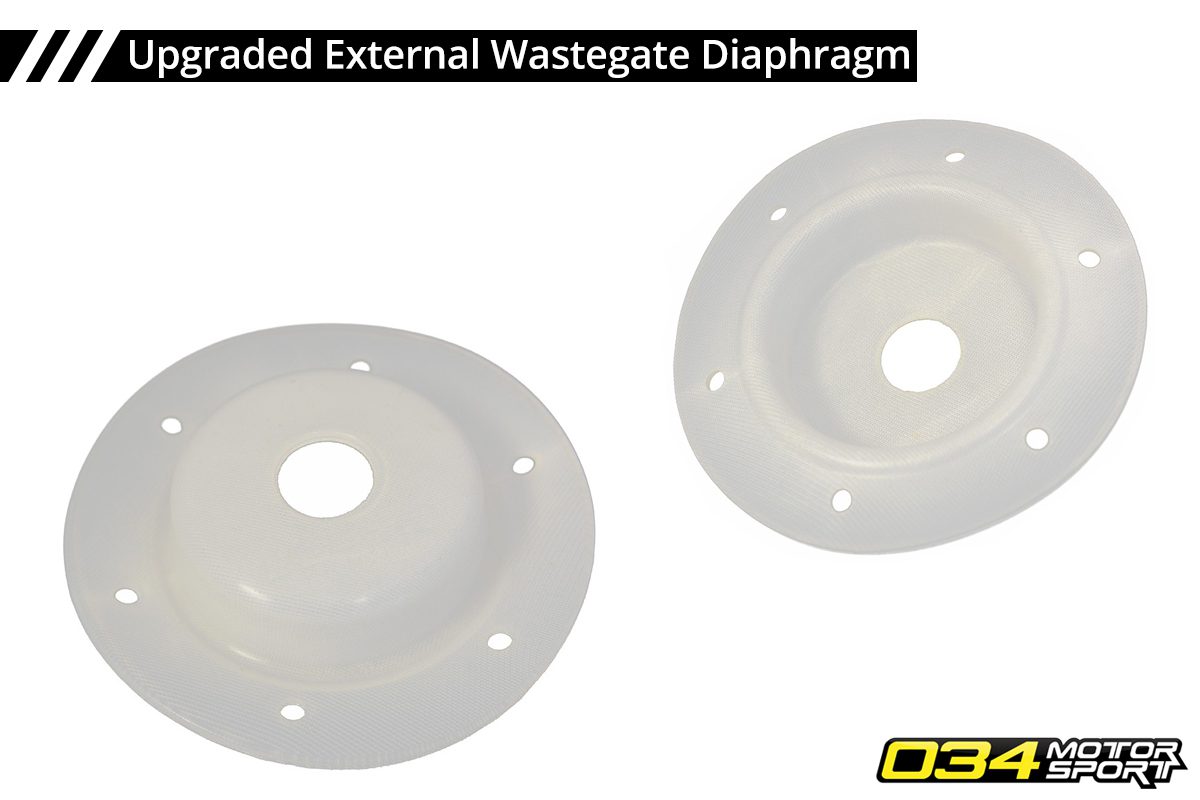 Last, but certainly not least is the release of our upgraded Audi 5-Cylinder Turbo External Wastegate Diaphragm Replacement. Now discontinued from Audi, we took it upon ourselves to create an upgraded replacement for the aging factory wastegate diaphragm. Ideal for high-temperature and high-boost applications, this drop-in unit is over 50% thicker than stock and reinforced with polyester fiber. 034Motorsport was founded on the tuning of these classic Audi 5-cylinder cars and has certainly not forgotten about them.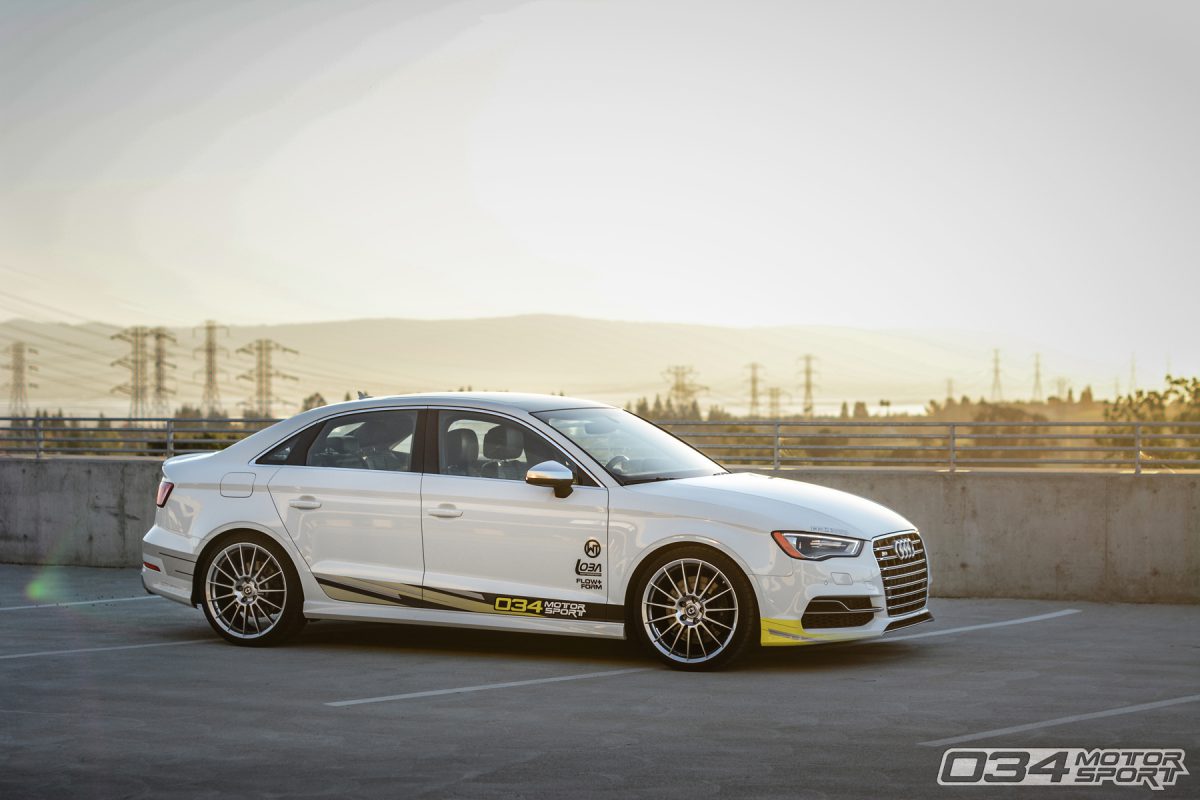 Overall 2016 was a record-breaking year and marked many firsts for 034Motorsport. We couldn't have done it without the continued support of our 034Motorsport Dealers and customers alike. So here's to 2017, and continuing to push development on the Audis and Volkswagens we love. Let's make our cars faster and better than ever before!