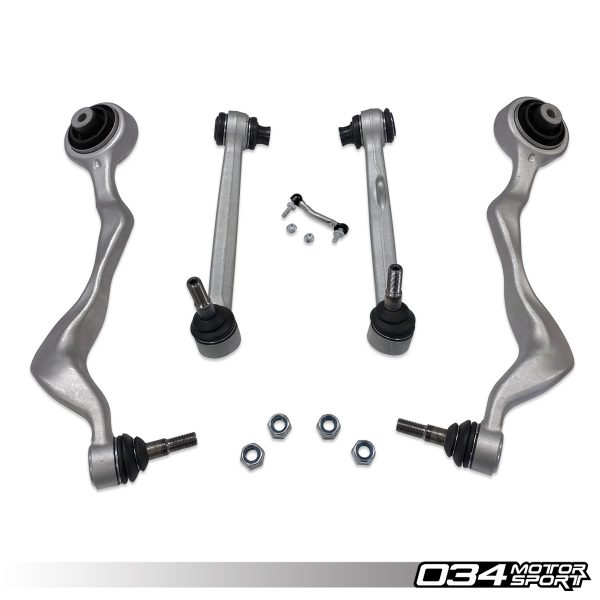 The factory front control arms are an integral part of the BMW E9X chassis suspension, but can start wearing out as early as 40,000 miles - especially on enthusiast-owned vehicles which are driven hard on the street or track. As the rubber bushings degrade and ball joints develop play, alignment is compromised and steering becomes less precise.
034Motorsport's complete Density Line Control Arm Kit is designed to be a performance replacement for all eight of the factory front upper and lower control arms. Featuring high-durometer rubber bushings and high-quality ball and Heim joints, Density Line Control Arms are engineered to limit unwanted deflection in the suspension, resulting in tighter handling and more precise steering response than even brand new factory control arms can offer. This kit includes the necessary headlight sensor rods.
The M3 style design adds an additional -0.75° of camber over the non-M designs, leading to improved handling feel & steering precision.
Features:
Complete, Drop-In Replacement for Factory Control Arms
Offers Improved Handling Feel & Steering Precision
High-Durometer Rubber Bushings (65 Durometer)
Includes New and Stronger Ball Joints
Increases Negative Camber by -0.75° over Non-M Arms
Includes Headlight Sensor Rod
What's Included:
Front Lower Control Arms
Headlight Sensor Rod
Control Arm Installation Hardware Kit