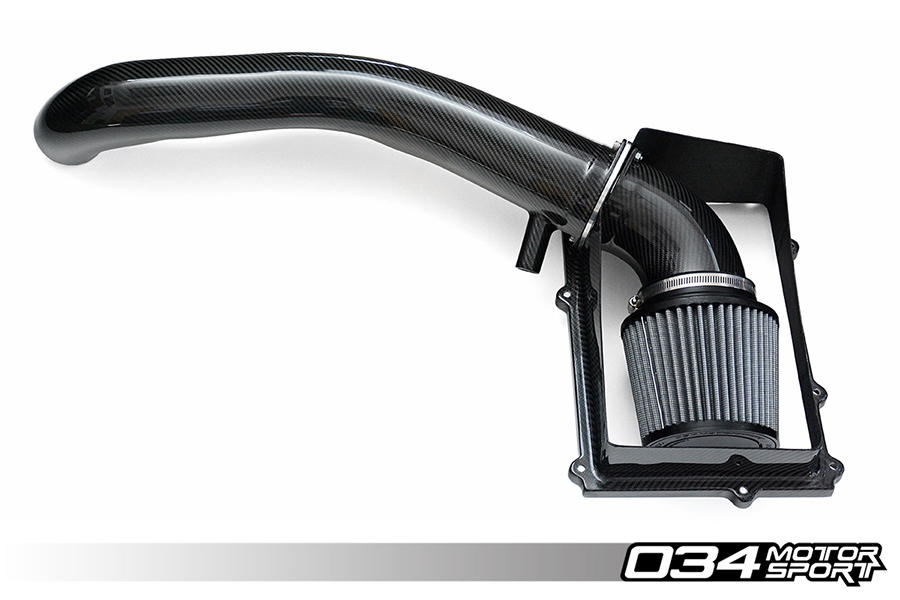 034Motorsport's engineers spent extensive effort developing this Carbon Fiber Audi TT RS Cold Air Intake System to yield horsepower and torque increases on the 2.5 TFSI. During the development process, many iterations were designed, prototyped, and tested, ultimately resulting in this beautifully-manufactured Carbon Fiber Cold Air Intake System.
Developing the Carbon Fiber Audi TT RS Cold Air Intake
It goes without saying that anything coming out of Quattro GmbH is engineered for performance. Fitted with a turbocharged inline 5 cylinder engine mated to a manual gearbox and Haldex All-Wheel-Drive System, the Audi TT RS is no exception. The vehicle makes an exceptional street car and weekend track-day weapon out of the box, but in many ways is limited in potential by some of the factory components.
Since its debut in North America four years ago, 034Motorsport has been developing the Audi TT RS on the street and race track to extract more performance and refinement from the already capable platform. In that time, we extensively tested both factory-turbocharged and upgraded turbo vehicles to establish baselines and make comparisons between the stock airbox, aftermarket panel filters, and full intake systems.
Preliminary Intake Testing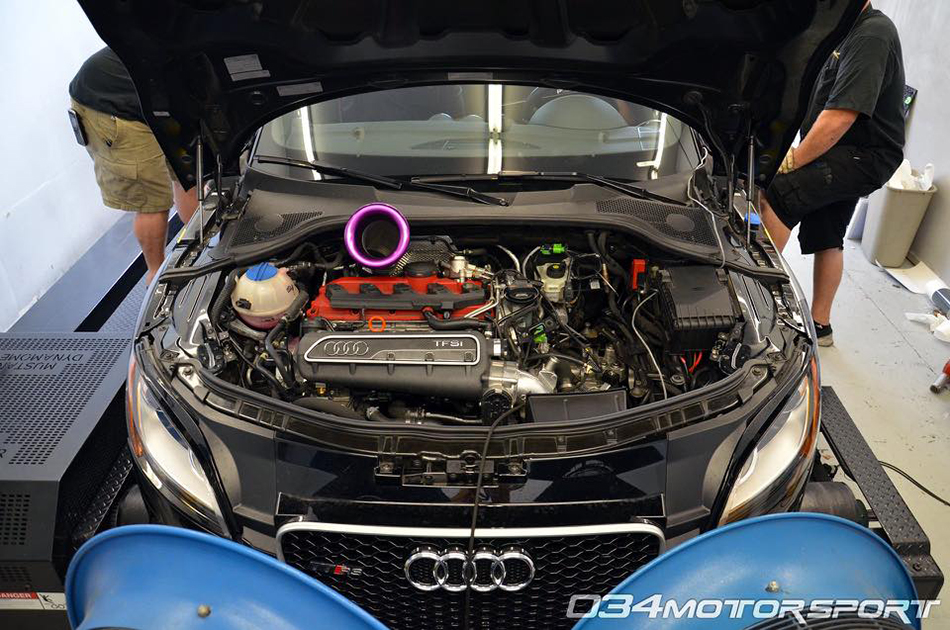 When preparing our Audi TT RS for the 2013 European Car Magazine Tuner Grand Prix, we were able to show definitive improvements when replacing the factory airbox and intake tube on a big turbo configuration. While it was a preliminary test with a "dyno queen" style setup, this data helped us shape the design strategy for our production Audi TT RS Cold Air Intake System.
Design Concept
The 2.5 TFSI engine utilizes speed-density engine control, which meant that the 034Motorsport Audi TT RS Cold Air Intake System's design would not be limited by a MAF sensor. 034Motorsport's goal was to provide as much volume, cross-sectional area, and flow as possible from the filter all the way to the compressor inlet.
Since Audi engineers spend a great deal of time optimizing their components, we thoroughly analyzed the factory airbox design, and took care to not reinvent the wheel in our engineering approach. This mindset helps ensure meaningful improvements resulting from calculated decisions, and usually leads to elegant, OEM+ upgrades like this air intake system. In the case of the Audi TT RS, the configuration of the factory lower airbox proved to be ideal, with its forward and side air inlets and secure mounting in the engine bay. The airbox outlet to turbocharger inlet tubing and flex sections, however, were disruptive to flow and a restriction even on stock turbo vehicles.
Modeling the Intake
With the aid of our in-house CMM tools, 034Motorsport engineers scanned the engine bay and critical features to better understand space constraints, and allowing them to model parts in CAD to directly replace factory pieces.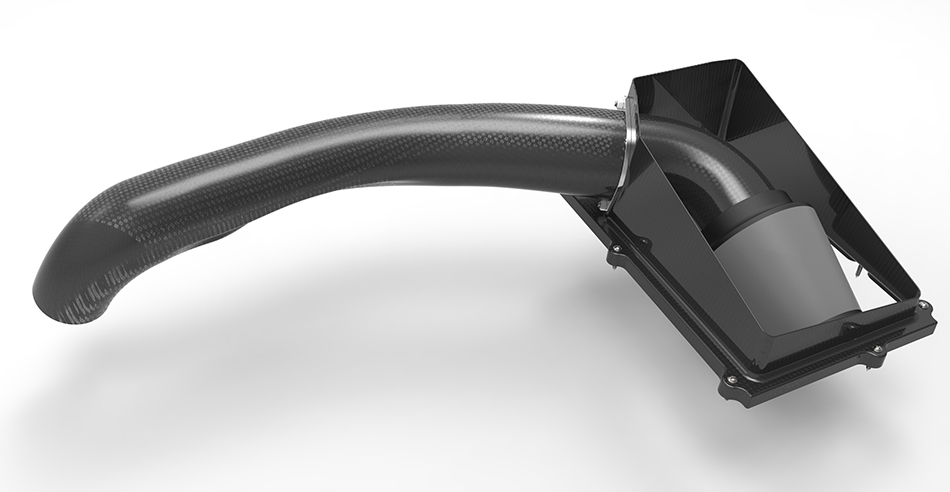 The space limitations created by the firewall, high pressure fuel pump, and valve cover left us with a maximum allowable cross-sectional area equal to that of a 90mm diameter cylinder. The 034Motorsport Air Intake Tube was designed to have adequate spacing to clear the firewall and features complex organic geometry to maintain cross-sectional area while accommodating the factory valve cover and high-pressure fuel pump. This primary tube connects to the Carbon Fiber Upper Airbox Heat Shield, which interfaces with the factory lower airbox and takes advantage of factory air inlets and mounting locations.
Working with Carbon Fiber
Manufacturing the Audi TT RS Cold Air Intake System in carbon fiber made it possible to work with complex, organic molded shapes. 034Motorsport engineers used this to their advantage to keep the cross-sectional area of the Carbon Fiber Air Intake Tube as large as possible from the 101mm (4") air filter to the integrated transition to the factory turbo inlet. All of the carbon fiber components also feature a fiberglass backing layer to aid in isolating cold, dense intake air from the heat of the engine bay.
Prototyping & Testing
Once the initial 3D CAD model was finished, prototype parts were 3D printed in house from ABS plastic for fitment verification and and performance testing. The printed the ABS plastic parts were then installed on multiple test vehicles to verify gains with various turbocharger configurations and tuning.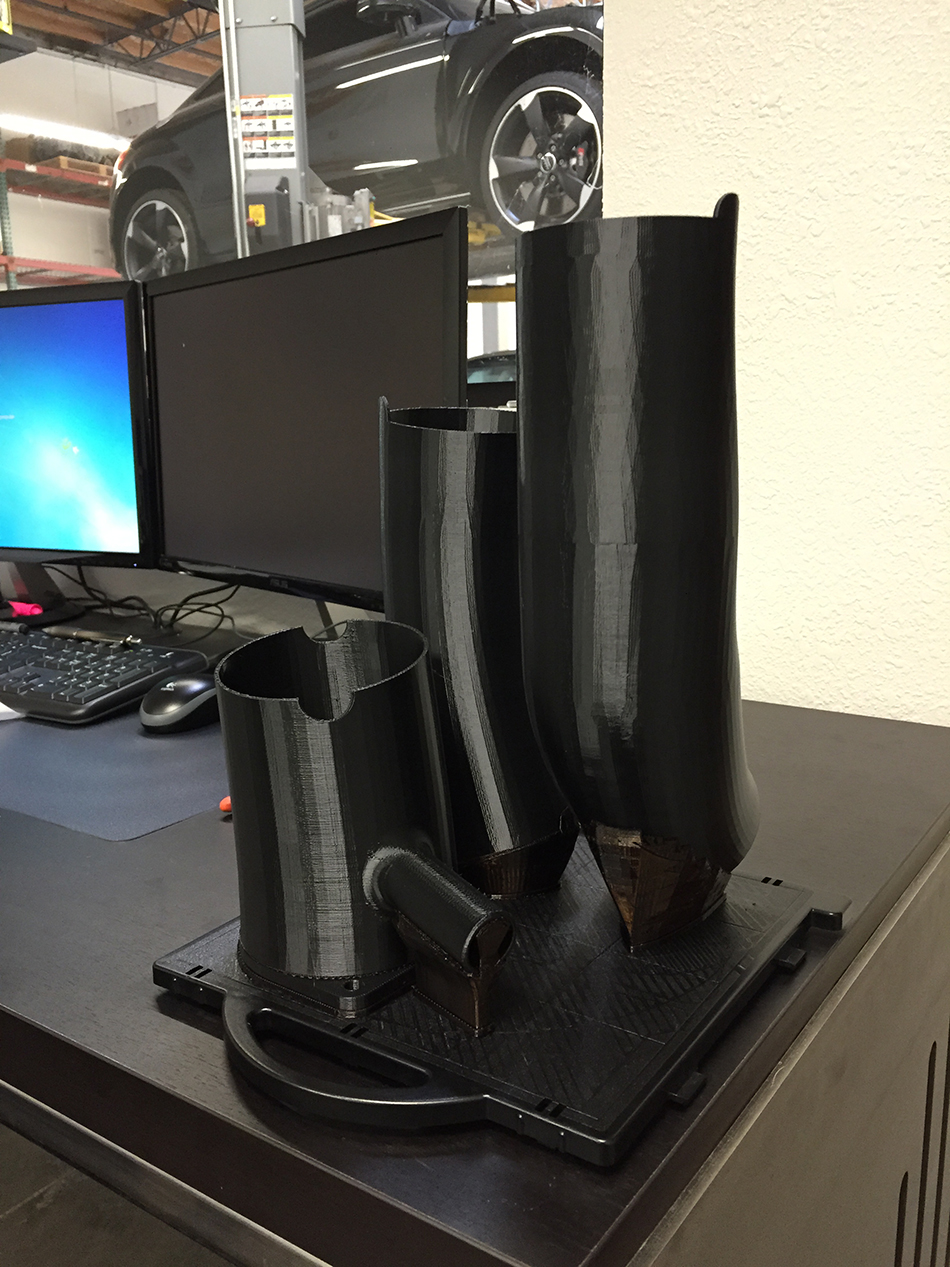 Further revisions were printed to fine tune clearances and geometry. The final revision of the intake showed peak gains of up to 16 crank horsepower and 13 ft-lbs of torque on stock turbo tunes, and over 35 crank horsepower and 24 ft-lbs with an upgraded turbocharger.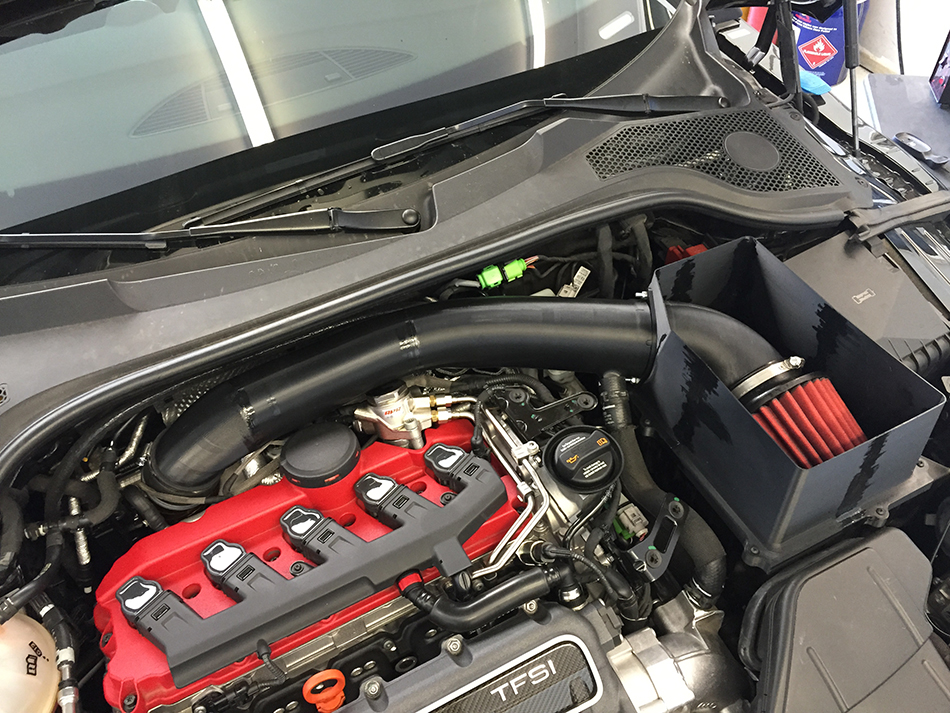 With the design finalized, a prototype carbon fiber intake was created and extensively tested for durability, quality, and fitment. It has now found a home on a TT RS race car through our partnership with Compass360 Racing.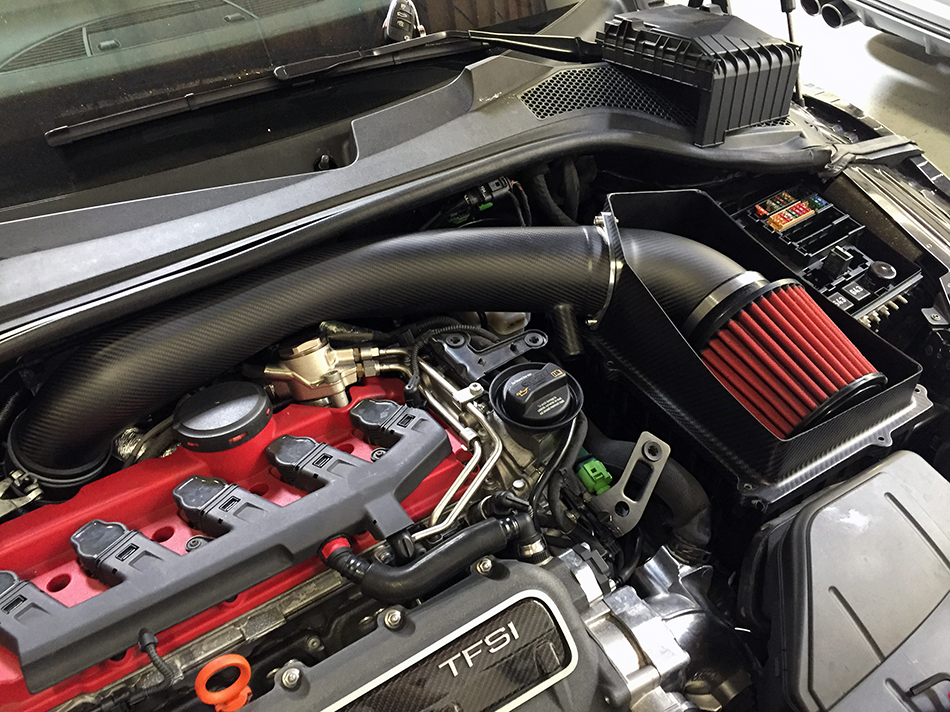 Final Production Parts
The production version of the Carbon Fiber Audi TT RS Cold Air Intake features a gloss finish to match the factory carbon fiber trim in the 2.5 TFSI engine bay. Even the direction of the weave on the primary tube matches that of the factory pieces. At 034Motorsport, there is no such thing as a detail too small and we believe that every design aspect is important when it comes to developing our products.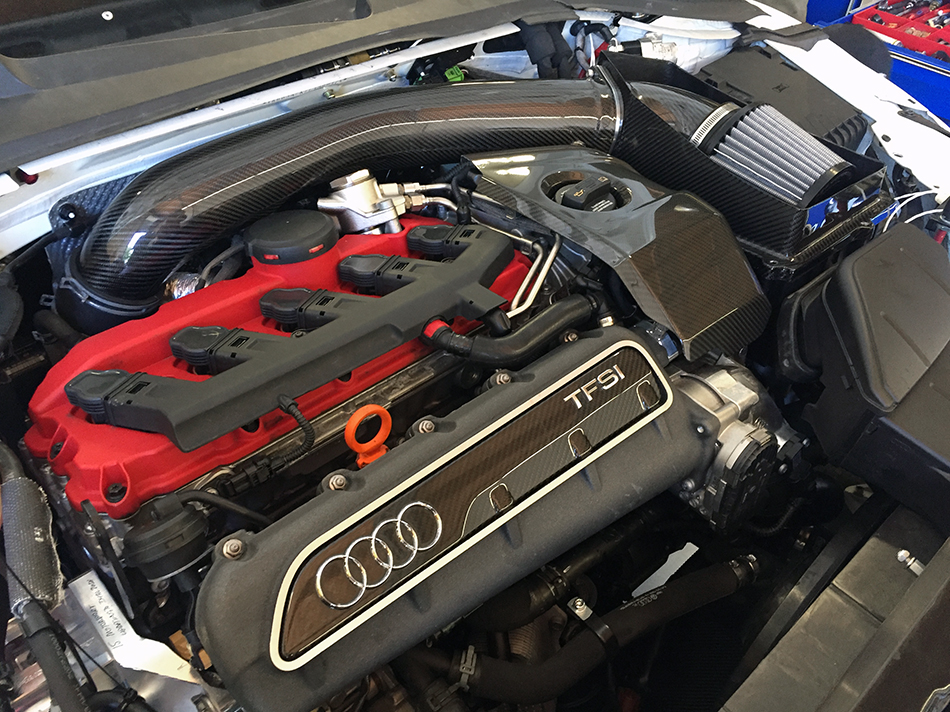 Want to know more about the 034Motorsport Audi TT RS Carbon Fiber Cold Air Intake? Continue reading below to learn about individual components and see back-to-back dyno comparisons.
Maximizing Airflow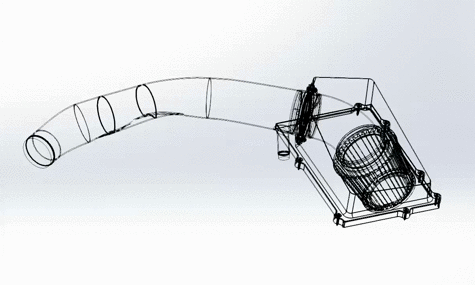 034Motorsport engineers first created a CFD-optimized carbon fiber intake tube, which is a direct, high-performance replacement for the plastic factory accordion hose. Using CAD software and 3D scanning technology, 034Motorsport was able to maximize the cross-sectional area of the intake tube while being mindful of space constraints, including the factory high-pressure fuel pump and firewall.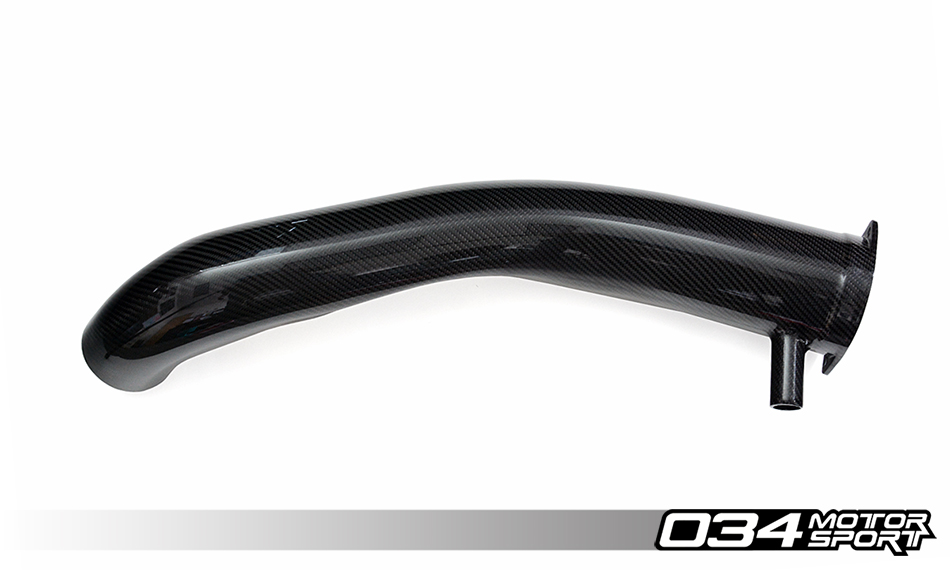 The resulting part is a functional work of art - maximizing performance given the factory space constraints and featuring smooth transitions that ensure optimal airflow to the turbo inlet.
Minimizing Intake Air Temperature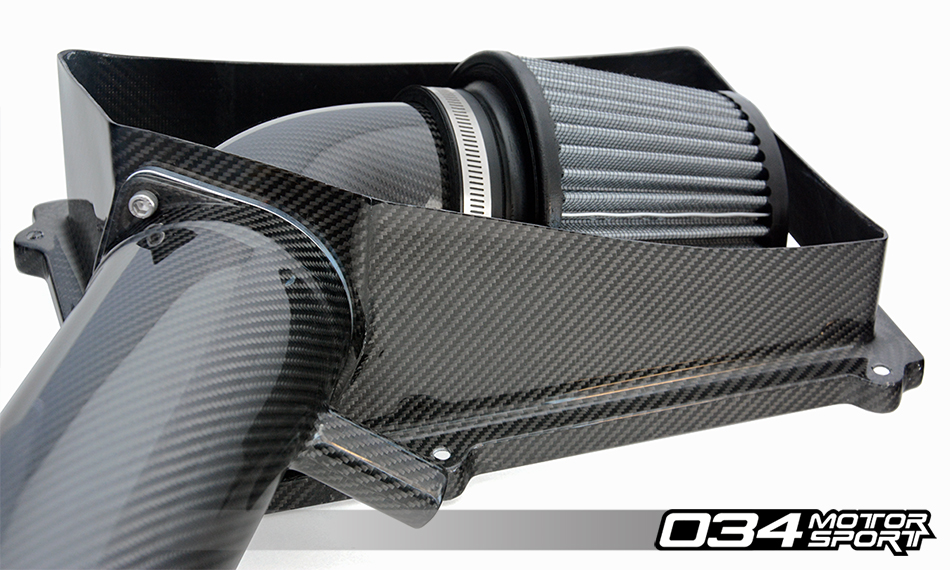 To ensure that the 034Motorsport Cold Air Intake System draws in cool, dense air, the system includes a carbon fiber heat shield to replace the upper airbox. Bolting to the factory lower airbox, this heat shield allows the high-flow conical filter to breathe cold air from the factory inlet duct before the radiator. Both the carbon fiber heat shield and carbon fiber intake tube feature a fiberglass backing layer to aid in isolating cold, dense intake air from the heat of the engine bay.
Performance Air Filter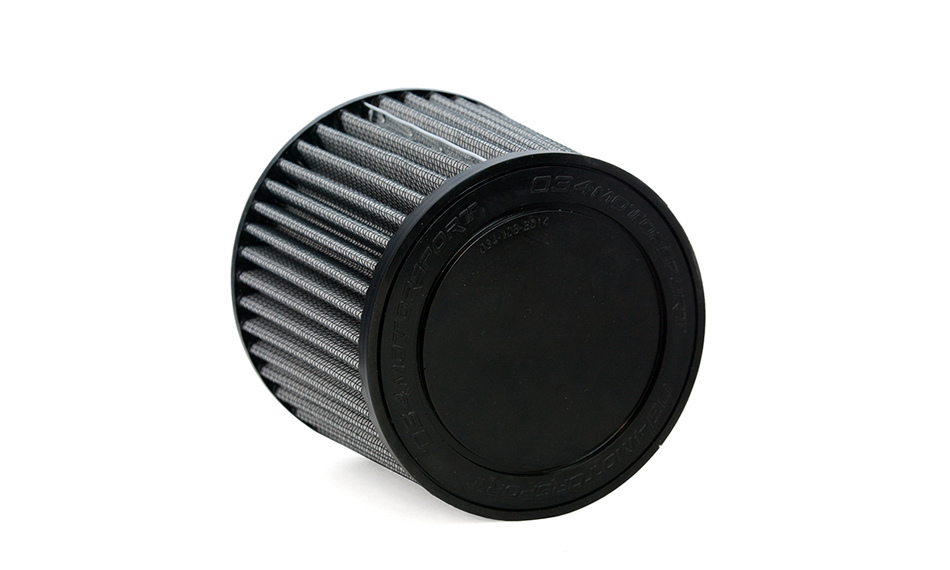 The 034Motorsport Carbon Fiber Cold Air Intake system houses a high-flow conical air filter with double-layer pleated cotton filtration medium. This air filter design offers increased flow through an enlarged filtration surface, while ensuring superior filtration.
OEM+ Fit & Finish
034Motorsport carefully selected the carbon fiber weave on the intake tube and upper airbox heat shield to match the factory carbon fiber engine trim found in the Audi TT RS's 2.5 TFSI engine bay. The 034Motorsport Audi TT RS Cold Air Intake System was designed to fit like a factory part, and mates directly to the turbo inlet pipe and factory lower airbox to provide an OEM+ look.
Dyno-Verified Wheel Horsepower & Torque Gains
034Motorsport's engineering and development efforts were validated on multiple vehicles using our Mustang AWD Dynamometer to ensure that the 034Motorsport Audi TT RS Cold Air Intake System provided substantial increases in horsepower and torque on both stock turbo vehicles and ones with upgraded turbo kits alike.
Peak Wheel Horsepower & Torque with Stage 2:
Stock Intake: 377 Wheel Horsepower / 421 Wheel Foot-Pounds of Torque
Audi TT RS Cold Air Intake: 390 Wheel Horsepower / 429 Wheel Foot-Pounds of Torque
Peak Wheel Horsepower & Torque with Stage 3:
Stock Intake: 460 Wheel Horsepower / 424 Wheel Foot-Pounds of Torque
Audi TT RS Cold Air Intake: 491 Wheel Horsepower / 443 Wheel Foot-Pounds of Torque
Carbon Fiber Audi TT RS Cold Air Intake Features & Details
Features:
Developed In-House by 034Motorsport's Engineering Team
High-Quality Carbon Fiber Construction
OEM+ Fit & Finish Matches Factory Carbon Fiber Engine Trim
Dyno-Proven Horsepower & Torque Gains
Improved Engine & Induction Sounds
Increased Throttle Response
Compatible with Stock, RS500, and APR Stage 3 Turbochargers
Large-Diameter CFD-Optimized Air Intake Tube
Fiberglass-Backed Heat Shield
Improved Airflow from Factory Airbox & Intake Tube
High Performance Pleated Cotton Air Filter
What's Included:
034Motorsport Carbon Fiber Audi TT RS Cold Air Intake Tube
034Motorsport Carbon Fiber Audi TT RS Cold Air Intake Upper Airbox Heat Shield
034Motorsport Double-Layer Pleated Air Filter
Installation Hardware
Compatible Vehicles:
2012 - 2013 Audi TTRS 2.5 TFSI (8J)
Wheel Horsepower Dyno | Stage 2 100 Oct | 034Motorsport Carbon Fiber Audi TT RS Cold Air Intake vs. Stock Airbox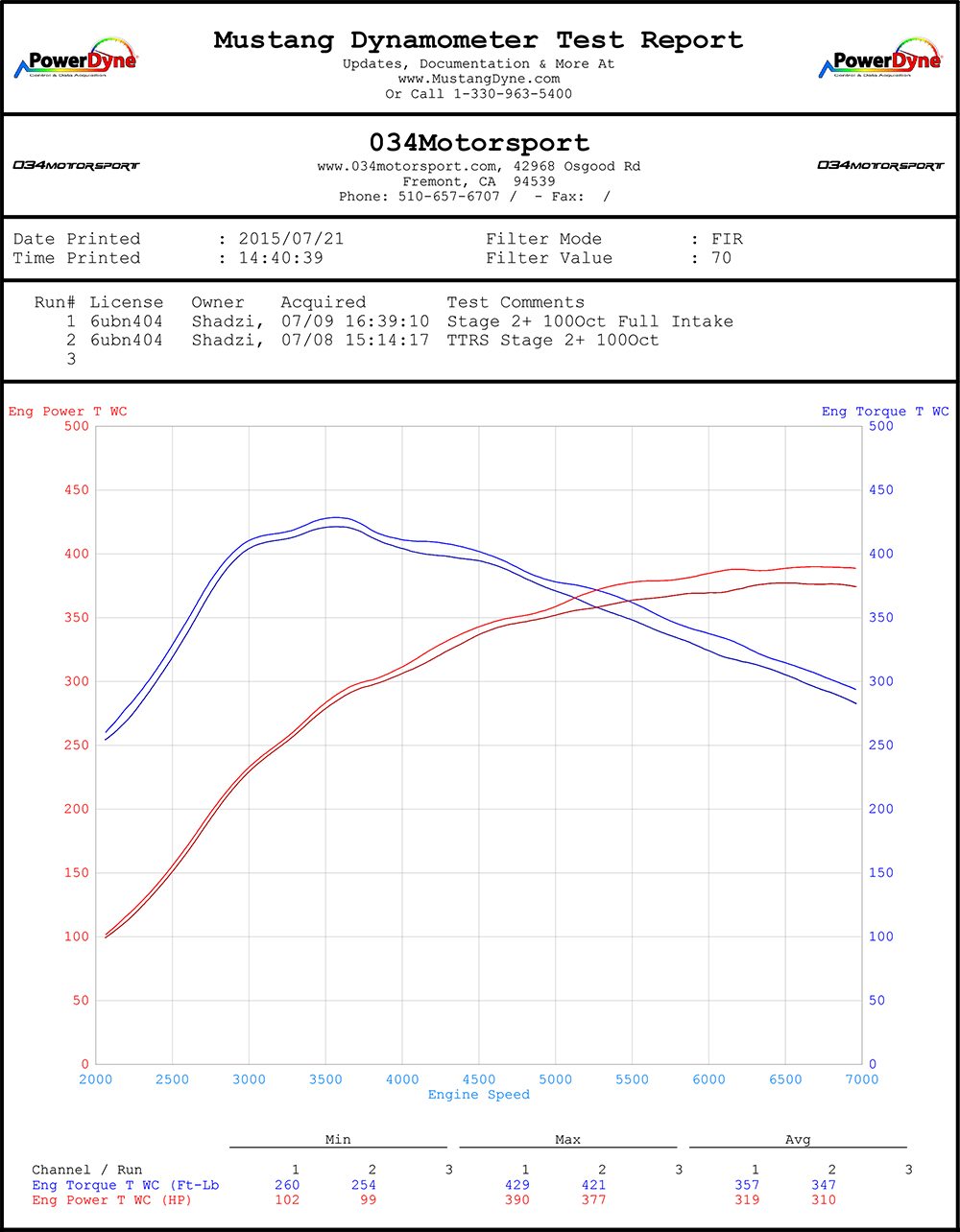 Wheel Horsepower Dyno | Stage 3 100 Oct | 034Motorsport Carbon Fiber Audi TT RS Cold Air Intake vs. Stock Airbox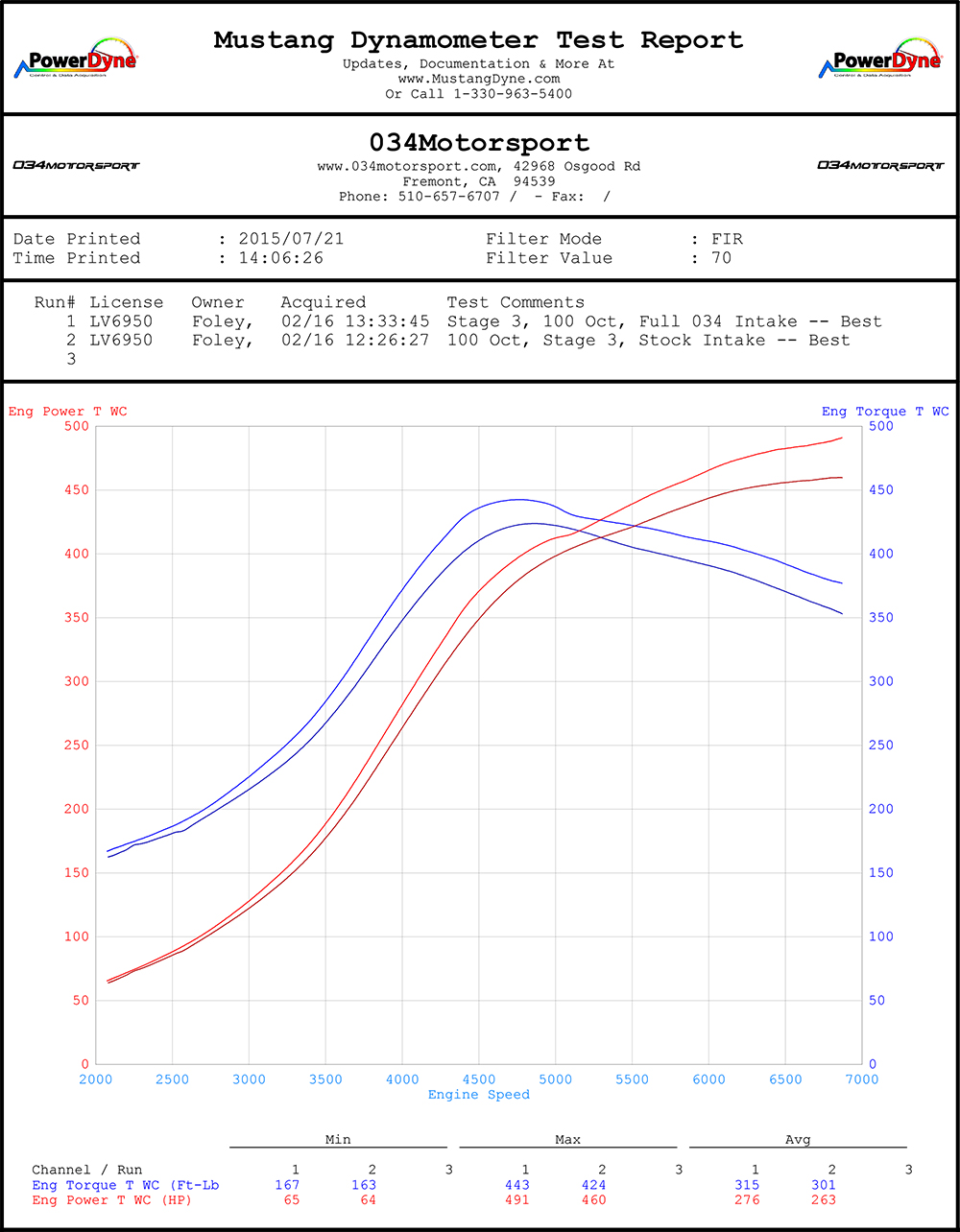 Developing the Carbon Fiber Audi TT RS Cold Air Intake