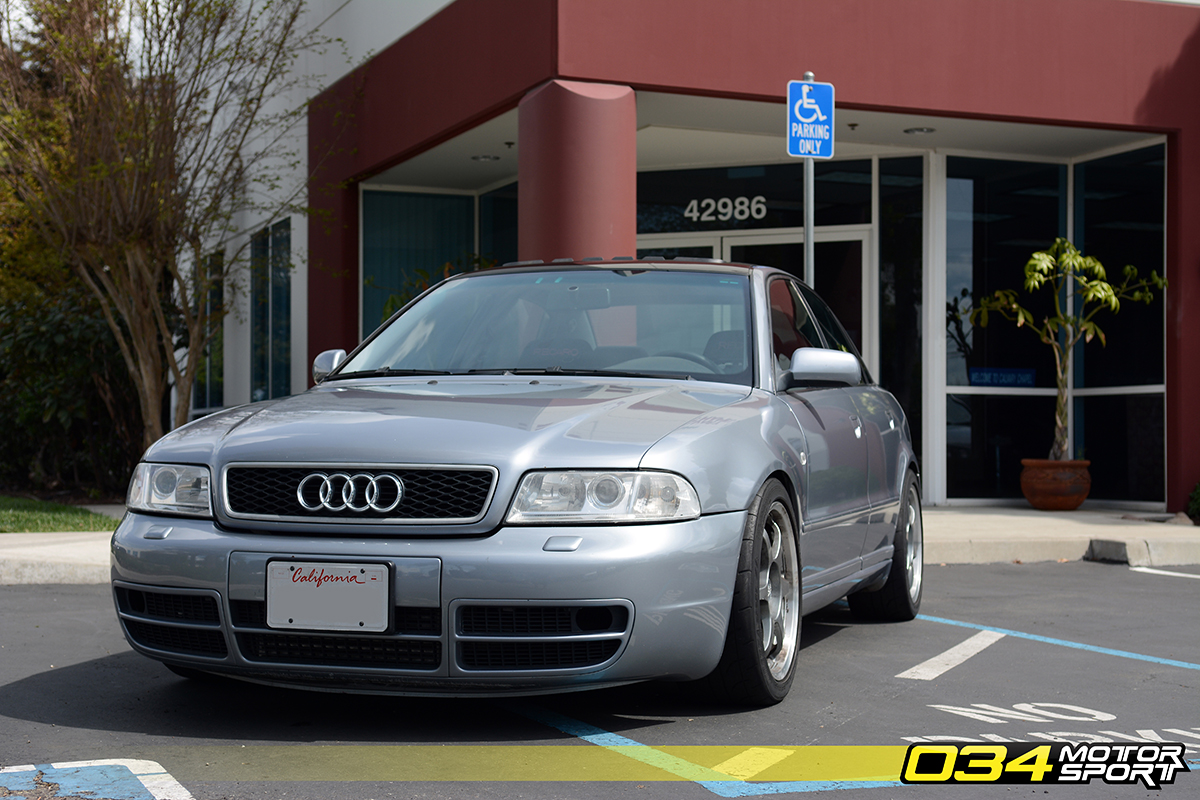 We met Dillon when he first moved to the Bay Area about 7 years ago, and his 1998.5 Audi A4 1.8TQM was already a work in progress. With a built engine, custom turbo setup and piggyback engine management, this Big Turbo B5 Audi A4 1.8T Quattro was well on its way to making good power, but had some tuning and drivability issues to sort out in order to make the most of his setup.
Dillon initially approached 034Motorsport to get rid of his piggyback engine management in favor of our Custom Motronic ME5 Tuning for the factory ECU. We've since worked with his A4 through numerous upgrades and setup changes, installing new parts and optimizing the software to ensure optimal performance. In the past few years, this A4 has evolved into a formidable machine that is equally capable on the street and track, with a clean OEM+ look to match.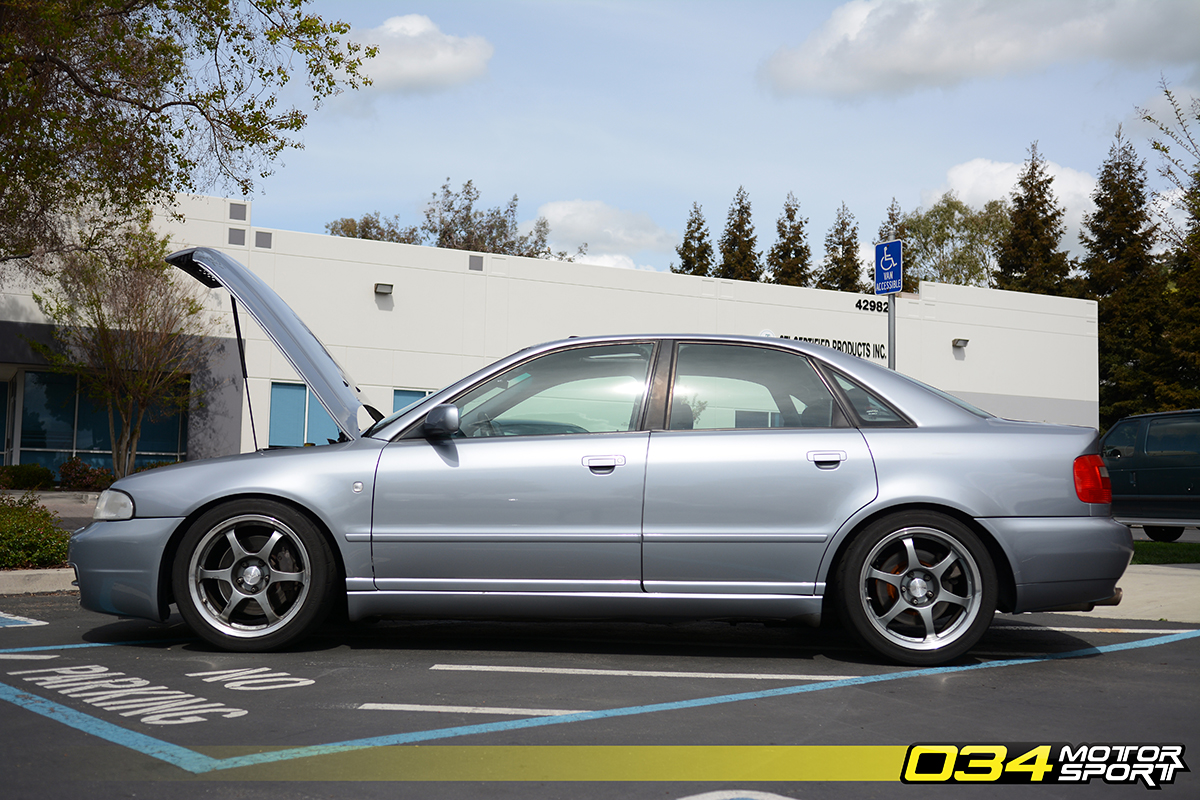 Today, Dillon's A4 features a fully-built AEB Block, stroked to 92.8mm with a Forged ABA Crankshaft and bored to accommodate  83mm Forged JE Pistons for a total of 2,008cc of displacement. Scat Forged Rods join the pistons to the crank, and are capable of handling the impressive torque that his big turbo setup delivers. Compression was dropped to 8.5:1 to allow for adequate timing and boost on 91 octane fuel, and the bottom end was buttoned up with 034Motorsport Coated Rod & Main Bearings and Raceware Head Studs & Main Studs for peace of mind.
A ported, polished, and blended ADR Cylinder Head is bolted to the top, with Schirck 252/260 Cams, Supertech Oversized Intake & Exhaust Valves, High-Rate Valve Springs, Titanium Retainers, and an Autotech Adjustable Cam Gear. A Precision CEA 5557 Turbocharger breathes through an AEM DryFlow Air Filter and 034Motorsport 85mm HPX MAF Housing, into a 034Motorsport Front-Mount Intercooler and through a VR6 DBC Throttle Body bolted to an Integrated Engineering Intake Manifold. The exhaust side features a SPA Turbo Manifold, Tial 38mm Wastegate, 034Motorsport 3" SPA Downpipe, and 034Motorsport 3" V-Band Exhaust System. An upgraded Bosch 0344 Drop-In Fuel Pump feeds a set of 750cc EV14 Fuel Injectors housed in a 034Motorsport 1.8T Billet Fuel Rail to make sure that there is plenty of fuel available under boost. A South Bend OFE DXD Stage 4 Clutch and Unorthodox Racing Flywheel replaced the stock dual-mass flywheel and clutch to hold the new-found torque.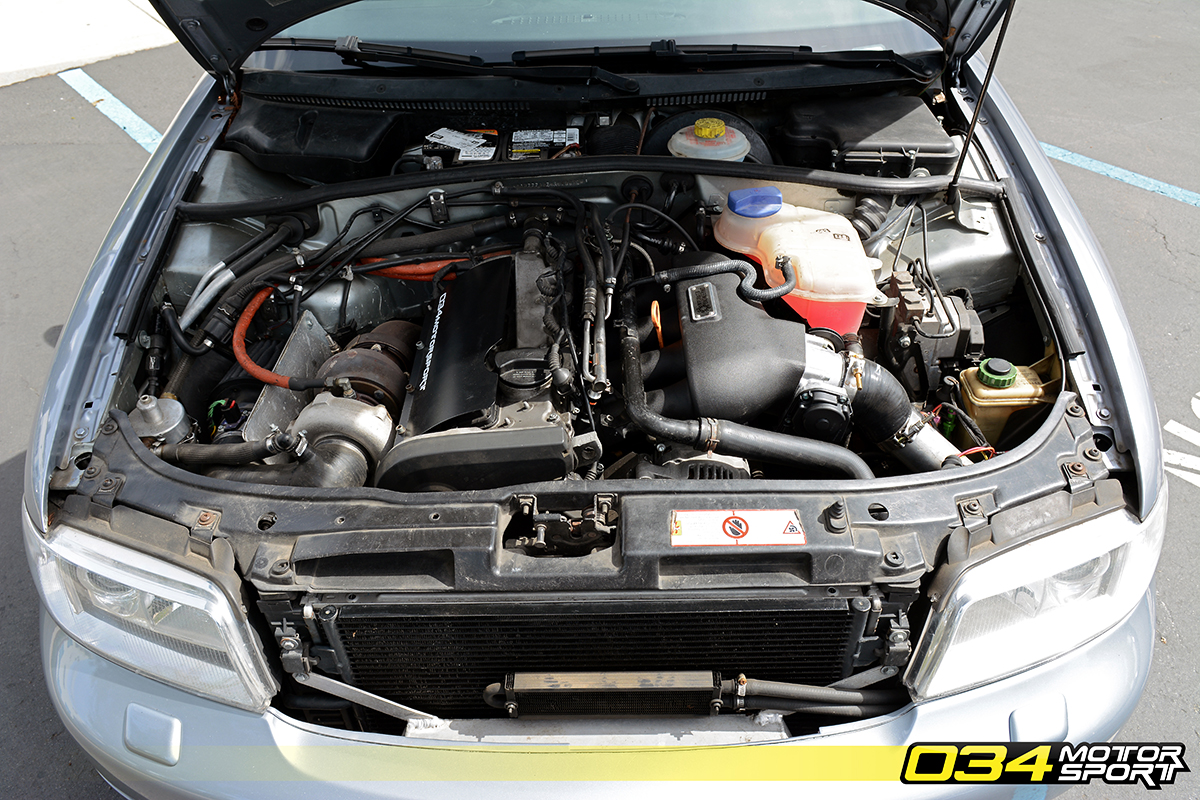 The factory Bosch ME5 ECU was custom calibrated on 034Motorsport's Mustang AWD Dyno at 25 PSI on 91 octane fuel, with Dillon's Big Turbo A4 putting down an impressive 364 horsepower and 302 foot-pounds of torque at the wheels.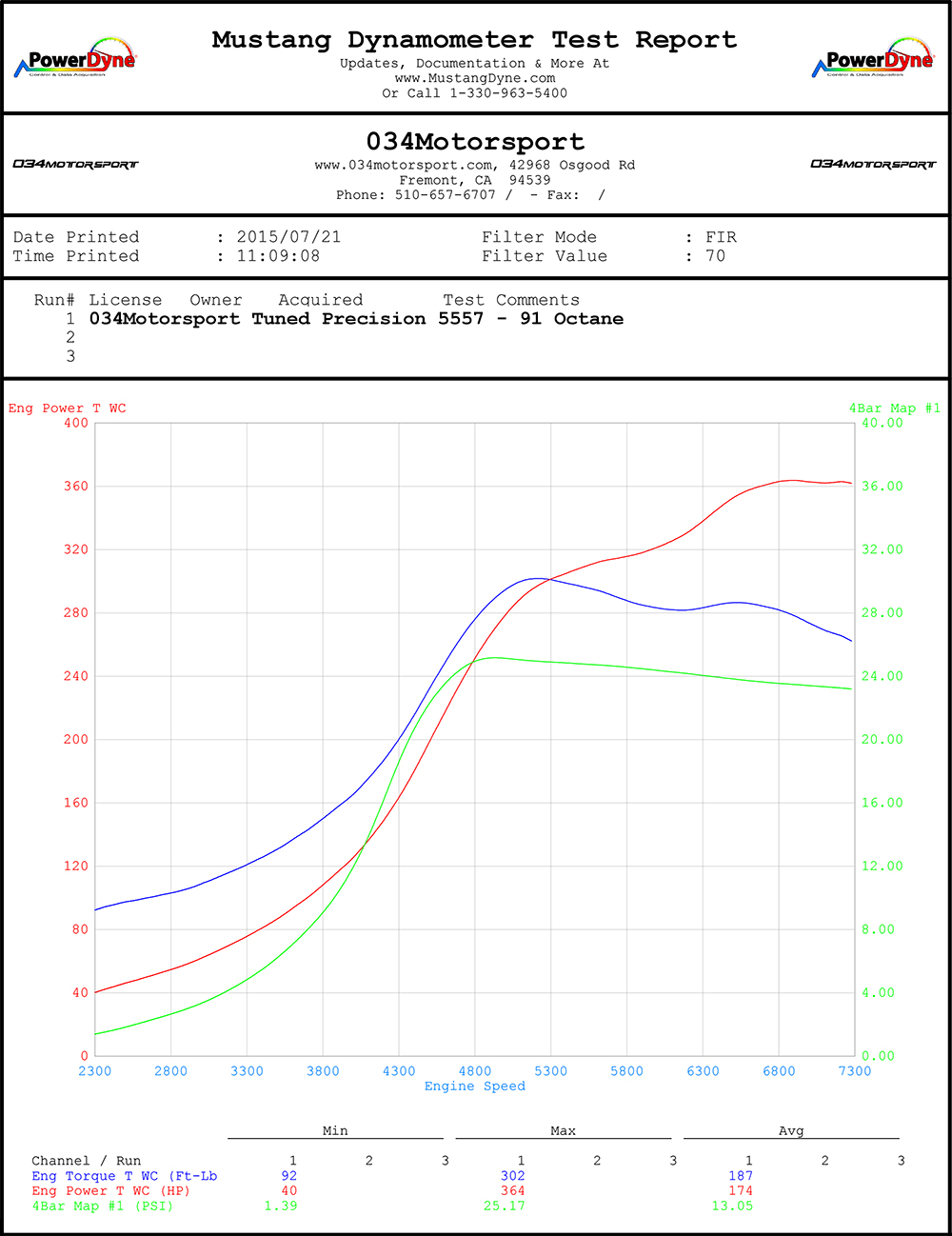 To make sure the rest of the A4 can keep up with the added power, Dillon added a larger brakes for the front and rear, as well as some SSR wheels with stickier Dunlops 245s all around. A Stasis TrackSport Coilover Suspension, 034Motorsport Rear Sway Bar, and Rear Subframe Reinforcement Kit keep the chassis composed through corners, which can now be entered at much higher speed.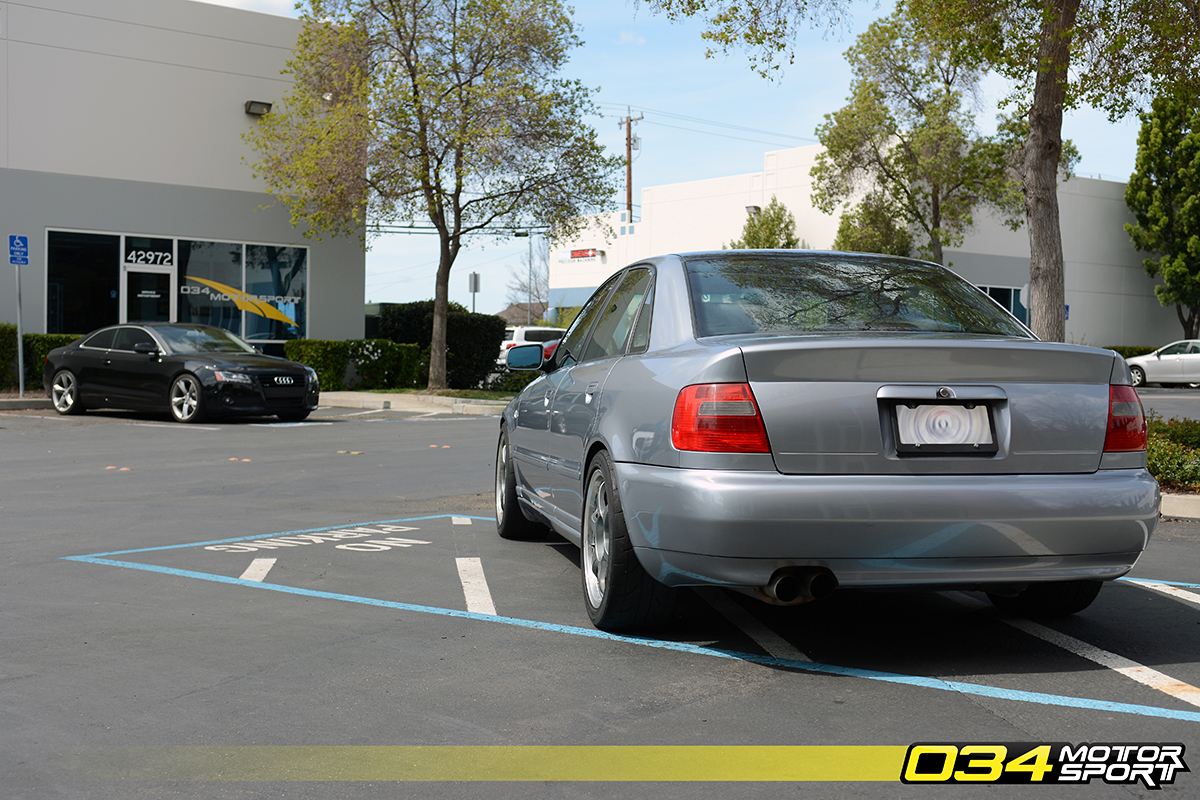 Builds like Dillon's Big Turbo A4 showcase the performance potential and tunability of the B5 chassis and 1.8T engine. The finished product is a unique car that is the result of a "form follows function" approach to modding, ensuring plenty of performance and a solid foundation for future upgrades and improvements. 034Motorsport is proud to work with enthusiasts like Dillon who are interested in more than simple bolt-ons and aesthetic modifications, and are constantly thinking about pushing their project to the ext level of performance.
Mod List | Dillon

's Big Turbo B5 Audi A4 1.8T Quattro

Head:
ADR Head (Ported, Polished, and Bowl Blended)
Schrick 252/260 Camshafts
Supertech Inconel +1mm Oversized 1.8T Exhaust Valves
Supertech 1.8T High-Rate Valve Springs and Titanium Retainers
Autotech Timing Adjustable 058 1.8T Cam Gear
Bosch F6DTC Spark Plugs
Bottom End:
058 AEB Short Block Modified for 92.8mm Stroke Crankshaft
Raceware Head Studs
Raceware Main Studs
ABA Forged Crankshaft (92.8mm Stroke)
JE 83mm Forged 1.8T Pistons (8.5:1 Compression)
Scat 144x20mm Forged 1.8T Connecting Rods with ARP Bolts
034Motorsport Coated 1.8T Main Bearings
034Motorsport Coated 058 1.8T Rod Bearings
Multi-Layer Steel Big Bore 1.8T Head Gasket
034 Custom Oil Cooler Mounted in SMIC Location
Turbo / Exhaust:
Precision CEA 5557 Ceramic Ball Bearing Turbo with Billet Compressor
SPA 18T Top mount Exhaust Manifold
Tial 38mm Wastegate
034Motorsport 3" V-Band B5 Audi A4 1.8T Downpipe for SPA Manifold
034Motorsport  3" V-Band B5 Audi A4 1.8T Stainless Steel Exhaust System
034Motorsport 200 Cell High Flow Catalyst
034Motorsport Turbo Oil Line Kit with Fire Sleeve
Hallman Manual Boost Controller (Set at ~24 PSI)
Intake / Fueling:
Custom ME5 Dyno Tuning by 034 Motorsport
PMAS HPX Slot MAF Sensor
034Motorsport Billet 85mm MAF Housing
AEM Dryflow Air Filter
034Motorsport Custom Longitudinal 1.8T Silicone Intake Boot with Custom Heat Shield
034Motorsport Large Core Intercooler Kit with 034 Aluminum Piping Kit
Integrated Engineering Intake Manifold
VR6 DBC Throttle Body
Billet Aluminum 1.8T Diverter Valve
034Motorsport B5 Audi A4 Drop-In Bosch 044 "Motorsport" Fuel Pump Upgrade
034Motorsport Adjustable Fuel Pressure Regulator
Bosch 750cc EV14 injectors
034Motorsport Custom V-Band Catch Can (With Oil Pan Return)
Drivetrain:
01A 5 Speed Transmission
South Bend OFE DXD Stage 4 Clutch
Unorthodox Lightweight Aluminum Flywheel
V&S Short Shifter
B5 Audi A4 Polyurethane Engine Snub Mount Upgrade
B5 Audi A4 Performance Motor Mounts
Apikol B5 Audi A4 Quattro Rear Differential Mount
Apikol B5 Audi A4 Quattro Polyurethane Rear Differential Crossmember Bushings
Suspension / Steering:
STASiS Tracksport Coilovers (600/700 Spring Rates)
034Motorsport B5 Audi A4 Quattro Rear Anti-Sway Bar
034Motorsport Billet Aluminum Rear Subframe Reinforcement Brackets
034Motorsport Power Steering Cooler
Wheels / Brakes:
17x8.5" SSR Competition Wheels in Anthracite/Machined Lip (ET 32)
245/40/17 Dunlop Direzza Star Spec Tires
Axis Motorsport Wheel Studs
Porsche 986 Calipers with D2 A8 312mm Rotors (Front)
300mm B6 S4 Brake Rotor Upgrade with B5 S4 Calipers (Rear)
Front and Rear Stainless Steel Brake Line Kit
Exterior / Interior:
Custom OEM Avus Silver (LY7J) Paint with Brilliant Black (LY9B) Roof insert
Rolled Fenders
OEM S4 Front Bumper, S4 Sideskirts and Door Trim, and S4 Rear Bumper Valance
OEM RS4 Front Grill
Recaro Speed Cloth Reclinable Seats with Wedge Engineering Brackets and Sliders
PLX Devices DM6 MultiGauge: Air/Fuel, Boost and Oil Pressure on Touchscreen Display
Interested in making your Audi go faster? Check out our B5 Audi A4 1.8T Performance Parts Catalog or visit the 034Motorsport Service Department - San Francisco Bay Area's Premier Audi Tuning, Maintenance, and Repair Facility!