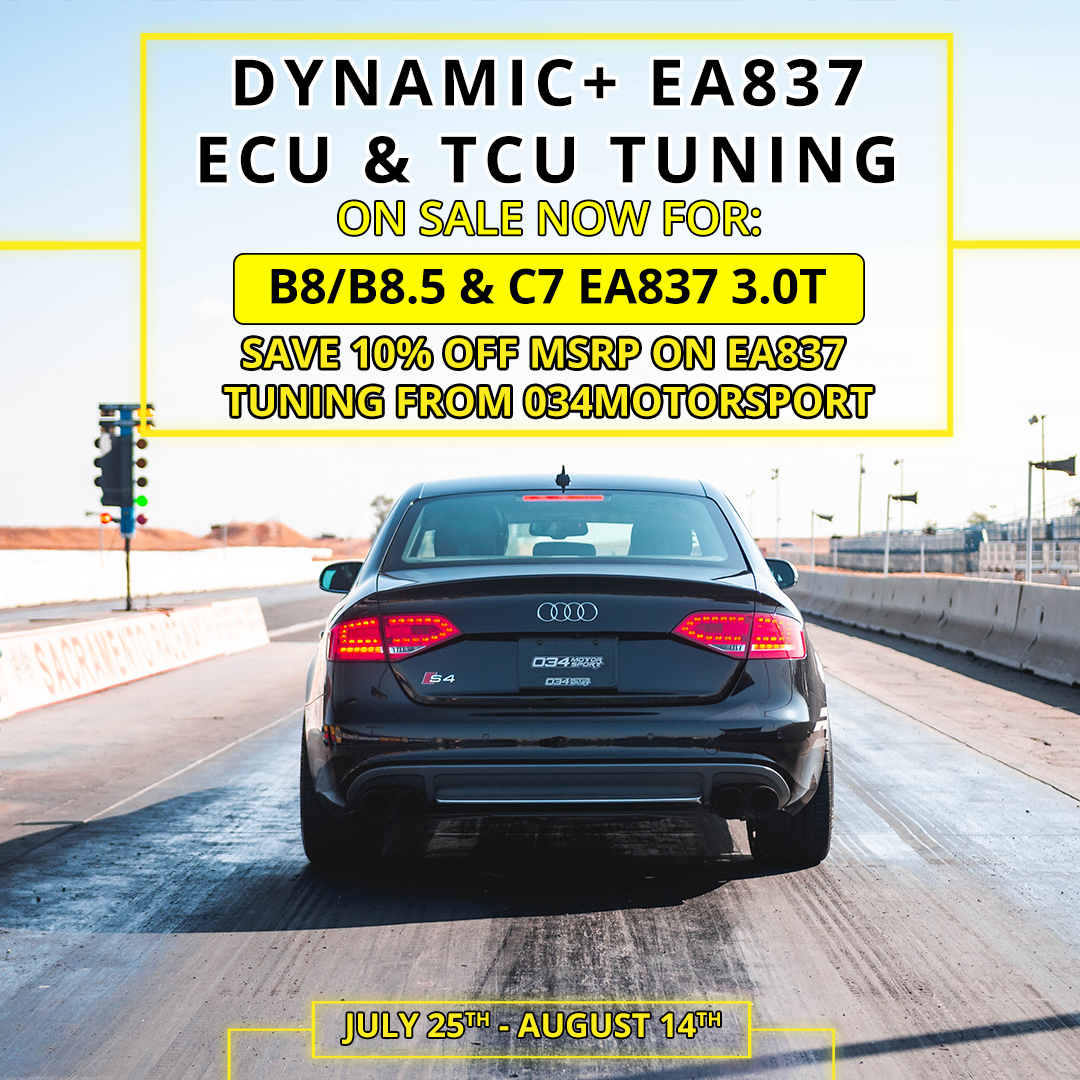 EA837 3.0T Supercharged ECU & TCU Tuning is Now 10% off MSRP through August 14th, 2023!
034Motorsport Dynamic+ Tuning for the EA837 3.0T Supercharged comes with fueling options for 91, 93, 100, 104, and E40 at no extra cost!
Power Gains:
Stock: 332 HP / 318 TQ (91 Octane)
Stage 1: 430 HP / 374 TQ (91 Octane)
Stage 2: 450 HP / 387 TQ (91 Octane)
Stage 2+: 540 HP / 491 TQ (E40 Blend)
034Motorsport Performance Software is a must-have for any B8/B8.5 Audi S4/S5, C7 A6/A7 & Q5/SQ5 powered by the 3.0 TFSI Supercharged V6 engine. 034Motorsport 3.0 TFSI tunes are flashed directly through the factory OBD-II port using the 034Motorsport Dynamic+ End User Flashing Kit, and offer dramatic increases in horsepower and torque throughout the powerband. The 034Motorsport Dynamic+ End User Flashing Kit allows customers to install their 034Motorsport Dynamic+ Performance Software themselves. In addition, End User Flashing allows Dynamic+ Performance Software customers to receive and install software updates and revisions, flash back to stock, or upgrade to the next stage of performance software for their vehicle.
Included at an additional cost is the Stage 1 Dynamic+ Performance TCU Software for DL501 DSG or AL551 ZF8 equipped models to further enhance the shifting and acceleration of your DSG/ZF8 equipped 3.0T! Flashed directly through your vehicle's OBD-II port, 034Motorsport's proprietary calibrations for the DL501 and AL551 TCU safely and effectively optimize operation for Stage 1, 2, & 2+ Dynamic+ Performance ECU Software. The result is a noticeable improvement in acceleration without sacrificing comfort or reliability. Click Here to View TCU Tune Features
034Motorsport Performance Software with California Air Resource Board (CARB) exempt Stage 1 files are available for on-road use under Executive Order D-850. 034Motorsport CARB exempt files are designed for residents of emissions-controlled environments and on-road use and are included free with the purchase of 034Motorsport Stage 1 Dynamic+ Tuning. 034Motorsport CARB exempt Performance Software offers the same great performance and reliability, now exempted from California Vehicle Code Section 27156 and the Federal Clean Air Act which prohibit modifications that increase motor vehicle emissions.
ECU Flash Features:
Generate up to 540 HP & 491 TQ on E40!
Developed In-House by 034Motorsport's Engineering Team
Dyno-Proven Horsepower & Torque Gains
Improved Supercharger Induction Sounds
Optimized Airflow to Supercharger
Improved Throttle Response
Increased Boost From Supercharger
Increased Horsepower & Torque Throughout the Powerband
Advanced Launch Control
Dial in Your Launch RPM for the Perfect Launch!
Optimized Powerband for Supercharger and Crank Pulley Upgrades
Improved Power Delivery, Acceleration, and Driving Characteristics
Available in 91, 93, 100, 104, and E40 Octanes!
Track-Tested Calibrations Ensure Consistent Power Delivery
Optimized Shift Points in Drive & Sport Mode
Increased Shift Speeds
Flashed Directly Via the Factory OBD-II Port
DL501 7-SPEED DSG TCU TUNE FEATURES:
Raised RPM Limit for Use with Stage 1/2/2+ Performance Software
Compatible with Advanced Launch Control
Optimized Shift Points in Drive & Sport Mode
Increased DSG Clutch Clamping Force
Improved Shift Speed
Manual Mode Auto Downshift Disabled
Raised Launch Control Counter Limit (From Factory 200)
Flashed Directly Via the Factory OBD-II Port - No TCU Removal Needed!