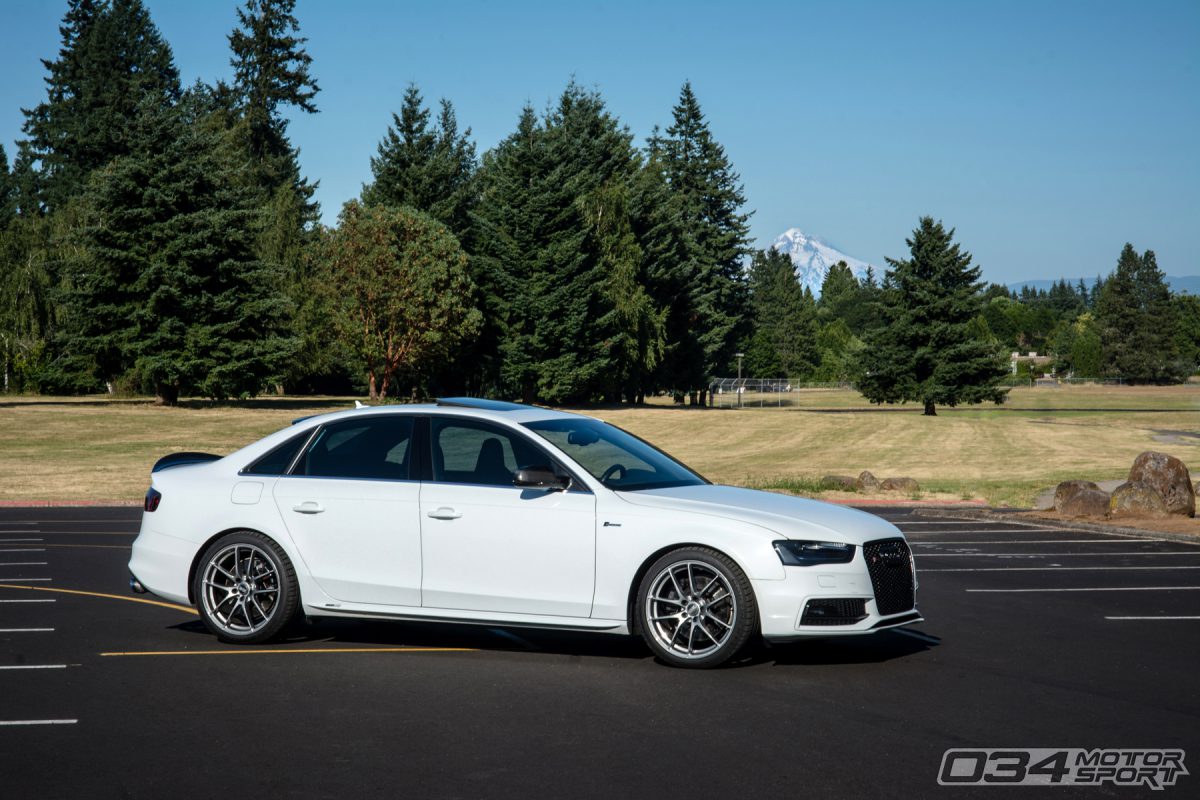 Geoff is one of a select few B8/B8.5 S4 owners looking to push the envelope of Audi's supercharged 3.0L V6 engine. His wheels are always spinning, both literally and figuratively. When Geoff's not at one of the local drag strips trying to best his 1/4 mile time, he's brewing ideas and researching how he can squeeze more power from his 3.0T powerplant. He was one of the early adopters to run an upgraded dual pulley configuration, unsure of what power gains he would see but willing to take the chance in the name of horsepower!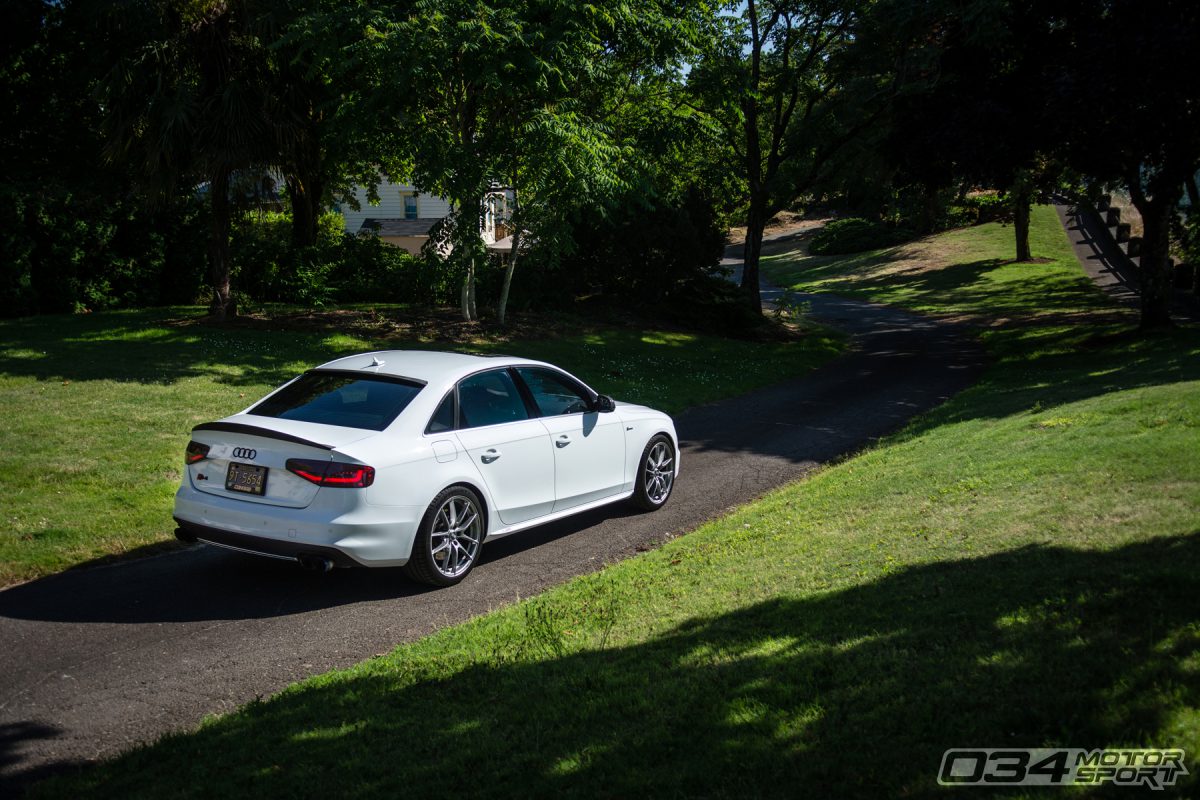 It wasn't an all out mission for the most horsepower when Geoff first bought his S4 however. He was simply in the market for a new car that would serve as a daily driver. Sounds pretty reasonable, right? After searching around for a bit, Geoff determined a B8.5 Audi S4 perfectly fit the bill for his needs and desires. He managed to pick up a 2013 S4 in Glacier White Metallic with under 35,000 miles, sporting a stasis tune and a set of RS4 wheels.
"It is in my opinion the best daily driver you can buy. Sophisticated, understated, plenty of power, active mod community, AWD for the winters and 4-doors for when you need to haul things around." - Geoff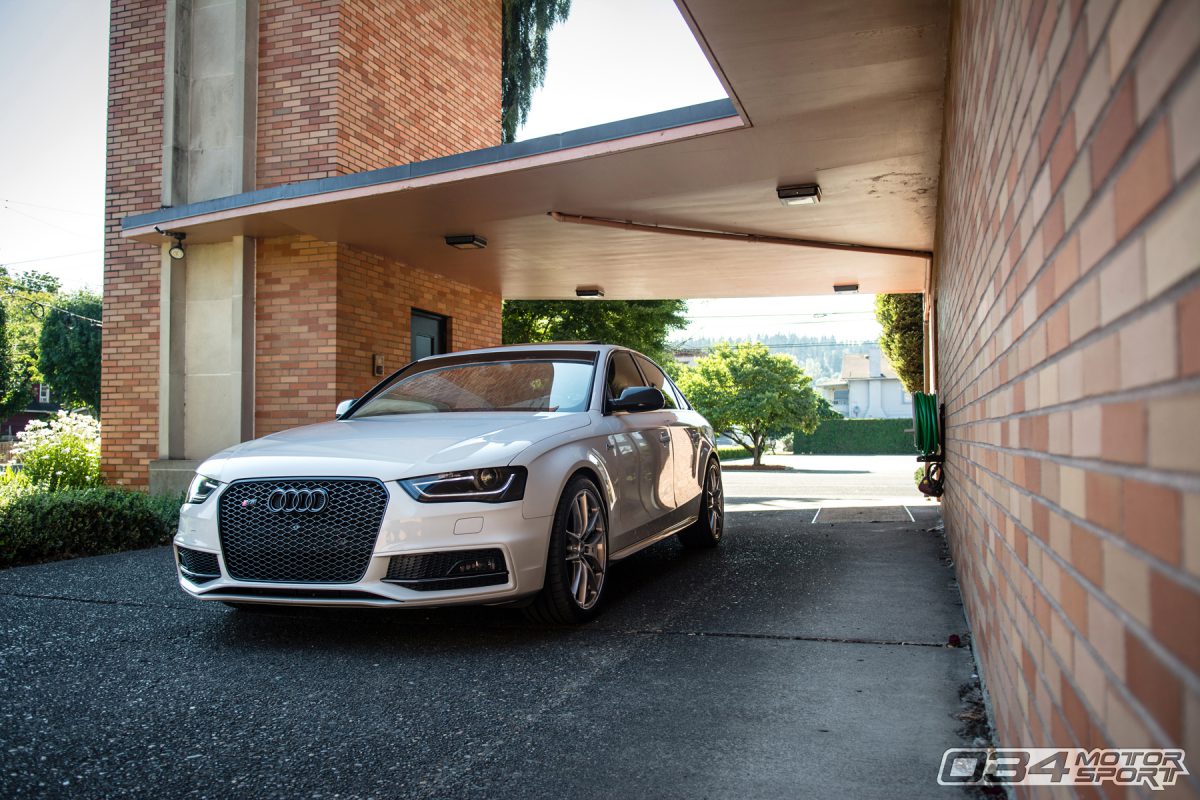 Needless to say, it sounds like he made the right decision for a daily driver. Early into his ownership with the S4, Geoff purchased an intake from USP Motorsports so he could enjoy the sweet, addictive sounds of his supercharger. He ultimately had his sights set on a Stage 2 tune, intake, and exhaust to be satisfied with the performance from the car. Once the intake was purchased, he was already 1/3 of the way to his point of satisfaction with the car. But, as any car enthusiast can attest, there is no true point of satisfaction or end of tinkering. Being "done" with your car is a myth, a dream, a mirage in the distance that we never quite attain. This endless search for automotive nirvana can be blamed entirely on "the mod bug." Once it grabs hold of you, it never lets go.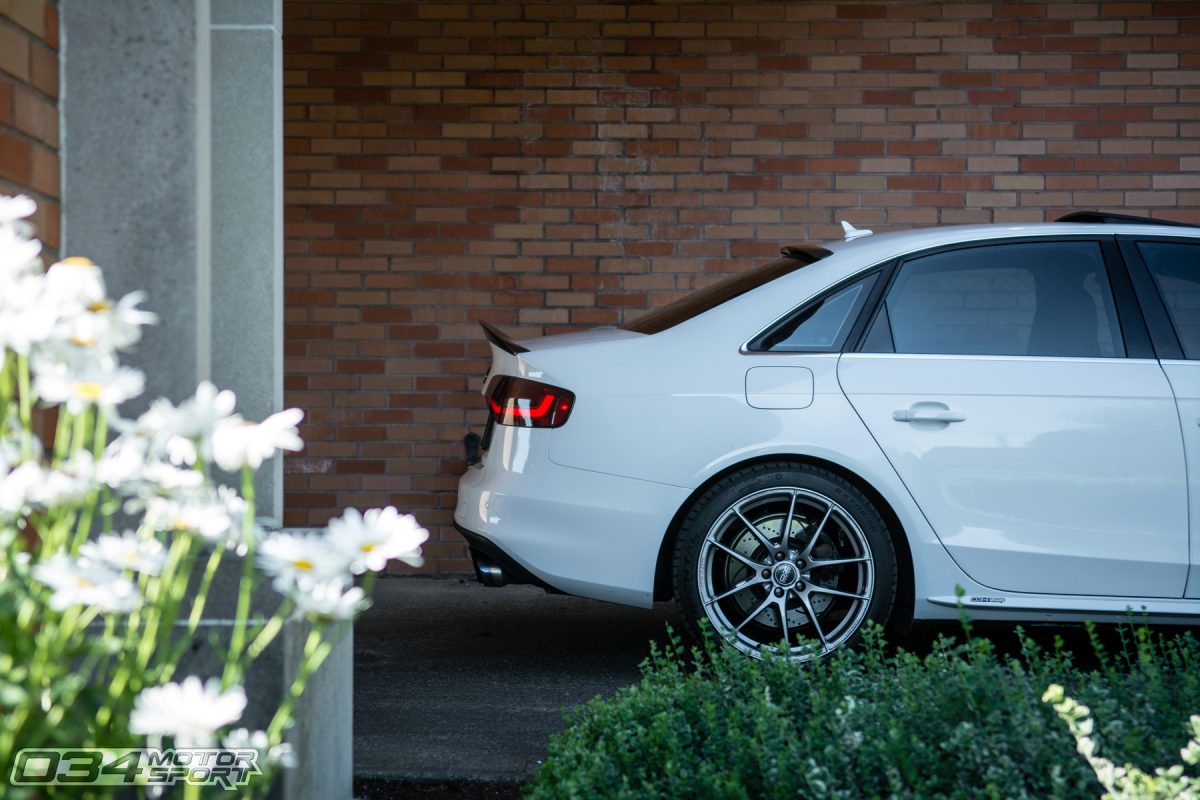 Geoff recounts, "At the time I wanted more power and thought stage II would be perfect and I'd never need anymore. A few mods in and the addiction hit. I was living in an apartment in downtown Portland at the time and was constantly working on my car out in the parking lot. The management wasn't thrilled and I eventually had to find new places to turn a wrench."
The list of mods snowballed into an impressive combination of engine hardware and suspension components in an effort to bring balance to the car's rising performance levels. Among the mix of parts installed was the 034Motorsport Billet Aluminum Drivetrain Insert Package. This kept the car predictable under power and reduced any unwanted drivetrain movement during the hard launches at the drag strip. Geoff has also picked up a set of 034Motorsport Street Density Motor Mounts for more direct power transfer and to further reduce slop that's associated with the soft factory rubber mounts.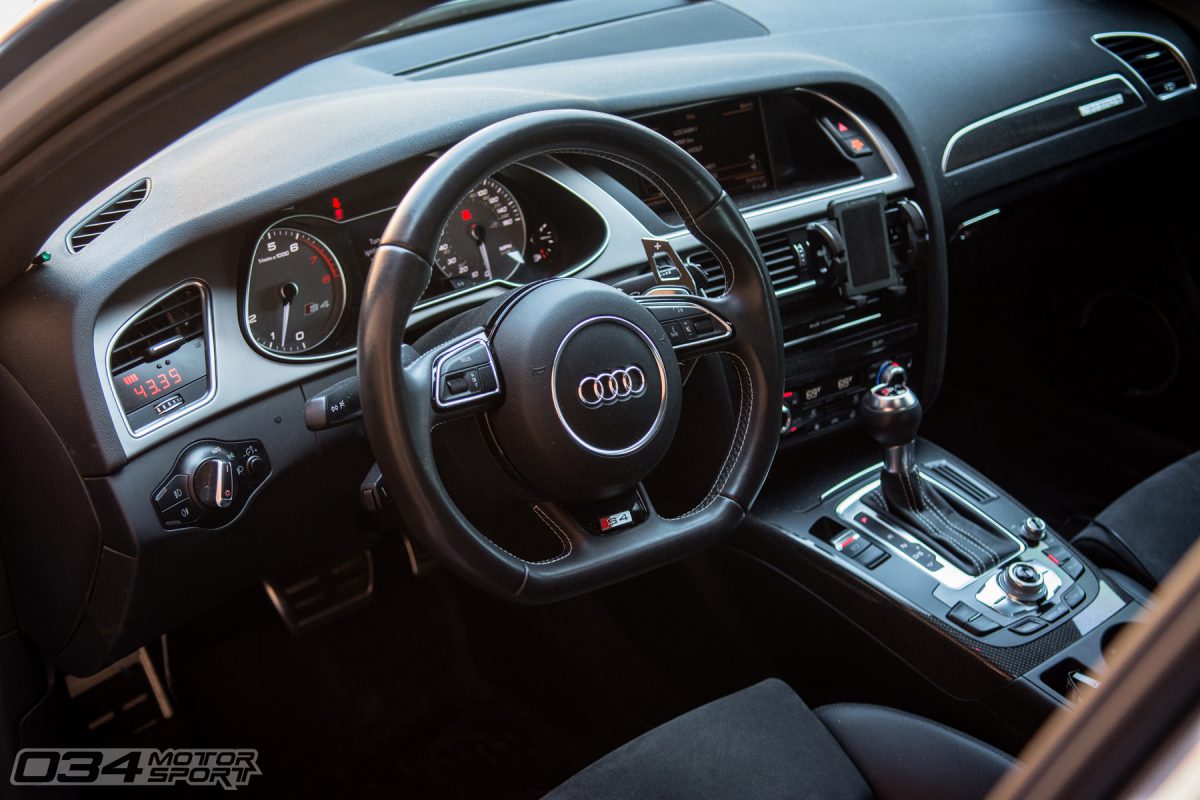 Next up was the hunt for more power. There was a time, not so long ago, when there wasn't much talk of people running dual upgraded pulleys on the 3.0 TFSI. Those looking to make the most power possible were running piggyback tuners on top of existing Stage I or Stage II tunes to keep the bypass closed and run as much boost as possible. Then came the Stage II+ era, or the dual pulley adopters. With an overdrive crank pulley and underdrive supercharger pulley installed, the supercharger spins significantly faster than ever possible before with just a single pulley upgrade.
Geoff was one of the first to install both an overdrive crank pulley and underdrive supercharger pulley on his B8.5 S4. Once fitted to the car, he reached out to 034Motorsport for his tuning needs, as the piggyback tuners on top of existing tunes was not the optimal way to go. 034Motorsport was happy to work with Geoff and develop a proper ECU and TCU tune to make the most of his upgraded hardware. Geoff is now running a proprietary High-Rev TCU file that raises the rev limit to 7600 RPM, up from the factory 6500 - 7000 RPM limit, to squeeze every last bit of power from the top end of the powerband. He's also running 034Motorsport's Stage 2+ ECU file with optimized timing and fueling maps, calibrated for a dual pulley configuration.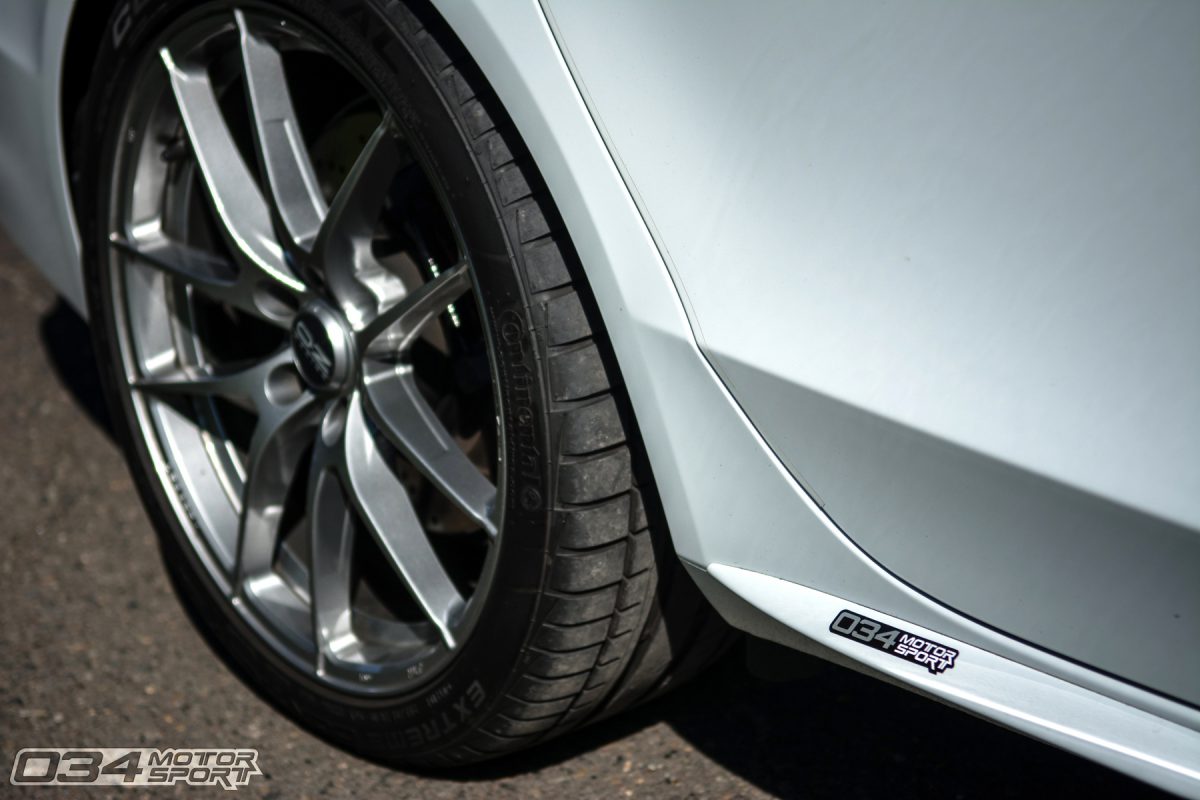 Geoff hasn't had a chance to put his car on the dyno since the new tuning files were uploaded, but he has had a chance to take it to the drag strip and run mid-11 second 1/4 miles with full interior and street tires. He doesn't want to make claims on power just yet, but confirms it's significantly quicker than upgrading just a single pulley. With the supercharger spinning much faster than ever intended, he's been fighting to keep internal air temperatures down, and tinkering with water/meth injection to combat the heat soak.
There is always trial and error when you're one of the first to try something new. It comes with the territory. Geoff knows there's a chance that if he keeps pushing the performance of his S4, something will give, and he fully accepts his fate when that day comes. He looks at it as an opportunity to build the car to be even stronger and faster! In the future he plans to port the supercharger for added volume and to continue pushing the boundaries of his car beyond. At 034Motorsport, we look forward to continue helping Geoff and his B8.5 Audi S4 go faster than ever before!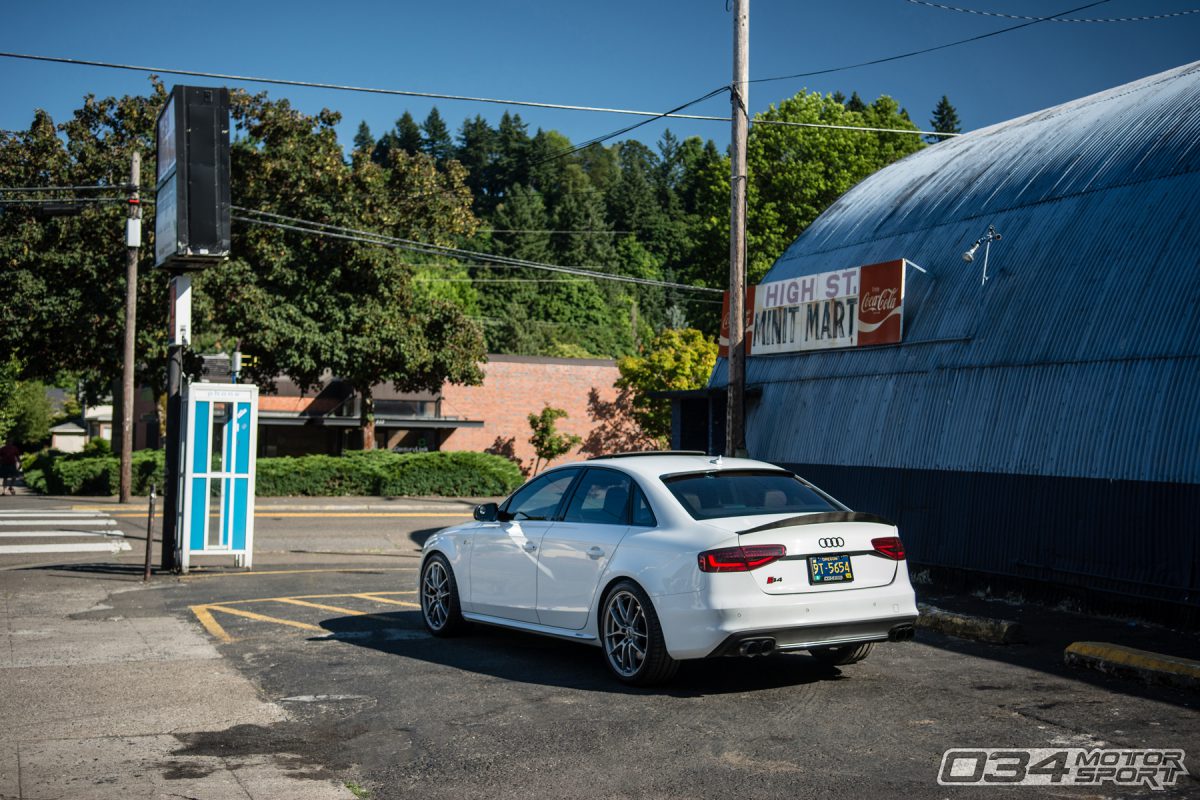 Featured Products | Geoff's Dual Pulley-Tuned B8.5 Audi S4