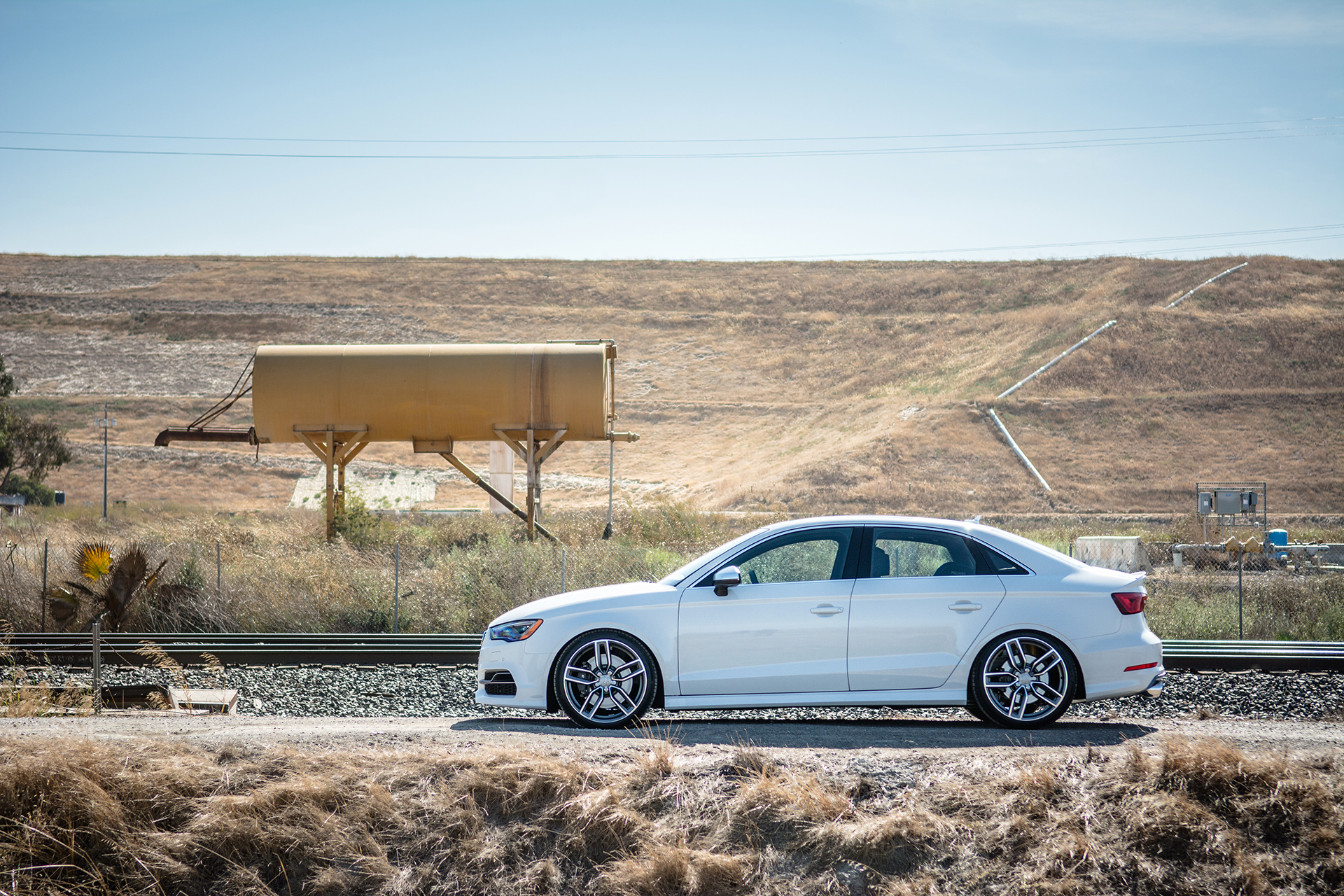 Will picked up his Glacier White Metallic Audi S3 with a desire to improve upon the already capable platform with OEM+ quality performance upgrades. He came to 034Motorsport's Fremont, CA Performance Facility to get started with Audi S3 Suspension Upgrades & Audi S3 Performance Exhaust that we offer.
034Motorsport has had extensive experience both developing, testing, and installing a broad range of performance products for various Audi & Volkswagen platforms over the past 10 years in the industry. The new MQB (8V) Audi S3 is no exception, as 034Motorsport is actively engineering a new line of innovative upgrades on their in-house 2016 Audi S3 development vehicle.
2015 Audi S3 Suspension Upgrades - Lowered on Bilstein PSS10 Coilovers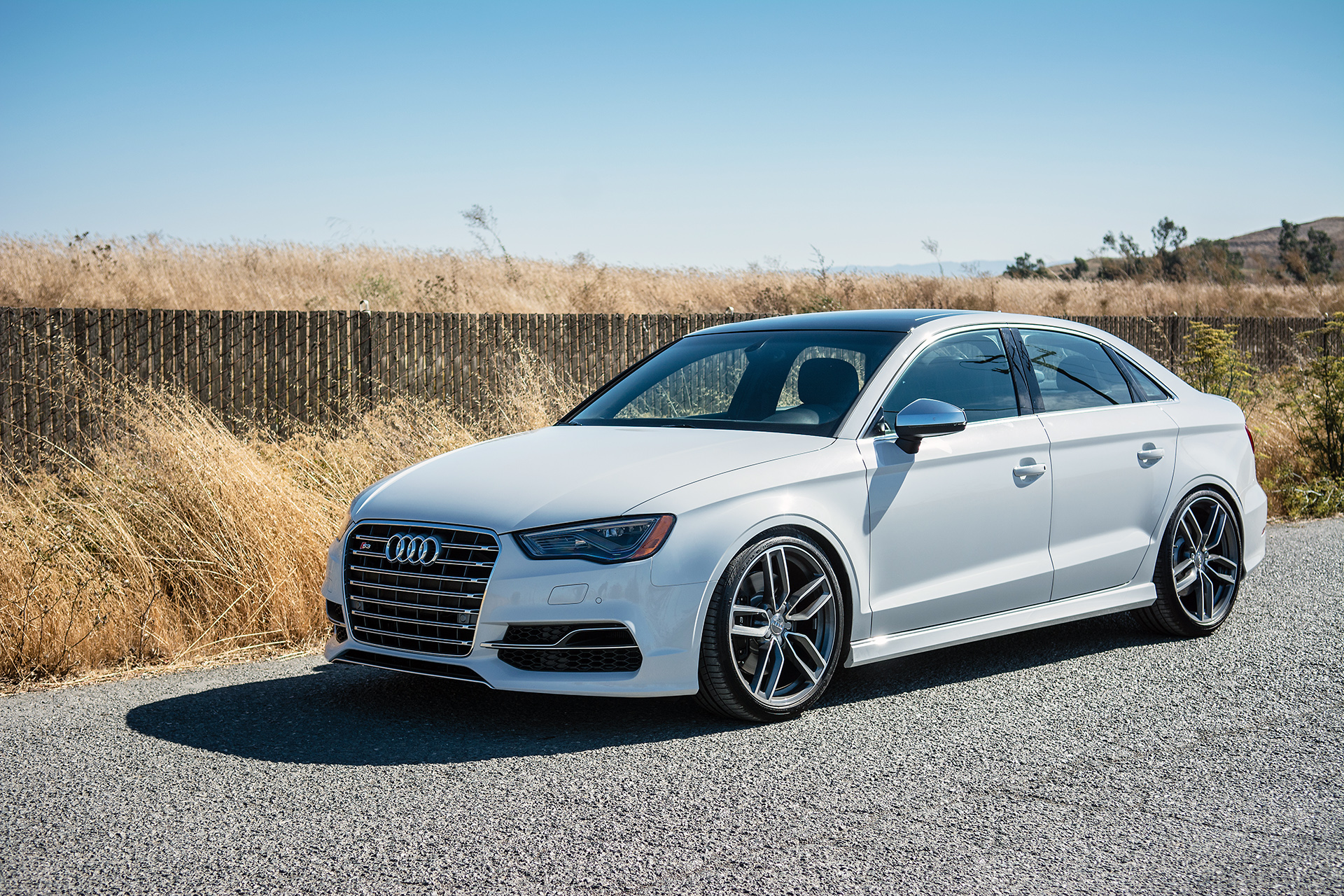 Since Will was looking to improve the handling and aesthetics of the vehicle, we decided on a Bilstein B16 PSS10 MQB Audi S3 Coilover Suspension Kit to give his Audi S3 a lower, more aggressive stance and the ability to adjust ride height as well as compression and rebound adjustability for the dampers. Unlike many other kits on the market, this Bilstein coilover suspension kit is a true performance upgrade, and is engineered to improve the ride quality and handling characteristics of the Audi S3 - not just lower the car at the expense of comfort and handling.
2015 Audi S3 Performance Exhaust - AWE Tuning SwitchPath
Next on the list was waking up the sound of the Audi S3's turbocharged two-liter engine with a beautifully-crafted AWE Tuning MQB (8V) Audi S3 SwitchPath Performance Exhaust System with 102mm Chrome Silver Tips. Boasting a free-flowing design over the factory exhaust assembly, this valved system utilizes AWE's SwitchPath Technology to provide an aggressive sound under acceleration while remaining completely civil and drone-free when cruising.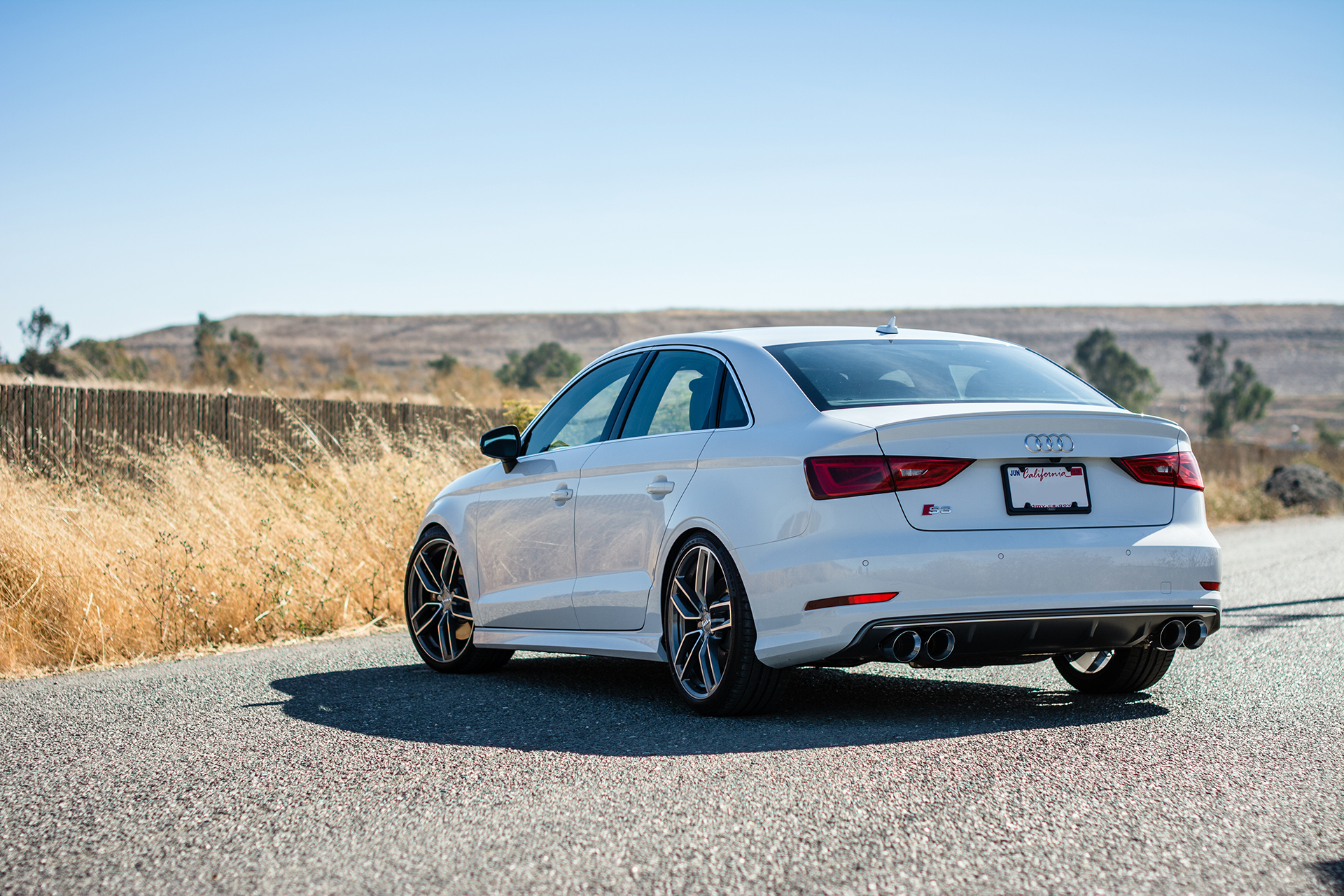 The AWE Tuning MQB (8V) Audi S3 SwitchPath Performance Exhaust System perfectly complements the factory rear bumper valence with large quad tips, and frees up extra horsepower by letting the 2.0 TFSI engine breathe easier. As with other SwitchPath systems, this exhaust for the new Audi S3 has a fantastic, aggressive note with the valve open, and a much more subtle sound with the valve closed under cruising conditions. This performance exhaust system offers the best combination of performance, sound, and versatility for the Audi S3, and improves performance without detracting from its high levels of refinement.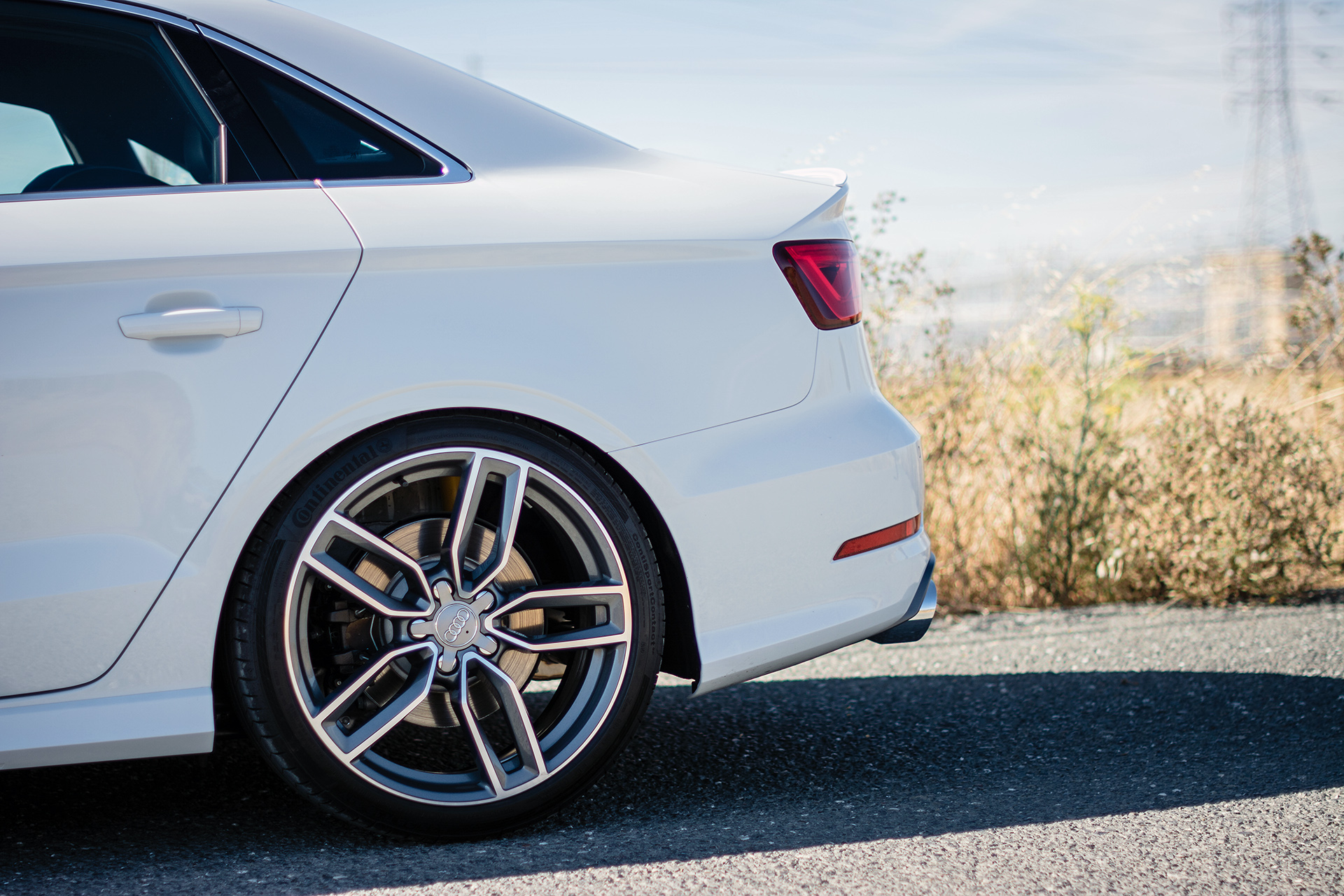 2015 Audi S3 DSG Transmission Upgrade - 034Motorsport Billet Dogbone Mount Insert
To further improve the S3's driving experience, Will opted to install the 034Motorsport MQB (8V) Audi S3 Billet Aluminum Dogbone Mount Insert. This simple, easy-to-install mod  is designed to fill the large void in the factory dogbone mount, and limit drivetrain movement without sacrificing ride quality or introducing excessive additional noise, vibration, or harshness into the cabin. By reducing slop in the drivetrain mounting system, this insert improves shifting precision, feel, and speed from the Audi S3's S-tronic gearbox while also improving throttle response.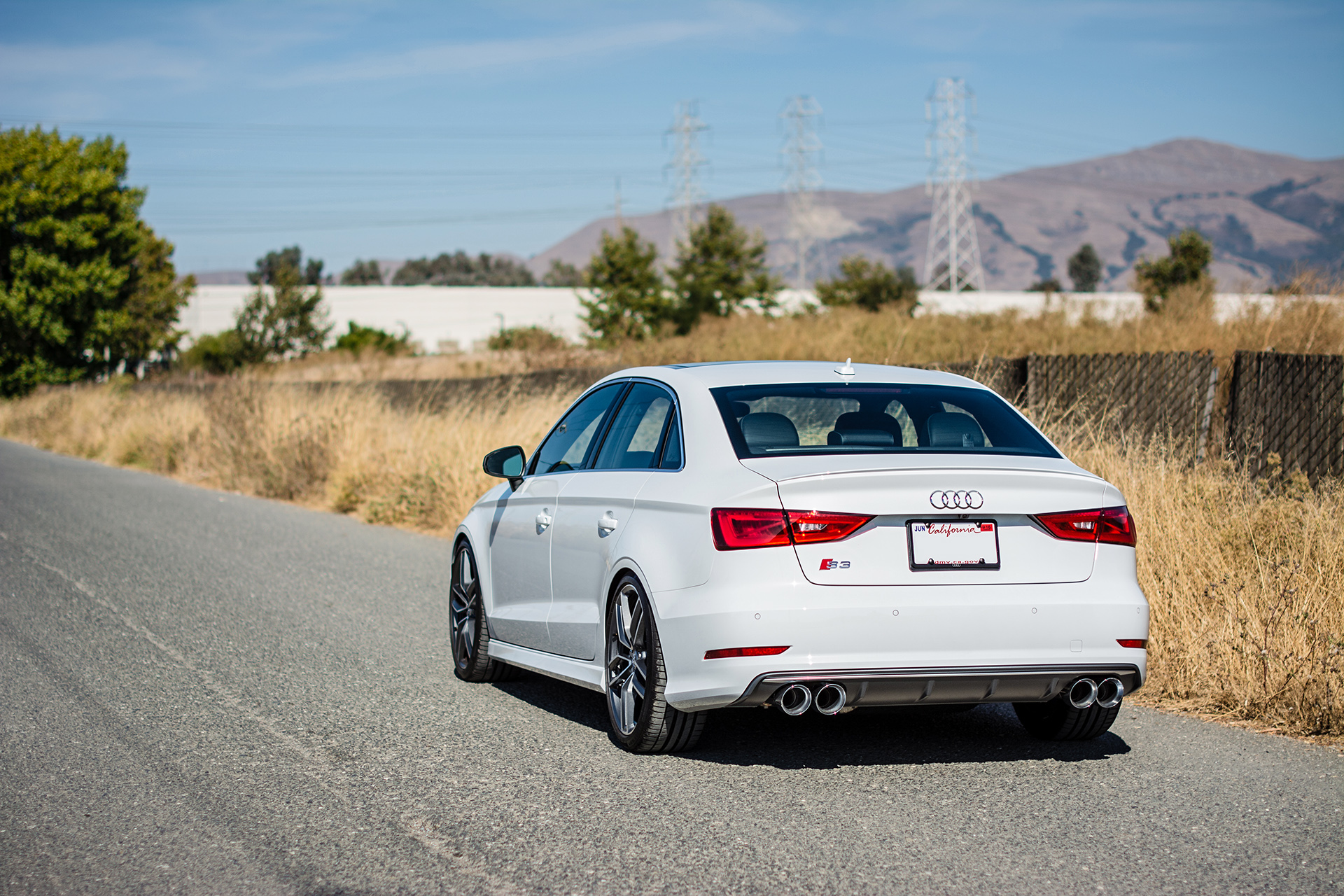 This round of performance upgrades for Will's Glacier White Metallic 2015 Audi S3 resulted in noticeable improvements in aesthetics, handling dynamics, steering response, exhaust sound, acceleration, and shift quality. Stay tuned for more Audi S3 mods when Will is ready to push the MQB platform even further with the help of 034Motorsport performance upgrades!
Featured Products | 2015 Audi S3 Suspension Upgrades & Performance Exhaust