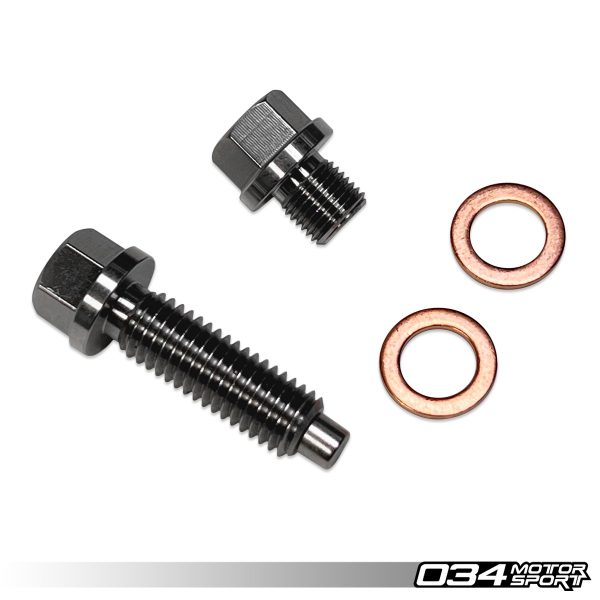 Check Out our Magnetic Drain Plug Kit!
The 034Motorsport Haldex Magnetic Drain Plug Kit for Audi 8J/8P/8V/8V.5/8S/8Y Quattro Vehicles and Volkswagen Mk5/Mk6/Mk7/Mk7.5/Mk8 4Motion Vehicles is designed to replace the factory Haldex drain plug and fill plug. CNC-machined from billet 304 stainless steel, the Haldex Magnetic Drain Plug Kit integrates a neodymium magnet to capture minute particles of metal due to normal wear of moving parts.
Metal particles can appear in your lubricating or hydraulic systems as a result of the following conditions: The constant flaking effect due to normal wear of moving parts, chipping/spalling due to subsurface casting flaws, or a minute component breakdown caused by stress usage. A combination of these factors can account for the presence of metal particles, which can cause excessive wear to vital components unless they are removed. By holding these particles, the 034Motorsport Haldex Magnetic Drain Plug Kit helps to prevent excessive wear to the internal components of your Haldex system.
FEATURES:
CNC Machined from Billet 304 Stainless Steel
Engineered for a Perfect Fit
A Direct, Easy Replacement of the OE Drain and Fill Plugs
The Drain Plug Features a Permanently Attached Neodymium Magnet
The Neodymium Magnet Attracts and Holds Minute Abrasive and Ferrous Metal Particles, Preventing their Circulation Through the Lubrication System.
PART NUMBER EXCHANGE:
N 910 827 01
N 902 818 02
WHAT'S INCLUDED:
(1x) 034Motorpsort Magnetic Drain Plug
(1x) 034Motorsport Fill Plug
(2x) Copper Crush Washers