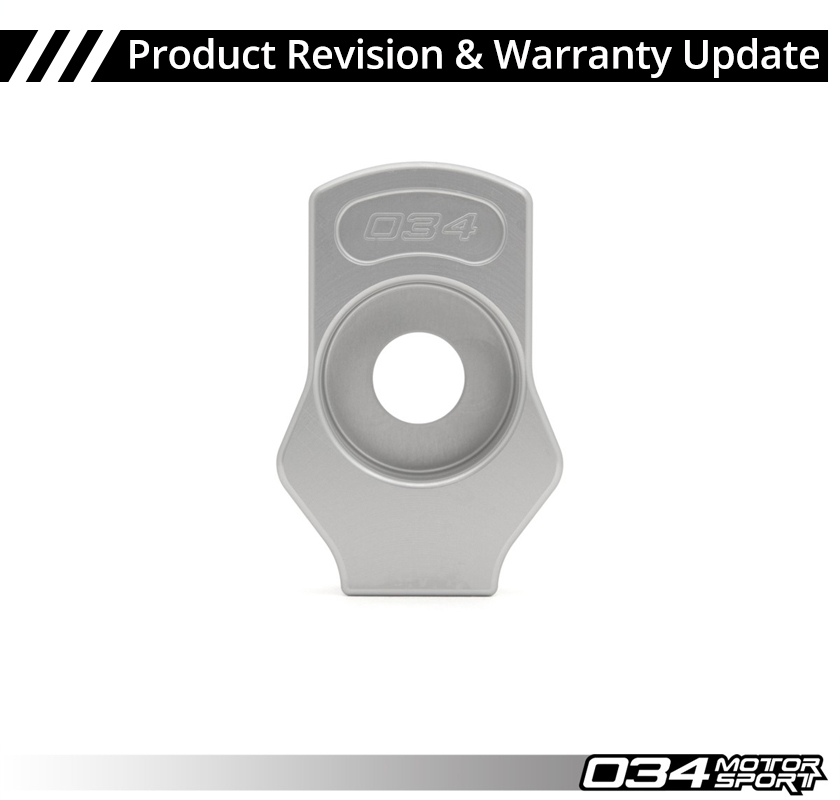 To address concerns raised by reports of customer issues with a few Version 2 MQB Dogbone Mount Inserts, we have released a free update to the Version 2 MQB Dogbone Mount Insert. If you wish to obtain a free revised insert as a replacement for your existing Version 2 (034-509-1025) Dogbone Mount Insert, please follow the instructions below:
Please create an account on the 034Motorsport website to facilitate the processing of your replacement part.
Please complete this update request form entirely, and print/sign the completed copy.
Pack your original V2 Insert securely for shipment.
Enclose your completed form in the package with your original Version 2 Dogbone Mount Insert (034-509-1025).
Ship the package (with your original insert and this printed/completed form enclosed) using a trackable shipping method to the address below to obtain an updated part:
034Motorsport
ATTN: RMA Department V2
42968 Osgood Road
Fremont, CA 94539
Once your order is received, we will issue you a $10 034Motorsport Store Credit to your customer account to help offset the cost of return shipping. We will also ship you a Revised Version 2 MQB Dogbone Mount Insert as soon as they are available. The expected ship date is currently May 30th, 2016.
034Motorsport has also extended the standard 1 Year Warranty to a Lifetime Warranty for the original purchasers of all 034Motorsport Billet Aluminum Drivetrain Mount Inserts.
We apologize for any inconvenience to those who are affected by this revision. We strive to release the best products possible for fellow Volkswagen & Audi enthusiasts, and we missed the mark on the inserts for some owners of cars with Version 2 mounts.
Please don't hesitate to email us at contact@034motorsport.com if you have any questions.