After a few pictures and videos of Nate@034's Brilliant Red 2006 Audi A3 3.2L VR6 24V Turbo appeared on Instagram, it seems like everyone wants to know exactly what lies beneath the surface. Nate's Precision 6262 turbocharged 8P Audi A3 3.2L was built, tuned, and tested here at 034Motorsport in Fremont, CA while developing our 3.2L 24V VR6 Stage 1 Turbo Kit.
Not the Average Daily-Driver
In its time here at 034Motorsport, this A3 has transformed from a bone-stock 240 horsepower hatchback into a daily-driven 600+ horsepower track-day weapon and grocery-getter.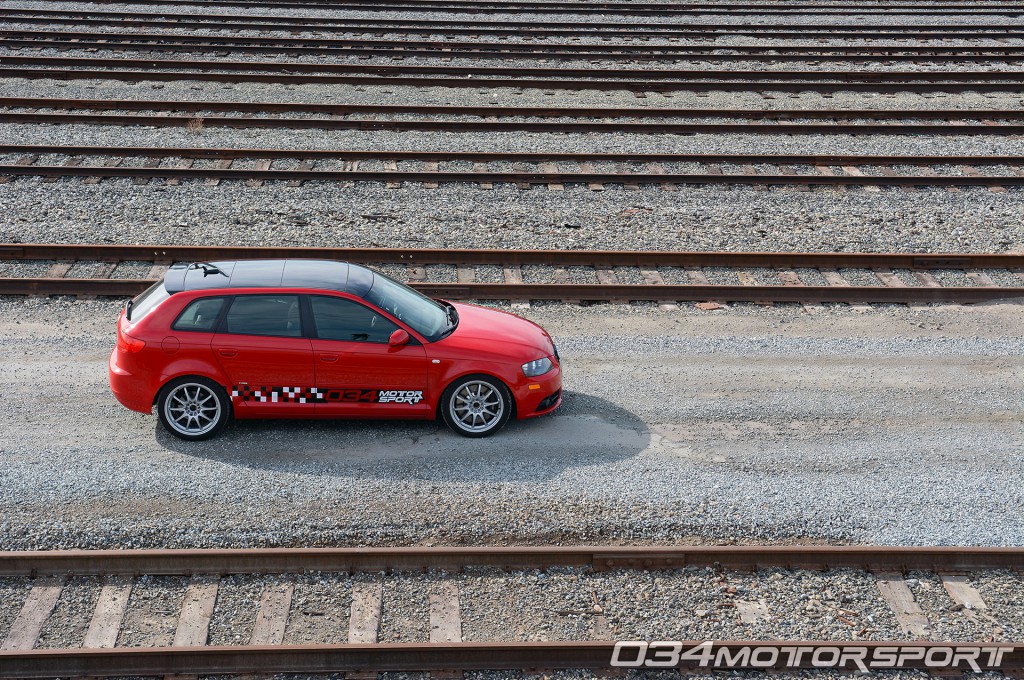 "I just want something with DSG that will make a decent commuter. I guess it should sound good, too." I remember Nate saying this a few years ago, shortly before he bought his Brilliant Red 2006 Audi A3 3.2L. I couldn't help but chuckle.
If you know Nate, you know he has to tinker with everything. His house is littered with Arduino and RPi projects, making sure that his dogs are fed, dishes are done, drinks can be mixed, and movies can be watched. He's stuffed more cylinders, turbos, and horsepowers into various Audi chassis than most people would think possible. He spends most of his day at his desk or on the dyno, in front of mysterious screens overflowing with indecipherable combinations of letters, numbers, lines, and graphs.
There were a few options on the table, but the best-sounding engine Audi had mated to a DSG at the time was the 3.2L VR6 24V. After a few months of searching, Nate found what he was looking for in this Brilliant Red A3, which he likely purchased from a recently graduated high-school cheerleader.
Needless to say, it wasn't long before Nate's unassuming A3 drove into our Service Department for some "routine maintenance" of sorts.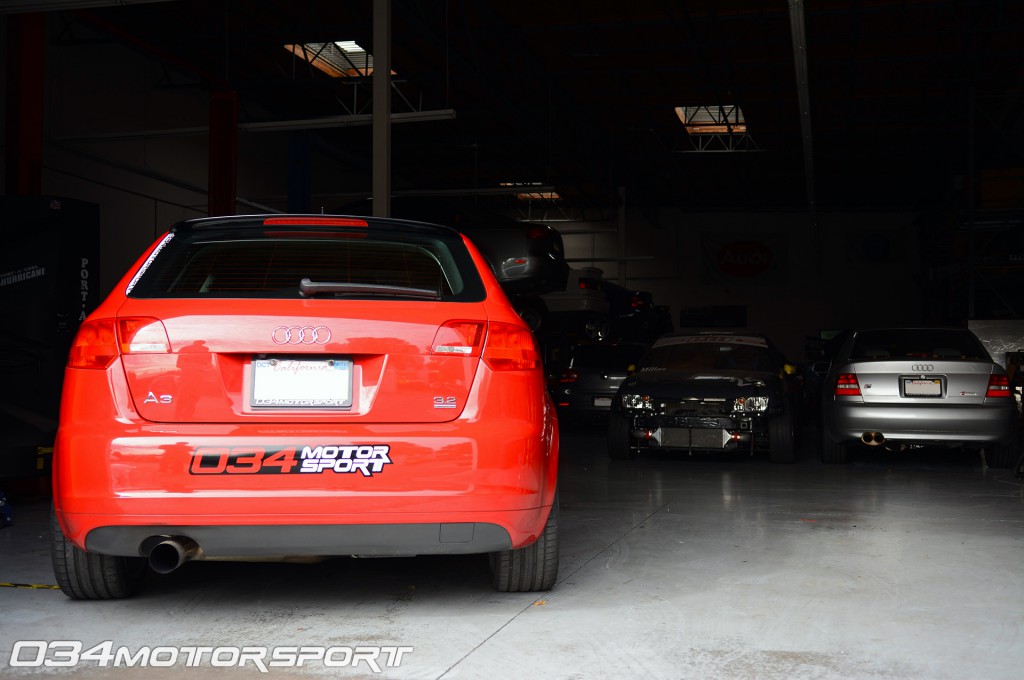 Stage 1
Nate realized that his A3 was somewhat neglected by the prior owner, and badly in need of an oil change. Naturally, he started by purchasing a Precision 6262 CEA Turbocharger, which is the same unit that we run in our Time Attack Audi A4. "I mean, I'm going to have to drain the oil to install this thing," Nate was overheard explaining to his (now ex-) girlfriend, "so really I'm saving money in the long term." It was a brilliant strategy, drawing attention away from the fact that the 6262 is capable of moving enough air for 705 crank horsepower, and is perfectly sized for the 3.2L VR6 24V, offering fast spool and plenty of top end power.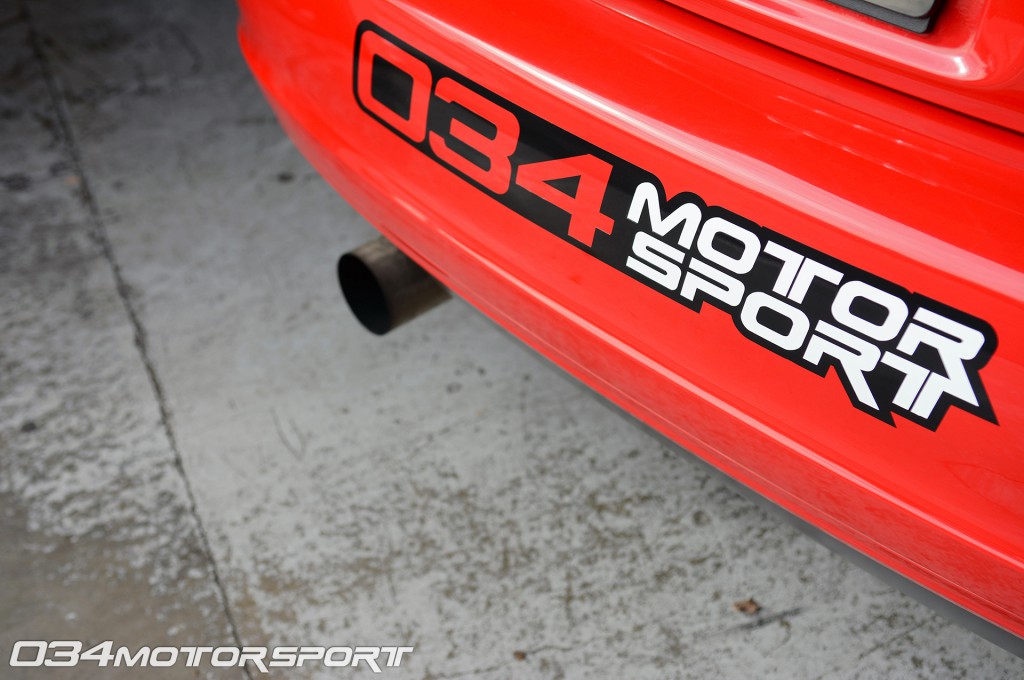 Nate's build started out as a low boost, intercooled turbo setup, ideal for stock compression engines and within safe limits of the plastic factory intake manifold. Starting with some readily available high-quality parts, including a 034Motorsport Cast 3.2L VR6 24V Turbo Manifold, Precision 6262 CEA Turbocharger, Tial 38mm External Wastegate, and Garrett Intercooler Assembly, allowed for a solid foundation. From there, Nate and the 034Motorsport Team turned their attention to mocking up intercooler mounts and plumbing, fabricating a 3.5" downpipe with wastegate recirculation, and buttoning up the engine bay with all necessary hoses, fittings, and hardware. A beautiful X34 Cold Air Intake with carbon fiber heat shield completed the engine bay.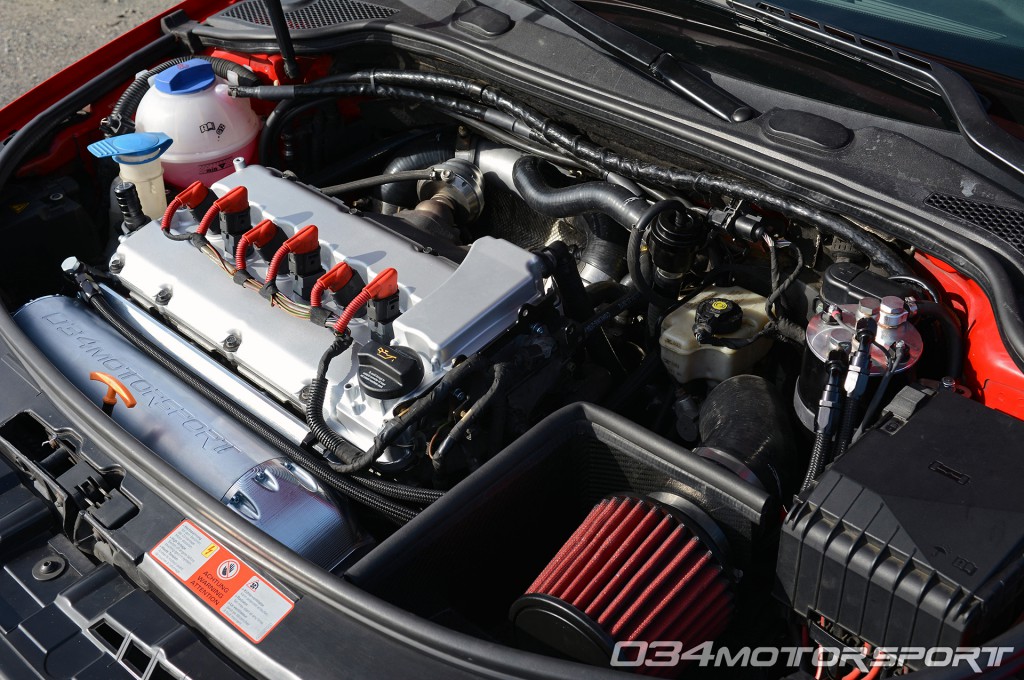 With all the hardware in place, the real fun could begin. Nate spent countless hours remapping the ECU and TCU on the dyno, street, and track to ensure smooth, safe power delivery and fast, precise shifts. Launch Control was added to allow boost and RPMs to build at a standstill, and guarantee perfect launches every time.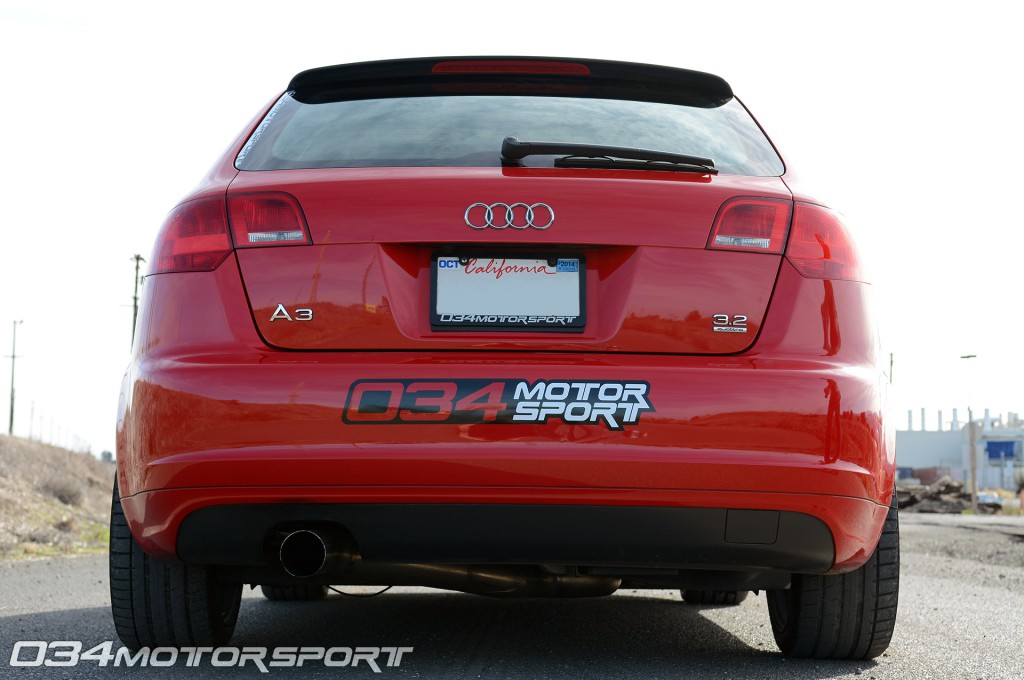 The hardware and tuning changes resulted in gains of ~130 horsepower and ~100 foot pounds of torque at the wheels over stock at ~7.5 PSI. Eventually, this setup became our production 034Motorsport 3.2L 24V VR6 Stage 1 Turbo Kit. Happy with the results and in the interest of long-term testing, the powerplant in Nate's A3 stayed relatively unchanged for the next couple of years and close to 30,000 miles.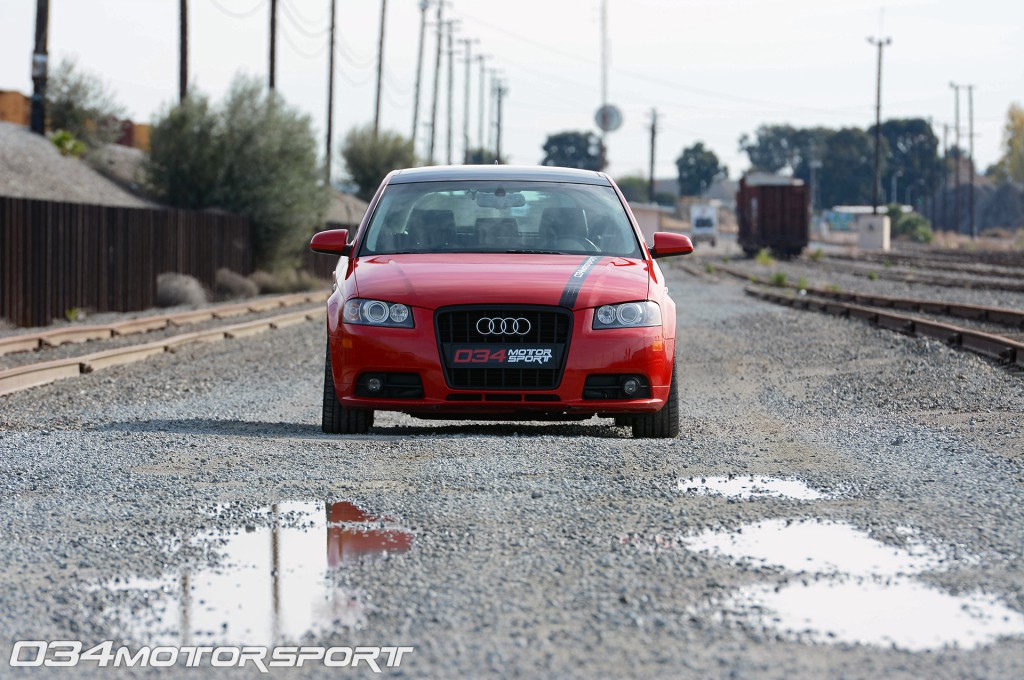 Suspension, Drivetrain, Brakes, Wheels, Tires
With the engine pumping out roughly 50% more power than stock, Nate turned his attention elsewhere on the car. He promptly installed a KW Clubsport Coilover Suspension, which improved handling while maintaining a comfortable ride. A 034Motorsport Solid Adjustable Rear Sway Bar was also installed to reduce body roll and combat the A3's natural tendency to understeer. Looking to further dial in the suspension, Nate replaced most of the factory rubber bushings with 034Motorsport's spherical suspension components to eliminate unwanted deflection and maintain ideal suspension geometry. Stock parts made way for 034Motorsport Rear Sway Bar End Links, 034Motorsport Rear Trailing Arm Bearings, and 034Motorsport Adjustable Rear Upper Control Arms. Rear A-Arm Bushings from an Audi TTRS were added to the mix as well.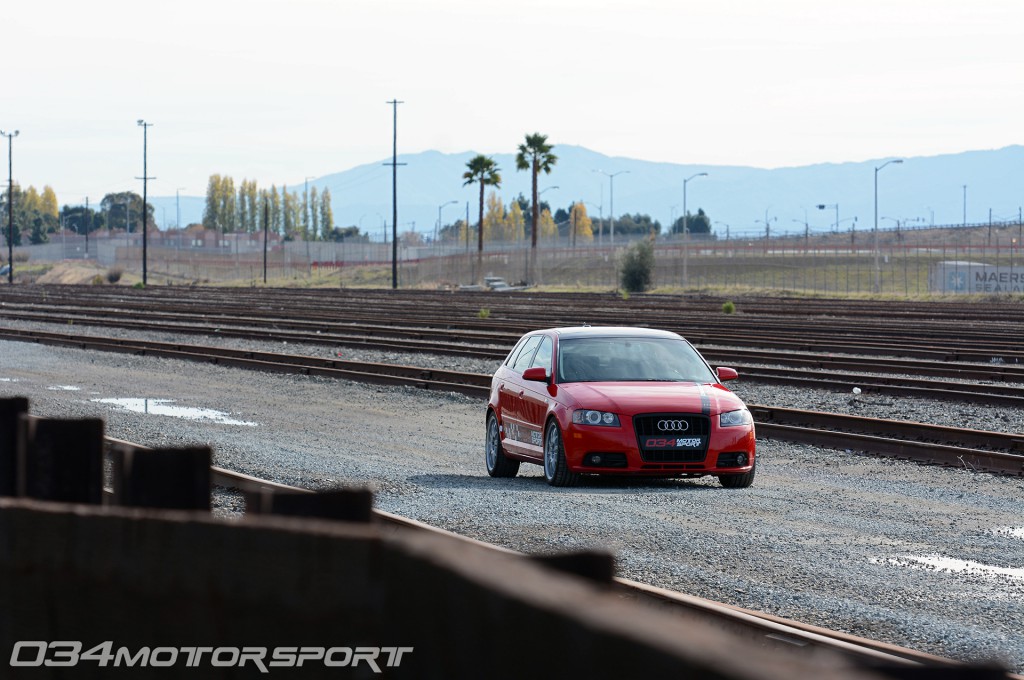 To keep the A3's engine and transmission from twisting themselves out of the car, the factory drivetrain mounts were tossed in favor of a 034Motorsport Track Density Engine Mount Set and 034Motorsport Billet Dogbone Mount. This combination greatly reduces slop in the engine and transmission mounts, resulting in crisper shifting and more direct load transitions on the street or track.
Desperately in need of some added grip, the A3's stock wheels and tires were replaced with lightweight Rays Engineering 18x8 Wheels wrapped in 235/40/18 Continental DW Tires. The larger wheels also gave much needed clearance for massive TTRS Front Brakes equipped with Cobalt XR-2 Brake Pads. With plenty of grip, handling, and braking to match it's boosted power output, we thought Nate's A3 project had reached an end, until...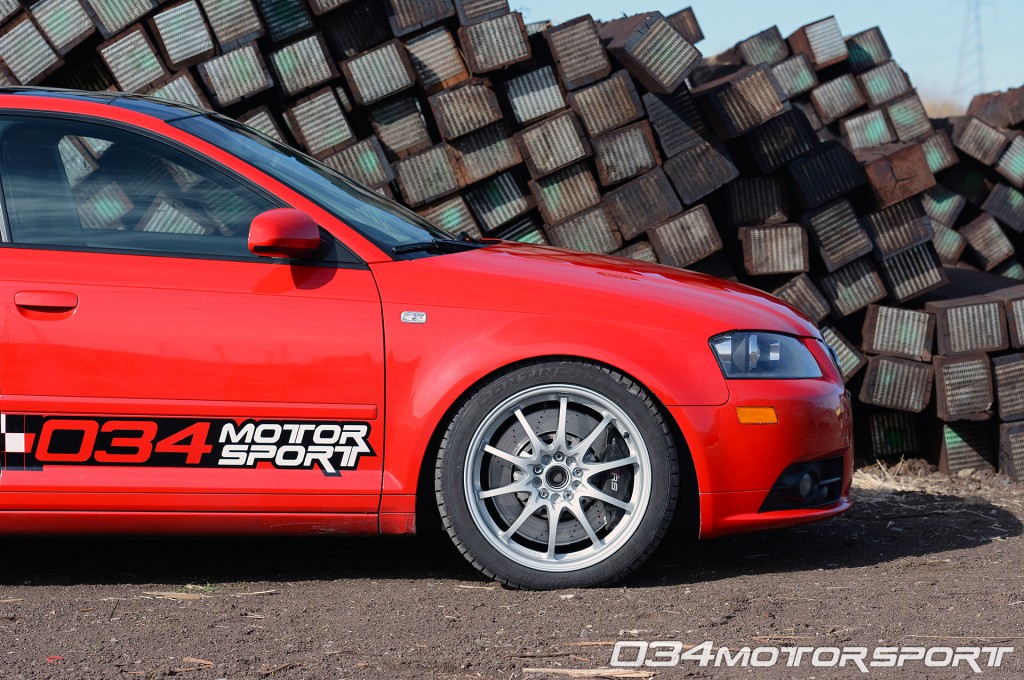 More Power!
A few months ago, we received a call from our friends at European Car Magazine. The 2014 European Car Tuner GP was coming up soon, and they wanted us to be there. Having won the event overall in our TTRS, Time Attack A4, and GTI-RS in previous years, we knew we wanted to go. What we wanted to bring, however, was still up for debate.
Having taken a modified TTRS, a full-fledged time attack car, and a crazy mid-engine conversion in the past, we wanted to choose something a little less extreme, yet still capable of representing what 034Motorsport products are capable of. After some debate, we couldn't come up with a better answer than Nate's daily-driven Audi A3 3.2L VR6 24V Turbo. What would be better than showing off what we could do with a practical, daily-driven German hatchback with bolt-on upgrades and minimal setup?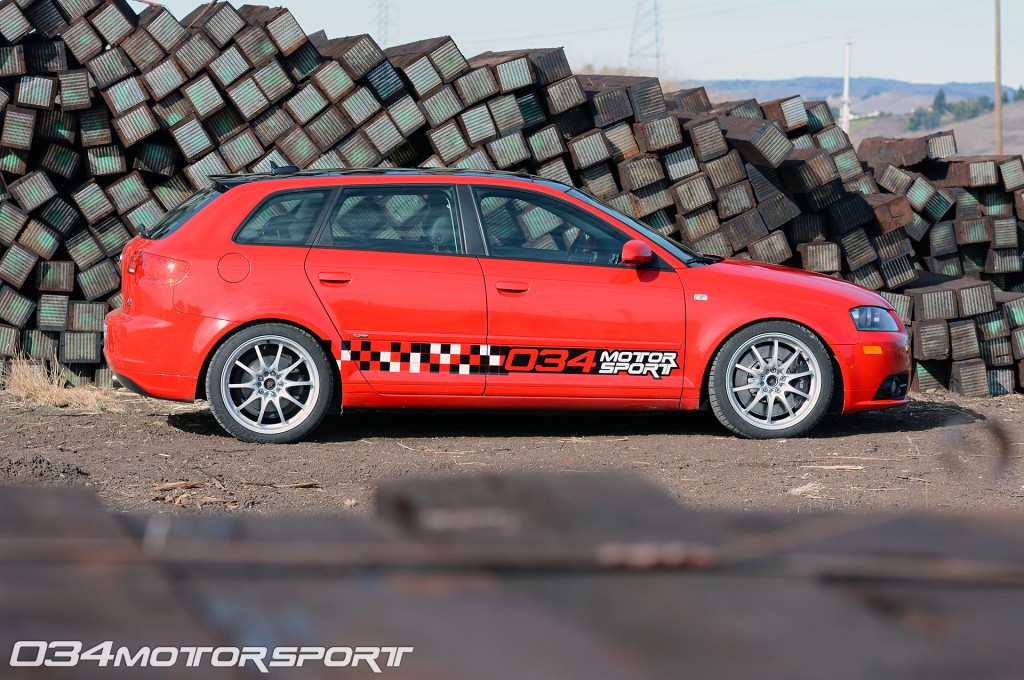 There was just one thing it was missing... more power. Luckily, a few key 034Motorsport upgrades for the 3.2L VR6 24V had been released since Nate last upgraded anything under the hood. A 034Motorsport Compression Dropping Head Spacer Kit was added to allow for more timing and boost, and a 034Motorsport Short Runner Intake Manifold (SRI) was installed to optimize airflow and replace the factory plastic manifold.


While the head was off, Supertech Exhaust Valves and High-Rate Valve Springs were installed to cope with high RPM operation and higher EGTs. The stock mass airflow (MAF) sensor was replaced with an 85mm Billet MAF Housing and Slot-Style MAF in order to accurately meter (much, much more) air going into the engine.
A 034Motorsport FP34 Surge Tank housing a Bosch 044 Fuel Pump was placed neatly in the engine bay to prevent fuel starvation, and hooked up to a 034Motorsport Billet Aluminum Fuel Rail. The 550cc EV14 Fuel Injectors used in our Stage 1 Turbo Kit were replaced with larger 850cc EV14 Fuel Injectors to make sure plenty of fuel was available.
The Density Line Engine & Transmission Mounts were replaced with soon-to-be released Billet Aluminum Engine Mounts to further limit drivetrain movement.
Finally, 104 octane unleaded fuel was pumped into the gas tank and boost was turned up to just under 25 PSI. After some fine tuning, Nate's A3 was putting down 547 horsepower and 451 foot-pounds of torque through all four wheels on our Mustang AWD Chassis Dyno! That's an impressive amount of power from a 3.2L VR6 24V with stock cams and a stock bottom end.
Ultimately Nate's A3 has accomplished exactly what he set out to do: create a daily driven, streetable monster Audi. With the traction of Quattro and practicality of a 5-door hatchback, Nate's A3 is ready to tackle a myriad of activities. Not to mention the sound! Those of us who are lucky enough to be near an open door when Nate leaves the parking lot are always welcomed with a symphony of combustion events, turbocharger sounds, and DSG shifts complete with grin-inducing crackles and pops.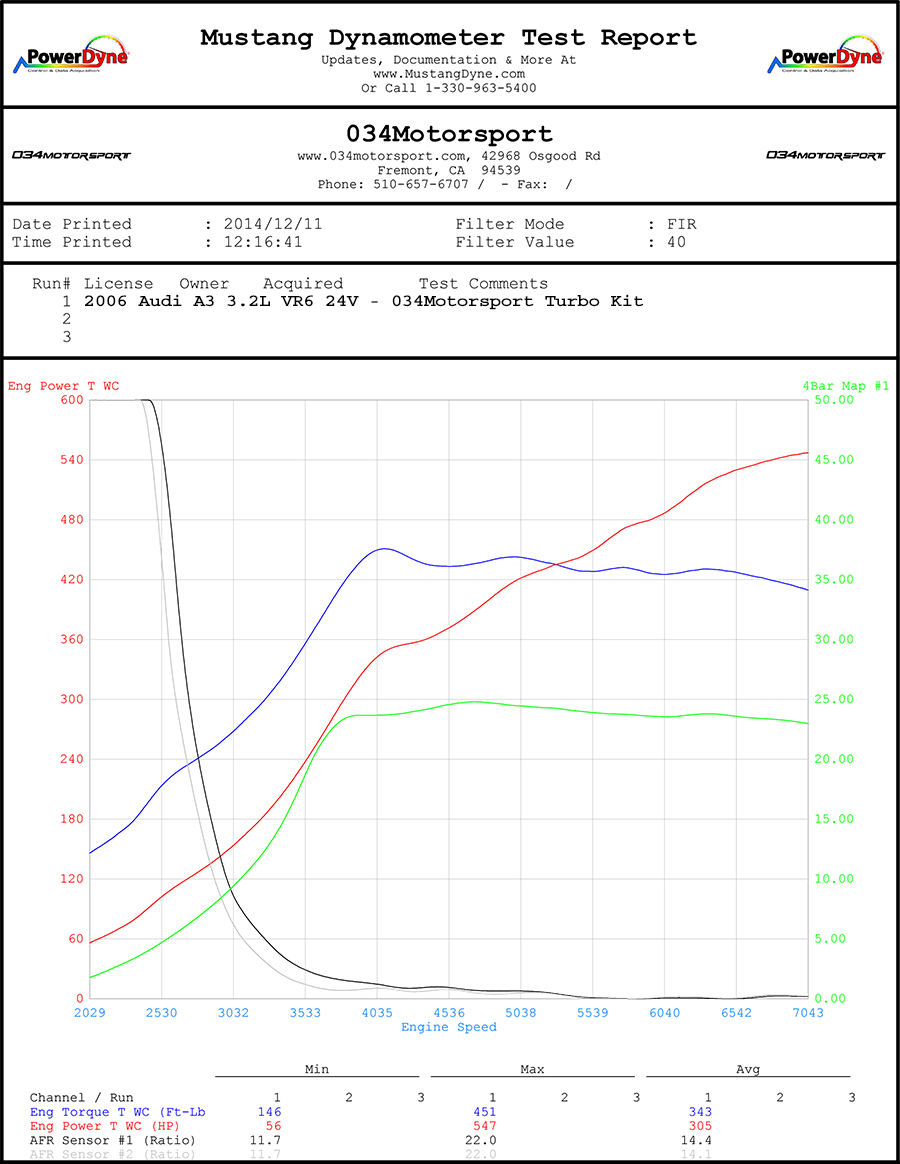 Vehicle Specifications - Nate@034's 2006 Audi A3 3.2L VR6 24V Turbo
Cylinder Head & Valvetrain
034Motorsport Compression Dropping Head Spacer Kit
Supertech Exhaust Valves
Intake, Turbocharger, Exhaust
034Motorsport 3.2L 24V VR6 Stage 1 Turbo Kit (Precision 6262 Turbocharger with Ceramic Ball-Bearing CHRA and .82 A/R Turbine Housing)
034Motorsport 85mm Billet MAF Housing & Slot-Style Sensor
034Motorsport X34 Carbon Fiber Cold Air Intake for 3.2L VR6 24V
034Motorsport Custom 3.5" Turbo-Back Exhaust
Fueling & Tuning
034Motorsport Custom Tuning
Bosch 850cc EV14 Fuel Injectors
Drivetrain
034Motorsport Billet Aluminum Engine & Transmission Mounts - Coming Soon!
034Motorsport Density Line Dogbone Mount Pair
Performance Haldex Controller
Suspension
KW Clubsport Coilover Suspension
TTRS Rear A-Arm Bushings
Brakes
Factory Audi TTRS Front Brakes with Cobalt XR-2 Brake Pads
Wheels & Tires
Rays Engineering CE28 Wheels - 18" x 8"
Continental ExtremeContact DW Tires - 235/40/18
Nate's A3 was recently entered in the 2014 European Car Magazine Tuner Grand Prix, so stay tuned for more news on that event in the coming months!
Picture Gallery
Audi A3 3.2L VR6 24V Turbo