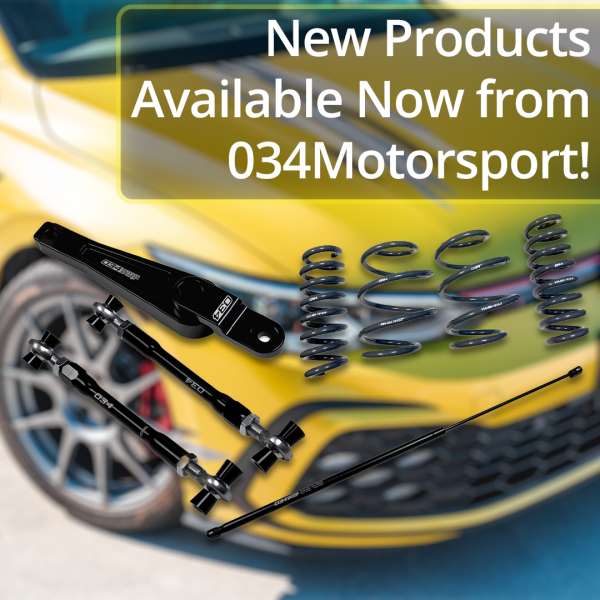 034Motorsport is proud to announce four new products!
Please see below for further details.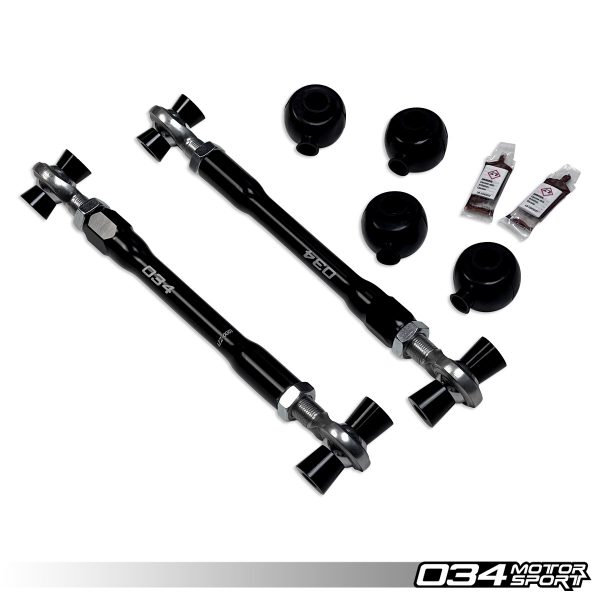 Adjustable Rear Toe Links for Volkswagen & Audi PQ35 and MQB Evo
034Motorsport's Motorsport Adjustable Rear Toe Links for Volkswagen & Audi PQ35 and MQB Evo are designed to be a direct, drop-in upgrade for the stamped steel factory rear toe links. These high-quality adjustable toe links replace the factory fixed-geometry arms to allow for precise toe adjustments when aligning PQ35 and MQB Evo platform vehicles. 034Motorsport Motorsport Adjustable Rear Toe Links feature high-strength billet aluminum bodies, Aurora spherical rod ends, and billet aluminum spacers to provide precise adjustability, eliminate deflection, and improved handling.
FEATURES:
CNC Machined 6061-T6 Aluminum Tie Rod Bodies - Anodized Black for Durability
CNC Machined Aluminum Rod End Spacers
Aurora Spherical Rod Ends
Designed For Easy, Precise, On-Car Adjustability
Direct Drop-In Replacements for Factory Toe Links
Sold In Pairs
FUNCTIONS:
Precise Toe Adjustment
Eliminates All Bushing Deflection
Improved Handling
WHAT'S INCLUDED:
034Motorsport Motorsport Adjustable Rear Toe Link Pair for Volkswagen & Audi PQ35 and MQB Evo
OE PART INTERCHANGE:
5Q0 501 529 G
1K0 501 529 J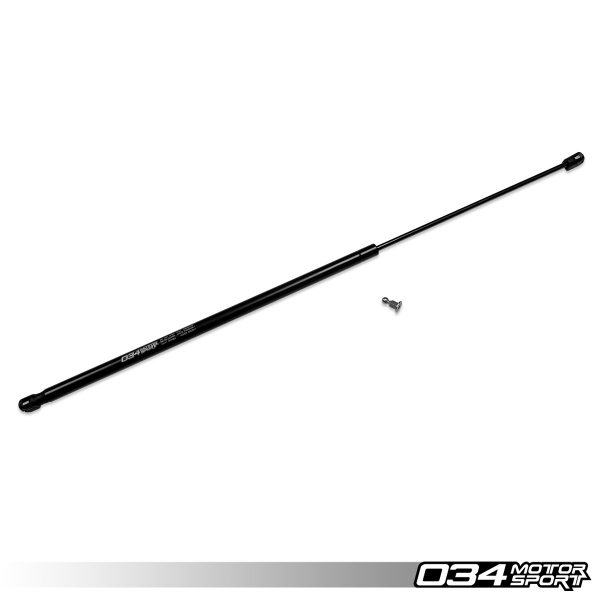 Gas Hood Strut, MK8 Volkswagen Golf GTI & Golf R
Upset that Volkswagen left the gas hood strut off on your brand new MK8 Volkswagen Golf GTI or Golf R?
The 034Motorsport Gas Hood Strut allows you to replace the flimsy hood prop rod with a gas hood strut! The 034Motorsport Gas Hood Strut is designed to be the correct length and pressure for the hood of your Mk8 Volkswagen Golf GTI or Golf R.
FEATURES:
Eliminates the Low Budget Hood Prop Rod
Correct Length and Pressure for MK8 Volkswagen GTI or Golf R Hood
Opens and Closes with the Perfect Resistance
CNC Machined Stainless Steel Ball-End Adapter
Screws Onto Existing Hood Latch Bracket Stud
Simple Installation and Fully Reversible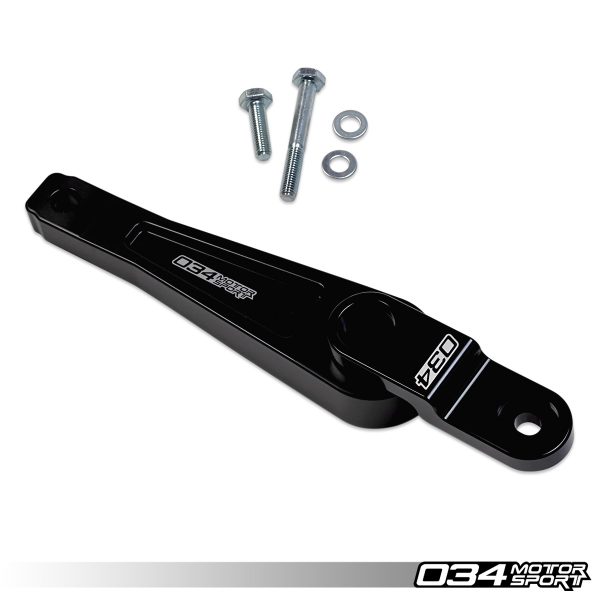 8J TTS & TTRS Billet Dogbone Mount
034Motorsport's Billet Dogbone Mount is the new standard in performance and durability. This dogbone mount was designed with performance in mind, and is manufactured in-house from billet aluminum. Unlike other products on the market that use a polyurethane bushing, the 034Motorsport Billet Dogbone Mount features a genuine Aurora Spherical Bearing to maintain proper articulation and offer some vibration dampening. The Billet Dogbone Mount is machined and assembled in-house, and designed to eliminate the slop associated with the factory mount.
The result is a locked-down drivetrain, solid shifting, and virtually no wheel hop. The Billet Dogbone Mount will cause some increase in noise, vibration, and harshness (NVH) inside of the cabin. This mount is a completely re-engineered performance solution, not just inserts for use with the factory mount.
FEATURES:
Manufactured from T6-6061 Billet Aluminum
Genuine Aurora Spherical Bearing
Greatly Reduced Drivetrain Slop
Greatly Reduced Engine Movement Under Load
More Direct Power Transfer
Improved Shifting Feel & Accuracy
Complete Drop-In Replacement of Factory Dogbone Mount
FITMENT:
2008 - 2015 Audi TT (All Engines)
2008 - 2015 Audi TTS 2.0T
OE PART INTERCHANGE:
WARRANTY:
1 Year Limited Replacement Warranty (If you encounter any issues with our products outside of the warranty period, we will work with you to provide a resolution.)
PLEASE NOTE:
We recommend pairing this dogbone mount arm with our Density Line Dogbone Mount Pair for the ultimate reduction in drivetrain slop.
This mount can also be paired with our Late (2009+) Billet Aluminum Dogbone Mount Insert.
BMW F3X Dynamic+ Lowering Springs
Developed specifically for the BMW F3X Chassis, Dynamic+ Lowering Springs are engineered to improve handling performance and deliver superb ride quality. Designed as a true no-compromise solution, Dynamic+ Lowering Springs provide an aggressive yet functional stance, and reward drivers with precise vehicle control and OEM+ comfort levels. During our intensive long-term testing, we saw no detriment to strut life or variable ride quality between the OEM suspension modes. These springs were engineered in-house and tested extensively before release to ensure that they deliver the ideal combination of performance, comfort, and reliability.
Dynamic+ Lowering Springs were thoroughly tested on the street and track on 034Motorsport's 2018 BMW F30 340i, and by independent BMW enthusiasts before release. 034Motorsport underwent multiple variations of lowering spring, balancing handling, ride height, and comfort.
Each set of Dynamic+ Lowering Springs is manufactured in the USA at an ISO 9001 certified facility, and tested to 034Motorsport's exacting specifications to ensure they deliver unmatched performance for the discerning BMW enthusiast.
FEATURES:
Improved Handling Performance & Chassis Dynamics
Reduced Body Roll & Understeer
Superb Comfort and Ride Quality on the Street or Track
Dynamic Stance with Optimal Wheel Gap and Visual Vehicle Attitude
Removed Factory Reverse Rake
Lightweight, High-Strength Construction
Compatible with BMW Adaptive Suspension
Shot Peened & Powder Coated
Made in USA at ISO 9001 Certified Facility
SPRING RATES:
~14% Increase in Front - 220lbs/in (stock: 193 lbs/in)
~23% Increase in Rear - 650lbs/in (stock: 530 lbs/in)
RIDE HEIGHT:
Front - Approximately 19mm (3/4") Lower
Rear - Approximately 9mm (3/8") Lower