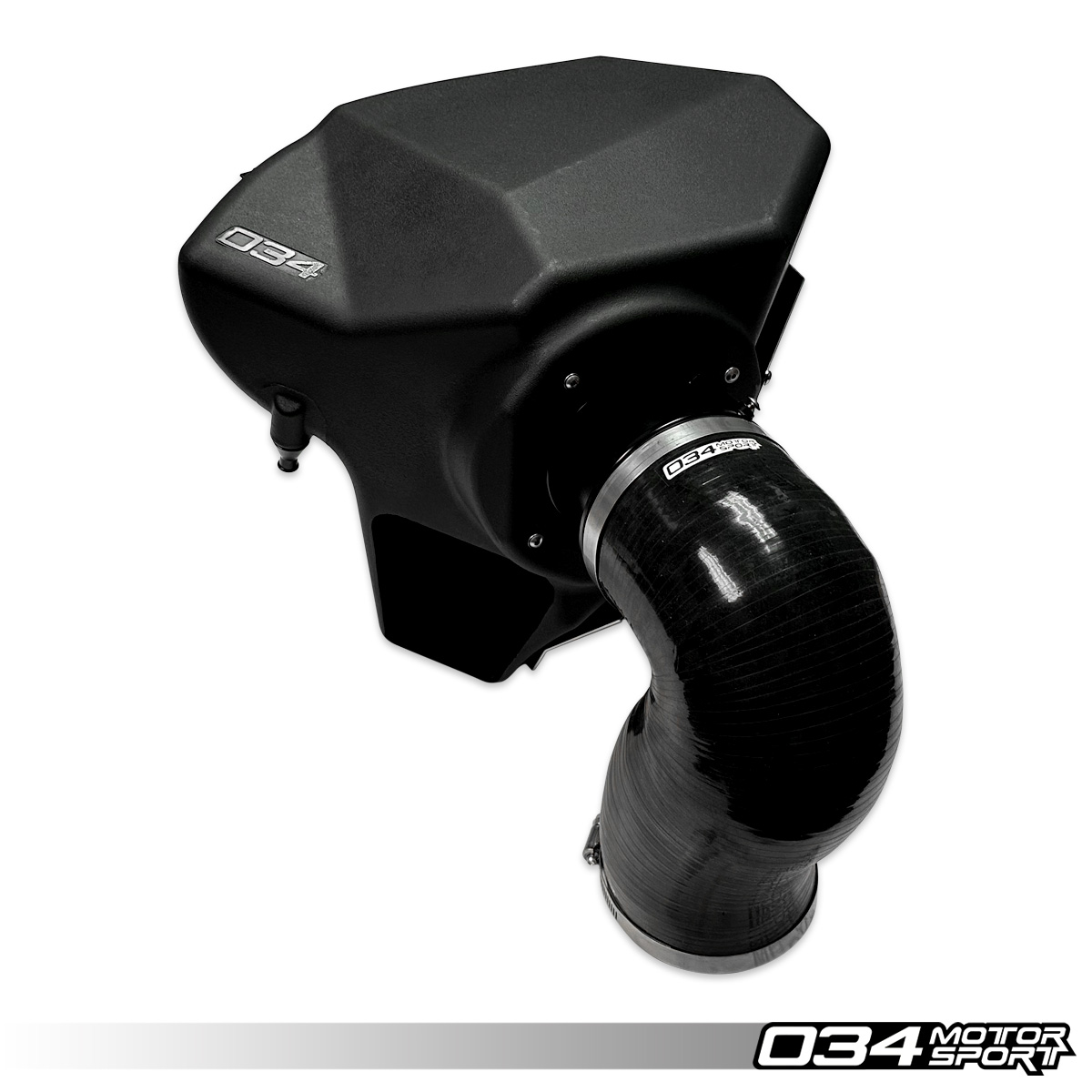 Check out our new intake here!
034Motorsport has developed this comprehensive performance intake solution for the BMW F2X/F3X B58. Subsequently, the P34 Cold Air Intake System offers discerning enthusiasts measurable increases in horsepower and torque, sporty induction and turbocharger sounds, and a functional airbox and inlet hose design.

Throughout the development process, multiple designs were modeled, prototyped, and tested - all to ensure that the P34 Cold Air Intake System delivers measurable performance benefits and superb fitment. The P34 Cold Air Intake System utilizes a partially-enclosed airbox that uses the factory fresh air inlet duct and heat shield that houses a 3.5" inlet conical air filter. This filter is mounted to a CNC-Machined Velocity stack, which smooths the airflow and increases air velocity, allowing for even more airflow through the matching CFD-optimized filter tube to the turbo inlet.
MINIMIZING UNNECESSARY FILTER SHROUDING:
034Motorsport focuses on optimizing every aspect of the intake system across a broad range of variables and compromises. A critical component of a high-flowing performance intake is the ability for air to flow around and into the filter. If the air cannot flow freely around the filter, it will be restricted from getting into it.

Many aftermarket kits fit too large of a filter in an enclosure that cannot accommodate its size, thus choking the filter and reducing its overall flow. This often happens when a product is engineered for one variable at the expense of others. 034Motorsport conducted extensive tests and refined its development of the intake design to allow for maximum airflow surrounding the air filter, allowing for optimal airflow to, and through, the filter.

The final result is the right size filter in the right size filter housing, creating maximum airflow and performance with OEM level filtering; the ultimate goal of any intake system. Be cautious of any intake that brags only of air filter size, without taking into account the detrimental effects of shrouding the filter.
MAXIMIZING AIRFLOW:
034Motorsport engineers first created a CFD-optimized 4-Ply silicone intake tube, which is a direct, high-performance replacement for the plastic factory accordion/sound deadening hose. Using CAD software and 3D scanning technology, 034Motorsport was able to optimize the cross-sectional area of the intake tube while being mindful of space constraints.

The resulting part is a functional work of art - maximizing performance given the factory space constraints and featuring smooth transitions that ensure optimal airflow to the throttle body.
PERFORMANCE AIR FILTER:
The P34 Cold Air Intake System houses a high-flow conical air filter with a double-layer pleated cotton filtration medium, capable of trapping particles as small as 5 Microns. This air filter design offers increased flow through an enlarged filtration surface while ensuring superior filtration. We have tested this air filter in applications over 800HP with minimal restriction and superior OEM quality air filtration.

While many intake kits leave the air filter unsupported and "flopping" around, 034Motorsport engineers designed a clever air filter support that not only prevents unwanted movement but also allows compliance to accommodate engine movement under varying load conditions. An added benefit is an air shroud that doesn't move and rub on other engine compartment components like many other designs on the market do.
P34 COLD AIR INTAKE FEATURES:
Developed In-House by 034Motorsport's Engineering Team
Improved Airflow from Factory Airbox and Intake Tube

OE Intake: 674 CFM (@ 28in H2O)
P34 intake: 814 CFM (@ 28in H2O) - 21% increase

Enhanced Engine & Induction Sounds
Improved Throttle Response
Superb Fit & Finish to Match Factory Engine Bay
Stealthy OEM+ Design
High Flow Conical Air Filter
CNC-Machined Billet Aluminum Velocity Stack MAF Housing
Large-Diameter CFD-Optimized Turbo Inlet Hose
Securely Installs Using Factory Mounting Points
Simple, Straightforward Installation
WHAT'S INCLUDED:
OEM Quality Plastic Airbox
Billet MAF Housing Adapter
Silicone Hose
Billet Mounting Button
3.5" Inlet High Flow Air Filter
Gold Heat Barrier Tape
Misc. Hardware
EMISSIONS DISCLAIMER:
This product is sold for racing use as well as use on vehicles not registered for on highway use.
By purchasing this product, you understand that this product is sold for racing use as well as used on vehicles not registered for on highway use, and that it is not legal for use on highway or street vehicles.