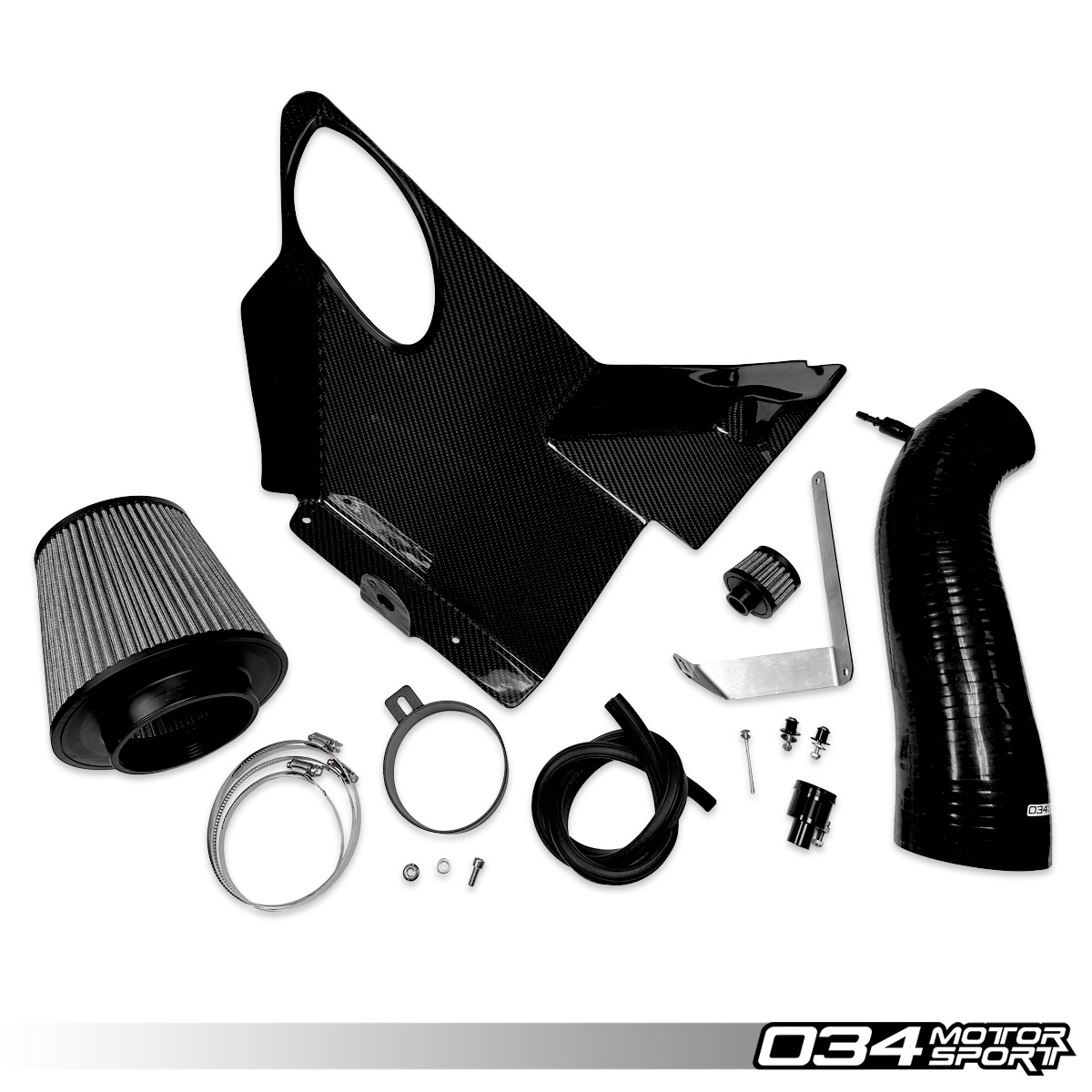 Check out the new intake here!
Significant effort went into developing this comprehensive performance-improving intake solution for the Supercharged 3.0 TFSI engine found in the C7 and C7.5 generations of A6 and A7. The S34 Carbon Fiber Intake for Audi C7/C7.5 A6/A7 3.0 TFSI offers discerning enthusiasts measurable increases in horsepower and torque, more aggressive induction sound and supercharger whine, and a beautiful carbon fiber heat shield to prevent hot air from the engine bay from entering the intake.
Throughout the development process, multiple designs were modeled, prototyped, and tested - all to ensure that the S34 Carbon Fiber Intake delivers measurable performance benefits and superb fitment. The result is an optimized open-airbox design that utilizes the factory fresh air duct inlet to channel cool outside air to the filter. This large airbox design allows for a massive 4" inlet conical air filter, free of restrictive shrouding, and channels air through a CFD-optimized 4-ply silicone inlet hose that smoothly increases air velocity to the throttle body.
Product Features & Details:
Developed In-House by 034Motorsport's Engineering Team
Fits Both Left and Right Hand Drive Configurations
High-Quality Carbon Fiber Air Block-off Shield
High-Gloss Epoxy Finish
4-Ply Gloss Black Silicone Intake Tube
OEM+ Fit and Finish
No Rubbing or Excessive Movement
Dyno-Proven Horsepower Torque Gains
Improved Airflow from Factory Airbox and Intake Tube

Stock Intake: 590 CFM @ 28" H2O
S34 Intake: 897 CFM @ 28" H2O

Enhanced Engine Induction Sounds
Improved Throttle Response
Large 4" Inlet Conical Pleated Cotton Air Filter
Reduced Intake Air Temperature
Securely Installs Using Factory Mounting Grommets
Simple, Straightforward Installation Instructions
What's Included:
S34 Carbon Fiber Heat Shield
S34 4" Inlet Silicone Hose
S34 SüperDüper 4" Double-Layered Cotton Pleated Filter
S34 Secondary Air Injector Filter
Metal Mounting Bracket for Intake Hose