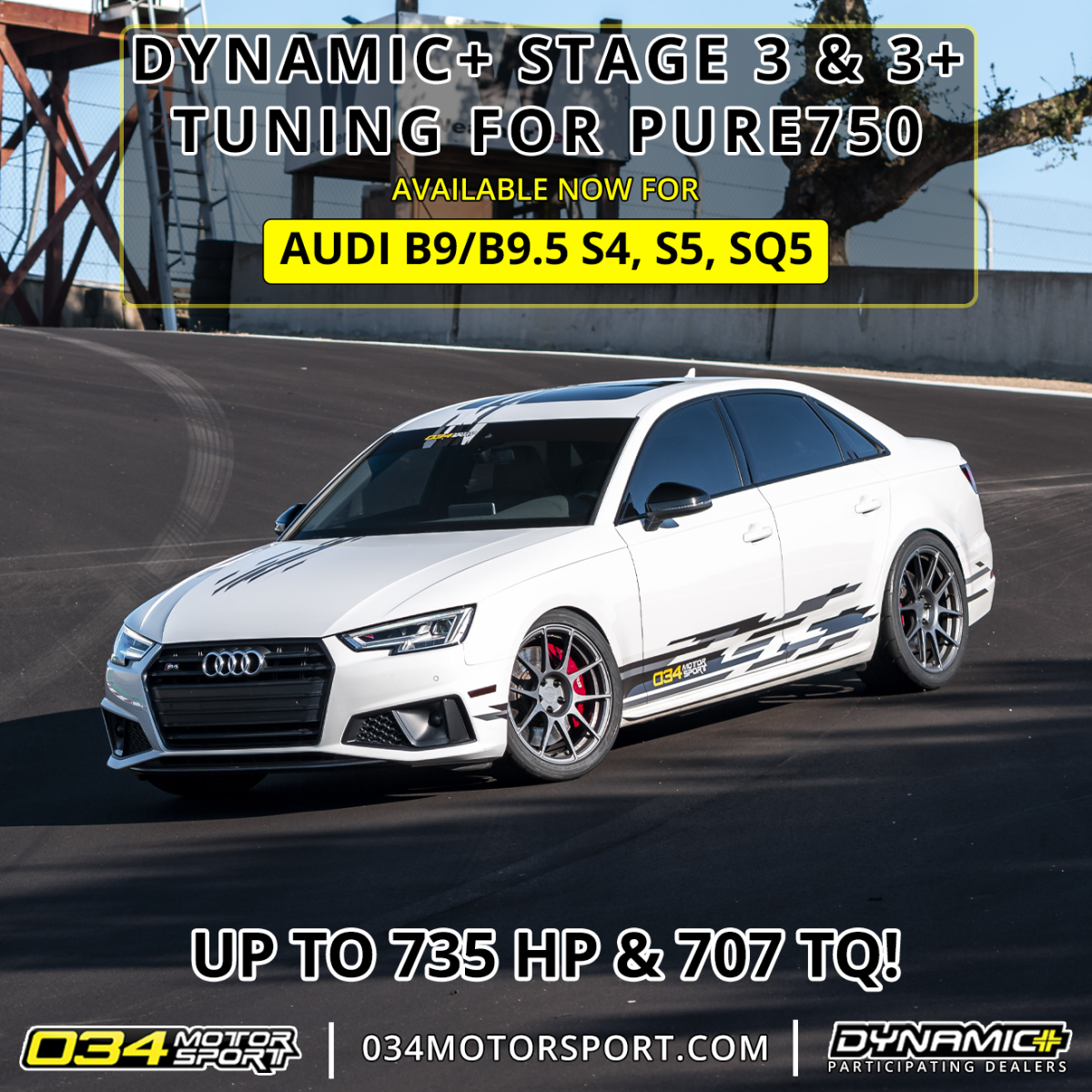 Check out our new software here!
034Motorsport is proud to formally announce Stage 3 Dynamic+ Performance Software for the Audi B9 S4, S5, & SQ5 equipped with the EA839 3.0T TFSI engine and Pure750 Turbocharger! Generate up to 735 Horsepower and 707 FT-LB of torque with just an ECU and TCU flash and accompanying hardware! 

Dynamic+ Stage 3 Tuning will allow you to give those unsuspecting tuned Mustangs, Supras, or supercars a run for their money, ending with a nice view of their headlights in your rearview mirror.

See the product page for a full, in-depth breakdown of the key optimizations that the 034Motorsport Calibration team implemented in this full tuning bundle.

Performance:
Stock: 350 HP / 391 TQ
Stage 1 91: 397 HP / 491 TQ
Stage 1 93: 431 HP / 567 TQ
Stage 1 E85: 486 HP / 601 TQ
Stage 2 91: 454 HP / 542 TQ
Stage 2 93: 476 HP / 576 TQ
Stage 2 E85: 510 HP / 616 TQ
Stage 3/3+ Pure750 91: 548 HP / 611 TQ
Stage 3/3+ Pure750 93: 594 HP / 641 TQ
Stage 3 Pure750: Figures Coming Soon for E60-E70/E85
Stage 3+ Pure750 E60-E70: 735 HP / 707 TQ
Stage 3+ Pure750 E85 Pump: 697 HP / 689 TQ

Click Here to Learn More About Pure750 & TTE810 Stage 3 & 3+ Files.

ECU Flash Features:
-Increased Horsepower & Torque Throughout the Powerband
-Improved Power Delivery, Acceleration, and Driving Characteristics
-Refined Throttle Mapping for Enhanced Throttle Response & Precision
-Modified Thermal Management Safety Strategies
-Fuel System Optimization for Ethanol
-Accurate Boost and Torque Reporting for Safety Features
-Optimizations around Volumetric Efficiencies of the EA839 3.0T
-Speed Limiter Removed for Increased Top Speed
-Flashed Directly Via the Factory OBD-II Port

Stage 3 TCU Flash Features:
-Torque Safety Protocols Recalibrated for Higher Output
-Optimized Part and Full Throttle Shift Points
-Kickdown Switch Disabled in Manual Mode
-Improved Shift Speeds
-AMAX Shifting Enabled Through 6th Gear
-Increased Rev Limiter to Take Advantage of Increased Powerband

Availability is subject to box code availability. Please email tuning@034motorsport.com to verify files are available for your box code/vehicle BEFORE installing upgraded components. 
034Motorsport Stage 3 Performance Software for the EA839 3.0T equipped with the Pure750 Hybrid Turbocharger (running pump gas or ethanol) is engineered to safely increase the horsepower and torque beyond the stock turbocharger. Significant time was spent refining and safely optimizing the Pure750 Turbocharger calibration to ensure unrivaled drivability and uncompromised reliability. While many tuners can achieve great power figures that look impressive on a dyno sheet or a webpage, the key to a truly substantive and transformative software upgrade lies in the strategies employed to make power efficiently and safely.

In addition to power improvements, 034Motorsport's engineers spent a significant amount of time refining the throttle mapping in both Dynamic and Comfort modes to provide improved throttle response and allow for more precise throttle modulation with the addition of a hybrid turbocharger.

Upgraded Injector Optimization: Dynamic+ Stage 3 Software for the Pure750 Turbocharger is optimized for use with upgraded OEM Audi 2.9TT/4.0TT Direct Fuel Injectors (p/n: 06M906036AQ). The OEM Audi 2.9TT/4.0TT Direct Fuel Injectors are a required hardware upgrade for Stage 3 Dynamic+ Tuning for the Pure750 Turbocharger that allows you to maximize your power output safely.

The 034Motorsport Stage 3 E60-E70 file is recommended to have an ethanol content of E60-E70. This file is designated for use when seeking the highest power output possible. This ethanol content allows your Audi to safely generate maximum power from the Pure750 turbocharger by maximizing the octane level and knock-reduction efficiency of ethanol, without overloading the fuel system with extra fuel capacity that the current fuel system cannot sustain.

The Stage 3 E85 Pump file is recommended to have an ethanol content of E50-E85 and is designed to provide the most power possible with higher ethanol contents. This file is suited for those looking to daily drive their vehicle and run E85 from the pump safely without the hassles of mixing.

Note: The OEM Audi 2.9TT/4.0TT Direct Fuel Injectors are to only be used with TTE810 or Pure750 Turbocharger Calibrations and cannot be used on any other 034Motorsport Dynamic+ Tuning calibration.
ECU & TCU Tuning Bundles:
Stage 1 ECU and Stage 1 TCU: $850 MSRP
Stage 1+ ECU and Stage 1 TCU: $900 MSRP
Stage 2 ECU and Stage 1 TCU: $950 MSRP
Stage 2+ ECU and Stage 1 TCU: $1000 MSRP
Stage 3 ECU and Stage 1 TCU: $1,350
Existing ECU Tune Owner Upgrades:
Stage 1 -> Stage 1+: $50 MSRP
Stage 1 -> Stage 2: $100 MSRP
Stage 1 -> Stage 2+: $150 MSRP
Stage 1 -> Stage 3: $500 MSRP
Stage 1+ -> Stage 2: $50 MSRPP
Stage 1+ -> Stage 2+: $100 MSRP
Stage 1+ -> Stage 3: $450 MSRP
Stage 2 -> Stage 2+: $50 MSRP
Stage 2 -> Stage 3: $400 MSRP
Stage 2+ -> Stage 3: $350 MSRP
Dynamic+ TCU Tuning for New Customers:
Stage 1 TCU: Included with ECU Tuning for Free ($100 Value!)
Stage 2 TCU: $650 MSRP
Stage 3 TCU: $750 MSRP
Dynamic+ TCU Tuning Upgrades:
Stage 1 -> Stage 2 (Up to 12/22/2021): $450 MSRP
Stage 2 -> Stage 3: $100 MSRP
Stage 1-> 3 (Up to 5/9/2022): $550 MSRP
Stage 1 -> 3 (From 5/9/2022): $750 MSRP
Note: The purchase of Stage 3 ECU tuning includes files for all current offerings of hybrid turbos. Customers who have purchased Stage 3 Tuning Software for the TTE710 will receive TTE810 & Pure750 for free and vice versa.