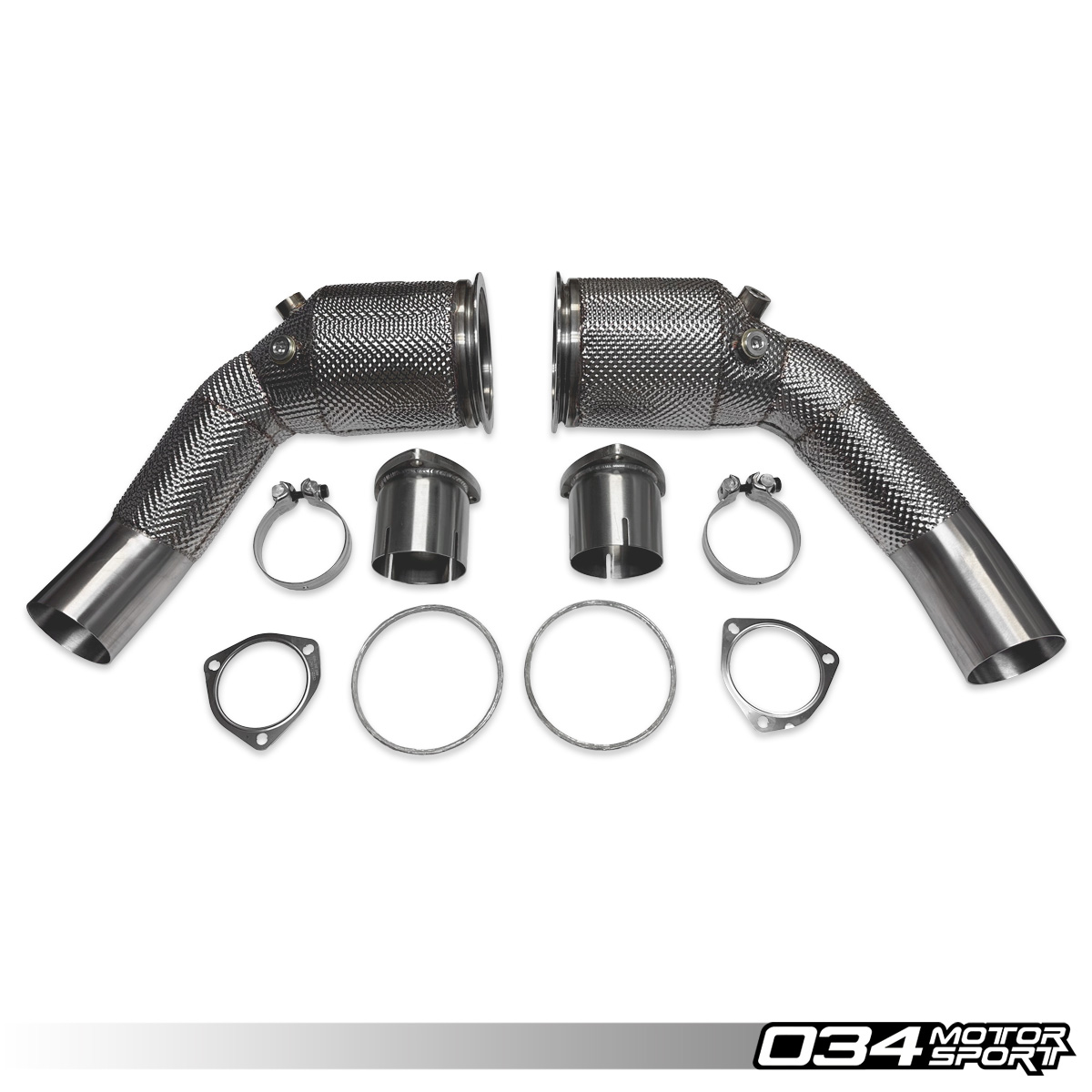 Check out our new downpipe here!
The 034Motorsport Stainless Steel Racing Catalyst Set for C8 Audi RS6/RS7 is designed as a drop-in replacement for the restrictive factory catalytic converters. The Stainless Steel Racing Catalyst Set offers increased horsepower and torque throughout the powerband, reduced turbocharger lag, improved throttle response, and enhanced exhaust note. This upgrade eliminates the primary flow limitation in the factory exhaust system, allowing you to maximize the potential of your turbocharged engine.

Optimized for increased flow and maximum performance, the Stainless Steel Racing Catalyst Set features two massive Euro 4 racing catalytic converters in the factory locations. This complete drop-in solution includes an integrated v-band flange at the turbine outlets, integrated oxygen sensor bung after the catalysts, integrated 3-bolt downpipe flanges, and a complete gasket kit to allow for precise fitment and ease of installation. The Stainless Steel Racing Catalyst for C8 Audi RS6/RS7 vehicles is constructed from 304 stainless steel for maximum durability and corrosion resistance, is TIG-welded and backpurged, and includes an integrated OE style heat isolation barrier to minimize exhaust heat transferred into the engine bay.

034Motorsport's Stainless Steel Racing Catalyst was developed entirely in-house by 034Motorsport's Engineering department and tested extensively internally as well as by beta customers.
FEATURES:
Increased Horsepower & Torque Throughout the Powerband
Quicker Turbocharger Spool & Faster Transient Response (150-300 RPM Quicker Spool)
Enhanced Exhaust Note & Turbocharger Sounds
Direct, Bolt-In Upgrade for Factory Catalytic Converter
Engineered In-House by 034Motorsport's Engineering Team
Factory-Location Euro 4 Racing Catalytic Converter
304 Stainless Steel Construction with Integrated Inlet/Outlet Flanges & O2 Sensor Bung
Precision CNC-Machined Flange Mating Surfaces
OE Style Heat Isolation Barrier
TIG Welded & Backpurged
WHAT'S INCLUDED:
Stainless Steel Racing Catalyst Pair
2x V-Band Gaskets Fire Ring Seals
2x OE Gaskets
EMISSIONS DISCLAIMER:
This product is sold for racing use as well as use on vehicles not registered for on highway use.

By purchasing this product, you understand that this product is sold for racing use as well as used on vehicles not registered for on highway use, and that it is not legal for use on highway or street vehicles.