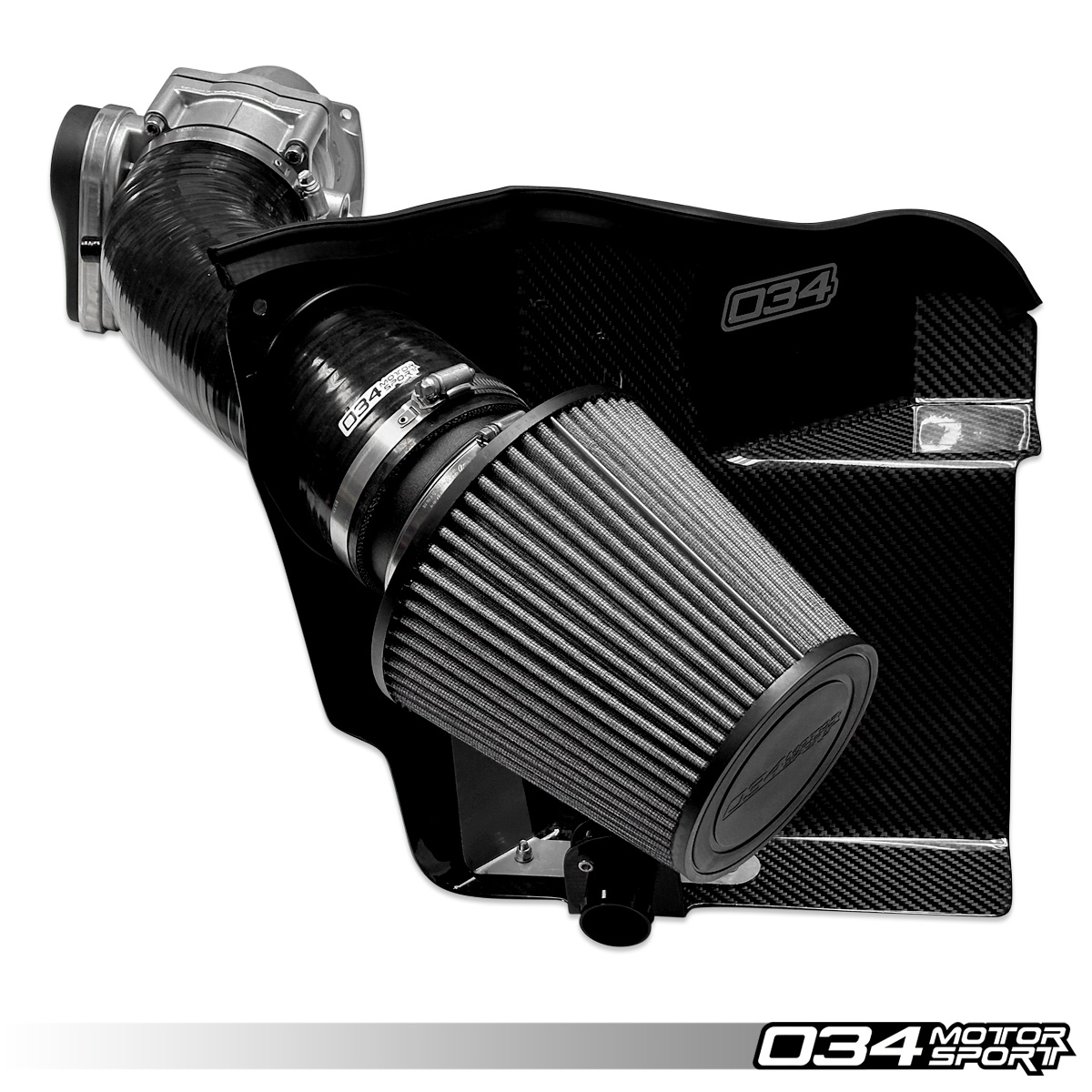 Check out the new bundle SüperDüper bundle here!
The SüperDüper S34 Insuction Bundle for the B8/B8.5 Audi Q5/SQ5 includes all of the best 034Motorsport products required to upgrade your intake system in one comprehensive and convenient package. Included with this kit are the SüperDüper 84mm Throttle Body System and S34 Carbon Fiber Intake.
034Motorsport Dynamic+ Tuning is required to safely run this SüperDüper S34 Insuction Bundle. Files to support this upgraded hardware are included with our Stage 2+ 91, 93, 100, 104, & E40 octane options free of charge. Simply select the file designated with SüperDüper and you're good to go! NOTE: This is only for Stage 2+ files. We do not have Stage 1 or Stage 2 files for the SüperDüper Charger.
The 034Motorsport SüperDüper Charger utilizes a VDO 84mm throttle body mated to a cast and machined aluminum throttle body adapter, offering a smooth transition between the larger throttle body to the supercharger inlet. This results in a 20% increase in flow over the OE throttle body right out of the box. Additionally, the throttle body adapter and gasket can be port matched to the supercharger during supercharger porting, allowing for increased airflow.
Features:
Cast and Machined A356 Aluminum Throttle Body Adapter
Upgrades to a VDO 84mm Throttle Body
Improved Flow Where the Stock Throttle Body Becomes Restrictive
20% Increase in Flow Over the OE Throttle Body

Stock 70mm Throttle Body & Intake : 380 CFM
034Motorsport 84mm SüperDüper S34 Insuction Bundle: 457 CFM

OEM BMW V8 Throttle Body for Reliability and Long Lasting Performance
Smooth Transition from the Large Throttle Body to the Supercharger Inlet
Throttle Body Adapter and Gasket Can be Port Matched to the Supercharger During Supercharger Porting, Allowing Even More Flow
Wire-Reinforced Multi-Ply Silicone Hose

Maintains Smooth Inside Surface for Optimum Flow
Nylon Breather Tube Connection Nipple
Throughout the development process, multiple designs were modeled, prototyped, and tested - all to ensure that the S34 Carbon Fiber Intake delivers measurable performance benefits and superb fitment. The result is an optimized open-airbox design that utilizes the factory fresh air duct inlet to channel cool outside air to the filter. This large airbox design allows for a massive 4" inlet conical air filter, free of restrictive shrouding, and channels air through a CFD-optimized 4-ply silicone inlet hose that smoothly increases air velocity to the throttle body.
Features:
Developed In-House by 034Motorsport's Engineering Team
Fits Both Left and Right Hand Drive Configurations
High-Quality Carbon Fiber Air Block-off Shield
High-Gloss Epoxy Finish
4-Ply Gloss Black Silicone Intake Tube
OEM+ Fit and Finish
No Rubbing or Excessive Movement
Dyno-Proven Horsepower Torque Gains
Improved Airflow from Factory Airbox and Intake Tube
Enhanced Engine Induction Sounds
Improved Throttle Response
Large 4" Inlet Conical Pleated Cotton Air Filter
Reduced Intake Air Temperature
Securely Installs Using Factory Mounting Grommets
Simple, Straightforward Installation Instructions