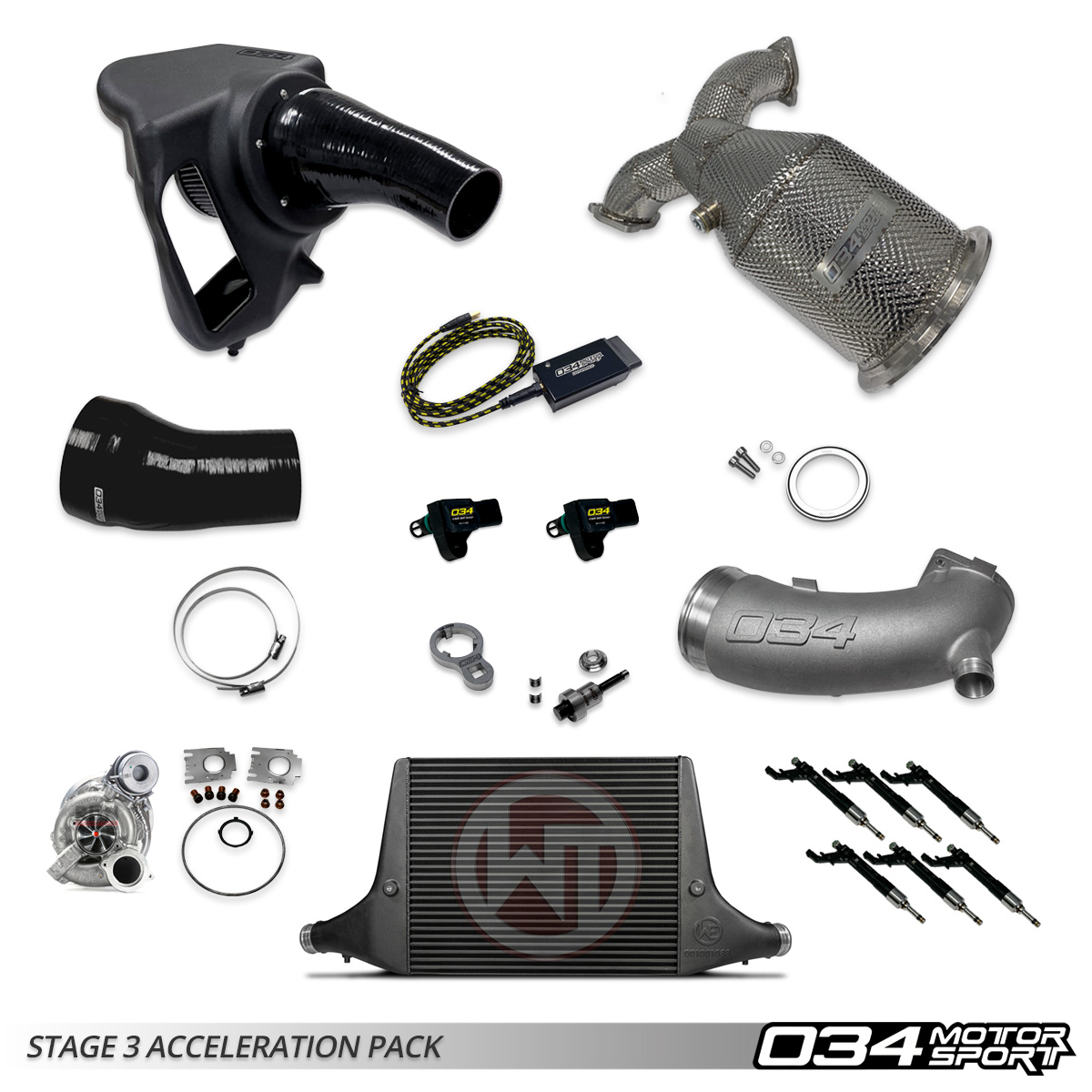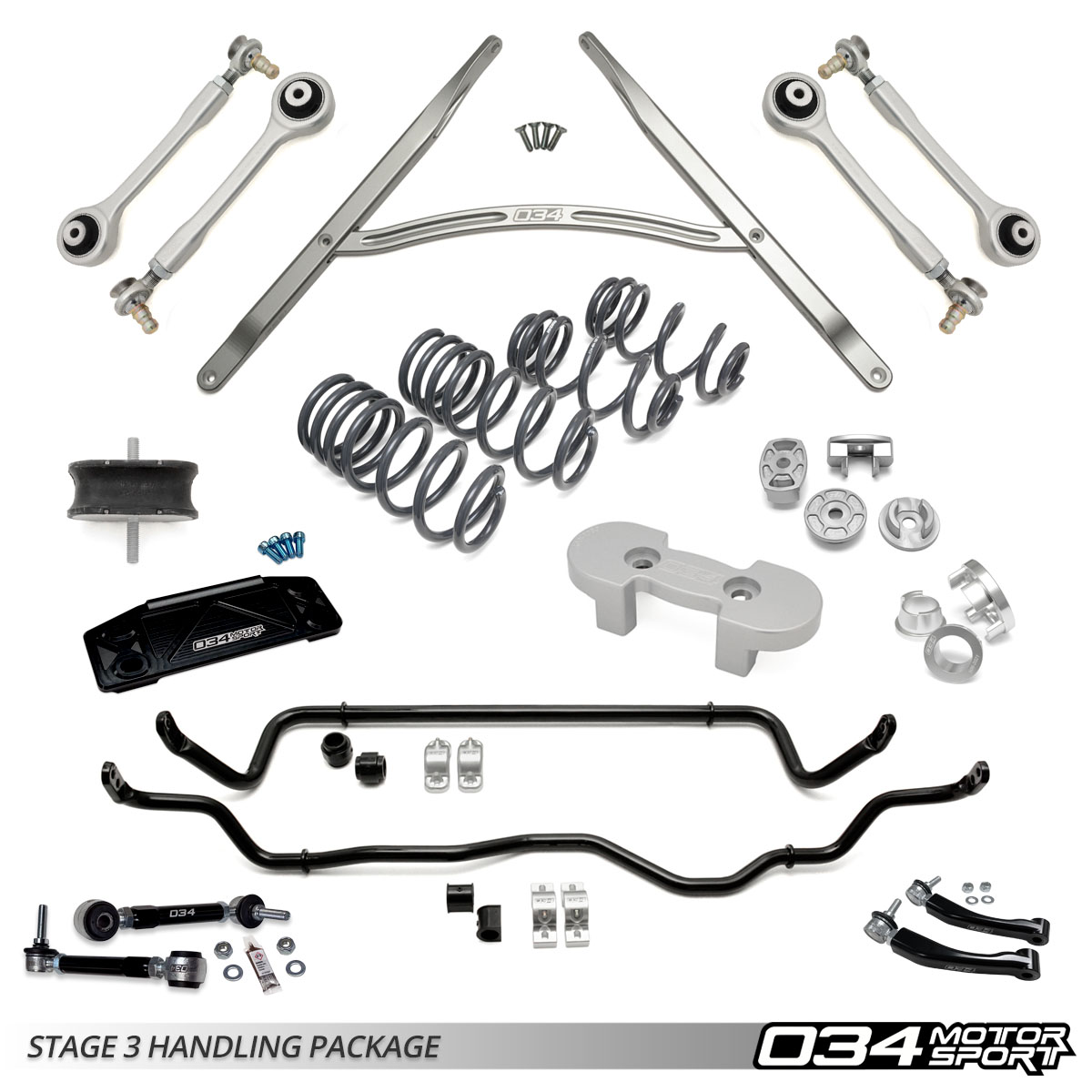 034Motorsport Acceleration and Handling Packages contain staged upgrade packages specifically tailored for your B9/B9.5 Audi S4 & S5 3.0 TFSI. The 034Motorsport Acceleration and Handling Packages contain hand-selected products from the expansive 034Motorsport catalog, put together by the experienced 034Motorsport Engineering Team, to offer staged engine and power or handling upgrades for the B9/B9.5 Audi S4 & S5 3.0 TFSI!
Note: The Handling Package will also fit B9/B9.5 Audi RS5 2.9T. The Acceleration Package for RS5 is coming soon!
Fitment:
2018 - Present Audi S4 3.0T (Acceleration + Handling Packages)
2018 - Present Audi S5 3.0T (Acceleration + Handling Packages)
2018 - Present Audi RS5 2.9T (Handling Package Only, Acceleration Package Coming Soon!)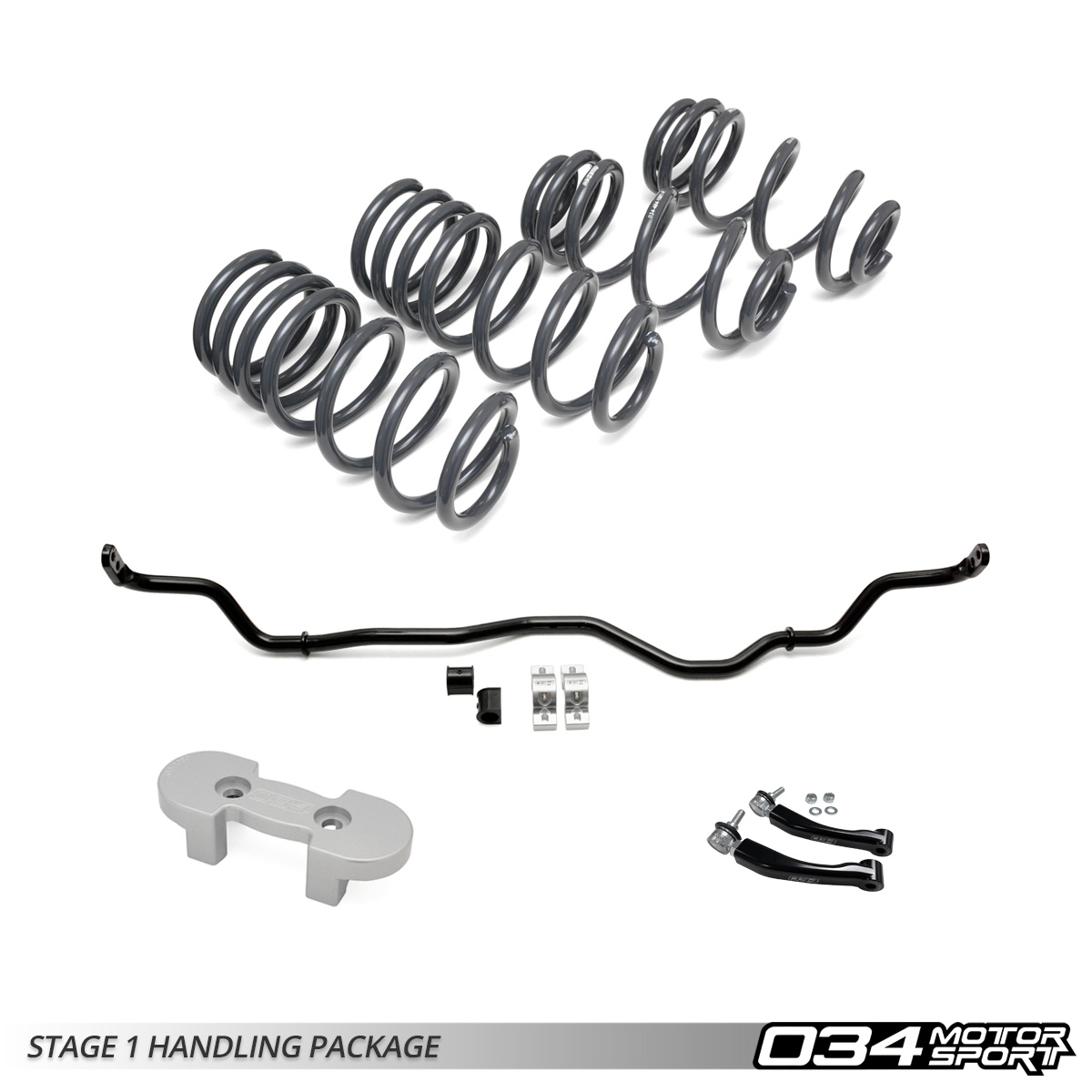 Looking to get a little more grip and handling performance out of your S4/S5/RS5? The Stage 1 Handling Package consists of the first modifications 034Motorsport Engineers recommend for B9/B9.5 S4/S5/RS5 owners and is a great place to start for those looking to transform their handling performance! Combining the Dynamic+ Lowering Springs and Adjustable Rear Sway Bar and End Links improves handling by virtually eliminating body roll and reducing understeer, allowing you to handle a corner confidently. With the addition of the Billet Transmission Mount Insert, drivetrain slop is significantly reduced, improving overall acceleration performance and throttle response for a more connected driving experience.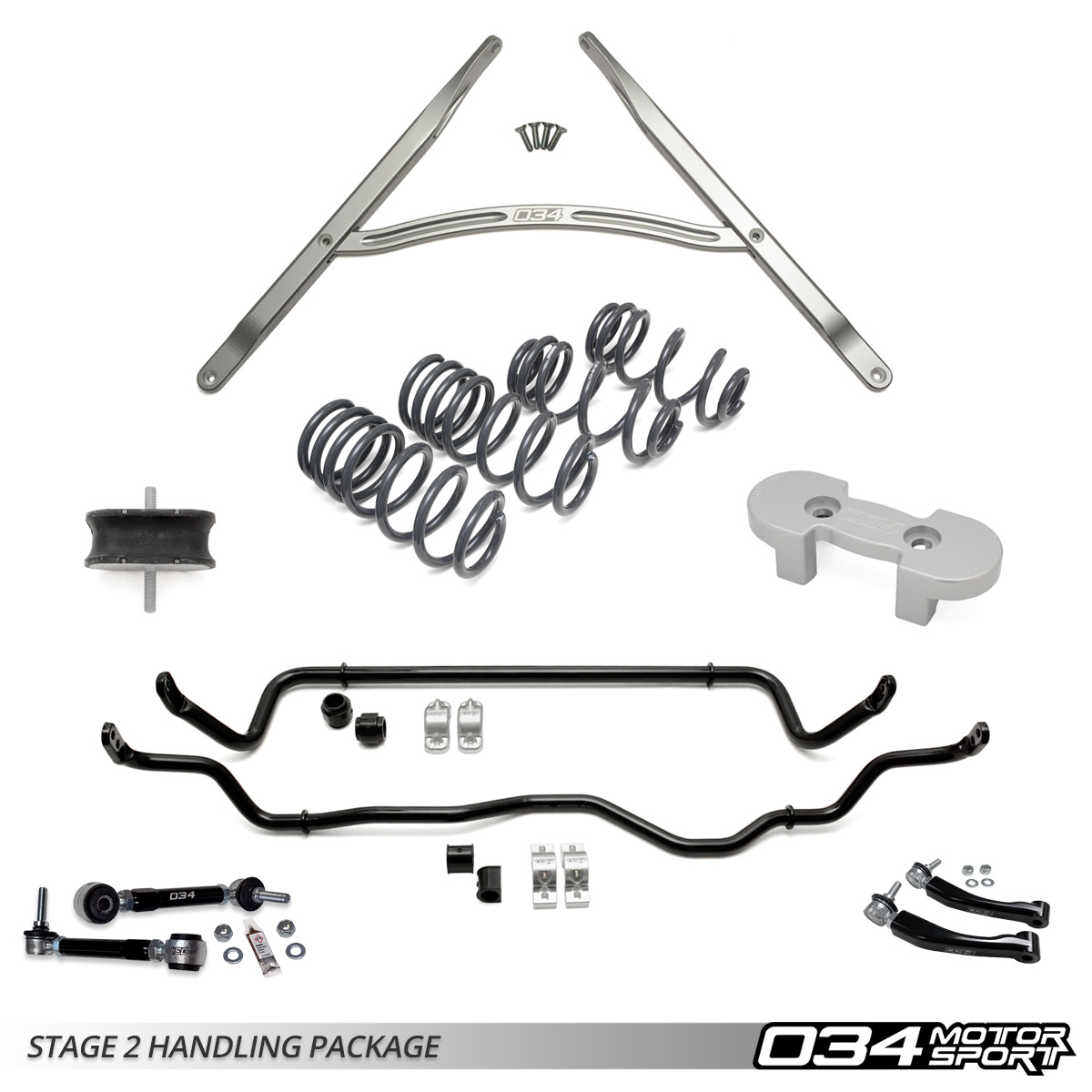 Looking to turn it up a notch? The Stage 2 Handling Package adds the 034Motorsport Dynamic+ Sway Bar Kit, Billet Front Strut Brace, Street Density Transmission Mount, and Billet Transmission Insert into the mix. The Dynamic+ Adjustable Sway Bar Kit is the ultimate sway bar kit featuring a unique front and rear sway bar pair, offering the most optimized and balanced handling experience, providing virtually no body roll and substantially improved rotation. The Front Strut Brace solidly links the strut towers by reducing chassis flex and lateral deflection, providing better road and steering feel. The Street Density Transmission Mount Upgrade combined with the Transmission Mount Insert all but eliminates drivetrain slop, further improving drivetrain rigidity and throttle response.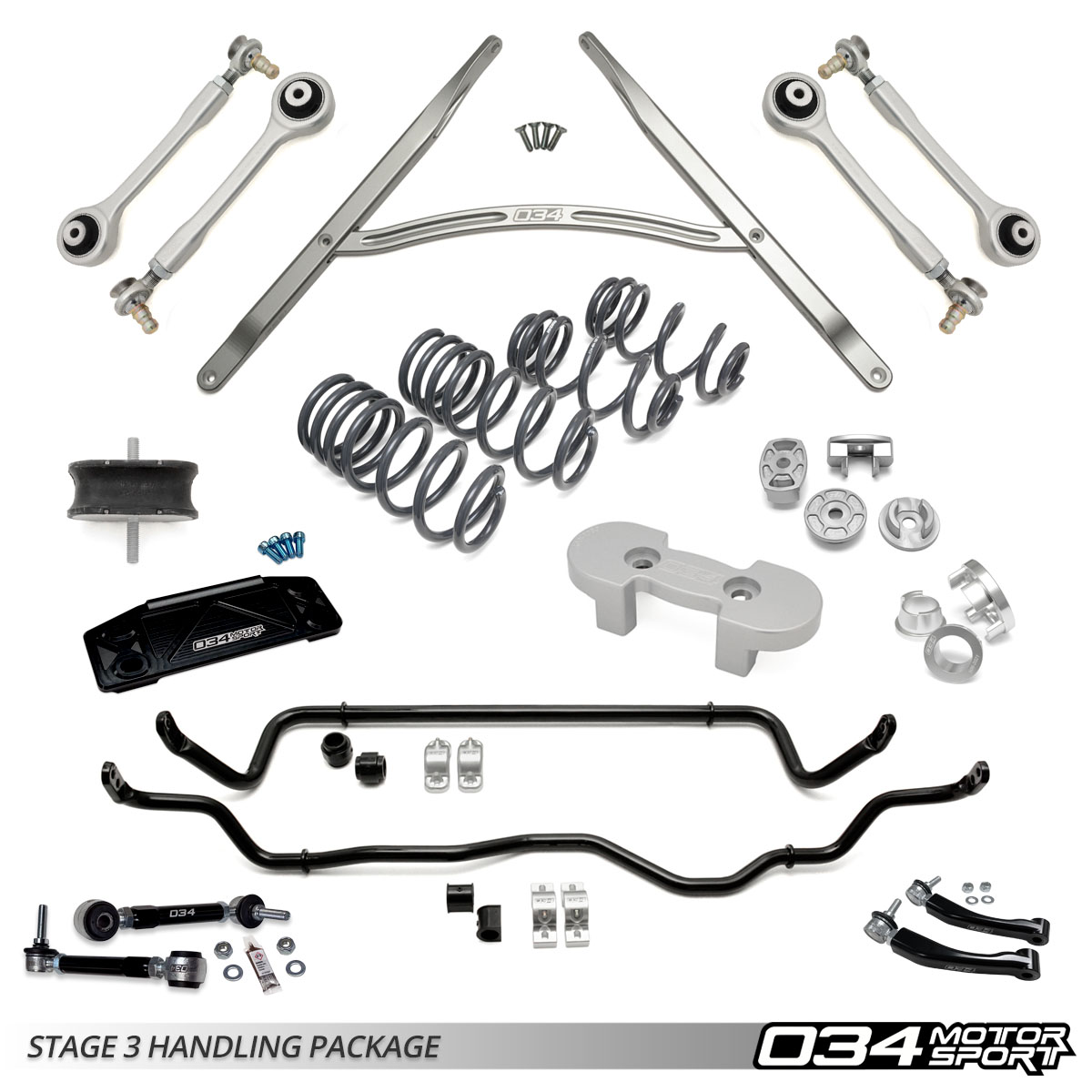 Stage 3 is the ultimate handling package for those who want the best handling performance out of their vehicles! In addition to Stage 2, the 034Motorsport Density Line Track Spec Upper Control Arms, Billet Rear Subframe Mount Insert Kit, Billet Rear Differential Mount Insert Kit, and X-Clear Driveshaft Tunnel Brace are included. This package provides the adjustability you need to dial in your car properly while substantially improving high-speed stability and greatly reducing chassis deflection with the addition of the 034Motorsport Subframe and Differential Inserts. The 034Motorsport Track Spec Upper Control Arms offer the ability to add more negative camber to dial in your suspension. Adding additional negative camber with our Track Spec Upper Control Arms substantially improves turn-in and further reduces understeer, turning your B9/B9.5 S4/S5/RS5 into a handling machine!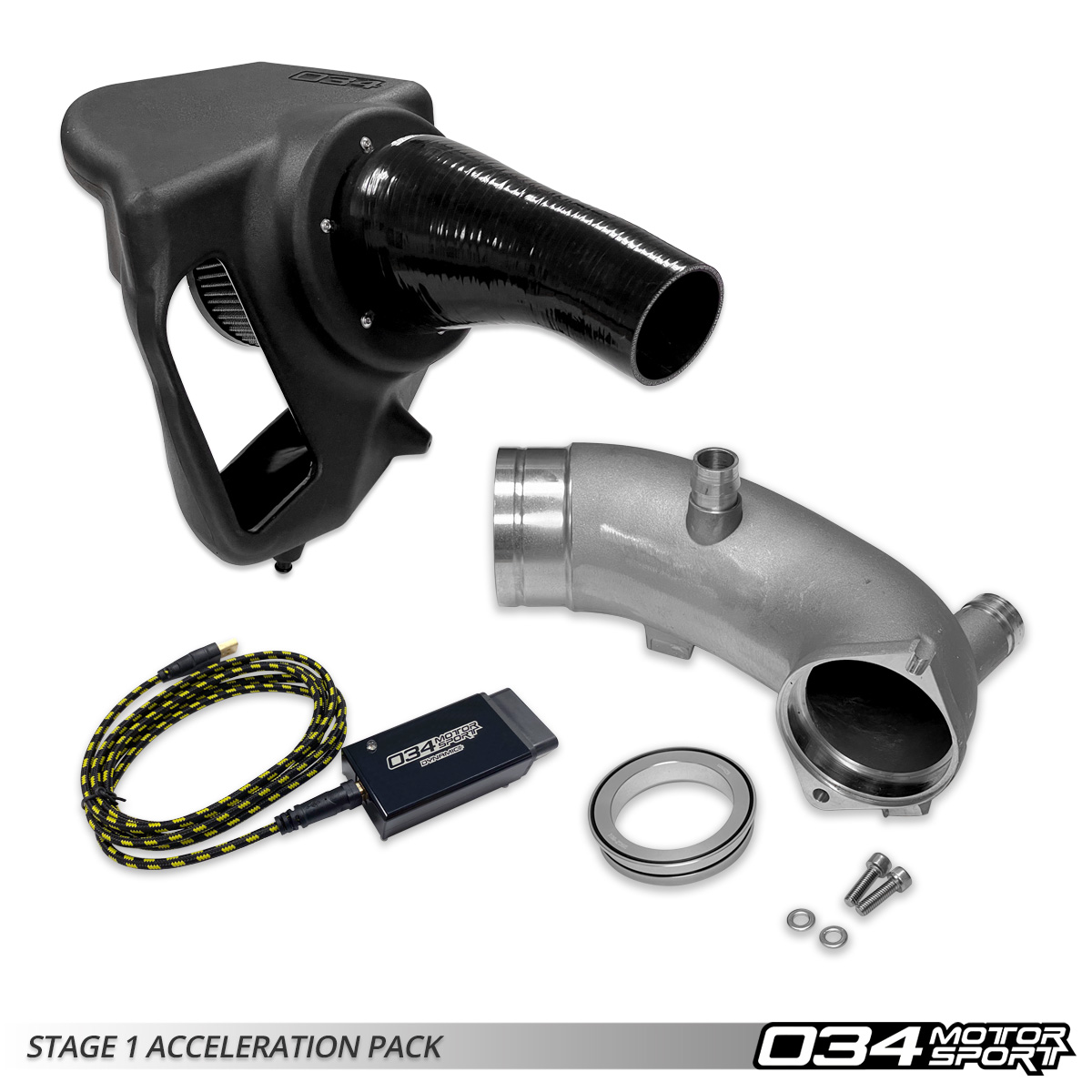 034Motorsport's Stage 1 Acceleration Package is ideal for those looking to dip their toes into the world of substantive performance hardware and tuning! With just a simple flash to the ECU & TCU, experience the true potential of the EA839 3.0 TFSI, which produces 486 HP & 601 TQ on E85! The included 034Motorsport P34 Cold Air Intake System aids these power gains by improving airflow and reducing intake air temperature over the Factory Airbox and Intake Tube while also enhancing engine and induction sounds.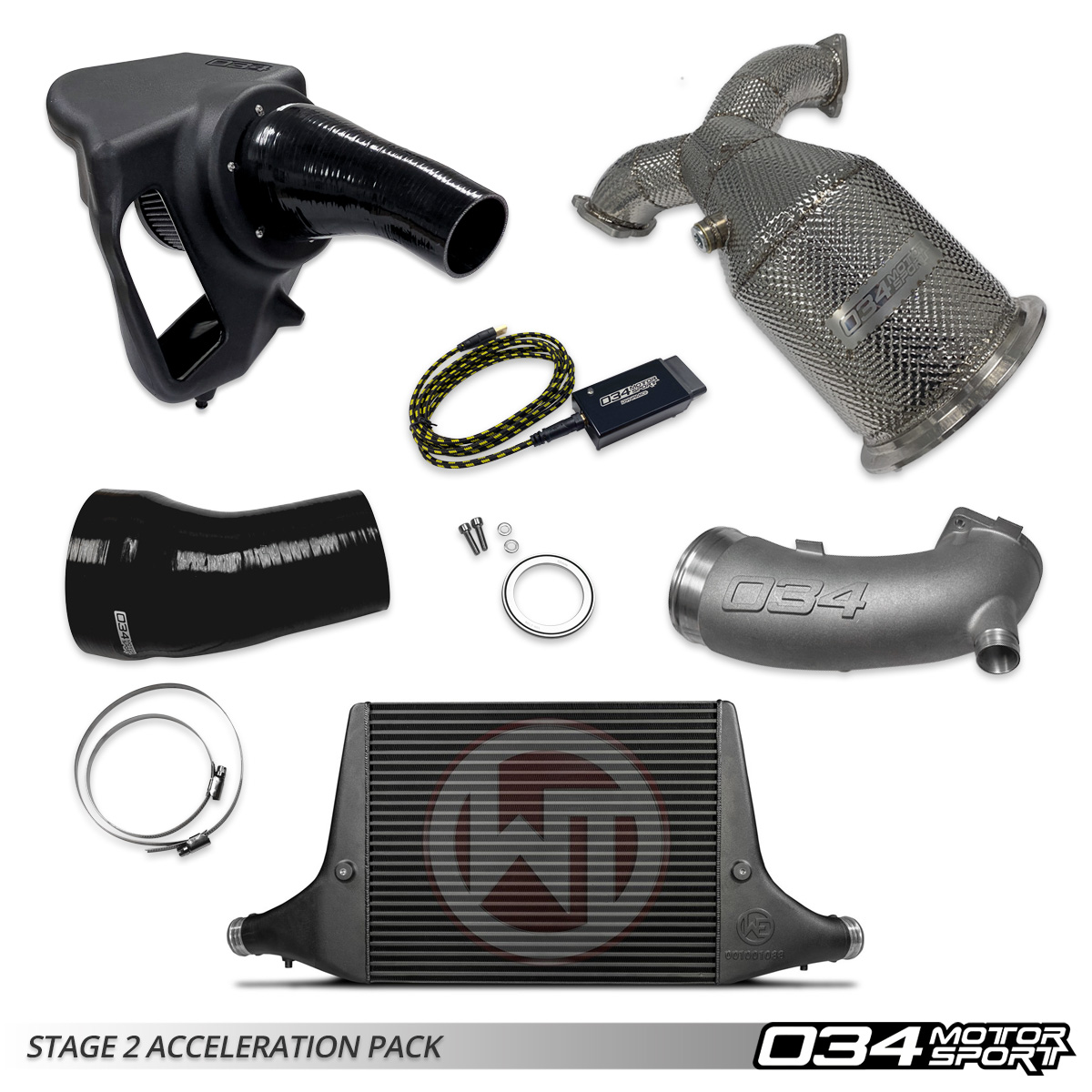 The B9/B9.5 S4 & S5 Stage 2 Acceleration Package takes things a step further, fully optimizing the factory turbocharger with the included 034Motorsport SüperDüper Turbo Inlet Pipe, 034Motorsport Stainless Steel Racing Catalyst, and the Wagner Tuning Comp. Intercooler Kit. 034Motorsport Dynamic+ Stage 2 ECU & TCU Software produces 510 HP & 616 TQ on E85 and enhances the AL552 ZF8 transmission to provide faster shift speeds, optimized shift points, and a true launch control feature to further transform the driving experience.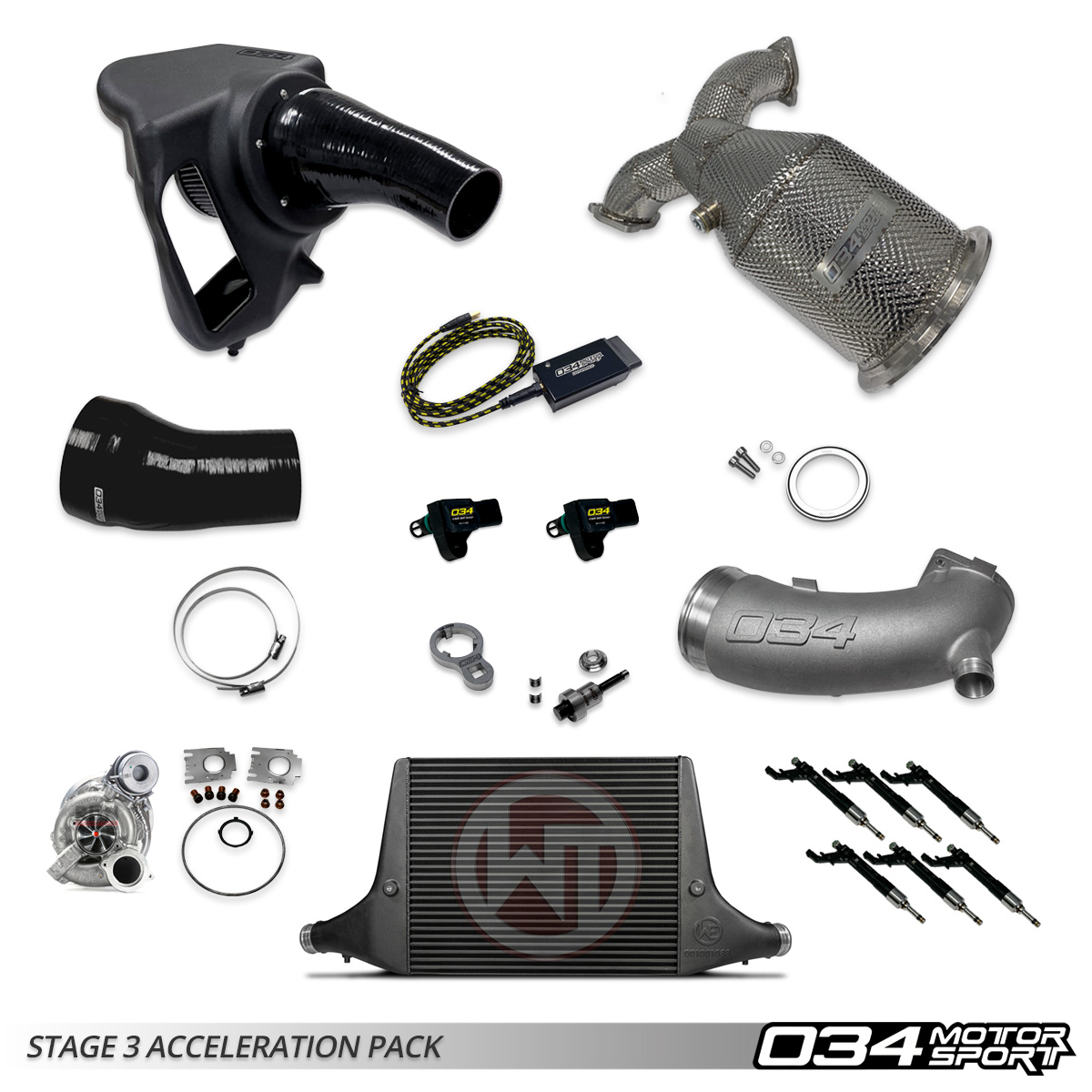 The ultimate balls-to-the-wall package for the B9/B9.5 S4 & S5. If Stage 2 wasn't enough, the 034Motorsport Stage 3 Acceleration Package makes it easier than ever to make big power with the EA839, nearing 800 HP when running E60! This Acceleration Package includes the TTE810 Turbo Charger Upgrade, Turbo Charger Installation Hardware, TTE 4 Bar MAP Sensors, OEM Audi 2.9TT/4.0TT Direct Fuel Injectors, 034Motorsport High Pressure Fuel Pump Upgrade and Tool, and the 034Motorsport SüperDüper Turbo Inlet Pipe. Significant time was spent refining and safely optimizing the TTE810 Turbocharger calibration to ensure unrivaled drivability, trackability and uncompromised reliability. It is the key to a truly substantive and transformative software upgrade experience that makes power efficiently and safely.
STAGE 1 HANDLING PACKAGE CONTENTS:
STAGE 2 HANDLING PACKAGE CONTENTS:
STAGE 3 HANDLING PACKAGE CONTENTS:
STAGE 1 ACCELERATION PACKAGE CONTENTS:
STAGE 2 ACCELERATION PACKAGE CONTENTS:
TAGE 3 ACCELERATION PACKAGE CONTENTS: