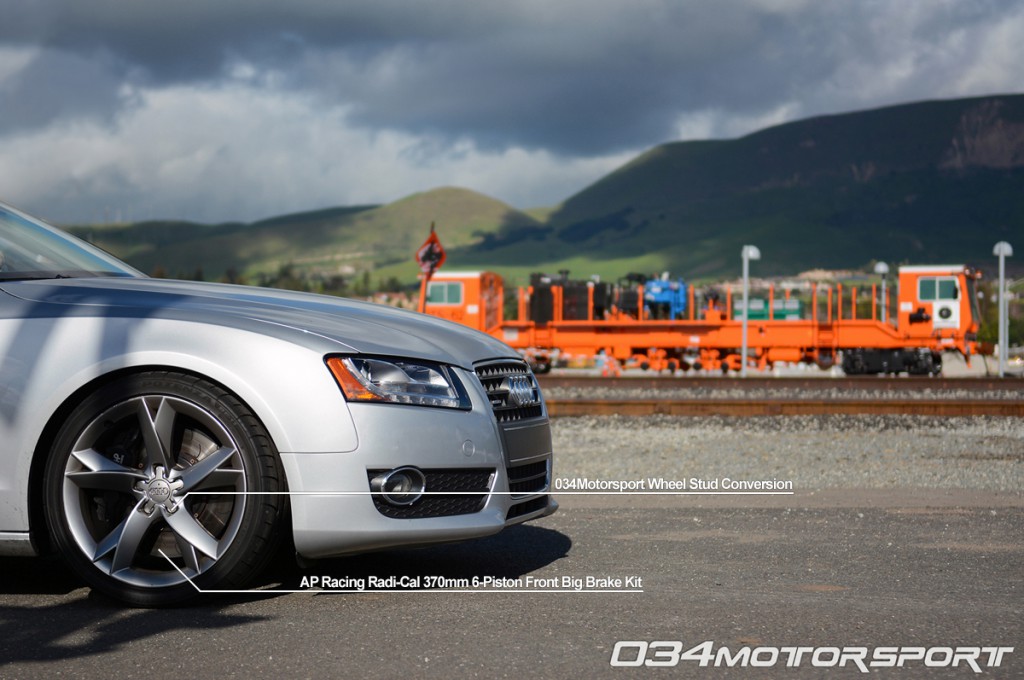 The Audi A5 2.0 TFSI might not seem like an obvious choice for a track-day toy, but with the proper modifications, it can be transformed into a formidable daily-driver with plenty of on-track potential. Bryce's tuned Audi A5 2.0 TFSI Quattro is a prime example of what happens when the right aftermarket performance parts come together to turn an otherwise unassuming Audi into a formidable weekend warrior.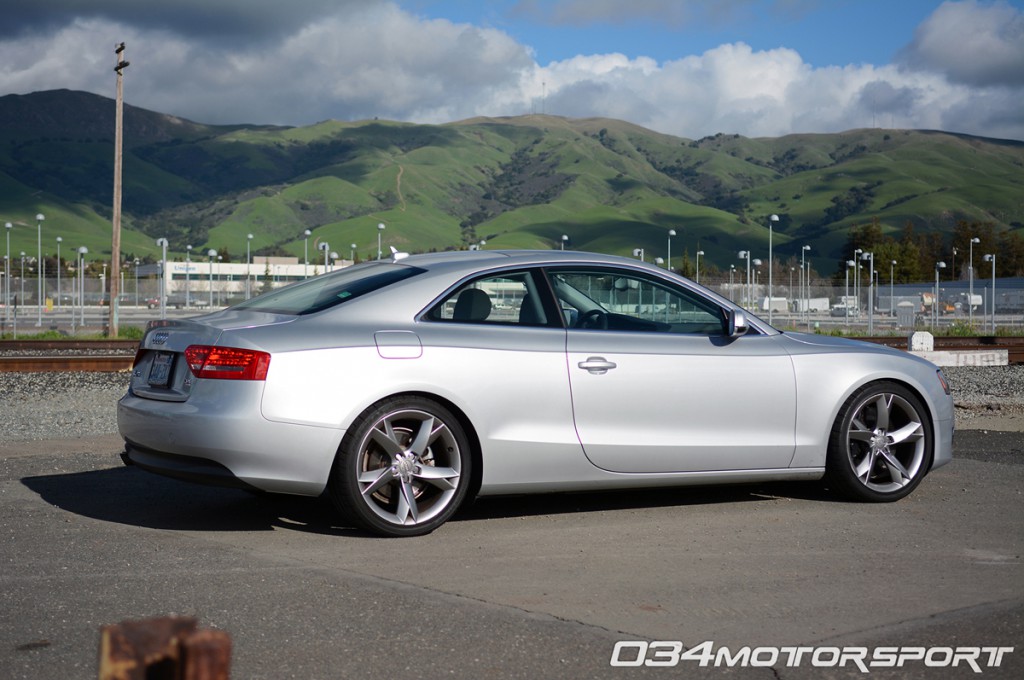 First on the tuning agenda for this 2010 A5 Quattro was more power, which came in the form of an APR B8 Audi A5 2.0 TFSI Valvelift K04 Turbo Upgrade Kit. This kit is centered around the larger Audi S3 / Volkswagen Golf R turbocharger, and allows for higher boost and power levels than can be achieved on the stock turbo. To help the freshly-installed K04 breathe easier and spool faster, a 034Motorsport B8 Audi A4/A5/Q5 2.0 TFSI Test Pipe was installed, along with an APR/Carbonio Carbon Fiber Cold Air Intake and 034Motorsport B8 Audi A4/A5 2.0 TFSI High-Flow Turbo Inlet Hose. The 034Motorsport B8 Audi A4/A5/Q5 2.0 TFSI Oil Catch Can & PCV Replacement Kit was also added to prevent oil from entering the intake manifold, and eliminate the chance of boost loss through the factory PCV assembly.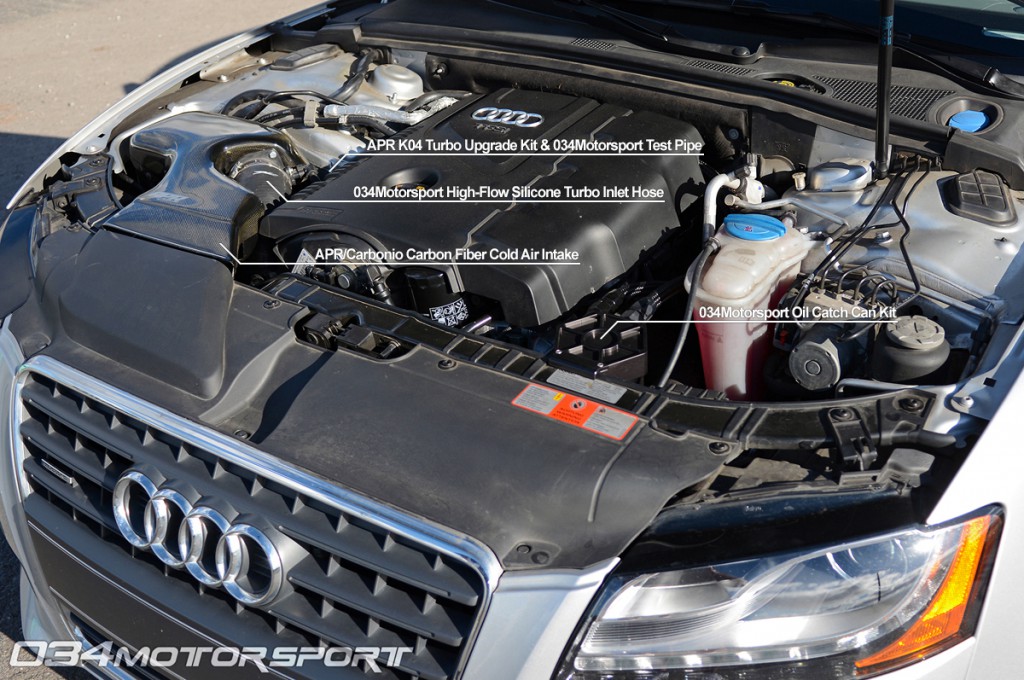 To keep IATs (Intake Air Temperatures) to a minimum and keep performance consistent on track, Bryce opted to install the 034Motorsport B8 Audi A4/A5 2.0 TFSI Front-Mount Intercooler (FMIC) Upgrade. Featuring a high-quality Garrett Intercooler Core with Cast End Tanks, this simple upgrade significantly lowers intake air temperatures over the stock intercooler and prevents heat soak. This results in more consistent power delivery on track, and higher peak horsepower and torque.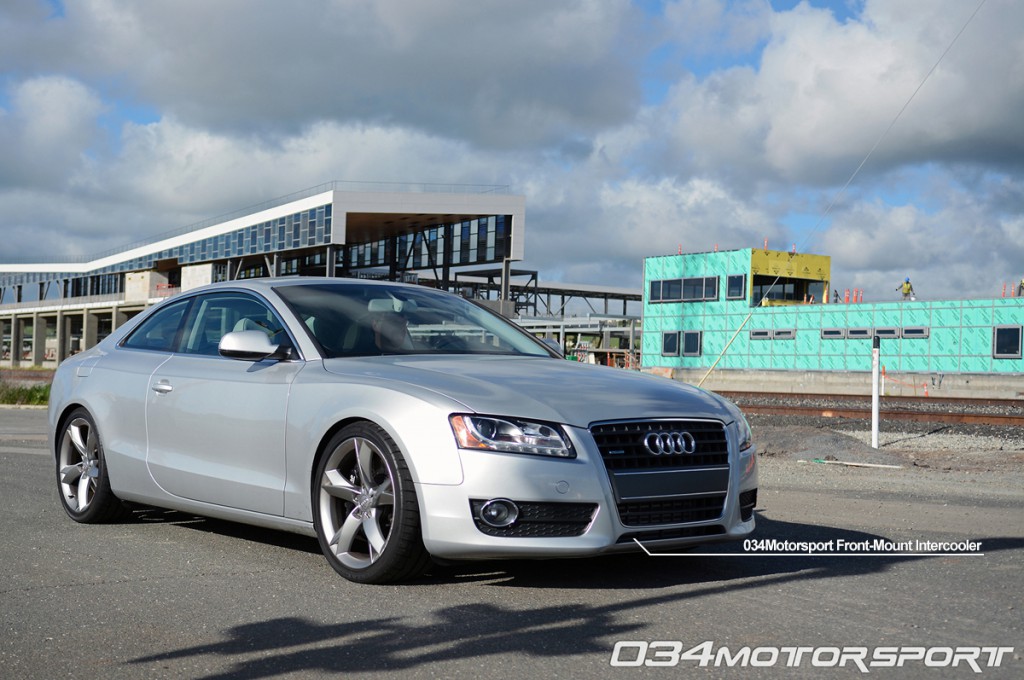 In addition, Bryce asked to to install one of our Plug & Play AEM Water-Methanol Injection Kits, which we customized to work on his tuned B8 Audi A5 2.0 TFSI with a trunk-mounted reservoir. By spraying a mixture of water and methanol into the intake tract, the WMI kit further reduces intake air temperatures to allow for more timing advance and increased power output. The whole system installed neatly into his A5's spare tire well next to a stealthy rear-mounted lightweight battery.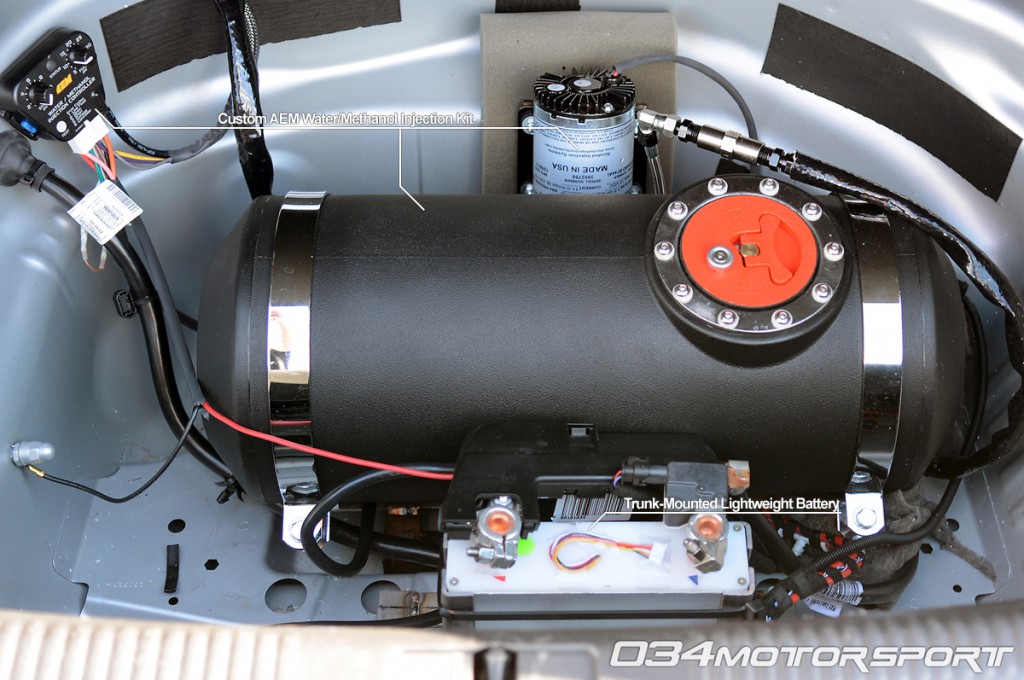 With all of the added power, some drivetrain upgrades were in order for the A5. We started with our popular B8 Audi A4/S4/RS4/A5/S5/RS5 Transmission Mount Insert Upgrade paired with the Apikol B8 Audi Rear Differential Mount Insert Kit. Bryce also volunteered his A5 to be one of the early testers for our soon-to-be-released Billet Aluminum B8 Audi A4/S4/RS4/A5/S5/RS5 Engine Mount Pair. This combination of mounts ensures that there is no unwanted drivetrain movement, resulting in precise shifts and instant response to changes in throttle. Finally, a Eurocode Meisterwerk Adjustable Short Throw Shifter was added to allow for quicker shifts and improve the feel of the stock shifter.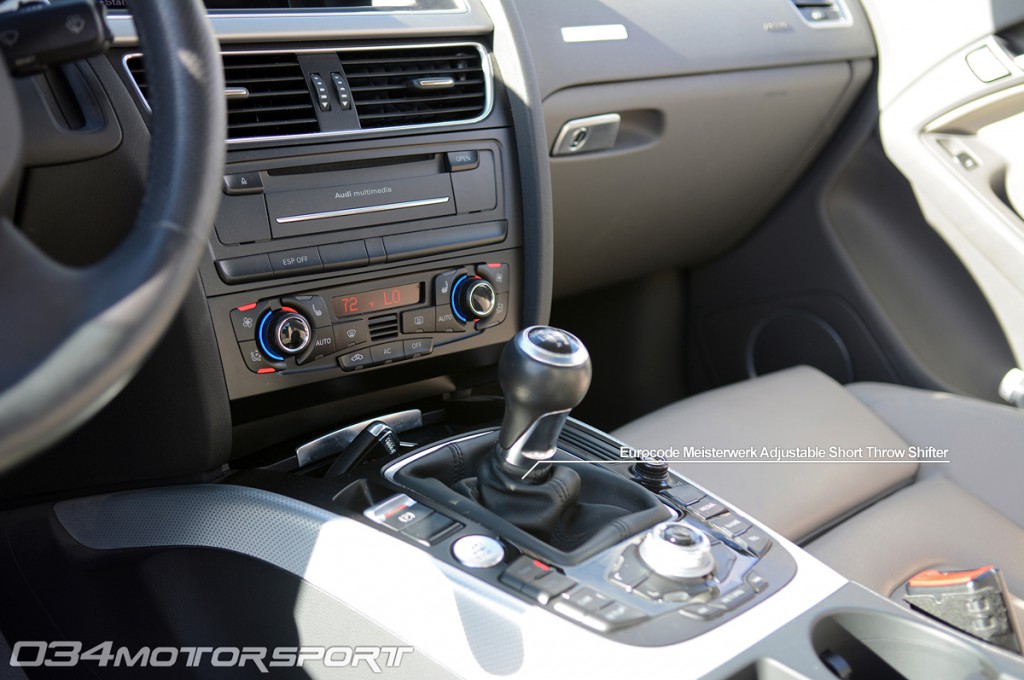 Once the engine and drivetrain upgrades were out of the way, it was time to focus on the A5's ability to handle the twisties. A 370mm AP Racing Radi-Cal Front Big Brake Upgrade was fitted to help slow the car down faster and prevent brake fade. An upgraded rear sway bar from Stasis Engineering was installed to combat body roll and reduce the A5's natural tendency to understeer. 034Motorsport Spherical B8 Audi A5 Rear Sway Bar End Links help properly transmit the forces from the larger rear sway bar without any deflection. A set of H&R Street Sport B8 Audi A5 2.0 TFSI Lowering Springs lower the center of gravity and stiffen up the suspension, and 034Motorsport Track Density Strut Mounts for the B8 Audi A5 were installed to prevent the deflection of the strut tops under hard cornering. Finally, a 034Motorsport Audi Wheel Stud & Nut Conversion Kit was added to the mix to make wheel changes at the track much faster and easier.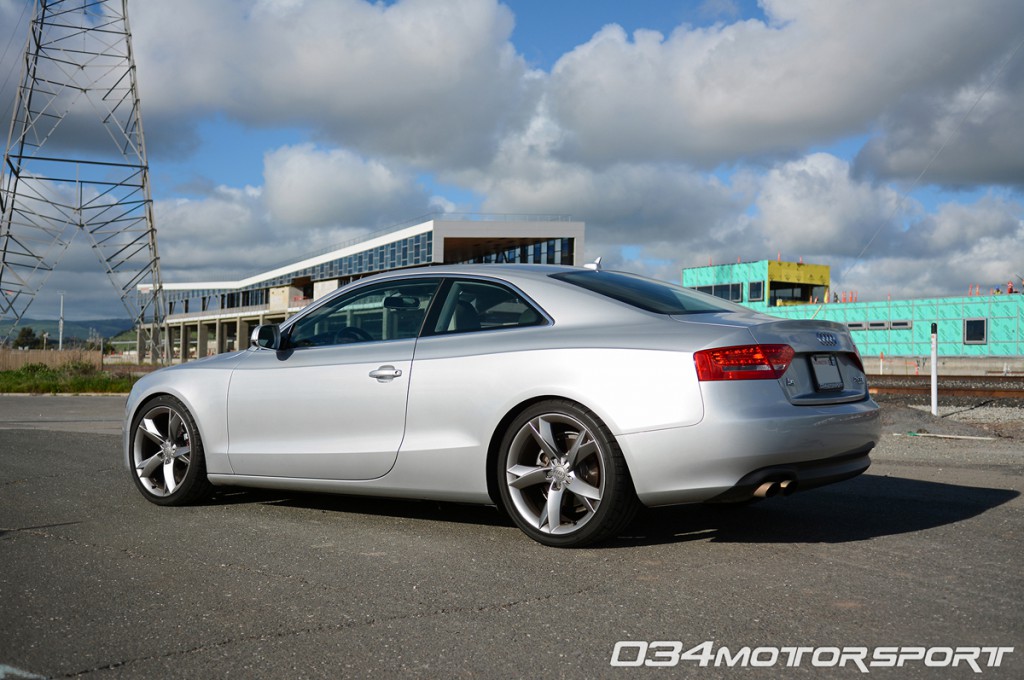 The finished product is a nicely tuned B8 Audi A5 2.0 TFSI that's the perfect sleeper. It looks almost completely stock and is easy to daily-drive, but has the ability to hold its own with much more expensive cars on track. Keep an eye out for Bryce and his silver Audi A5 at an Audi Club track day near you!
Featured Products | Tuned B8 Audi A5 2.0 TFSI
Intake, Turbocharger, and Exhaust Upgrades:
Drivetrain Upgrades:
034Motorsport (Prototype) B8 Audi A5 Billet Motorsport Engine Mounts
Eurocode Meisterwerk Adjustable Short Throw Shifter
Chassis & Suspension Upgrades:
H&R Street Sport B8 Audi A5 Lowering Springs
AP Racing APR7300 Radi-Cal 370mm, 6-Piston Front Big Brake Kit
Stasis Engineering B8 Audi A5 Rear Sway Bar Upgrade
034Motorsport Custom-Installed LithiumMoto Battery and Controller
Interested in making your Audi go faster? Contact us today or visit the 034Motorsport Service Department - San Francisco Bay Area's Premier Audi Tuning, Maintenance, and Repair Facility!