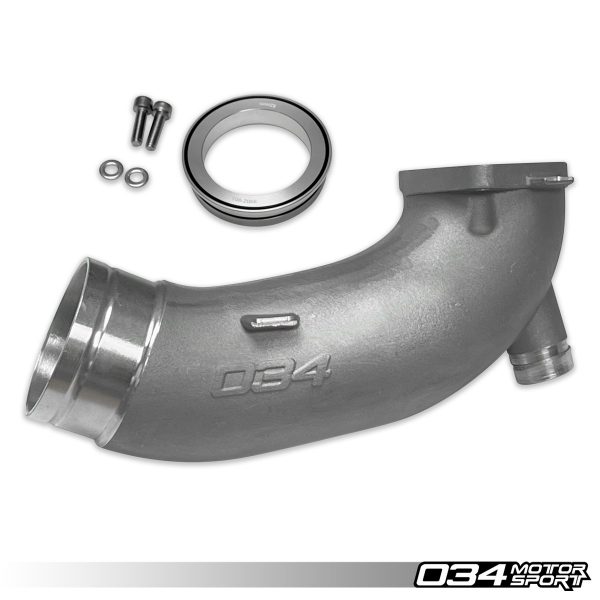 Check out our new Turbo Inlet Pipe here!
The EA839 3.0T Turbo Inlet Pipe is designed to work with OEM-sized intake hoses. The CNC machined edge retains the intake hose securely to the turbo inlet pipe. The final touch is an embossed 034 logo to show unsuspecting car show attendees that you value substantive modifications on your 3.0T powered Audi.
FEATURES:
Cast from A356 Aluminum
Compressor Inlet Flange Adapter Machined for Smooth Airflow Into Compressor Housing
CNC Machined 6061-T6 Aluminum Turbo Inlet Adapter to Match Turbo Inlet for Maximum Airflow - Stock Turbo - 52.0mm
Optional Adapter ring available separately: Pure750 Turbo - 63.0mm (034-108-Z094)
Increased Flow Over Factory Turbo Inlet
CNC Machined Edge Retains Intake Coupler Securely
CNC Machined to Retain OE PCV Hose
Proven Power/Torque, and Airflow Gains

Stock Turbo Inlet: 396 CFM @ 28"H²O
034 Turbo Inlet Pipe w/ Stock Turbo Adapter: 406 CFM @ 28"H²O
034 Turbo Inlet Pipe w/ Pure 750 Turbo Adapter: 490 CFM @ 28"H²O

Slotted Lower Turbo Inlet Bolt for Easy Installation
Direct Bolt-on Installation.
OE PART INTERCHANGE:
06M 129 665 AL
06M 129 041
WHAT'S INCLUDED:
Turbo Inlet Pipe
Turbo Adapter Ring, with O-rings - 52mm for OE Turbo