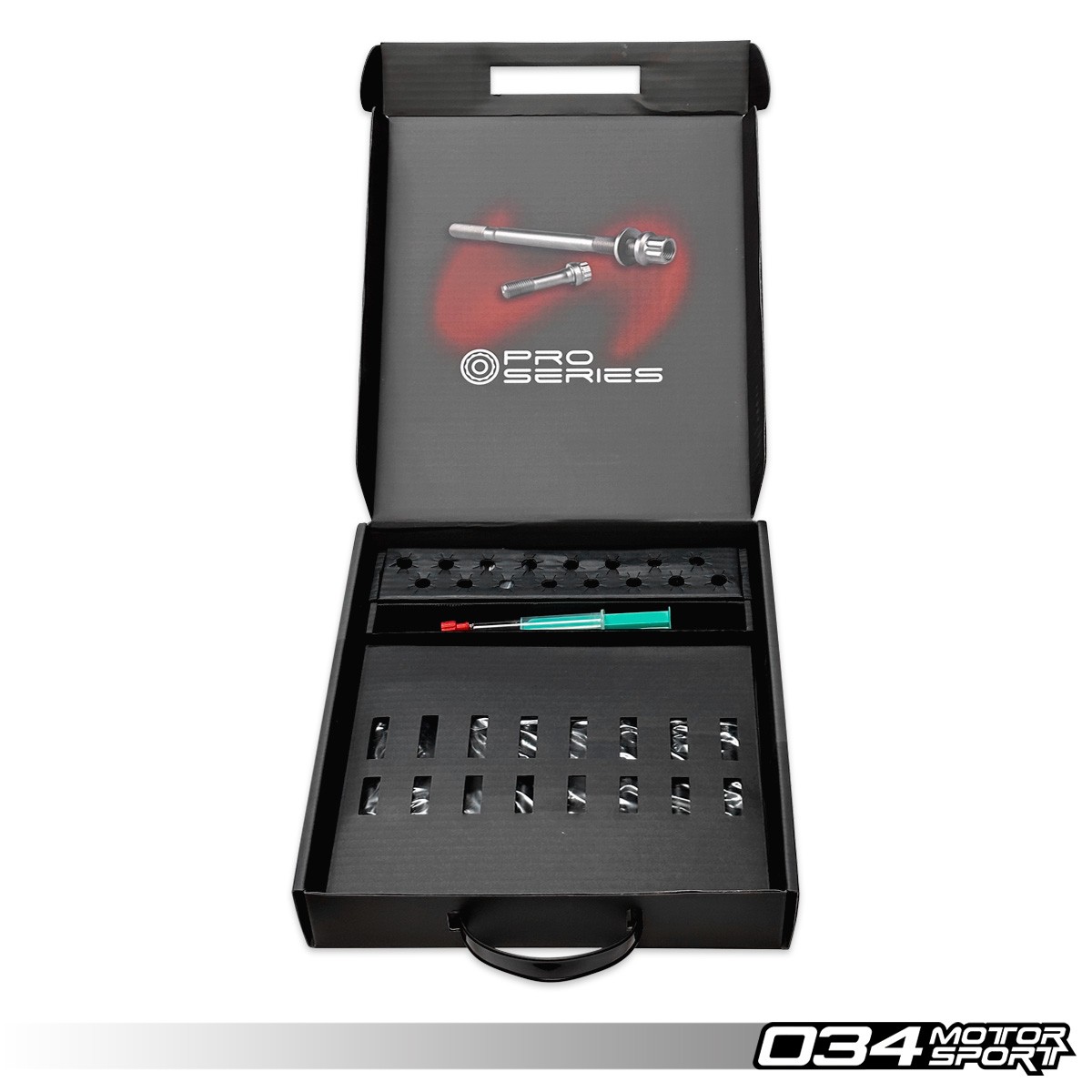 Check out Wagner's new EA839 Main Studs here!
The Wagner Tuning Pro Series 18.8 Cylinder Main Stud Set is designed to replace the original main studs with high-strength Pro-Series 18.8 studs. This upgrade is necessary when making large increases in power and engine performance, such as higher boost levels beyond what the factory hardware is designed for. Using higher tensile strength tool steel than the lower grade steel the factory bolts are made from, Pro Series Main Studs provide higher consistent clamping force than factory bolts that stretch and elongate overuse, causing excess play in the main bearing clearances. This movement and lack of clamping can ultimately cause the bearing surfaces to gall and catastrophically fail.

The Pro-Series 18.8 Stud Bolts have a tensile strength of 1850+ N/mm² (270,000+ PSI) and are designed to be the perfect solution for upgraded main studs. Unlike factory main bolts, the Wagner Pro Series Studs do not need to be replaced after dismantling and can be reused indefinitely.

The Pro-Series 18.8 sets are high-strength stud bolts manufactured in Germany. A special steel is used which, after tempering, has a tensile strength of 1850 + N /mm². All threads are formed and not cut as usual. The so-called rolling of threads can increase the strength of the tooth flanks by around 30%. All Pro-Series products are supplied with a nickel coating or optional with a burnished protecting against corrosion in the long term, even under the toughest conditions. Pro-Series stud bolts have a hexagon socket drive on the head side for screwing in the stud bolts. Due to a cone on the engine block side of the bolt, these are not supported on the thread flanks when the nuts are tightened, but in the bore of the thread in the engine block. This support protects the threads when racing engines are frequently rebuilt.

Pro-Series advantage over other manufacturers is the nuts and washers included in the set, these also have a tensile strength of 1850 N / mm².
FEATURES:
Kit Contents: 8 Stud Bolts (M10), 8 Nuts (M10), Assembly Paste, Assembly Instructions
STUDS:
Made of Ultra Clean Tool Steel.
Rolled Threads to Achieve Best Possible Strength.
Special Cone for Pretensioning and Best Possible Equal Load Distribution to the Entire Thread.
Hexagon Drive for Easy Installation.
Tensile Strength Beyond 1850 N / mm² (270,000 psi)
Unlike OE Main Bolts, They Can Be Reused Over and Over.
NUTS:
Made of Ultra Clean Tool Steel.
All Threads are Formed, Not Cut
Tensile Strength Beyond 1850 N / mm² (270,000 psi)
12-Point Drive for Best Possible Tightening Torque