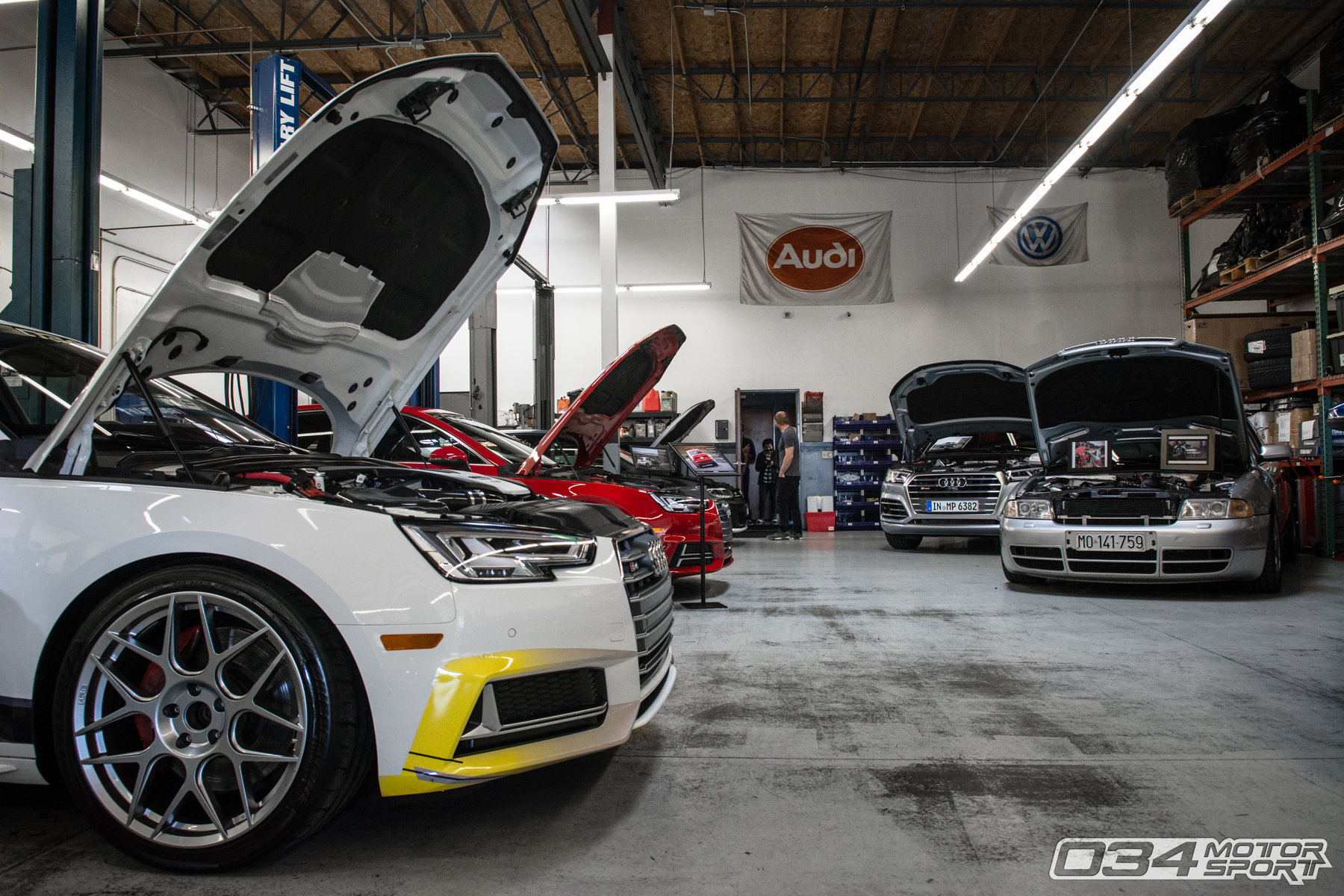 In our current era of Fake News and internet stardom, we like to bring people back down to reality and open up our doors to offer a behind the scenes look at what we do at 034Motorsport. Here, You won't find knock-off products, nor will you find third party investor backing. Instead what you'll find is a group, nay, a family, of like-minded enthusiasts working hard to create high-quality performance upgrades for Audi and Volkswagen fanatics worldwide. We're proud of what we do, and we want to share it with you!
Welcome to 034Motorsport's WinterFest 2018.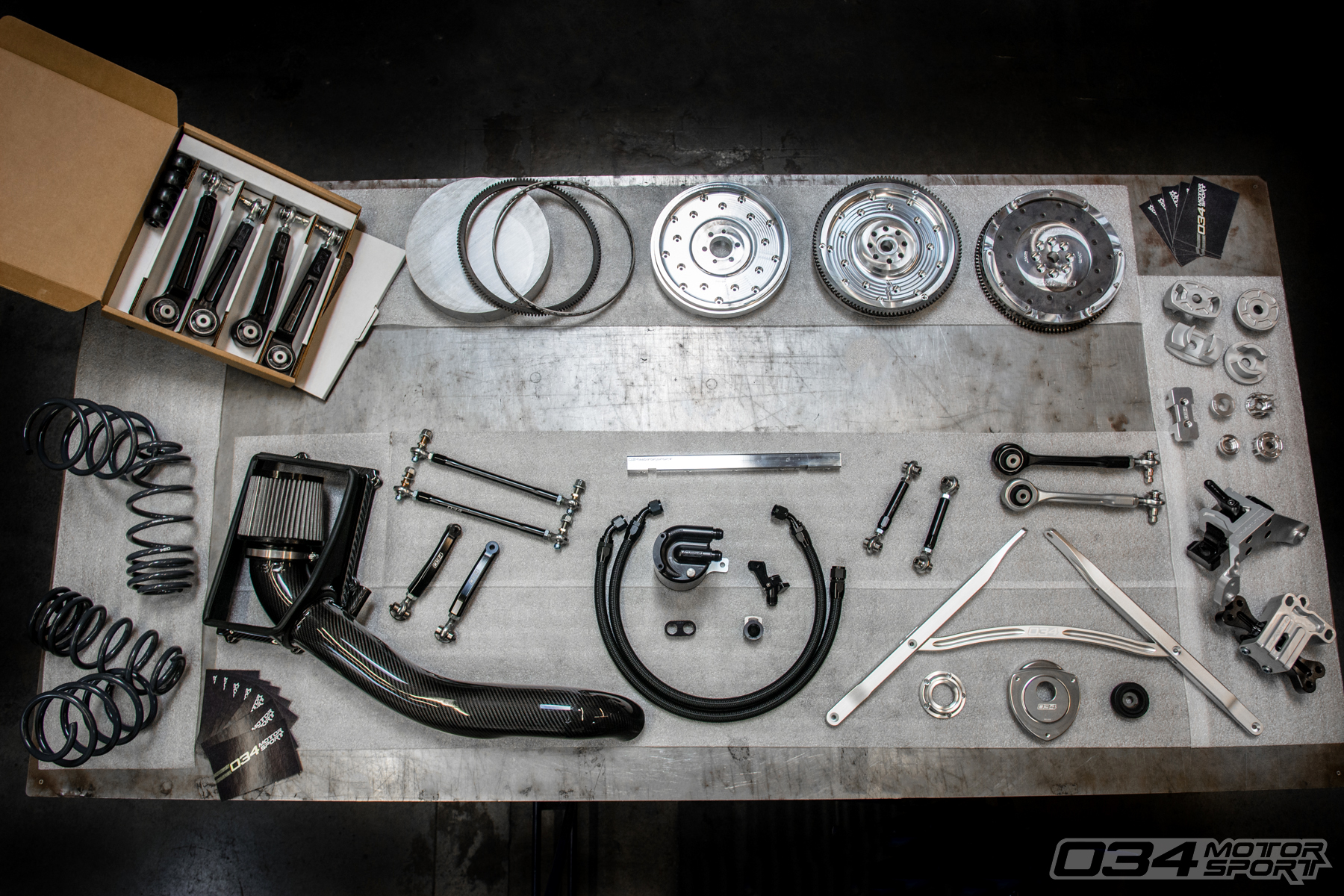 This year was our fifth annual WinterFest event, and to mark its growing popularity we wanted to do something different. The event planners decided it was time to organize our first ever judged car show! We had 27 cars entered, 5 judges, and a total of 5 awards to give away. Queue the smell of quick detailer and tire shine.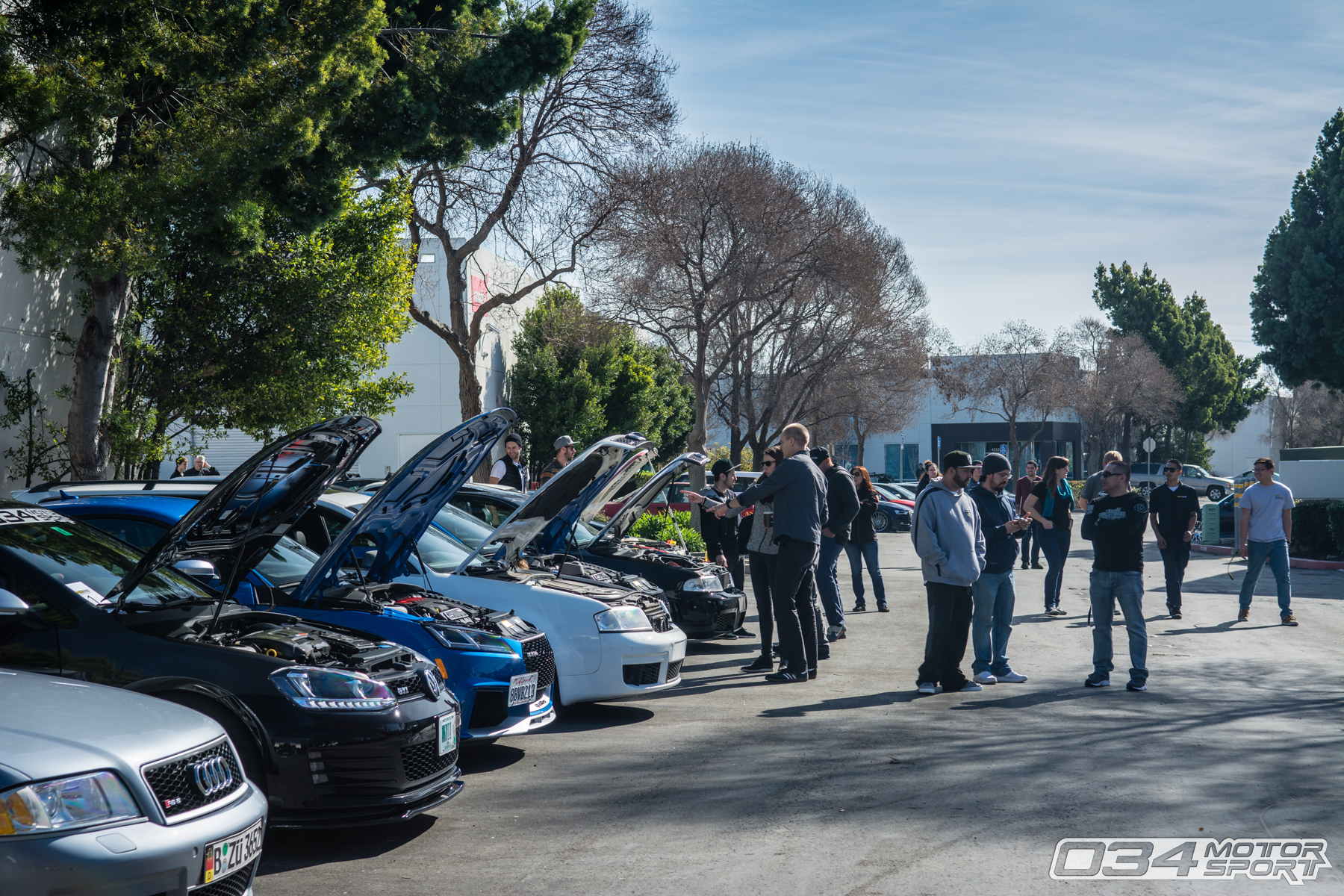 Show cars began rolling in around 10AM and got after some last minute cleaning before the judging started at 10:45. While limited to only Audis and Volkswagens, the variety of cars entered in the show was huge, ranging from a 1984 Volkswagen Jetta Coupe to a brand new 2018 Audi S6. This made for some exciting action for all WinterFest attendees.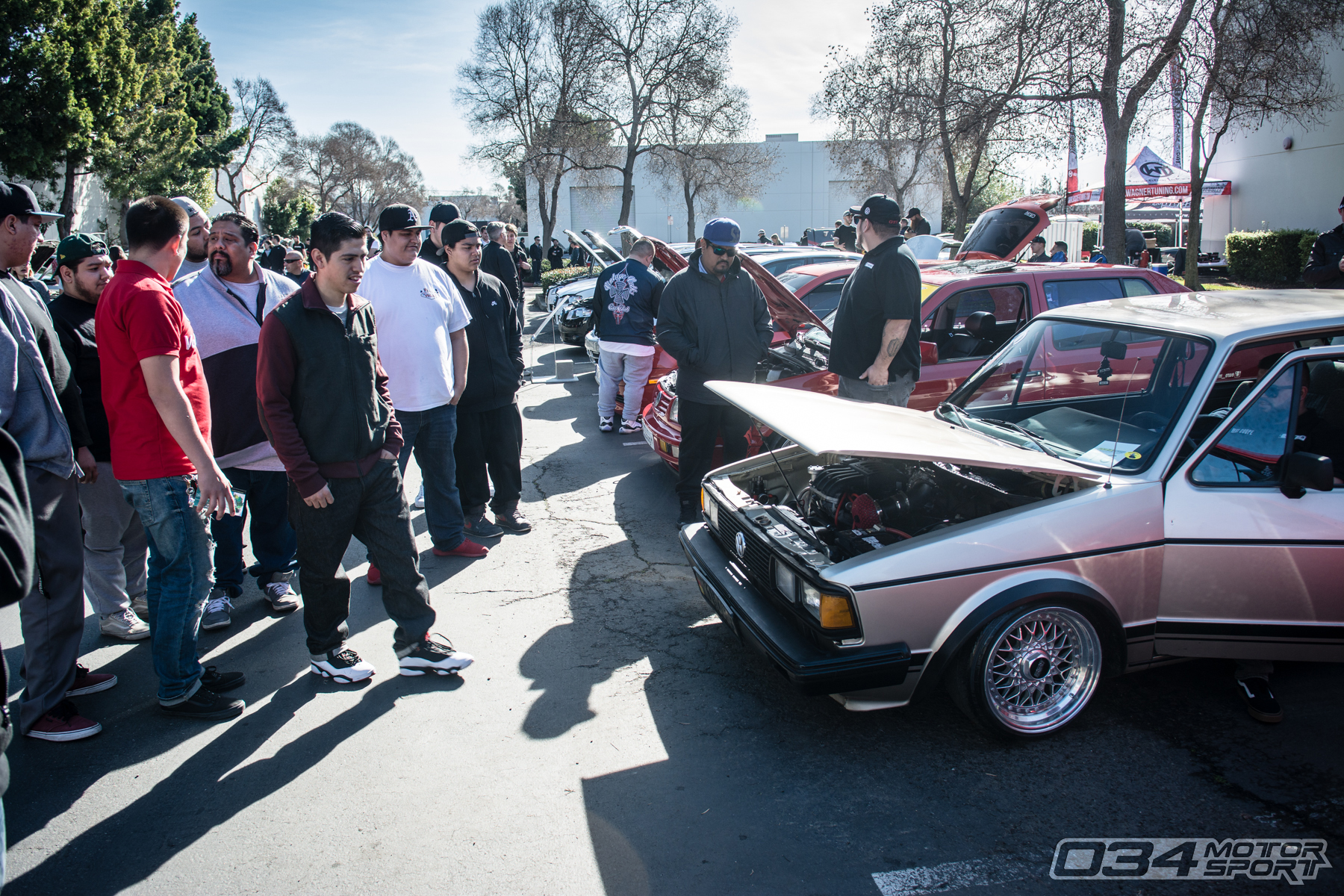 There were even some highly customized vintage Audis within the mix!
Right around 11AM, our in-house DJ, DeeJayJRL got his turntables spinning and kept the music flowing throughout the day.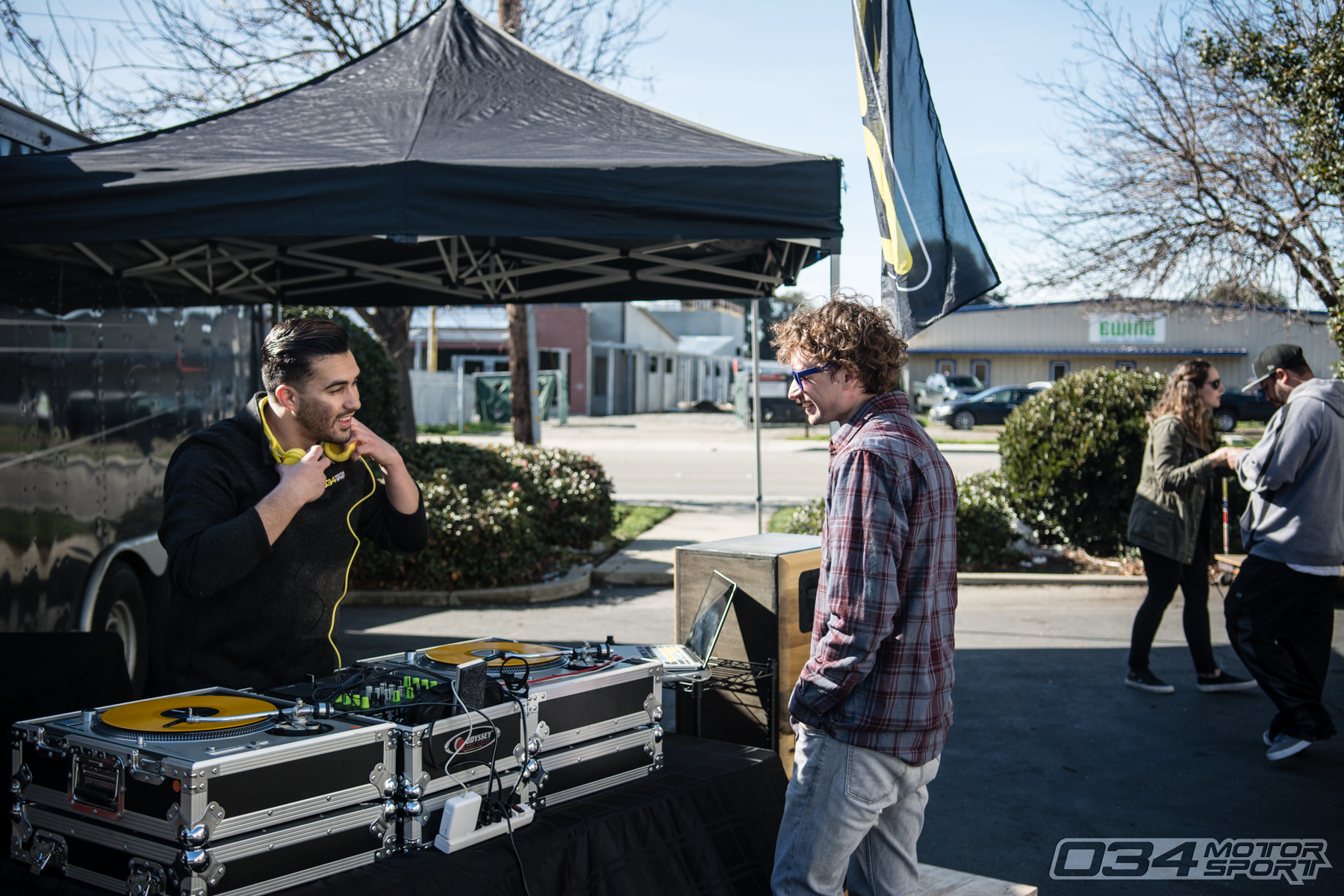 Meanwhile, the judges were making progress through the 27 entrants of the car show. Taking their time to carefully consider each category made for some hard work due to the competition among classes.


While the car show continued during most of the day, a handful of the 034Motorsport Development Vehicles were strapped down for exhibition dynos to showcase the modifications and real world power gains. Here, our B8 Audi S4 shows off the dual-pulley configuration utilizing 034Motorsport Performance ECU Software.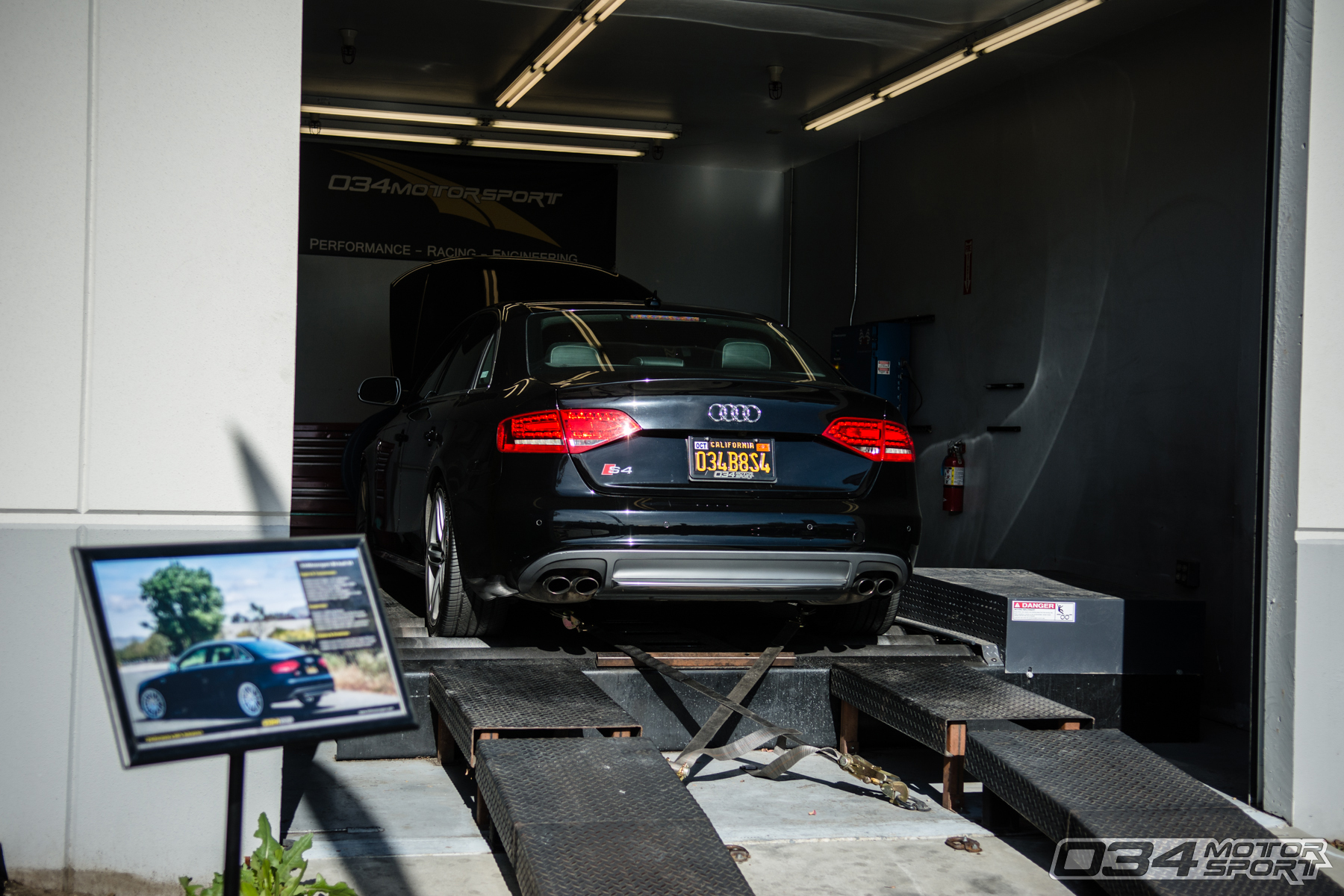 As hunger drew near and spectators began salivating over that sweet supercharged 3.0T sound, Javad (034Motorsport's President and Founder) welcomed all to grab a bowl of his famous Pot Roast Chili. He prepped 75lbs of meat, slow cooked it, and then brought it to 034Motorsport to cook on-site and create the 25 gallons of chili needed to satisfy the crowd.
Note: When cooking this much chili, you don't use a spoon, but more so a canoe paddle.


Facility tours were offered periodically throughout the day to showcase how much amazing work goes on under one roof at 034Motorsport. Participants walked through our Machining Department, Manufacturing Department, Shipping Department, and Service Department to catch a glimpse of what we do as an industry leader in Audi and Volkswagen Go-Fast parts.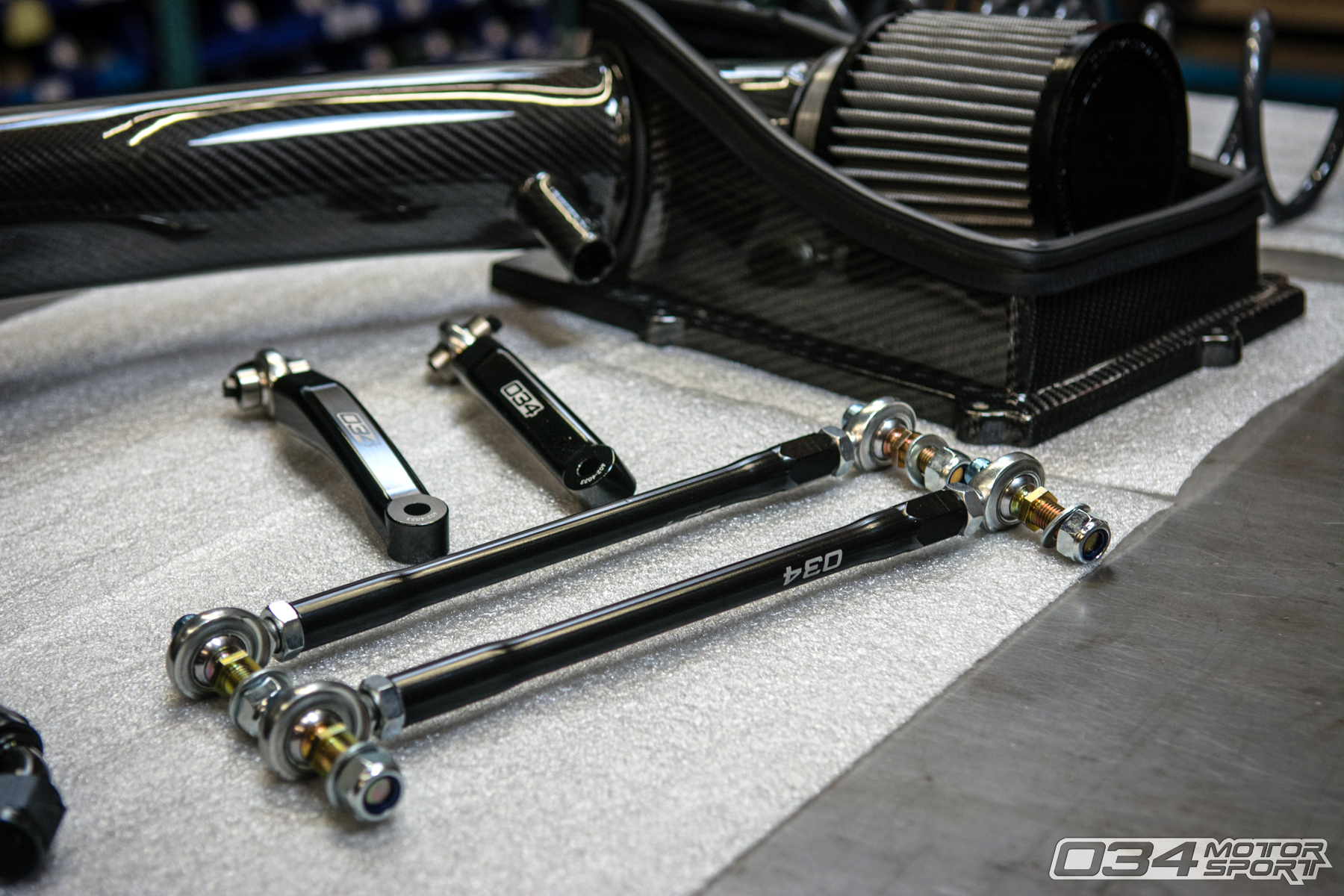 Back outside, people were hanging out, taking the time to check out all of the show cars, and enjoying some fantastic California sunshine. Can you believe this was in January?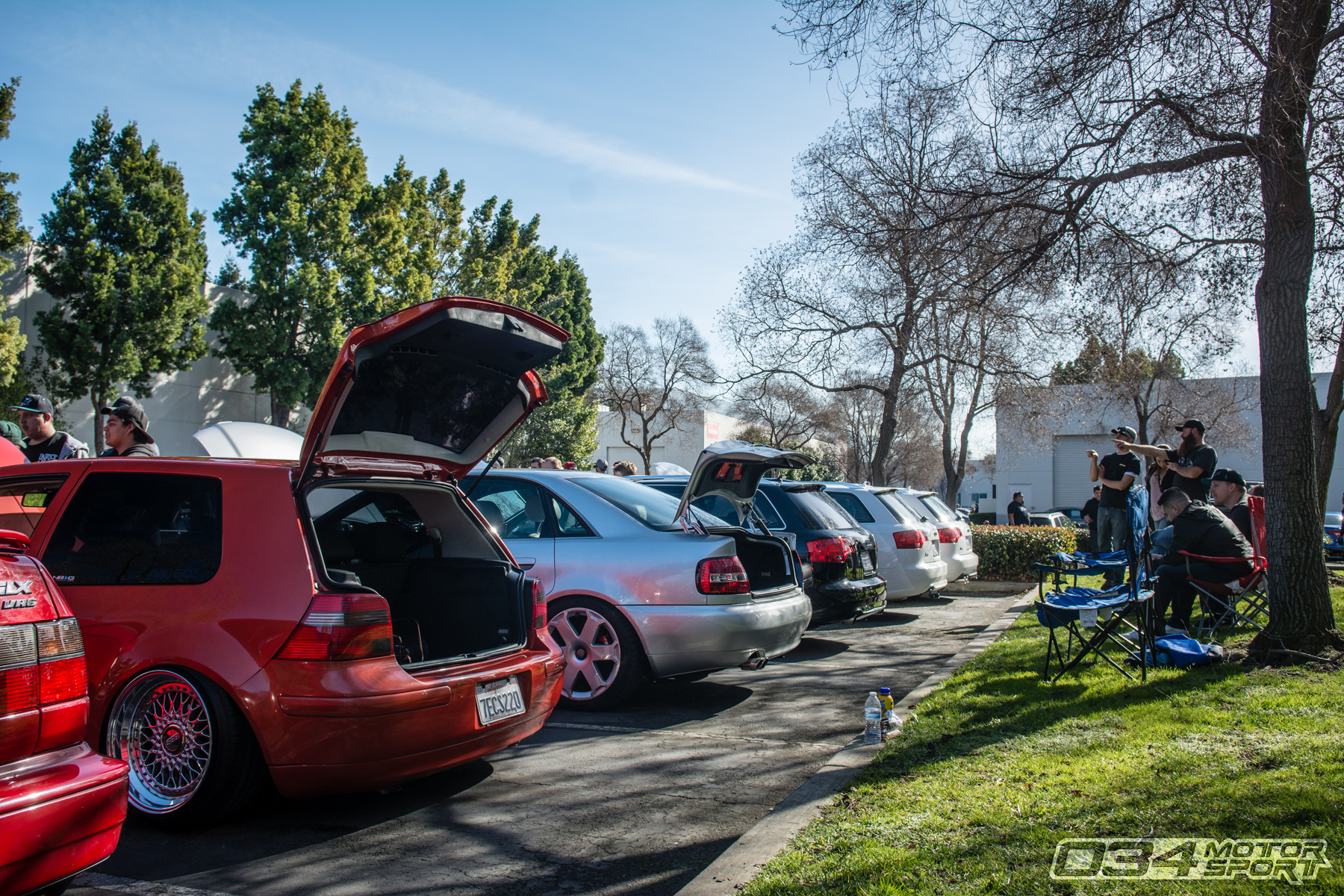 At last, the results from the car show were in and everybody crowded around in anticipation to hear the results. Special care was taken by Javad to help create the most unique trophies possible for the event, building stands out of exotic woods such as Purple Heart and Zebra Wood, and adorning the stands with pieces of real 034Motorsport products. These are sure to set a new standard for car show trophies across the circuit!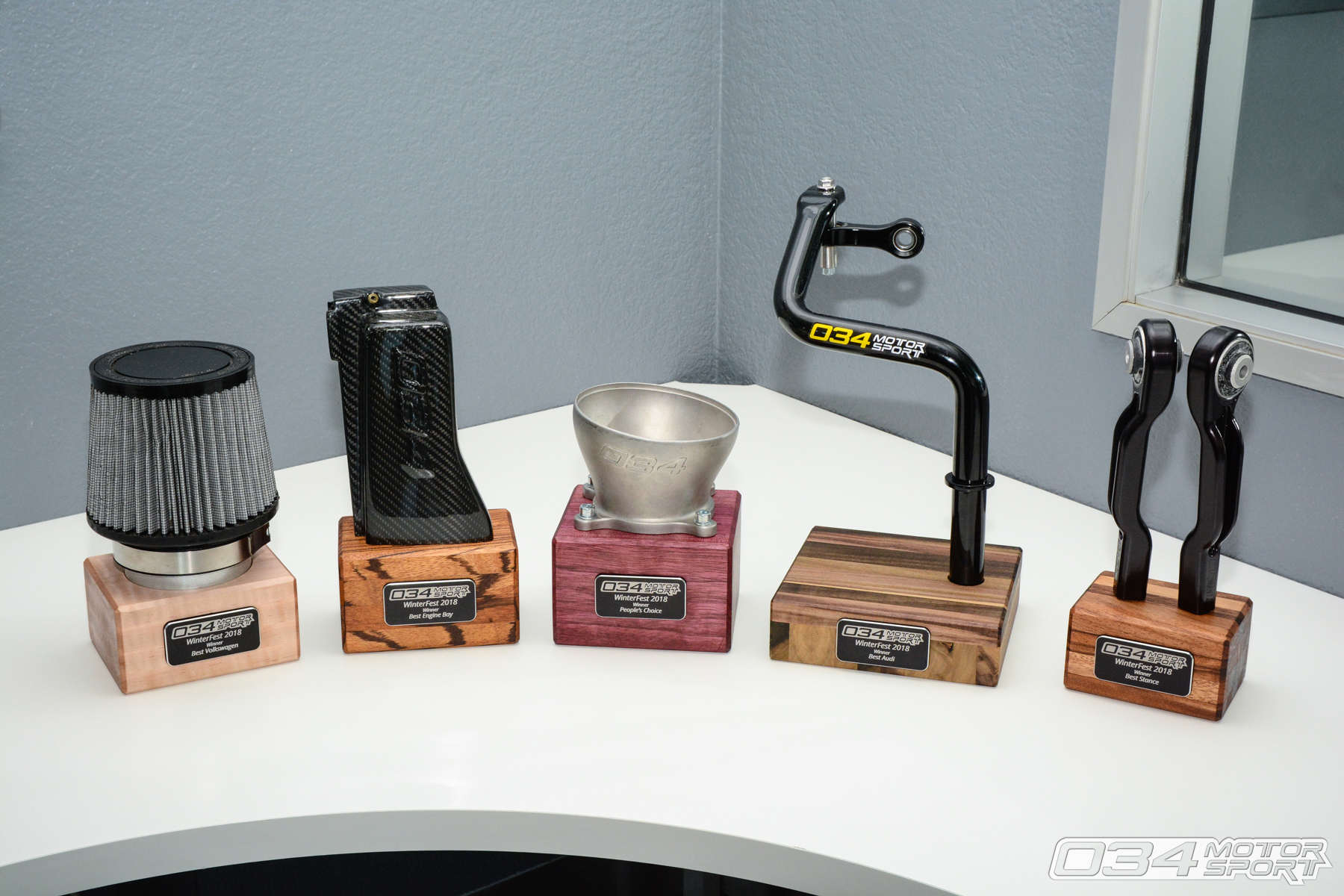 On to the awards!
Best Audi | The winner of the Best Audi was awarded to Ti Kan and his immaculate 2001 Audi S4 2.7T. Looking at Ti's car felt like walking into an Audi showroom in 2001.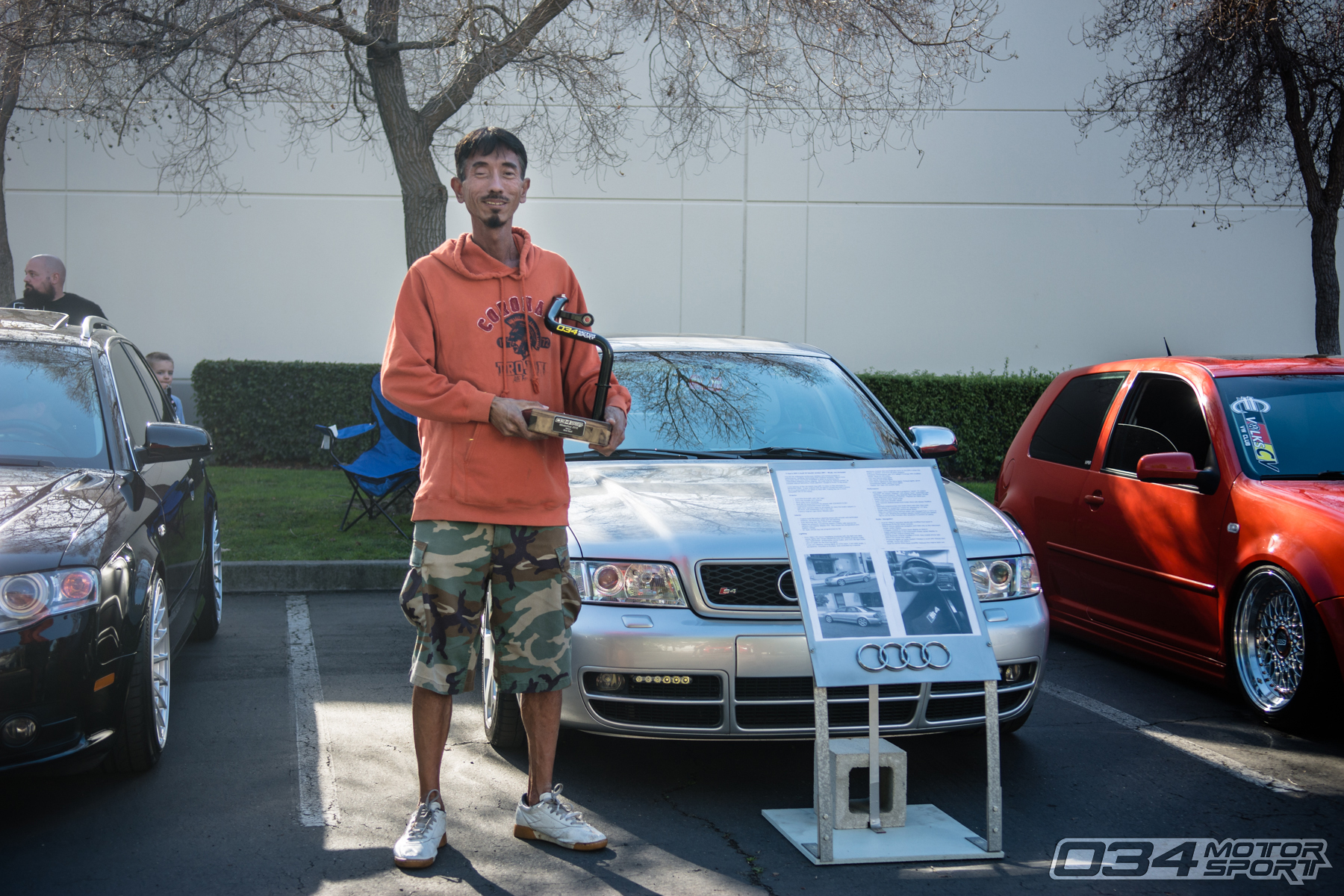 Best Volkswagen | Joshua Ramirez and his 2013 Volkswagen GTI 2.0T took home the victory here with his clean and OEM+ MkVI.


Best Engine Bay | First place for the Best Engine Bay was awarded to Curt Hammill and his son, Cam, with their 1983 Audi Sport Quattro Replica featuring a 20V Turbo I5 motor.


Best Stance | Troy Walters took home the Best Stance award with his bagged 2006 Audi A3 3.2L.


People's Choice | This one was up to you! And the winner for the People's Choice award went to Raul Serrato and his 2000 Volkswagen Golf 1.8T.


We would like to thank everyone who came out and made our fifth annual WinterFest Open House a success at 034Motorsport, and congratulate the winners once more on taking home the unique trophies from our first ever judged car show! You can be sure there will be more to come!


A special thanks as well to Sprint Autoworks / BecauseBags and Wagner Tuning for sponsoring the event!
We hope everyone enjoyed WinterFest 2018, and we can't wait to see you all again in a few short months for SummerFest!
WinterFest 2018 | Open House, Get-Together, Car Show Photos