We're pleased to announce a giveaway for our all new X34 MQB 1.8T/2.0T Gen 3 Carbon Fiber Cold Air Intake for the 8V/8S Audi A3/S3/TT/TTS & MkVII Volkswagen Golf/GTI/R!
You can earn one entry by subscribing to the 034Motorsport Newsletter, one entry by tweeting about the giveaway, and up to 10 additional entries for referring friends (one entry per friend who enters, up to a limit of ten) to the giveaway.
Enter the MQB Cold Air Intake Giveaway Below
Rafflecopter Giveaway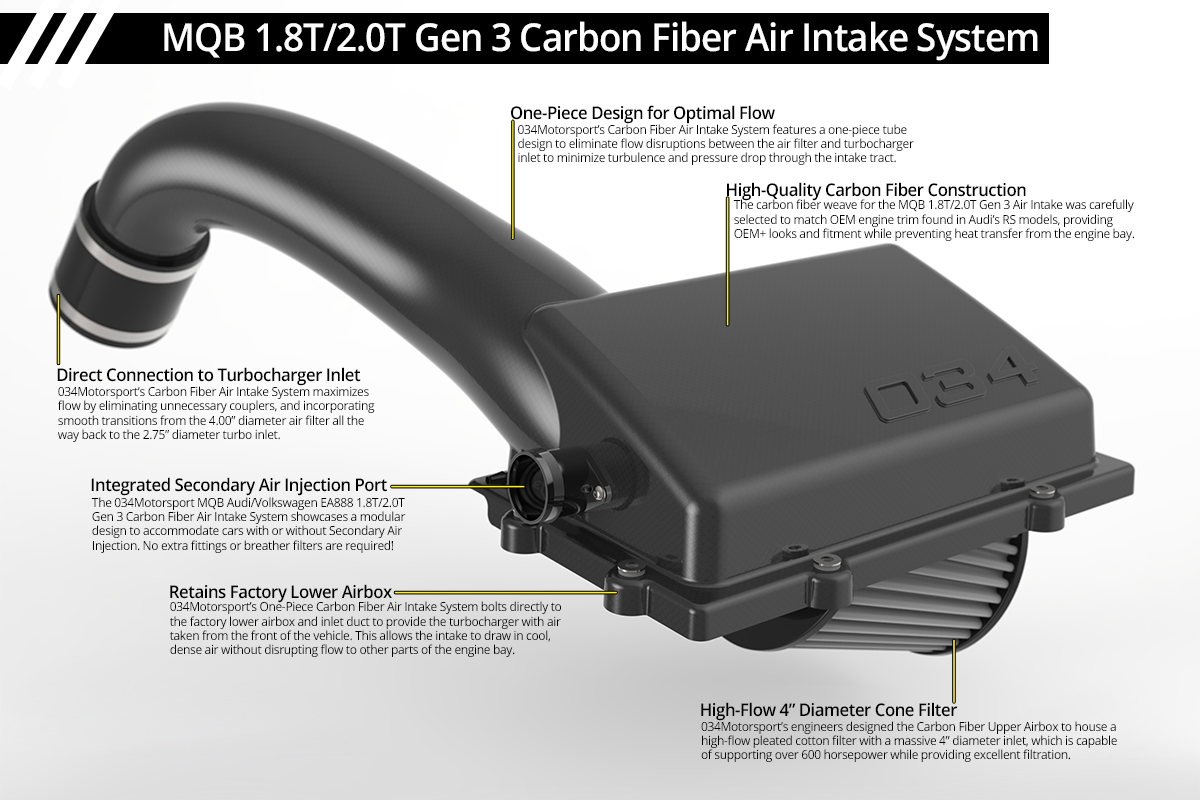 The X34 Carbon Fiber Audi MQB Cold Air Intake System for 8V/8S Audi A3/S3/TT/TTS & MkVII Volkswagen Golf/GTI/R equipped with 1.8T/2.0T Gen 3 engines has arrived! This true cold air intake yields horsepower and torque gains throughout the powerband, with peak gains of up to 15 crank horsepower and 12 ft-lbs of torque with the factory turbocharger.
034Motorsport's engineers thoroughly evaluated the factory airbox design to create a performance replacement that reduces pressure drop in the intake tract, while offering OEM+ fit and finish. The result is this complete one-piece MQB Carbon Fiber Air Intake Upgrade, which offers 100% bolt-on installation without the need for any additional pieces.
Compatible Vehicles:
2015 - Present Audi A3/S3 (8V - MQB) - 1.8T & 2.0T
2016 - Present Audi TT/TTS (MkIII - MQB) - 2.0T
2015 - Present Volkswagen Golf/GTI/ R (MkVII - MQB) - 1.8T & 2.0T
Please Note: This comprehensive air intake system is designed to install on vehicles with or without factory secondary air injection (SAI) systems. No additional parts are needed!
Cold Air Intake Giveaway