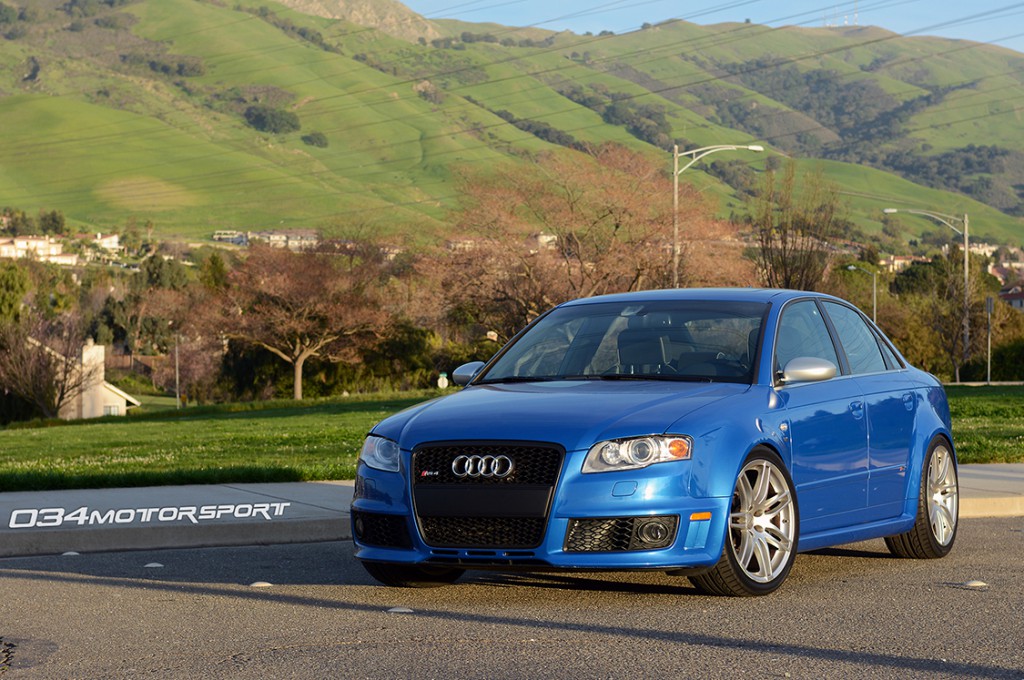 When it comes to handling, it's not easy to demand more from the B7 Audi RS4. Engineered by Audi's high-performance quattro GmbH division to be the fastest and most driver-oriented model built on the B7 chassis, the RS4 leaves few opportunities for improvement.
That being said, when Arturo came to 034Motorsport looking to enhance the handling of his Sprint Blue sedan, we were ready. We've been lucky enough to work on many enthusiast-owned RS4s over the years. As a result, we have developed a line of B7 Audi RS4 Suspension Upgrades that provide enhanced handling without sacrificing everyday driving comfort.
Despite its carefully tuned chassis, the RS4's front-heavy weight distribution causes it to suffer from understeer in certain conditions. To combat this, we installed our B7 Audi RS4 Adjustable Rear Sway Bar Upgrade. Our rear sway bar is manufactured from solid spring steel, and is twice as stiff as the factory RS4 rear sway bar on the "Soft" setting, and 125% stiffer on the "Firm" setting. This increase in the rear sway bar's stiffness raises the rear suspension's roll stiffness, allowing the rear end to rotate more easily.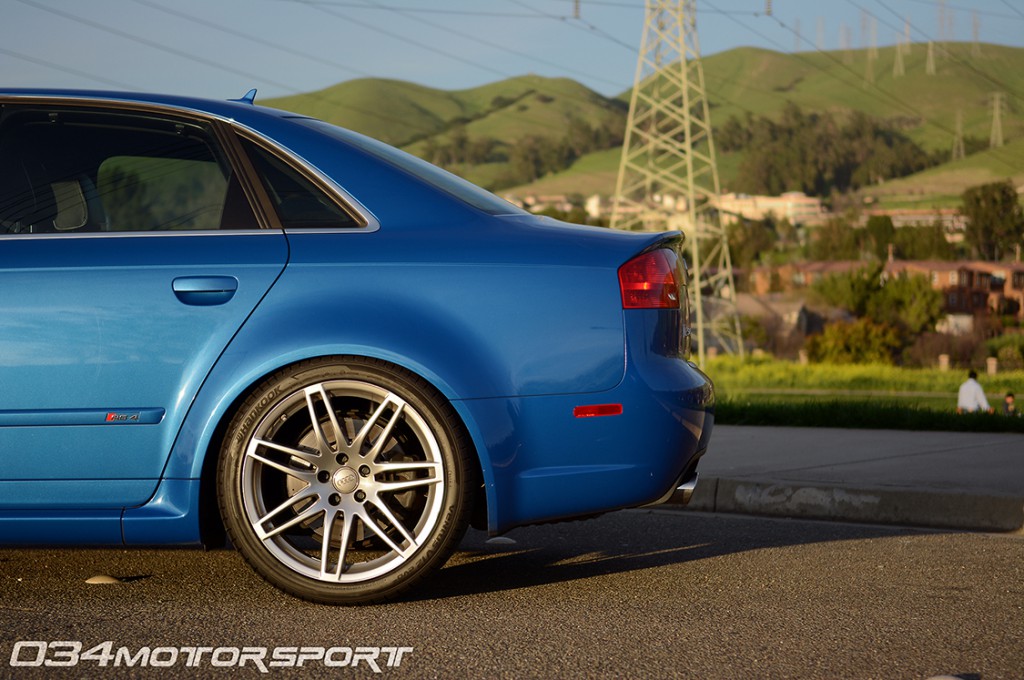 In addition to understeer, the B7 Audi RS4 is plagued by a problematic Dynamic Ride Control (DRC) Sports Suspension which is prone to leakage and expensive to replace. Since Arturo was eager to lower his car and stop worrying about DRC failure, we installed a KW Variant 3 Coilover Suspension. This suspension setup allows for height adjustment and corner-weighting, as well as compression and rebound damping adjustability to optimize handling.
Finally, 034Motorsport B7 Audi RS4 Spherical Rear Sway Bar End Links were installed to help improve the sway bar reaction rate and eliminate deflection from the rubber bushings used in the factory end links. Our Spherical Front Sway Bar End Links were also added up front to further reduce unwanted slop in the suspension, and further improve steering response and road feel.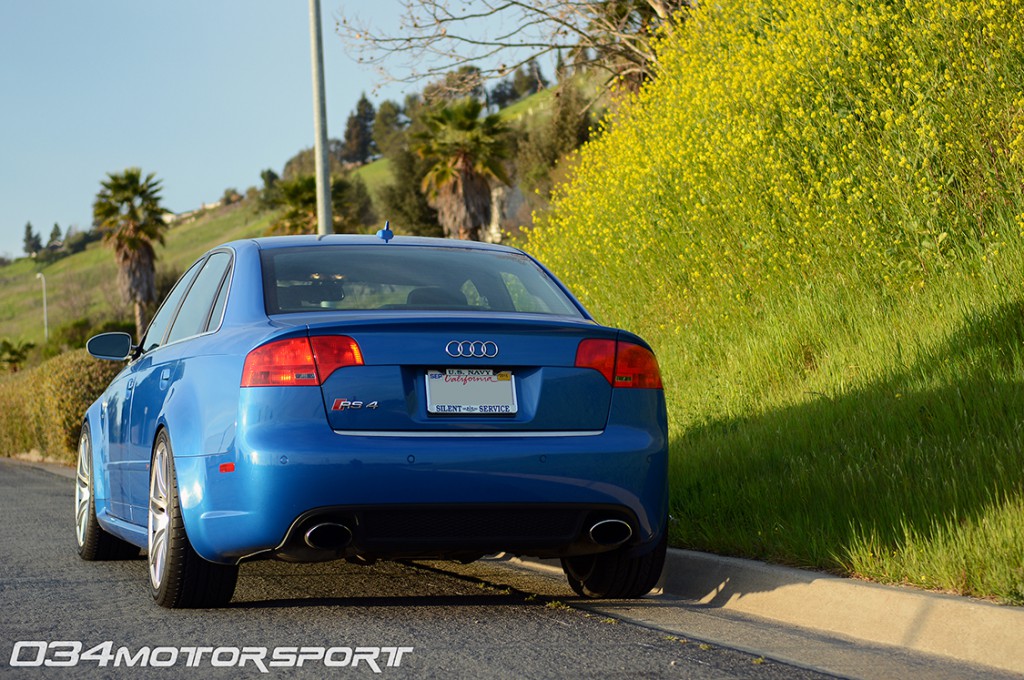 Overall, the performance suspension components installed on Arturo's Sprint Blue B7 Audi RS4 came together to address the biggest shortcomings of an already capable sports sedan. The addition of a stiffer rear sway bar and finely tuned coilover suspension has minimized body roll and reduced understeer, in addition to eliminating any chance of DRC failure. Spherical front and rear sway bar end links further complemented the handling improvements by creating a more direct transfer of motion between the front and rear sway bars and the rest of the suspension. The result is another happy RS4 (and RS4 owner) that handles even better than stock while remaining perfectly civil during regular everyday commuting.
Featured Products | B7 Audi RS4 Suspension Upgrades
KW B7 Audi RS4 Variant 3 Coilover Suspension with DRC Block-Offs