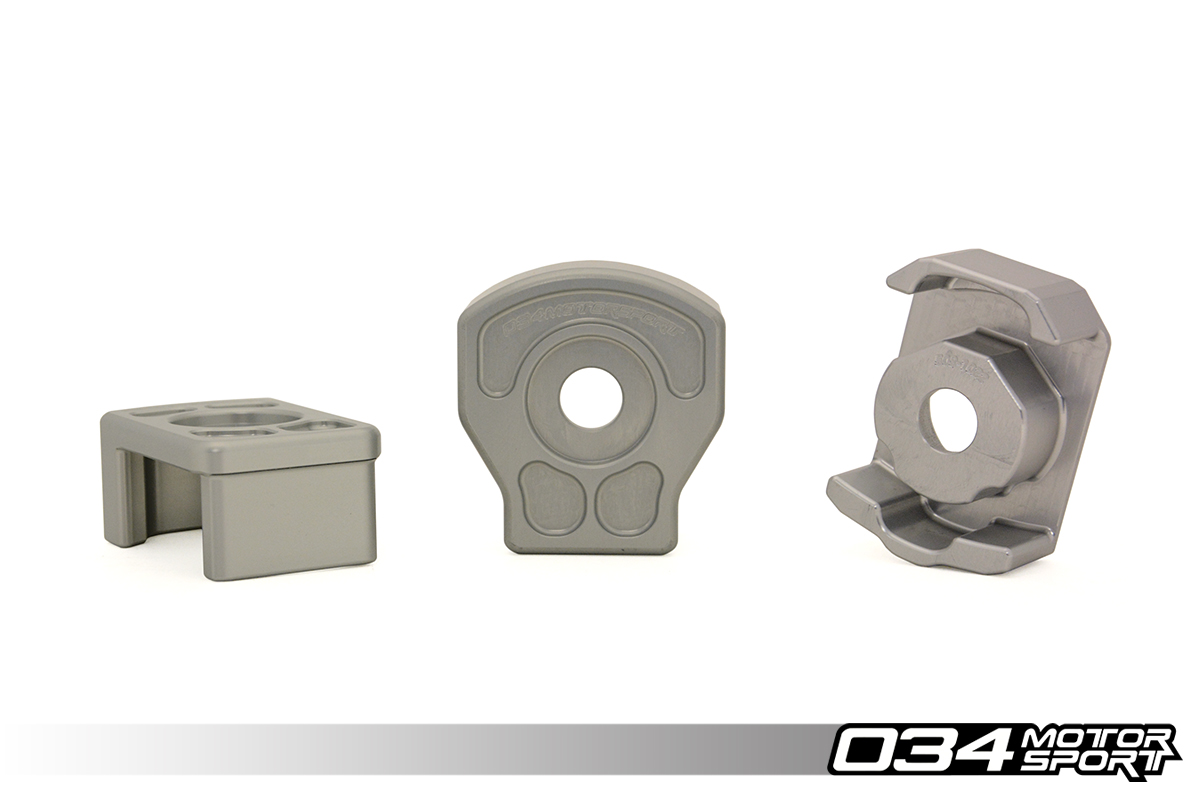 034Motorsport Billet Aluminum Dogbone Mount Inserts for Audi & Volkswagen
034Motorsport is proud to announce the availability of a new line of Billet Aluminum Dogbone Mount Inserts for Audi & Volkswagen vehicles, including the 8J/8P/8V Audi TT/A3/S3 (MQB) and MkV/MkVI/MkVII Volkswagen Golf/Jetta/GTI/GLI/R32! These precision-machined inserts are designed to fill voids in the factory dogbone mount, and limit fore-aft movement of the engine and transmission under load, which in turn improves shift quality and power delivery.
034Motorsport's engineering team went through numerous revisions of each mount insert to find the optimum profile for minimizing drivetrain slop without introducing excessive noise, vibration, or harshness into the cabin. As a result, 034Motorsport Dogbone Mount Inserts for Audi & Volkswagen don't place substantial preload on the factory dogbone mount, and allow for just enough movement to minimize NVH transfer while significantly limiting the unwanted movement of the torque arm.
These inserts were designed to be easy to install and completely reversible performance mods that offer noticeable improvements for discerning drivers.
Performance Improvements Over the Factory Dogbone Mount
Through reducing the movement allowed by the factory mount, which is designed primarily to isolate the driver from the engine and transmission, these Dogbone Mount Inserts for Audi & Volkswagen refine your driving experience by giving you more direct feedback from gear changes and throttle inputs.
The slop reduction provided by these inserts results in faster, crisper shifts and launches, and ensures that you're putting power down without all of the unwanted engine and transmission movement that the stock mount allows.
We highly recommend this upgrade for all enthusiasts with stock or modified cars!
Billet Aluminum vs. Polyurethane Inserts
Having experience with polyurethane mount inserts in the past, 034Motorsport set out to improve upon the traditional dogbone insert design to create a part that performs better and lasts longer.
Instead of simply filling all of the voids in the factory mount, (which is effective in reducing movement, but negates most of of the mount's ability to prevent NVH transmission into the cabin) 034Motorsport engineers thoroughly evaluated the function of the factory mounts to see what improvements could be made without sacrificing comfort.
The resulting designs had very specific profiles which we machined from billet aluminum to ensure performance and longevity. Unlike polyurethane alternatives, these billet aluminum inserts do not deflect under load, nor do they pack and wear over time. This allows 034Motorsport Dogbone Mount Inserts for Audi & Volkswagen models to offer life-long performance improvements.
Application Guide
Billet Aluminum MQB Dogbone Mount Insert, MkVII Volkswagen Golf/GTI/R & 8V Audi A3/S3
2015 - Present Audi A3/S3 (8V - MQB)
2015 - Present Volkswagen Golf/GTI/ R (MkVII - MQB)
Billet Aluminum Dogbone Mount Insert for 2009+ MkV/MkVI Volkswagen Golf/Jetta/GTI/GLI & 8J/8P Audi TT/A3
2009 - 2013 Audi A3 (8P)
2009 - 2014 Audi TT / TTS / TTRS (8J)
2009 Volkswagen Eos / GLI / GTI / Jetta / Rabbit (MkV)
2010 - 2014 Volkswagen Eos / GLI / Golf / GTI / Jetta / R (MkVI)
2009 - 2011 Volkswagen Passat (B6)
2009 - 2013 Volkswagen CC
Billet Aluminum Dogbone Mount Insert for Early (Up to 2008.5) MkV Volkswagen Golf/Jetta/GTI/GLI & 8J/8P Audi TT/A3
2006 - 2008 Audi A3 (8P)
2006 - 2008 Audi TT / TTS / TTRS (8J)
2006 - 2008 Volkswagen Eos / GLI / GTI / Jetta / R32 / Rabbit (MkV)
2006 - 2008 Volkswagen Passat (B6)